What Off Season? Frostbite Racers Sail On
"We do not consider it the off-season," says Annapolis frostbite racer Kristen Robinson. "It is a great opportunity to hone your sailing skills, stay sharp, and try new things. Although it seems daunting to go out in freezing cold rain, we view it the opposite. Who would want to miss racing on a 60-degree day in December with eight to 10 knots of breeze? You can always stay home if it rains or is sub-zero temperatures."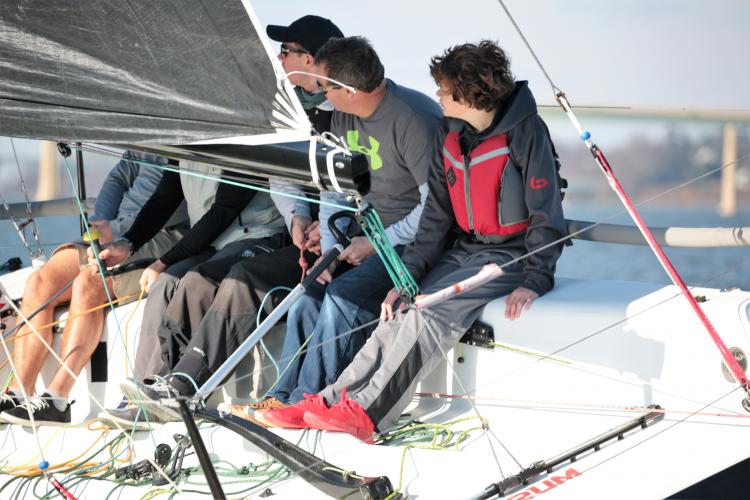 Kristen and her husband Brian Robinson—both SpinSheet Racing Team and SpinSheet Century Club members—sail as a "family syndicate." They explain, "Each week we race the J/80 and J/105 out of Eastport Yacht Club with Krissy driving the J/105 and Lizzie Scales (age 11) driving the J/80. We then divide the available crew with Brian Robinson, Tracey Golde, Rob and Shay Sampson, and Pete Deremer primarily crewing on the J/105. John Chiochetti and Ben and Andrew (7) Fransen primarily crewing on the J/80. Bryan Stout and Mary Howser have generously been our floaters to go where needed most."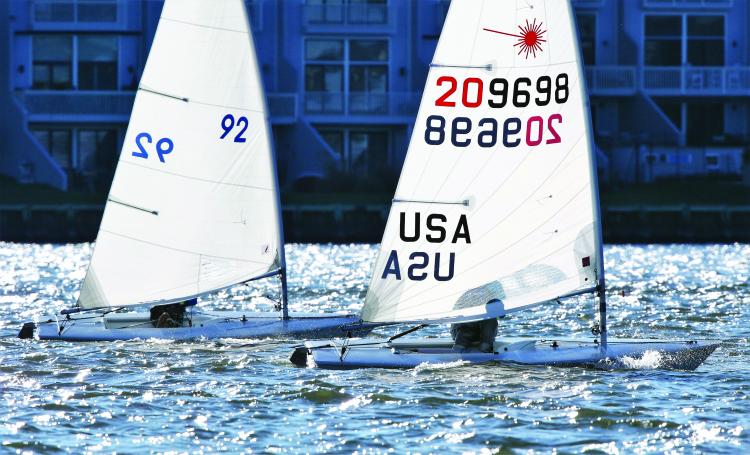 Chiochetti, who races in said family syndicate, says, "Many of us are missing the big fall/winter regattas, especially the pre-pandemic loss of Key West Race Week, so being able to race this time of year is a real treat… I've been racing J/80s in frostbite for years, but these last two seasons have given us a special chance to see the skills and traditions passing to a new generation. Sailing with Lizzy and Andrew is a real treat. We do still drink hot chocolate… sometimes with a little extra warmth!"
Bruce Irvin, who races his J/30 Shamrock with Dale Eager and Leon Bloom, says, "Frostbite racing is a distillation of all the great elements of sailboat racing: a nearby course, good breeze, flat water, and good friends. It's similar to snow skiing on a perfect day; the thrill of getting around the course is worth putting on some extra clothes."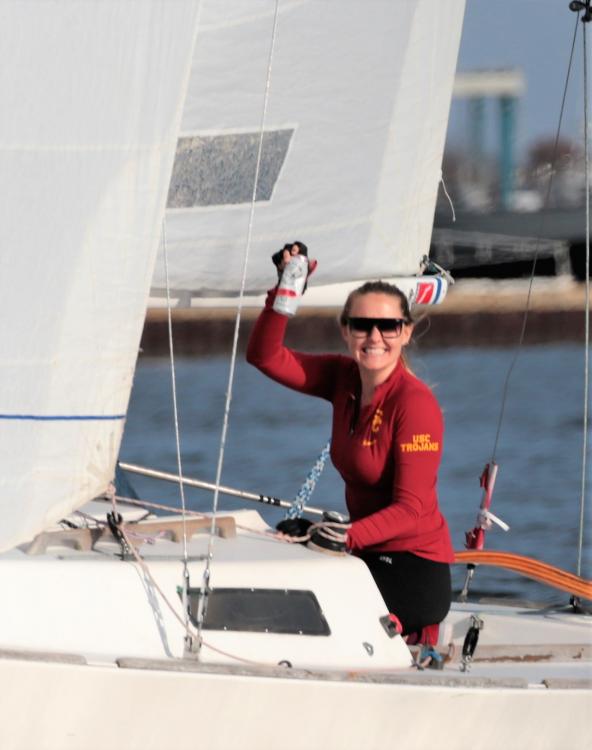 Irvin and crew are no strangers to the podium in winter. They placed first in the first half of the AYC Frostbite Series that ended in mid-December.
Mark Rickling, who races on the J/33 Delirium on winter Sundays with Herrington Harbour Sailing Association, says, "It's usually not really all that cold here in the mid-Atlantic, and this year it was great to get more time on the water given how the pandemic affected sailing season."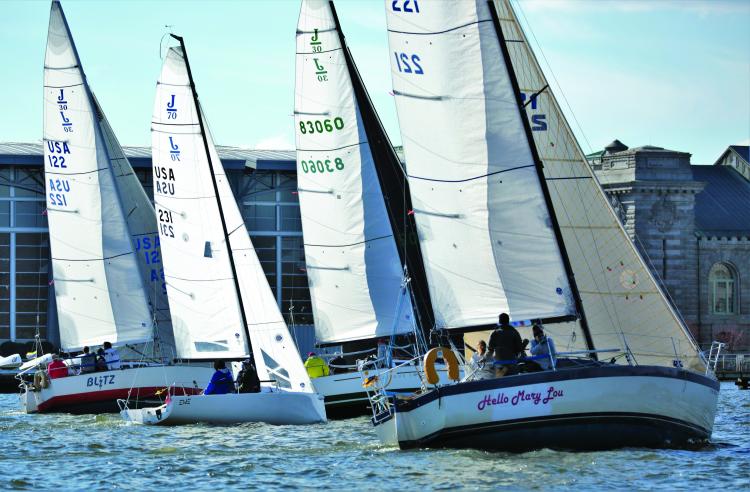 Sarah Bova races out of the Downtown Sailing Center (DSC) in Baltimore. She says, "Our frostbite racing, like many DSC programs, is focused on creating opportunities for all community members who want to sail. We typically meet at the dock and divide up into teams to race on the DSC's fleet of J/22s."
Having grown up on Lake Erie, Bova says, "Sailing during the winter was not an option. My family's boat had to be taken out of the water in late fall before the water froze. Completing my pharmacy residency over the past two years and now working as a healthcare provider during a pandemic, sailing has provided a great opportunity to relax and have fun. Why stop when the weather gets cold? Just bundle up and get out there. It's so much fun!"
Gearing up for the weather
Fair-weather sailors or landlubbers always ask frostbite racers the same thing: "Don't you get cold?" Winter sailors tend to have specific items they favor in their kits.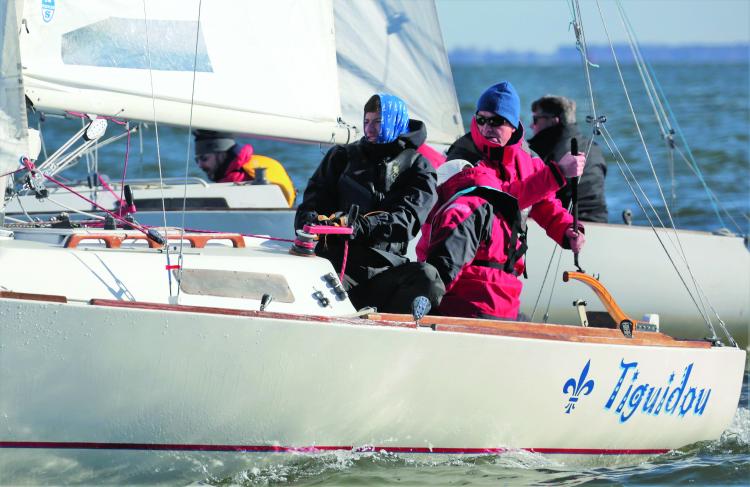 The Robinsons covet hand warmers. "We hand them out like candy! Brian can't live without his fleece-lined jeans, and Krissy loves fleece leggings. Some of our crew favorites are extra warm or waterproof socks. A great set of bibs are another crew favorite (we seem to be partial to Gill and Musto on our boat). Because of the 'feet in the cockpit rule' (during the Annapolis Yacht Club Frostbite Series), you do not seem to get as wet frostbiting, so you can often wear gear that can do double duty for skiing."
Chiochetti says, "There are always seasonal costumes that show up, such as the Santa hat—but on the serious side, I swear by Goretex socks with wool sock liners; warm, dry feet are the best."
Scales says, "Anything with thumbholes;" she loves the long sleeves with thumb holes.
Casey Firth, a SpinSheet Racing Team member, who does frostbites on a J/24 with Ian Connors, Alli Gutenkunst, and Kelsey Bonham (with Allie Howe and Nat Bonham as alternates), doesn't sail in winter without her blue zinc—you may have seen photos of her on SpinSheet's Facebook and Instagram feeds with bright blue nose or lips. She says, "Skin care is important and getting sunburnt in December is just weird."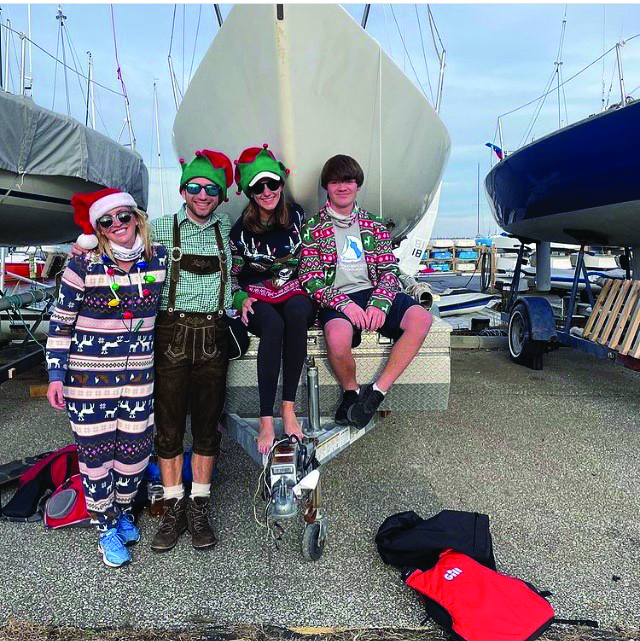 Bova says, "My favorite cold weather gear is an Under Armour base layer, Gill waterproof bibs and jacket, and West Marine waterproof heavy winter gloves."
Rickling says, "Waterproof gloves are a must." Many veteran frostbite racers have out-of-the-box glove suggestions. We've heard of many non-sailing gloves such as garden gloves or Atlas insulated gloves. SpinSheet Racing Team and Century Club member Julianne Fettus, who sails her Rainbow 24 Wiggy Wiggy in winter, discovered something new last season…
"Ice fishing gloves… they're amazing! They're slightly fleece-lined, warm, waterproof (I can dunk my hands in Wiggy's bilge and pluck out the ice chunks), and the texture is just enough for a good grip. They're surprisingly sturdy, but not completely bulletproof. They're cheap enough that when you do destroy them, it's by the time that they don't owe you anything. And you can get the right size for your hand." They're called the Glacier Bay Ice Bay Fishing Glove.
On-water winter adventures
Over the years, several frostbite racers have described winter racing as a great way to extend the season. Others aim to improve skills—or work through the kinks before more serious sailing on the southern circuit. Even those who describe it as good silly weekend fun with a strong sense of camaraderie all say they learn a trick or two.
As per her philosophy of honing skills in winter, Kristen Robinson mentions something her team recently worked out onboard: "We learned to attach two sets of jib sheets to the J/105 jib to have the ability to alternate the lead between upwind and downwind."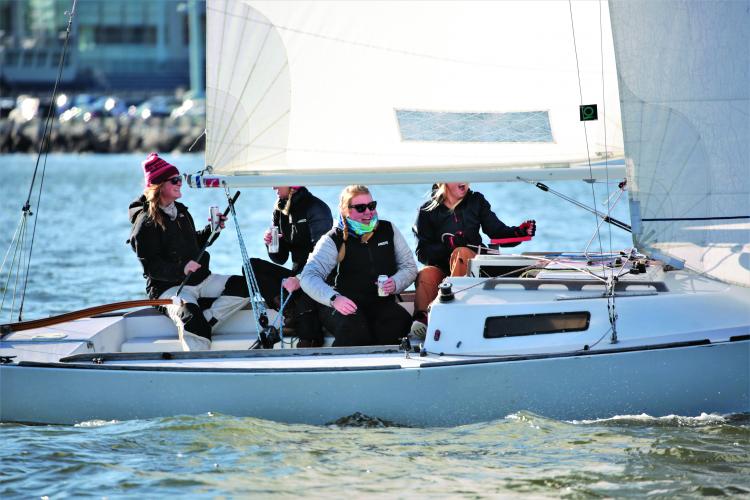 When asked to share a short story from his winter adventures, Irvin says, "Old sails tend to be used for frostbite racing. Two years ago we had a very old cruising mainsail up, and with two minutes to go to our start, several of the plastic sail-track slides broke separating the mainsail from the mast. My crewmember, Andrew Moe, was confident he could drop the main, cut off all the slides, and re-raise the main using the luff bolt rope, all before the start. I was not so sure, but he got it done, and we had a great race."
For the fun of it
Firth says, "To celebrate the end of the AYC Series One December 13, we sailed the J/24 up Ego Alley in full holiday gear and grabbed drinks to go at Pusser's. The highlight was getting a round of applause from the audience at the Fleet Reserve Club."
When asked why she'd freeze out on a boat when she could be home on her couch drinking hot chocolate, Firth says, "Sailing is too fun to only do it half the year! Why drink hot chocolate at home when you could drink spiked hot chocolate on the boat?"