A Spectacular Finish for Bay Sailors at Charleston 2019
After two great race days on Friday and Saturday, Sperry Charleston Race Week concluded in spectacular fashion Sunday, April 14, with strong winds producing exciting action and several classes being decided during the last race.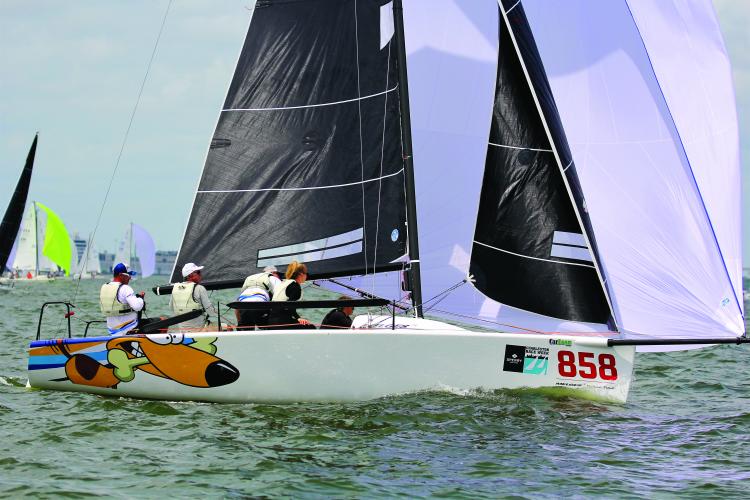 Skipper Travis Weisleder of Richmond, VA, and his Lucky Dog/Gill Race Team rallied to victory in the Melges 24 class, which attracted 37 entries. Anthony Kotoun called tactics for Weisleder, who steered Lucky Dog to first place in Race 10 to move into a tie with Monsoon, skippered by Bruce Ayres of Newport Beach, CA.
"We had to win the race and put four boats between us and that's exactly what happened," Weisleder said. "We led that last race from start to finish. We got off the line great, went left to find clear air, and then used our boat speed to climb away and extend. What an awesome way to finish things off."
Weisleder has been sailing with headsail trimmer John Bowden for eight years. However, this was the first time Kotoun had been aboard while Jane Buckley was a fill-in on the foredeck. Caroline Main (floater) completed the revamped crew, which came together quickly.
"Anthony did a good job of putting us in the right positions, and we've been really, really fast all week, both up and down," said Weisleder, a former College of Charleston sailor who has been racing in the Melges 24 class since 2000.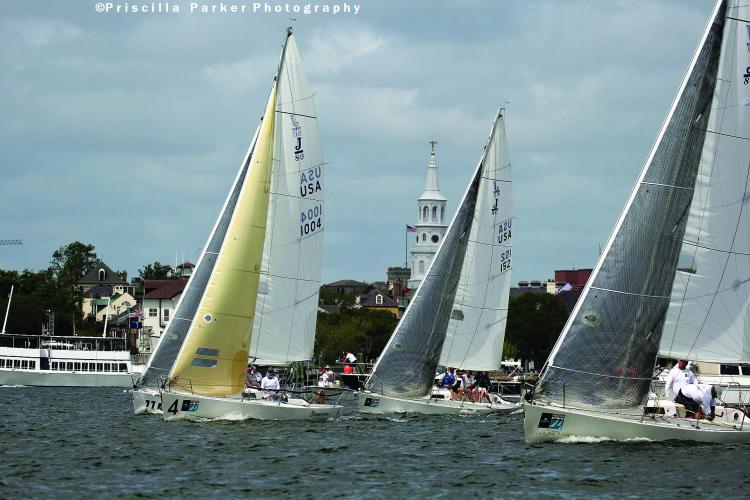 The Bay Head Yacht Club member has missed just four of the 24 Sperry Charleston Race Weeks held to date and last captured the Melges 24 class in 2008. This year's edition will be memorable for Weisleder, who received the Charleston Race Week Cup, presented for best overall performance by a one-design entry.
"This is a tremendous honor, and we're very, very proud," said Bowden after accepting the perpetual trophy on behalf of Lucky Dog/Gill Race Team, which had a black flag penalty overturned during a redress hearing. "It's been a real roller coaster of a regatta, and that makes this award even more rewarding."
Teamwork, a J/122 owned by Robin Team of Lexington, NC, earned the Palmetto Trophy for the fifth time at Sperry Charleston Race Week. Annapolis pro Jonathan Bartlett called tactics on Teamwork, which won all six races in ORC B class on the Hybrid Pursuit course.
"We've been coming to Charleston for a long time, and we absolutely love this regatta," said Team, whose previous Palmetto Trophy wins were as top PHRF entry. Now Teamwork has another one on the shelf for best performance among ORC entries after duking it out with Ian Hill's J/111 Sitella (Chesapeake, VA).
"We had a great time mixing it up with Sitella, which is always well-sailed," Team said.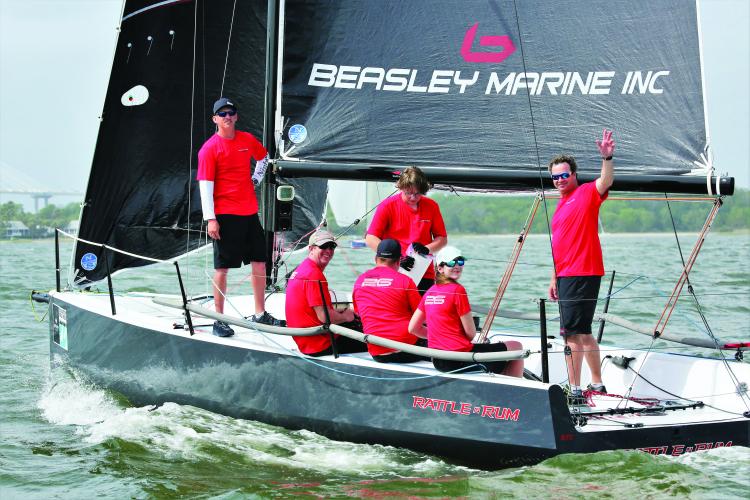 Mike Beasley and his team on the GP26 Rattle-n-Rum was the two-time defending champion of ORC C, a class comprised of a nice mixture of sport boat designs. However, the Annapolis entry found itself sitting in second place behind the Farr 30 HeadFirst3 going into the last day.
Beasley's GP26 performs extremely well in high winds and posted a pair of bullets on Sunday to force a tiebreaker with HeadFirst3, a Canadian entry skippered by Peter Toombs. Rattle-n-Rum won two more races than the Farr 30 and is now a three-time champion as a result.
"It was challenging from the get-go because the Farr 30 had an outstanding sailing team," Beasley said. "It is so much more rewarding when you are pushed to the limit and have to win a regatta on a count back."
Joe Gibson served as tactician aboard Rattle-n-Rum, which trailed HeadFirst3 by two points after two days of racing. Teddy Haaland (bow), Joanna Haaland (runners), Matt Weimer (main), and Ryan Rutkowski (floater) made up the rest of the team.
"We knew what we had to do today and decided to be very conservative and let the boat do its stuff," Beasley said. "We didn't engage the Farr 30, we didn't wipe out, we hiked as hard as we ever had, and we knew how to sail the boat in that type of breeze."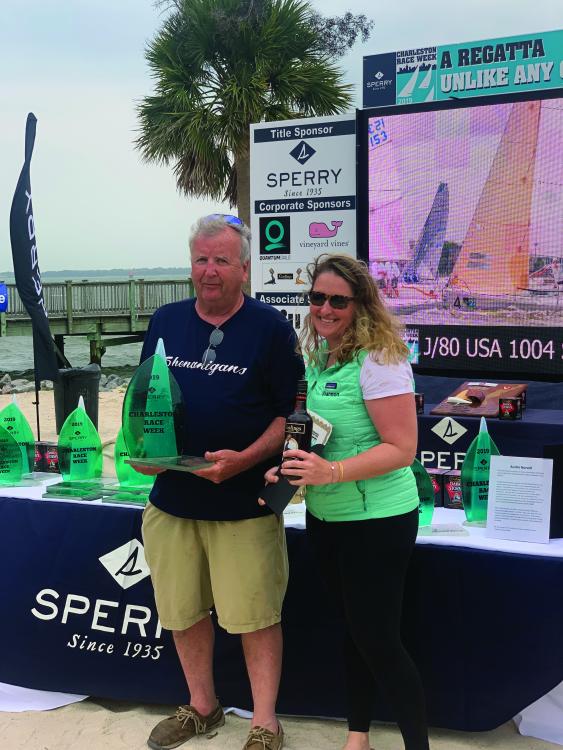 Shenanigans came away as winner of the J/80 class following a tight three-way battle that included fellow Annapolis entry Eleven (Bert Carp). Shannon Lockwood steered while her father Bill trimmed the main. Jeff Todd handled headsails, while his daughter Cassie worked the bow.
"We had a great battle with Bert, whom we race against on Thursday nights in Annapolis," said Shannon Lockwood, who was a member of the keelboat team at St. Mary's College. "I thought our team handled the boat well and paid attention to the puffy and shifty conditions. We were also conservative and smart with our maneuvers. It's always cool to win, especially at such a major regatta like Charleston, so we're super psyched."
In the Pro Am Racing One Design Division on the RS21, Annapolis pro Zeke Horowitz placed first, with Travis Odenbach in second, and Kevin Jewitt in third place among seven.
Another noteworthy Chesapeake finish was that of Tred Avon Yacht Club sailor Eric Crawford and team, who finished second to Peter Johnstone's Alerion 33 Honey on the Pearson Rhodes 41 Restless in the Pursuit Race Spinnaker PHRF B. Doug Abbott, Logan Greenlee, Eric Hummel, Michael Marshall, David Merrill, and Russell Stone rounded out the team.