Block Island Race Week Day 1
Wow—Chesapeake sailors are sailing fast and doing well following the first day of racing at Storm Trysail's Block Island Race Week June 23-29.
Robin Team on the J/122 Teamwork is in second place in ORC 2 following three races today. Team has a crew packed with Chesapeake talent, including Jonathan Bartlett, Kevin Ryman, and Jeff Riedel.
Annapolis sailor Bill Sweetser is in first in the J/109 fleet on Rush after posting three bullets in three races. Rounding out the Rush team are Tom Babel (tactician), Bobby Brooks (offside trimmer), Kurt Carson (mast), Mike Hobson (main trimmer), Greg Oczkowski (bow), and Brian Tyrrell (headsail trimmer).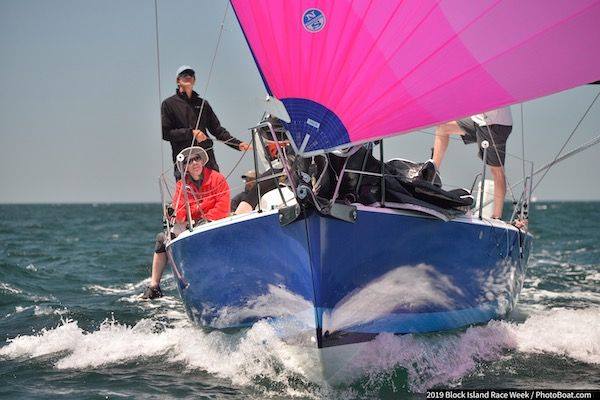 Hayden Kuzemchak is skippering the Farr 40 Ranger, one of the NASS entries, and is currently in first place among 16 in PHRF 1 today after three races.
Annapolis sailor Ken Comerford is in second in PHRF 1 today aboard the J/111 Moneypenny. Among the locals on his team are Grady Byus (hadsail trimmer), Will Comerford (bow), Cate Muller (mast), Bob Oberg (main trimmer), Mike Powers (offside trimmer), Franny Schulte (pit), and Allan Terhune.
Zackary Bauer is in third place in PHRF 1 aboard the NASS Farr 40 Zephyr.
AYC member Kevin McNeil sailed to the top of PHRF 2 today aboard his Farr 40 Seabiscuit.
Find the latest edition of the 1BI aka Digital BIRW Times here ....
Storm Tryathlon for the Lay Day!
We love this idea! The Storm Tryatholon will consist of the North Sails 5K, followed by Trivia at Margaritaville, followed by a New England Ropes Tug of War. Read more about the Lay Day activities here.
Kudos to STC organizers for coming up with this unique and fun event to make for an even more memorable regatta on shore and on the water!
Find BIRW 2019 photos by PhotoBoat here ..........Stay tuned for more!