A Rough Ride at the A2N, but Exhilarating for Top Finishers
One thing is true about every competitor in the 2019 edition of the Annapolis to Newport Race (A2N), June 7-12: they had stories to tell. The 475-mile-long biennial race that runs from Annapolis down the Chesapeake and offshore to Newport, RI, was a rough ride, yet exhilarating for many.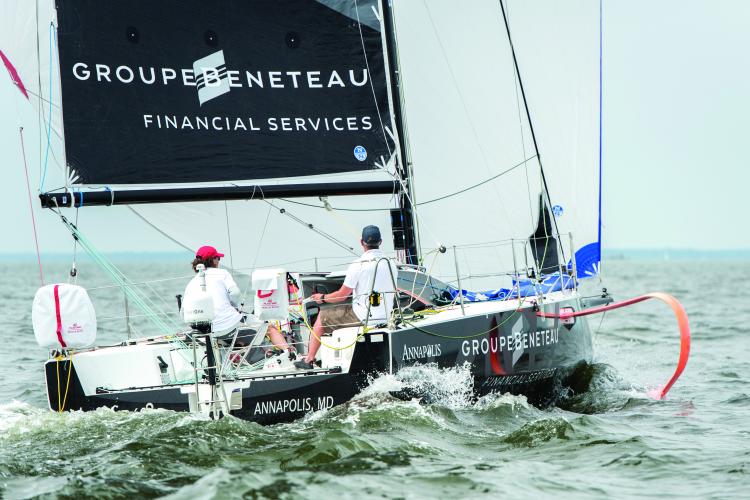 Among the Chesapeake competitors who excelled in the event was Laurent Givry, skipper of the Beneteau Figaro 3 La Defonce. Sailing with French pro Sidney Gavignet, he took line honors—the first doublehanded boat in the race's history to do so—and placed first in the Doublehanded Division. Although he'd completed two A2Ns, this was Givry's first doublehanded one. Gavignet trained Givry for two solid weeks before the race to get him up to speed.
Although the skipper admits that they had a "bouncy" ride with "walls of waves" and that he cut his head open at one point (bandaged it and moved on), he says, "To be honest, we didn't feel hardship."
As for his crew, "(Gavignet) was perfect as you can imagine: very calm. Everything was done very calmly, very precisely. I was doing my job, as it was training for me. He showed me what to do. He thinks of everything in advance, nothing at the last minute. Very smooth, with a lot of preparation for every maneuver, very methodical and very precise. I thought I did a good job for an amateur. I did what he told me to do."
When asked what he will never forget about the experience, Givry says, "So many moments… everything was just perfect. Zero problem. What I love is two hours off, two hours on, basically sailing solo. It's pretty cool when you are on deck by yourself, feeling good. I was not scared at all. I was totally confident. I cannot remember a single moment of doubt. There were 30 knots of solid wind. Double reefed, the boat was so good. Amazing, a very stable platform."
Givry will definitely do this race again doublehanded. "Many people are going doublehanded or singlehanded. It's a great way to be a better sailor. It's more intense. I'm very supportive of doublehanded races and pleased Annapolis Yacht Club is putting together a doublehanded race (September 28)."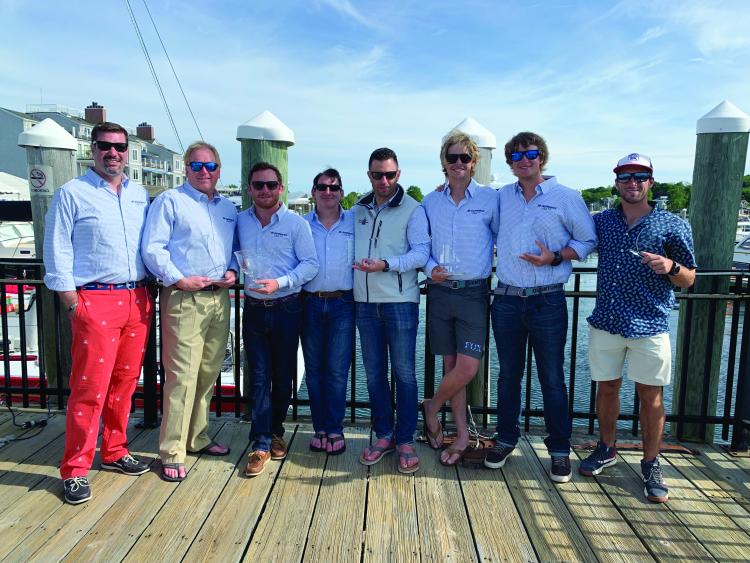 In his second A2N (his first on the J/109 Rosalita), Rick Hanson once again placed first in class, this time in PHRF 1 on the J/120 No Surrender, which was "a bit faster and a bit more stable for the offshore stuff. It paid off this year, as it was a pretty rough ride." Hanson's team also won the Youth Challenge.
One thing he learned from his first experience was "to have enough good drivers when it gets challenging. This year we had five solid drivers that we could keep fresh. Last go around we only had three. Secondly, we went to shorter three-hour shifts at night to keep people fresh on deck. It was pretty wet, windy, and miserable on deck. I can't say the crew always was looking forward to going down below, as it was a wet mess, hard to stand, and difficult to sleep due to the pounding noise every time we hit a wave."
"Once we turned the corner at Chesapeake Light we stayed on starboard tack until Newport and had 20 to 25 knots pretty consistently. We cracked off a few degrees and sailed hard until the wind shift came in off the Jersey coast. At 30 knots apparent we maintained a good eight to nine knots of boat speed, with occasional 10 to 11s coming off the waves."
Hanson attributes his success to his team: Kyle Hanson, Alex Razzook, John Dearnaley, Matt Cowen, Jorden Wiggens, Shane Kilberg, Will Hundahl, and Sue Hanson (as shore crew). Three of his crewmembers were from the University of Charleston offshore sailing team.
They made a huge difference, as they all could drive and trim, and we had youth to go forward," says Hanson. "My son Kyle Hanson who has been sailing with me for his entire 29 years kept his watch focused and the boat moving fast at all times."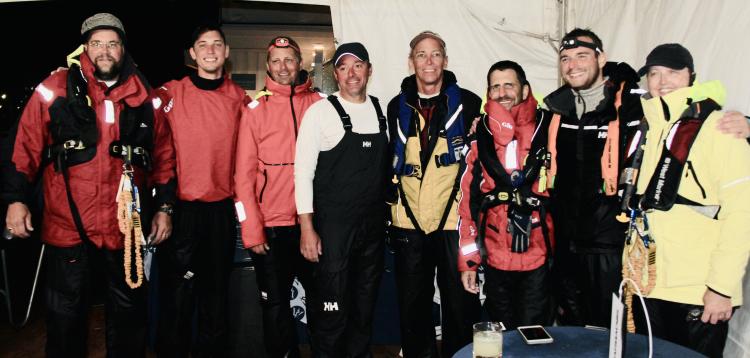 Herrington Harbour Sailing Association member Bert Bossar and his team on the J/42 Allegiant placed first in his second A2N. His "rock star crew" included Noah Kanter (navigator and watch captain), Randy Gray (tactician), Cheri Smith (pit and main), Steve Riker (trimmer), David Washbourne (trimmer), Adam Rybczynski (bow), and Noah Martin (mast).
For Bossar, the greatest challenge was "remembering that the race is a marathon and that you have to race your race and set the boat and crew up for the best possible success; not race another boat's race, nor attempt to race the planned weather instead of the real conditions. When everyone is beginning to separate, and the ocean conditions set in, it gets tough to keep that focus. It was something we couldn't do well in the past. But we were more resilient this year, especially given the mal de mer, which I'm sure probably affected everyone for some amount of time. Fortunately the boat handled the sea state really well. Everyone adjusted, and our crew was able to grind through it watch by watch. We maintained more consistency over the entire time."
Bossar was thankful for his well-prepared team. "Everyone invested something into the boat to make it or them better. We trained hard as a team, and we ultimately raced hard as a team. We alternated positions and supported each other when things were tough. We just worked well together throughout the entire race. It wasn't one thing; it was all the little things put together. Being on time for your watch. Helping your battle-buddy clip in.
Climbing on the rail together when you'd rather sit in the cockpit. Mentally it was good we had a few boats around us to sort of match race, keeping each other engaged and fighting over the multiple days."
One moment the skipper won't forget: "A subtle moment for me was—without really knowing where we stood in the fleet at all—as we approached the finish on the final beat, everyone was pretty wet and cold, yet everyone was laughing, supporting one another, and still focused on keeping the boat dialed in. I really savor that."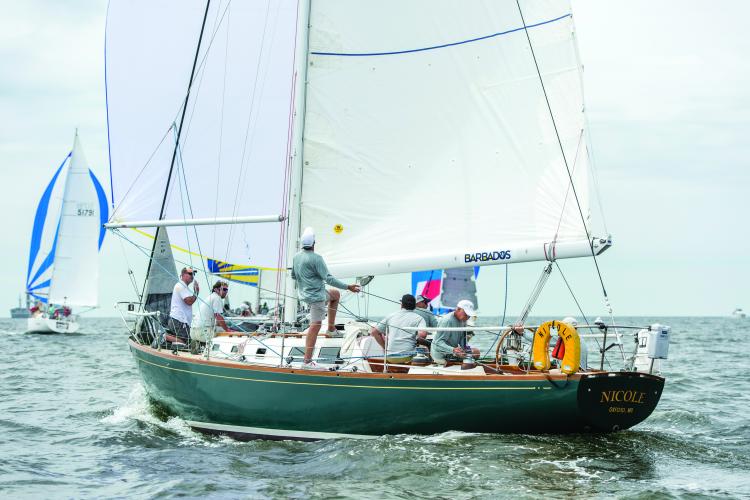 In his first A2N Tom Campbell of the Tred Avon Yacht Club captured victory on the Cal 40 Nicole in ORR 2. "I have a great crew, who have now done this race many times," says Campbell. Alan Campbell, Doug Campbell, Bob Mathews, Jim Ryan, Harry Seemans, Ned Foster, and Andrew Devlin rounded out his team.
"We work very well together. We discuss tactics and the always-changing situations that occur in this manner of racing. We make these decisions as a team."
What did his crew do particularly well? "Always race prep. It payed off especially for the conditions we were given. Heading out to Chesapeake Light early Saturday morning, we knew we would have to go much farther offshore to achieve our goal. The wind took a bit longer to go east than everyone anticipated. We saw true wind speeds of 18 to 25 knots and waves eight to 10 feet tall in a very confused sea state for 32 hours. Several crew members experienced sea sickness at various times. Everyone stepped up and covered for each other's watch when needed."
For Campbell, it's hard to "nail down" what he will remember most. "It could be the sounds of the waves hammering on Nicole daring her to keep pursuing course to Newport, the crew rotating at the helm while we reached into Newport for the finish. For me, it would be receiving the Seafarer Trophy from Johnathan Bartlett in memory of Jim Alsopp (for best combined A2N and Newport to Bermuda scores). Our kids sailed together years ago, and Jim was always forthcoming and made everything fun."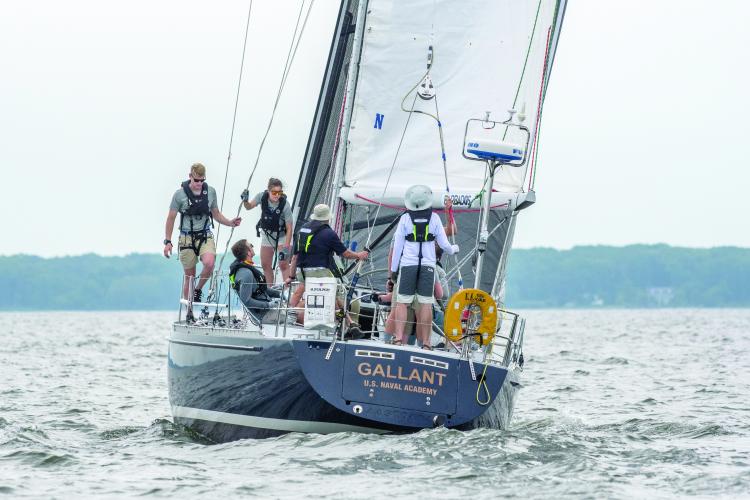 As noted in the July issue of SpinSheet, Navy teams sailed strong in the A2N. In ORC 1A Hayden Kuzemchak on the Farr 40 Ranger placed first, while Zack Bauer's Farr 40 team on Zephyr placed second. Christian Hoffman on the Navy 44 STC Mk2 Gallant placed first in ORC 2, with George Hamilton on the Navy 44 STC Mk 2 Defiance finishing in second.
Jeff Leigh, whom SpinSheet interviewed for the June issue about his crew's preparation for the race, placed second in PHRF 2 on the Dehler 36 Huck's Finn. He says, "We never let up off the gas pedal the entire race. We pushed hard day and night even when there was nothing left in our tanks. In speaking with other boats in our class after the race, many boats eased up at some point during the race and got some much needed sleep, rest, and a warm meal, even it was just for a few minutes here and there. Our crew's attitude was something I was most proud of."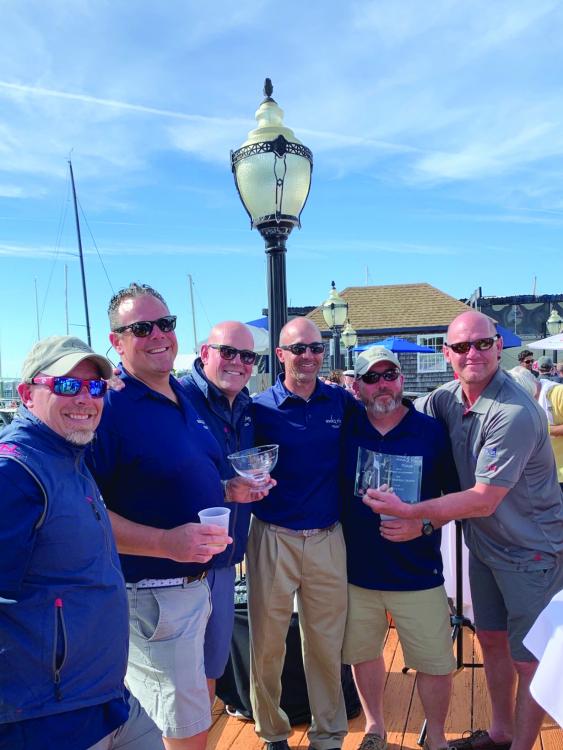 Leigh continues, "When we arrived in Newport at 2 a.m. Tuesday morning, we were welcomed at the dock with a cooler of cold beers from the AYC welcoming committee. After almost four days of misery, we entertained the welcoming committee with enough stories that they sought us out two days later at the awards ceremony to declare to us that of all the boats we were the most upbeat and gregarious crew to arrive in port… I was proud of our crew to rally as well as they did. After what we had been through the previous few days, it would have been much easier to run to the hotel room and call it a night."
All competitors interviewed rated the pre-race seminars and party at AYC, the race committee, race organization, and post-race festivities in Newport as "excellent." Hanson adds, "Linda Ambrose is the best."
~By Molly Winans
Find more at annapolisnewportrace.com. Find downloadable photos for purchase here.