Wrapping up summer racing in style
CRAB Cup, Snipe World Championships, and more ways to finish off the summer racing season. Here's your racing roundup for the weekend of August 18-19
CRAB Cup
A summer favorite at Eastport Yacht Club, the CRAB Cup, a pursuit race for Chesapeake Region Accessible Boating, unfolded Saturday afternoon August 18 off Annapolis.
SpinSheet's publisher, Mary Ewenson, who is a past CRAB board member and sponsor of the event since its inception 12 years ago, also raced on Saturday in the Viper Terminally Pretty. At the awards ceremony, she said it best when she said, "If you can't have fun sailboat racing on a day like today, you're not a sailboat racer."
A pleasant moderate breeze filled in during the race and took the edge off the muggy day. By all accounts, it was a surprisingly good sailing day. GREAT Job by EYC race commitee, all volunteers, and the sailors who made a huge effort to raise money to get disabled and disadvantaged people and wounded warriors out on the water through CRAB.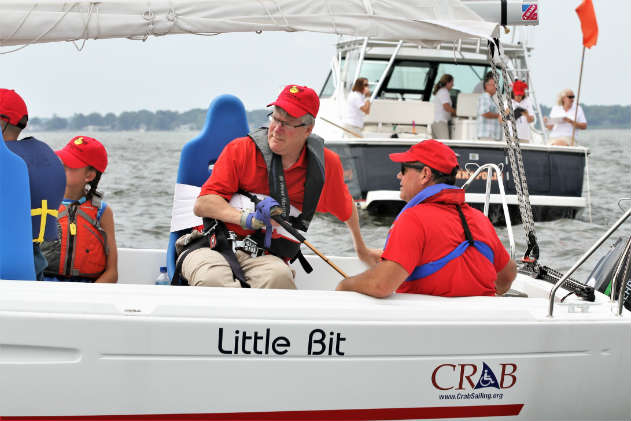 Find 2018 CRAB Cup results here.
Find Will Keyworth's CRAB Cup photos for purchase here.
Snipe Women's Worlds
Longtime SpinSheet "Small Boat Scene" columnist Kim Couranz had an amazing weekend, as she and longtime sailing partner and skipper Carol Cronin won the 2018 Women's Snipe World Championships in Newport, RI. There were 32 competing boats, and the Cronin/Couranz team were the most consistent finishers. Find the Snipe report here.
Find some touching words by Carol's husband and sailing coach here.
Did we mention that Carol is an excellent writer as well as sailor? Find more about her books here.
Did we mention that Kim (also an excellent writer) is commodore of Severn Sailing Association? Yeah, she's awesome.
Congratulations, Carol and Kim!
Nantucket IOD Celebrity Regatta
One more off-the-Bay event to celebrate…. Congratulations to Annapolis pro Geoff Ewenson, the winning tactician in the Nantucket IOD Celebrity Regatta last week. Local sailors Thom Bowen and Dave Houck were skippers. Find IOD Celebrity Regatta results here.
From Lin McCarthy's Southern Bay Racing News You Can Use
Welcome Back, Lin!
SMITH POINT RACE (FBYC DISTANCE SERIES 3).
On Saturday, Smith Point racers got a taste of everything wind-wise. Principal Race Officer Case Whittemore said, "At the start, wind conditions were above average for the morning in mid-August. The wind died in late afternoon and then the thunderstorms and steady rain crossed the race course.There were a lot of sails hung up to dry early [Sunday] morning."
Dampened spirits were completely repaired by Sunday morning as racers enjoyed a delicious post-race brunch. Fourteen (14) boats started Smith Point and nine (9) finished the almost 46 mile course.
RESULTS:
PHRF A (6 boats): 1.Craig Wright, Afterthought; 2.Mayo Tabb, Excitation; 3.David Clark, Corryvreckan.
PHRF B ( 4 boats): 1.Miles Booth, Shenanigan; 2.Bob Fleck, Mad Hatter; 3.Christopher Blekicki, Wahoo.
PHRF C (3 boats): 1.Brad Miller, Schiehallion.
Would you like to see your news in SpinSheet's Racing Roundup?
Send news and photos anytime by 9 a.m. on Monday morning anytime, and we're happy to include it. [email protected]