Crossing the Atlantic Ocean in a Star? Wow. The Star is a recently retired Olympic class keelboat that measures in at just 23 feet long and 6 feet wide, with very little in the way of freeboard and nothing in the way of a "down below." The Star is not considered, really in any way whatsoever, to be an offshore sailboat. So naturally, it caught our attention when we learned that an Italian man, Dario Noseda, thought that this was the perfect platform with which to cross the Atlantic on a journey from Spain to the Bahamas. No, really. It's happening. And he's more than 75 percent across, already having left from Spain over a month ago.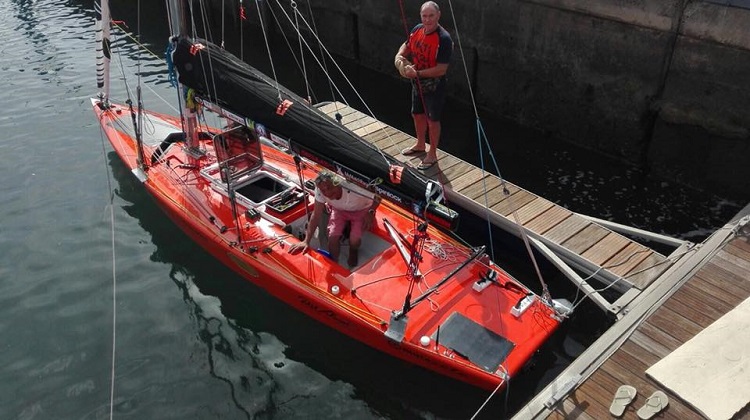 So, it should be noted that as adventerous as Dario is, he has extensively modified his Star to make the journey a little more "realistic." The waterline and basic outline of the boat are largely unchanged except for some go-fast orange paint, but he's swapped out the mast for something a bit stronger, added more standing rigging, a mainsail with reefing points and lazy jacks, two roller furling headsails, watertight compartments, solar panels, electronics, autopilot, and he created a "sleeping area" amongst other things. Also, thanks to the wizardry of Google Translate, we also know that "unlike the classic Star, it was decided to adopt a tree resting on the deck and shorter than about 1 meter..." umm, naturally?
His living quarters are pretty cramped, as you'd imagine. Again, from his website (translated by Google): "Dario "will live" in a cockpit built in part of the cockpit, reduced compared to the original, a space slightly larger than two square meters (less than 22 square feet) for a height of about 80 cm ( less than 32 inches) at the highest point, like being in a Canadian tent from one, but a little lower."
Dario hasn't run into too many issues along the way, which is pretty impressive - he had to make a short stop to deal with an electrical issue (we think... Facebook's translator requires some guesswork just like Google's) and has recently had some issues with flooding in the compartment where his batteries are stored. After 2744 miles covered, and nearly 30 days, that's pretty amazing.
He's got a little under 800 miles left until he makes it to Nassau, Bahamas. Dario was hoping to arrive in conjunction with the Star Sailors League Finals, but it looks like he might be a couple of days late. We were really impressed when Robert Suhay completed a 160 mile trip from Norfolk to Annapolis on a Laser back in 2013, so we'll defintely have to tip our caps to Dario when he completes his 3530 mile trip!
You can follow the last part of Dario's trip via his Facebook page: Star in Oceano.