Crushing It in Charleston Beasley and Ewenson Teams Rock
Mike Beasley and team on the GP 26 Rattle N' Rum (overall winner), Geoff and Mary Ewenson on the Viper 640 Terminally Pretty, and other Chesapeake racers crushed it at Sperry Charleston Race Week last weekend, which for the small boat classes, finished a day early due to incoming storms.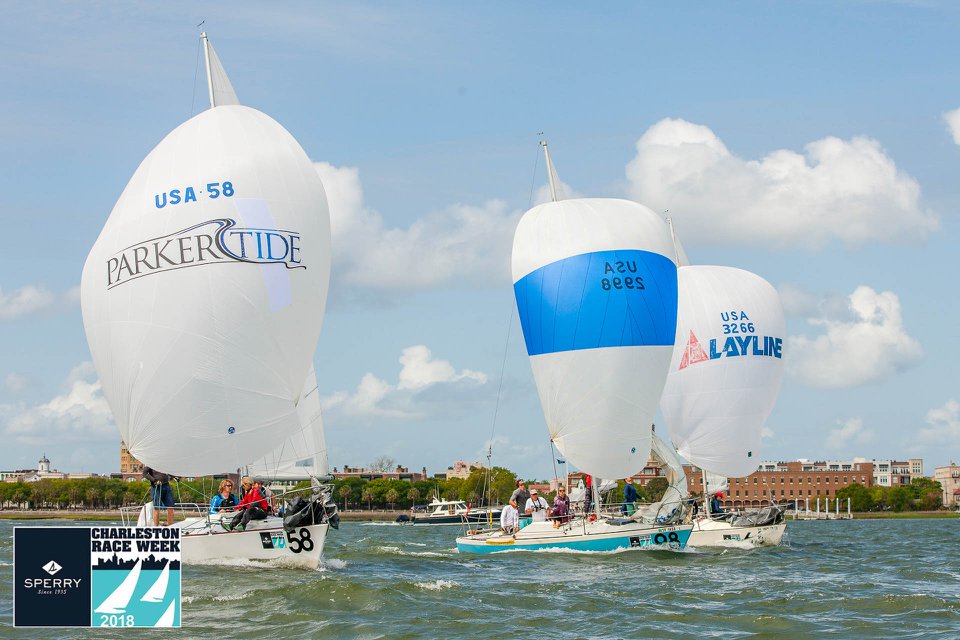 "(I'd) been watching the forecast all morning and the breeze was just going to escalate. We could get one race in, but afterward we would have to pull all the boats out of the water," event director Randy Draftz said. "It was just not a prudent thing to do. We have 200 boats that have to get hauled out. You have to err on the side of caution. We know it's coming, we just don't know exactly when. Better to have cranes pulling boats out now as opposed to 2 or 3 in the afternoon."
With the entire fleet safely out of the water by early afternoon, the final awards party on the beach at Charleston Harbor Resort and Marina was moved up to 3 p.m. Overall winners of Sperry Charleston Race Week 2018 were the J/70 Relative Obscurity and the GP 26 Rattle-n-Rum.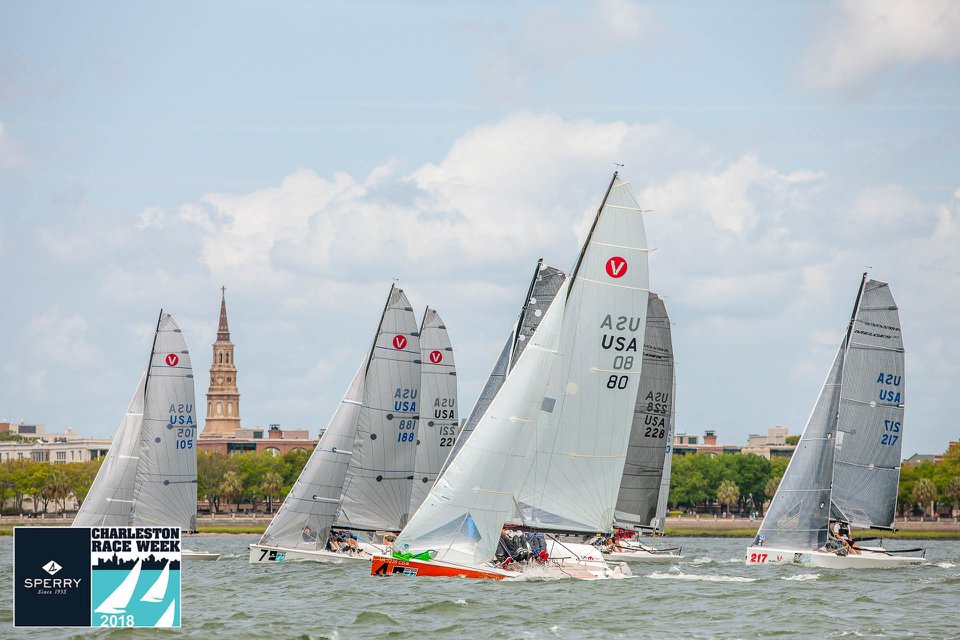 Skipper Mike Beasley and his team on Rattle-n-Rum were darn near flawless in capturing the ORC C class, reeling off five straight victories to start the regatta. The Annapolis skipper also posted a second with the lowest result being a fourth in the highly-competitive class of speedy sportboats.
It was yet another strong performance at Sperry Charleston Race Week for Beasley, who was presented with the prestigious Palmetto Trophy for the second straight year for best performance among handicap entries.
"I'm at a loss for words. To win this trophy back-to-back is obviously sensational. It's a highlight of my sailing career," said Beasley, who owns and operates a marine services business in Annapolis.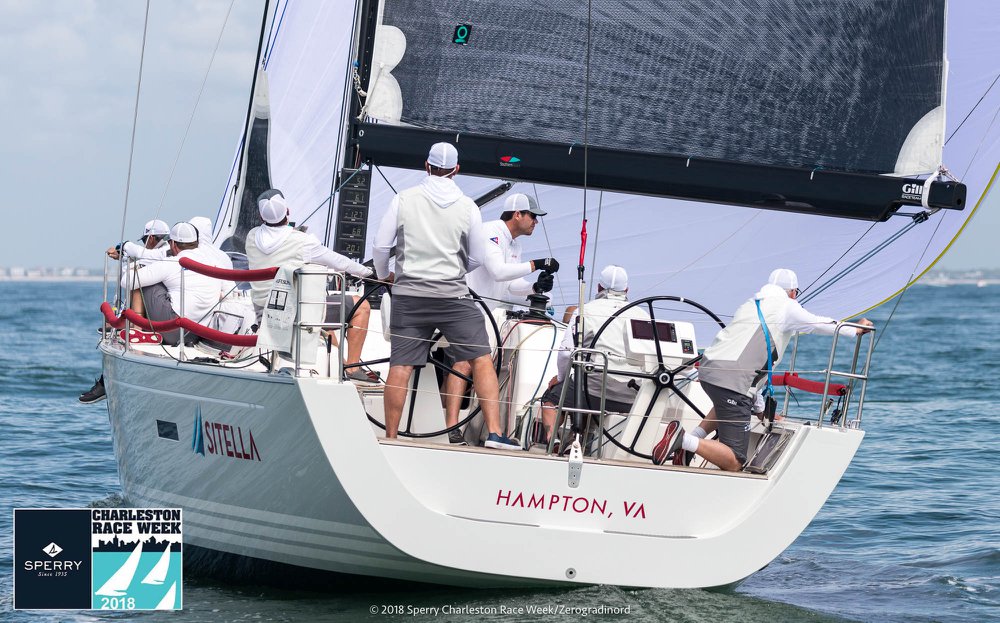 Joe Gibson called tactics and trimmed the spinnaker while Teddy Haaland worked the bow and served as strategist aboard Rattle-n-Rum, which has now captured class honors at Sperry Charleston Race Week three years in a row. Brady Stagg trimmed the main and handled strategy downwind, Joanna Haaland handled the runners while Ryan Rutkowski was the floater.
"This is a team sport and these guys and girls are the key to the boat's success. I'm so lucky to have each and every one of these sailors on my crew," Beasley said. "I'm so grateful that they're committed to the same goals as I am. I can't thank all of them enough for all the hard work they do to get this boat ready to perform on the race course."
Viper 640 class was taken by Terminally Pretty, which is sailed by the husband-wife duo of Geoff and Mary Ewenson. Eric Oetgen, Geoff's former partner in a Finn class Olympic campaign, called tactics while College of Charleston sailor Marian Williams was a late addition to the team.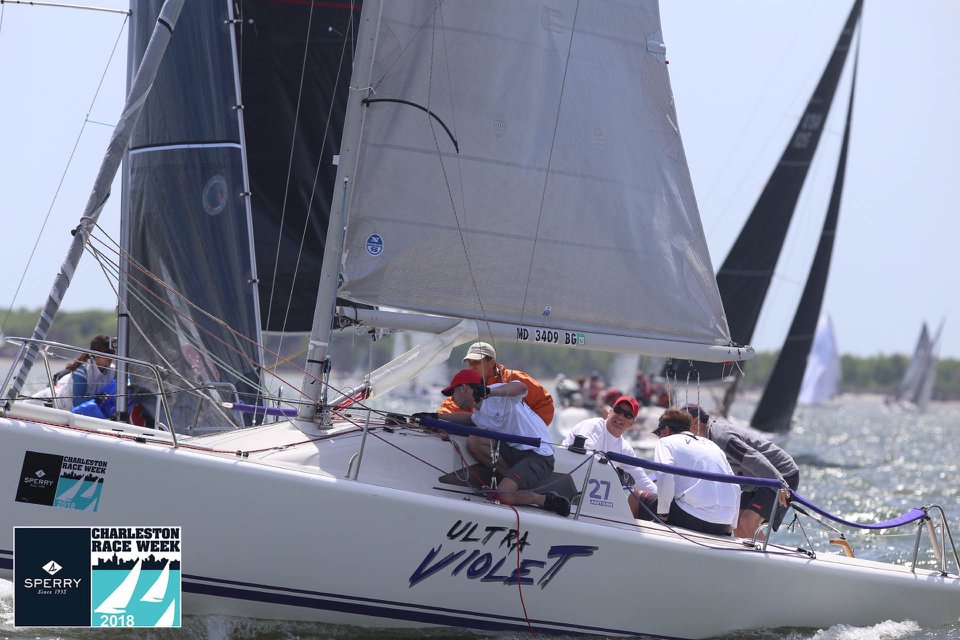 "My crew was pretty spot-on. It was a real nice team that worked very well together," Geoff Ewenson said. "Mary and I are getting more time in the boat and figuring out how to make it go. Eric does a lot of racing in Charleston so was a real asset on tactics. Marian was super energetic and helped out a lot."
Sperry Charleston Race Week 2108 closed on Sunday with a distance race for the Spinnaker and Non-Spinnaker classes on the Pursuit Race course along with a windward-leeward course in Charleston Harbor for the ORC A, ORC B and J/105 classses.
That last race proved decisive in the Spinnaker Pursuit class as skipper Rick Moore steered the J/120 Moose Down to line honors. Chessie Racing, the Tripp 62 owned by George Collins, finished fifth and that four-point swing enabled Moose Down to secure the overall victory.
Chessie Racing got the gun on Friday and Saturday, but the shorter 14-nautical mile course set on Sunday was too short for the largest, fastest boat in the fleet to claw its way to the front. Collins, a renowned Chesapeake Bay racer who now lives in Miami, said Chessie Racing hit 18.2 knots of speed in 22 knots of wind.
"It was a little claustrophobic inside. We were carefully watching the laylines and the depth because there were only certain areas we could go," he said. "It was a terrific race and real fun. It was a great day of sailing and illuminated several areas of improvement."
Spookie picked up its fourth win of the series on Sunday and captured ORC A by four points over the XP44 Sitella, owned by Ian Hill of Chesapeake, VA.
Among other notable finishes were Dave Prucnal on the Antriim 27 Ultra Violet, who took second place ORC C and Tony Parker on the J/24 Bangor Packet who placed third in the one-design class.
Find the full press release here. FIND PHOTOBOAT SHOTS HERE.