An American Journo Becomes Acclimated to Life in the America's Cup Village
Today is my first day out of isolation after arriving in New Zealand two weeks ago. I spent yesterday hoping against hope that the Brits would eke out a win or two against the Italian team Luna Rossa…thus sending the Prada Cup Finals into a day where I could actually watch the sailing action from the press boat rather than from my computer screen.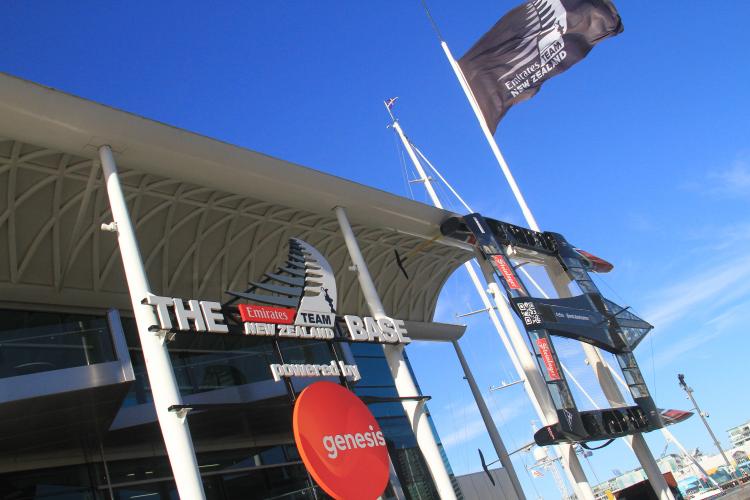 No luck. Jimmy Spithill & Co made short work of Team Ineos UK winning seven out of eight races in short order. Time for this reporter to hustle up some non-racing stories for my loyal readers at SpinSheet.
The AC village is a one-mile-long aggregation of mega yachts, America's Cup merchandise shops, fan Cup Experience kiosks, viewing venues with giant screens and bean bag chairs, bars and eateries and, yes, Team bases for Emirates Team New Zealand (impressive and approachable); Team Luna Rossa Prada Pirelli (equally impressive but viewable only from a distance); and Team Ineos Team UK and The New York Yacht Club's American Magic (off the beaten path with limited sightlines… just past a big sign that proclaimed "There is no second place.")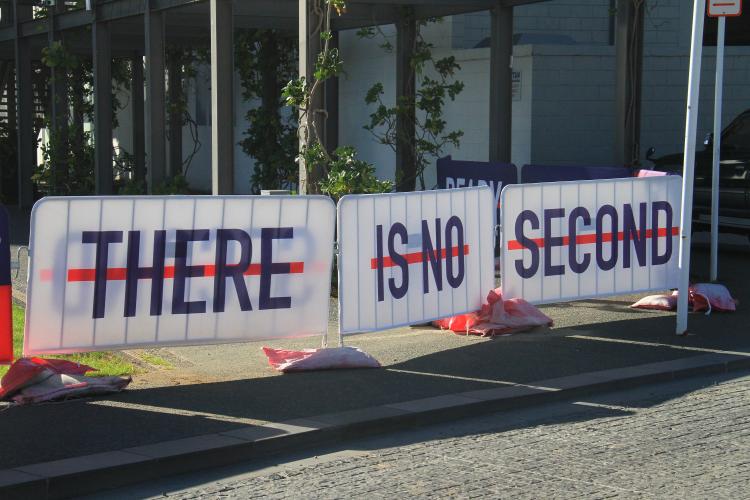 My day started with a close encounter with Spithill as he just about ran me down on his bicycle as I was desperately seeking a caffeine fix prior to my first interview of the day. I found a flat white and an avocado toast at the brekkie spot of choice, Rushworth's, just I shook the outstretched hand of American Melanie Roberts, America's Cup Assistant Race director.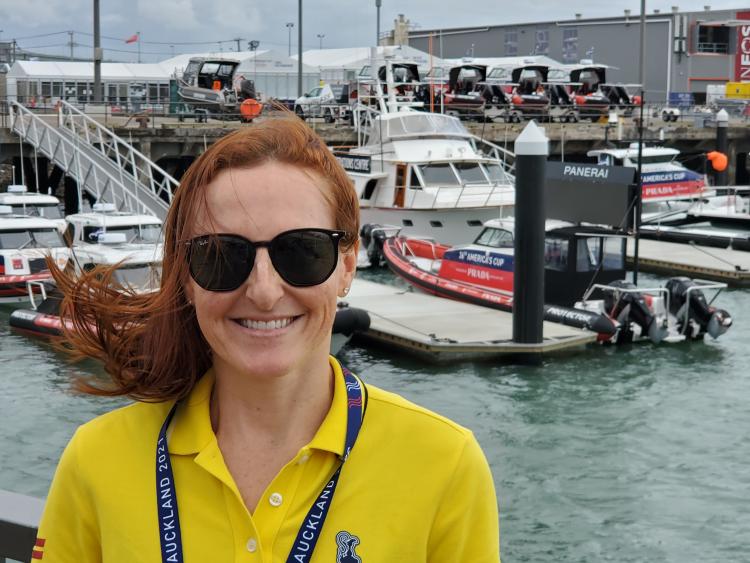 Her handshake was firm and cool. And I realized this was the first time in over a year I had intimate contact with someone outside of my immediate family. Welcome to the land of no masks and hugs galore.
Melanie and I chatted about her role at the Cup and the circuitous route she followed from youthful San Diego Yacht Club sailor to rising to the pinnacle of Race Management hierarchy with two previous AC gigs under her belt and a full time job with Sail GP's race management team waiting down the road. She was a good interview. Plenty of info for a story I plan to write for a sailing publication covering the West Coast sailing scene.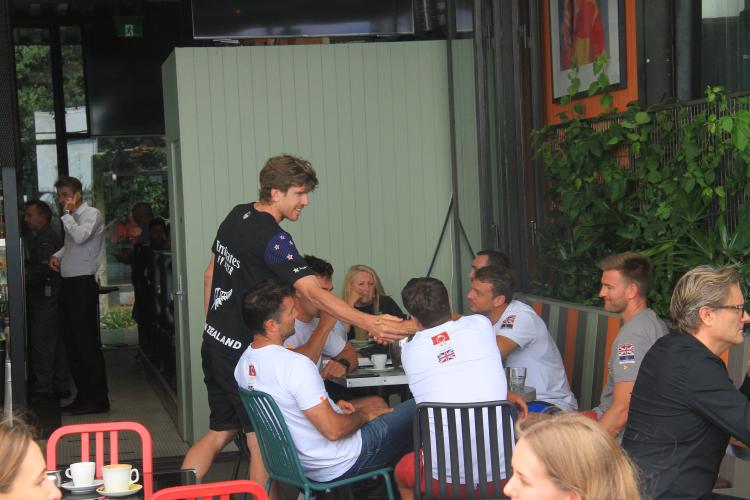 Just as we were leaving Rushworth's, Team New Zealand's Peter Burling (his youthful face covered with trademark stubble and sporting that irrepressible Burling grin) stopped by to bid adieu to his friends from the British team who were in the process of up and heading home after their shellacking at the hands of the Italians.
Not to intrude, but being the reporter I am, I asked Burling how his team was going to do in two weeks' time against the Spithill et al. He gave me a thumbs up and a rakish smile as he headed back to his base.
Thirty minutes later, my wife and I spent two hours watching the delicate transfer of the New Zealand boat Te Rehutai (the Maori word for sea spray) from cradle to crane to water as the mast was stepped, sails and gear was loaded, and the boat was towed out for a practice sail under 15-18 knot winds. We were among of handful of fans who lined the narrow cut leading out into the Bay.
Kiwis shouted encouragement to the Team while Colleen and I snapped photos. Colleen, a housewife turned journalist as well, chatted with some new Kiwi friends and gathered tidbits for some stories she is writing for the Annapolis Capital Gazette.
Time for lunch at a quay-side bistro. Spicy calamari for me. Fish and chips for Colleen. The first time we have eaten at a restaurant since the pandemic turned our world topsy turvey 12 months ago.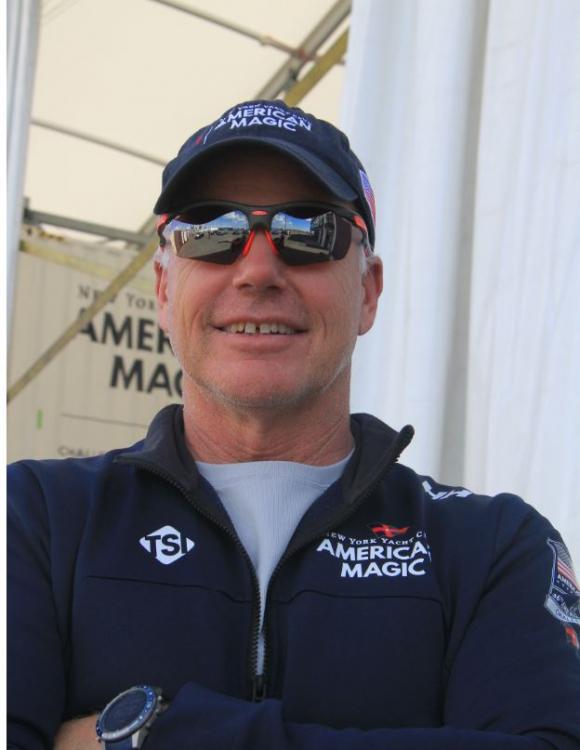 My next appointment took me to the American Magic base and an interview with Team American Magic skipper and Annapolis native Terry Hutchinson. Readers might recall the dramatic capsizing and near sinking that for all intent spelled the end to the American's hopes to regain the Cup.
Terry was matter-of-fact in his responses to my questions. The full report of my conversation is slated for an in depth SpinSheet article sometime in the future. In the meantime, he wants his Annapolis friends and fans to know that he's "doing okay despite being mad at hell we didn't sail better when it mattered the most."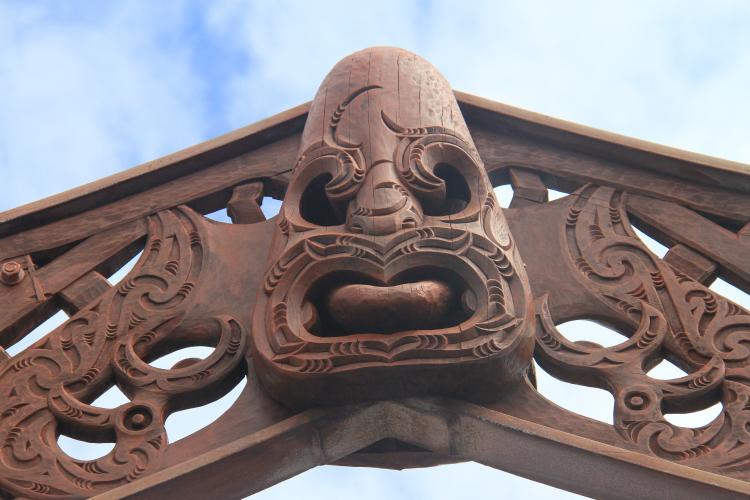 Terry gave me a tour of the base. We walked underneath the shrink-wrapped hulls of the team's two boats, Patriot and Defiant, as they were being prepped for transit. Terry pointed to the back of the cavernous boat shed and praised his team who worked tirelessly to put the boat back together after the capsize and subsequent water intrusion three weeks ago.
As I reached for my camera, Terry told me firmly 'No pictures." Drat. The best I could do was run my hand along the smooth length of Patriot's hull, close my eyes, and envision what might have been if that gust of wind hadn't dashed American Magic's hopes as she rounded the upwind mark in that ill-fated Prada Semi Final race against Luna Rossa.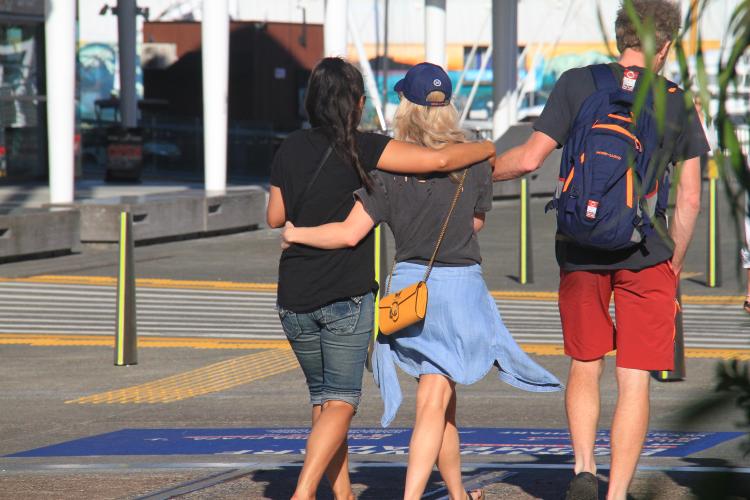 The day had flown by, albeit without any America's Cup on-water action. Calls for a martini for me and a glass of Chardonnay for Colleen…and a relaxing dinner on our balcony overlooking the Harbor.
Tomorrow would bring more interviews and more opportunities to get into the America's Cup spirit. At present there aren't many fans around the Village. Hardly any non-Kiwis are allowed into New Zealand.
But my sense is that when racing resumes in 10 days Kiwi and Italian flags will line the thoroughfare and fans—without masks—will be spilling out of the bars and restaurants…all cheering their favorites on to victory.
Colleen and I will be there, maskless as well. Decked out in our American Magic gear!
~By Craig Ligibel