Dorian Sucked the Air Out, but Racing Went On
Well, you can't have it all apparently… such as a near-miss hurricane Friday followed by a great Saturday of racing. After bringing high winds (and tides) to Virginia and even up to the Middle Bay on Friday, Dorian sucked the air out of the atmosphere, leaving us with a bummer of a Saturday for racing up and down the Chesapeake. Sunday's pleasant breeze brought us all back to life. Here's your SpinSheet racing roundup for September 7-8 on the Chesapeake.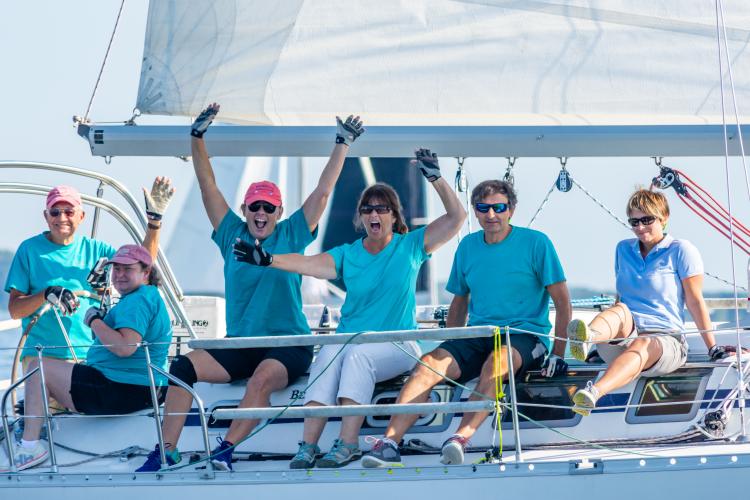 NASS Oxford Race
Can you say TLE? A hundred-and-thirteen boatloads of racing sailors bobbed around and somehow made it to Oxford during a bummer of a wind day at the Naval Academy Sailing Squadron's (NASS) Oxford Race—a race usually known for its excellent breeze—and huge turnout... 113 entries! A light-air start, a follow-the-leader down the Bay for a new start line, and then dwindling wind led to a failed attempt to race from Annapolis to the lovely Tred Avon River for a party at the Tred Avon YC. The good news? Our photographer Ben Cushwa captured some happy photos anyway. Click here for SpinSheet's photos.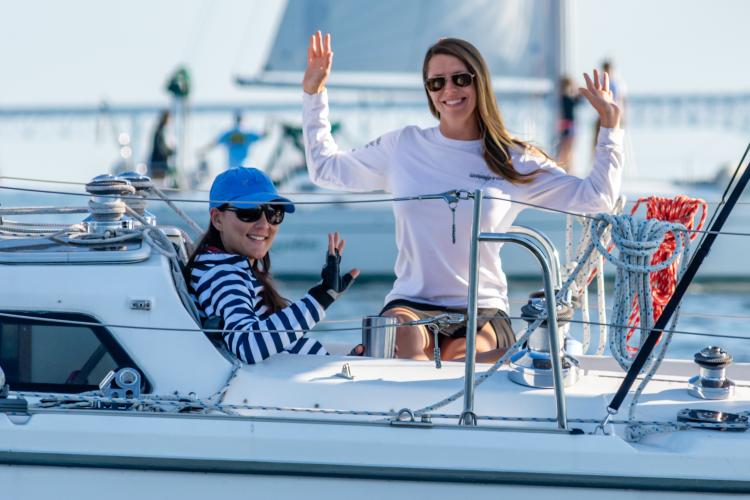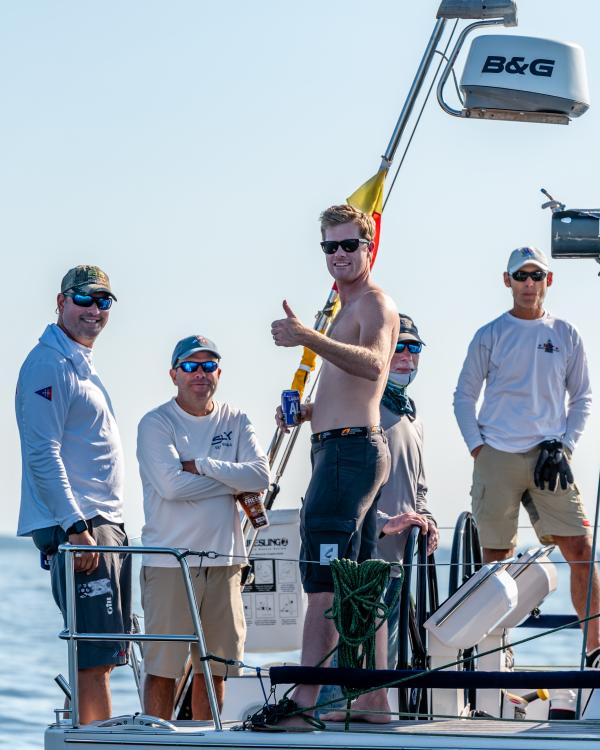 Severn Sailing Association
Dinghy racing was going strong this weekend off Annapolis as SSA hosted its Day Sailer Atlantic Coast Championships and Lightning and Solings Fall Series. Find full SSA results here and top three results below.
Day Sailer
1 2028 BLAKE, ROBERT/, Carol Wagner 1 4 1 2 2 2 12.00 1
2 275 Seamon, Kenneth/, Erika Seamon 5 3 4 1 1 3 17.00 2
3 4152 White, Matt/, Lea Ann White 2 5 3 3 3 1 17.00 3
Soling
1 USA 828 Connolly, Jeff 2 1 3 4 1 1 12.00 1
2 USA 835 Vickery, Howard/, Gary Greenwood, Patrick Smilely 1 4 1 2 2 2 12.00 2
3 USA 852 Thomas, Henry/, Joe Hidalgo, Rohan Prabhakar 3 2 2 3 3 3 16.00 3
Lightning
1 14907 Ian Moriarty Moriarty, Ian/, Shannon Lockwood, Bryan Burke 1 2 1 1 5.00 1
2 15425 Joe Friebele Friebele, Joe/, Dave Friebele, Bob Daniels 3 1 3 3 10.00 2
3 15315 William Cabral Cabrall, William/, Raeyane Farrell, Jessica Resnick 4 3 2 2 11.00 3
Log Canoe Racing
The Miles River Yacht Club hosted the log canoes over the weekend for its (post) Labor Day Series. Find the full MRYC results here and top three results below.
1. 9, Island Blossom, Corbin Penwell, MRYC, 1-1- ; 2
2. 20, Edmee S, Marshall Patterson, MRYC, 2-3- ; 5
3. 2, Silver Heel, Max Kurland, BHYS, 5-2- ; 7T
Southern Bay Scene
This just in from Lin McCarthy's "Southern Bay Racing News You Can Use":
The Tri-Services Regatta has been rescheduled to THIS COMING SATURDAY, Sept. 14. Suck on that, Dorian! For info contact John Ritter, 757-329-6992. The plan (skippers meeting, start times, etc) is pretty much the same as the original, just pushed back a week.
Hampton Annual Middle Ground Light Race
Friday there was TOO MUCH WIND. By Sunday, there was noooo wind at all and very little current. To prove the point, Justin Morris, skipper of Viper 640 Knot Hunter, and crew tied off to a crab pot and went swimming. After an appropriate wait and confirmation that there was no wind on any horizon, the race was abandoned and the 25-boat fleet packed it in to the party on the Hampton Yacht Club flag deck of crabs, beer and soft drinks. Not that bad a post-hurricane Sunday, actually.
Up the Bay in the Rappahannock River area was a good place to be when Hurricane Dorian passed off the Virginia Capes on Friday. There was a higher than usual tide, flooding in expected areas, and some trees down, but all in all not too bad. So, Saturday turned out to be a good day to race.
At Fishing Bay Yacht Club 14 boats turned out to do the Wolftrap Race , #5 in the FBYC Distance Race Series.
Wolf Trap Race Results
PHRF A (5 boats): 1.Mayo Tabb, Excitation; 2.Glenn Doncaster, Nanuq; 3.Craig Wright, Afterthought.
PHRF B (5 boats): 1.Bob Fleck, Mad Hatter; 2.Wayland Rennie, Trilogy; 3.Miles, Booth, Shenanigan.
PHRF C (3 boats): 1.Russ Collins, Morningtide; 2.James Sturdy, Wendas; 3.Brad Miller, Schiehallion.
There were no finishers in the PHRF Non-Spin fleet. For detailed FBYC race results click here
Principal Race Officer – Brooks Zerkel.
Don't see your club's racing news here?
We'd be happy to share your Chesapeake racing news and photos if you send them to us by lunchtime on any given Monday, so be a team player and send us the scoop! [email protected]