Team New Zealand Successfully Defends the Auld Mug
The America's Cup could be easily renamed New Zealand's Cup as the Royal New Zealand Yacht Squadron's Emirates Team New Zealand entry successfully defended the Auld Mug in a classic America's Cup Regatta over six action-packed days of racing in Auckland's Waitemata Harbor.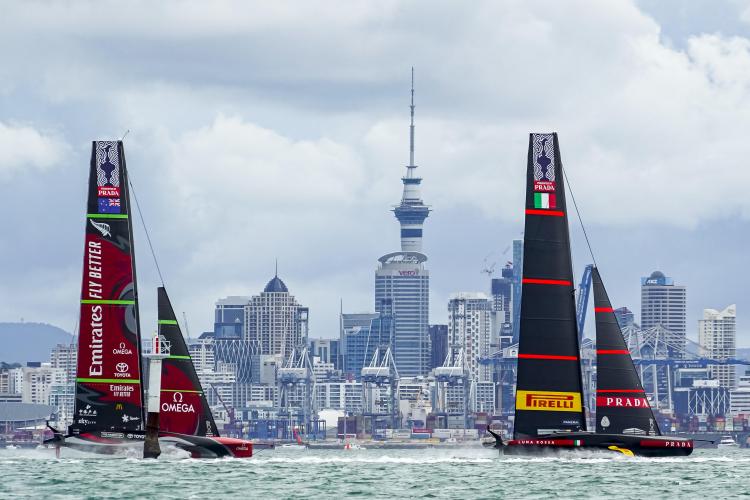 This edition of Team New Zealand made history as it became the first team to successfully win and defend the America's Cup twice. In the end, Team New Zealand's superior boat speed and intimate knowledge of the local sailing conditions proved too much for Italy's Team Luna Rossa Prada Pirelli to overcome.
The final score of 7-3 in favor of Team New Zealand belied how close the racing action had been. But in the decisive race 10 sailed under near perfect conditions in front of thousands of on-shore and on-water fans with the dramatic Auckland skyline in the background, it was the Kiwis who crossed the finish line first, almost 50 seconds ahead of the Italians.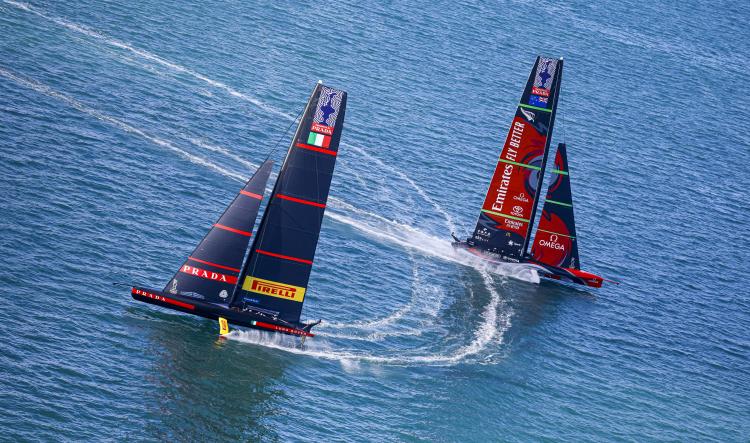 Never one to hold back his emotions, Luna Rossa's helmsman Jimmy Spithill congratulated Team New Zealand on their victory and pledged "to have a beer with the team and pay our respects." Spithill went on to say that "at times, it felt like we had brought a knife to a gunfight" …his way of saying that the Luna Rossa boat was technically no match for Te Rehutai.
A master of understatement, New Zealand's helmsman Peter Burling said succinctly "We had a pretty good boat. It was special seeing all those New Zealanders cheering us on. Truly a team of 5 million. We are incredibly grateful to everyone who made this possible."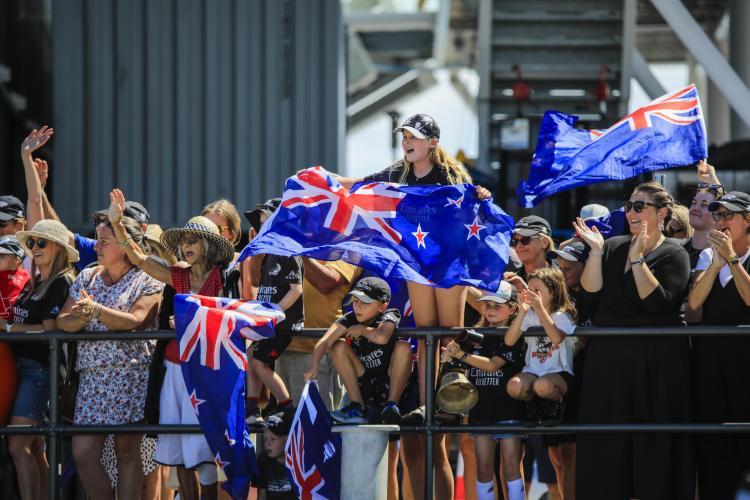 Team New Zealand flight controller Blair Tuke posted on Facebook immediately after the race: "I was 10-11 years old when we defended the Cup in 2000. It's a tremendous honour to defend it again… here… in front of all of our countrymen."
More than 2000 boats of all shapes and sizes lined the racecourse and most of them formed an impromptu armada of admirers as they crowded around the Te Rehutai as she was towed majestically back to base.
The America's Cup Village was crammed to capacity with thousands of fans spilling out of bars, restaurants and viewing venues to welcome home the conquering heroes. There were so many people in the Village that officials pleaded with revelers to "celebrate elsewhere."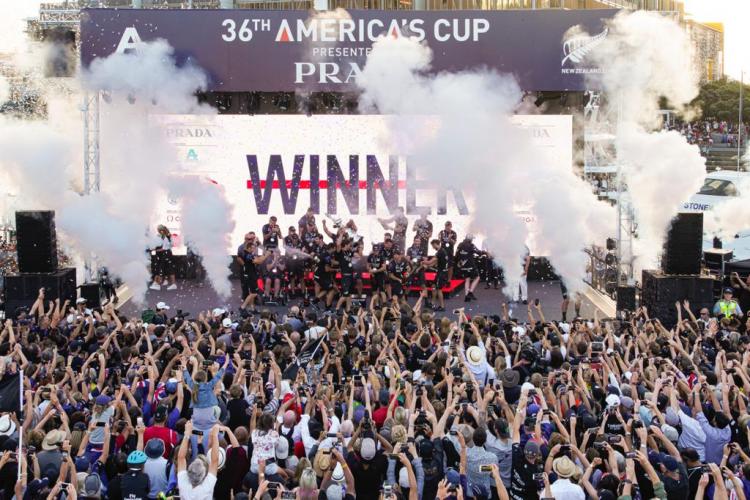 The sound of boat horns was deafening. Tears streamed down the faces of fans young and old. Peter Burling and Blair Tuke led team members across the narrow bridge from the Team New Zealand Base to the Village's Main Stage. The Kiwi sailors followed a Maori procession headed by fiercely painted warriors. The sound of a traditional Pukaea (wooden horn) echoed among the multitudes.
At the prize giving ceremony each sailor was presented with a commemorative medal. Then, with champagne corks popping, the team basked in the glory of their successful defense. Peter Burling and team were even sighted sipping bubbly from the Auld Mug itself.
Fans did not wear masks and social distancing was not practiced. These past seven days will prove a watershed moment for New Zealand which has all but eliminated Covid-19. If outbreaks do not occur after this unfettered celebration, it will be testimony to the country's "go fast, go hard" Covid strategy.
But for those lucky enough to find a spot in the Village, pandemonium reigned as it was hugs, high fives and hip-hip-hoorays as New Zealanders settled in for the biggest St. Patrick's Day party the city of Auckland has ever seen.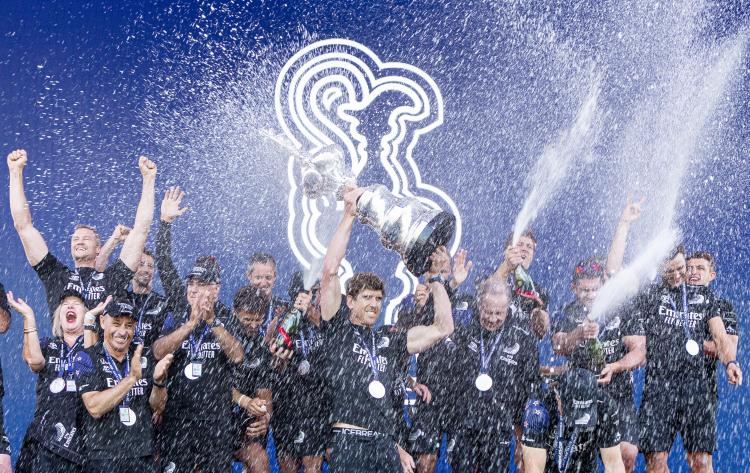 Auckland's mayor Phil Goff called the victory "Massive… something that is a credit to all New Zealanders. We fought through financial issues with the team… Covid… no international visitors… and yet we emerged victorious. Not only did the team win, but the city won and the country won."
In the final moments of the race, it was rumored that an agreement had been reached between the Royal Yacht Squadron of New Zealand and Portsmouth (England) Royal Yacht Squadron by which Ineos Team UK would become the Challenger of Record for the 37th America's Cup.
Details of when and where the Defense of the Cup will be held are yet to be determined. What is known is that a Request for Proposal Document has been drafted that may open up the bidding to non-traditional hosts such as Abu Dhabi. Another interesting notion has the next edition of the Cup being held on the Isle of Wight in a one-off contest between only Team New Zealand and Ineos Team UK. If the later comes to pass, that would bring the Cup back to its origins 170 years after it was first contested. Hypotheticals even call for a recreation of the original around the island race course.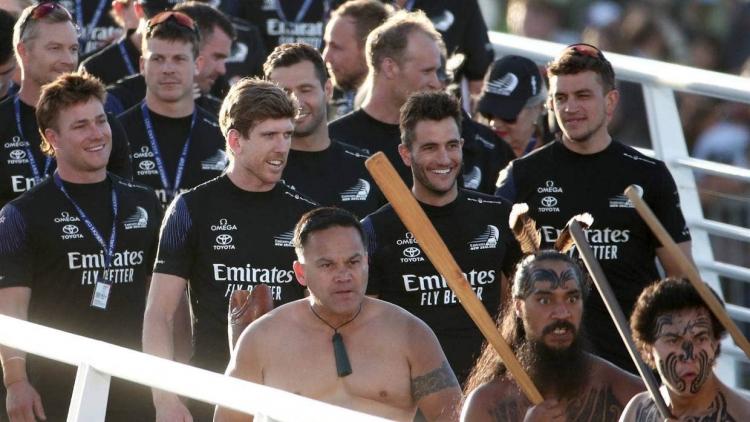 In other news, New Zealand's Prime Minister Jacinda Ardern announced today that the New Zealand government would commit $5 million in unallocated funds to keep Team New Zealand together under the proviso that the Cup defense is not held on the Isle of Wight.
The Colorado-sized country has spent over $150,000,000 to stage in 36th America's Cup. A good percentage of that has been in infrastructure improvements to the Viaduct area of the America's Cup Village. Spokesmen for the defeated Luna Rossa team vowed to continue their pursuit of the Cup. There was no comment from the New York Yacht Club regarding their intentions to mount another Challenger campaign.
Footnote: This is the 12th America's Cup story your SpinSheet reporter has authored, starting with a profile of American Magic's Terry Hutchinson that appeared here on spinsheet.com in June.
My pursuit of the Cup has taken me 7500 miles to New Zealand and has put me into contact with an incredible group of America's Cup participants, fans and organizers. It has been a privilege to report Cup highlights for our loyal Chesapeake Bay SpinSheet readers. I hope my words and pictures have brought the Cup to life for sailing fans across our readership area.
By Craig Ligibel
Find more of Craig's excellent AC coverage here.