Sign Up for the EWE Spirit Cup Sailboat Race for All May 21
As we know, on the Chesapeake fun racing and fundraising go well together. Both go well with beer. If you agree, you'll enjoy the EWE Spirit Cup, a fun pursuit race for all types and sizes of sailboat, hosted by the Sailing Club of the Chesapeake (SCC) May 21.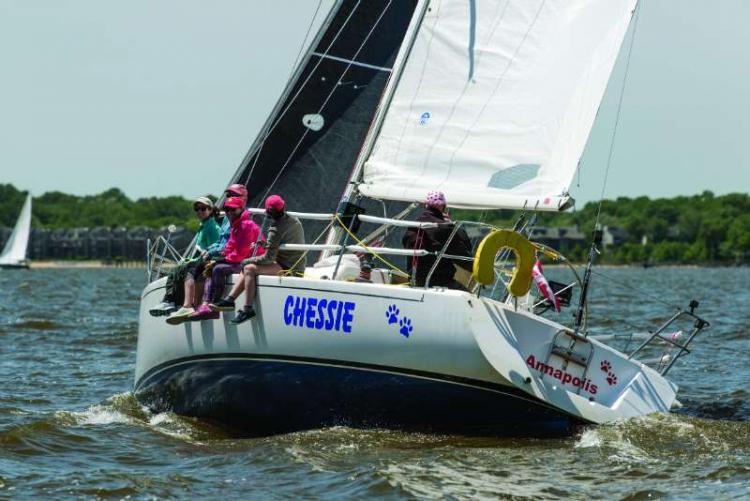 Anyone who's ever done a pursuit race knows how interesting and fun it can be to have big race boats alongside dinghies and everything in between racing around government marks together. If you've never done such a race before, don't worry about how it works; just sign up and SCC organizers will give you guidance about when and where to be when the race starts. If you have a sailing vessel, you're invited!
Fundraising: this regatta benefits the EWE Spirit Foundation in honor of Geoff Ewenson. Many competitors will have their own fundraising teams—there will be a peer-to-peer fundraising competition among teams, even those not sailing. The EWE Spirit Foundation's mission is to help those facing immediate hardship bridge financial and social support gaps through mentorship, outreach, and financial assistance.
Beer: Thanks to Forward Brewing Company in Annapolis, there will once again be a special run of La Spirit Beer in honor of Geoff. For all sailors of legal drinking age, you may collect your beer after finishing from a separate RC boat approximately 50 yards northwest of the finish line…
This just in: Regatta organizers note, "There will be a party at Severn Sailing Association following racing, and Team One Newport has donated two jackets as awards to the top fundraiser and the individual who secures donations from the most people. And, as always, there will be a pair of red Vans for the top fundraiser and a EWE Spirit battle flag for the top team. Charm City Run is planning a run in Eastport from Forward Brewing on the 18th to start the fundraising festivities. More details to come."
Learn more at ewespirit.org/ewe-spirit-cup.
Find photos from last year's EWE Spirit Cup here.