Racing Roundup June 15-16
You know how people think there's only light wind on the Chesapeake? Hahaha. We sure are showing them, aren't we? Here's your weekend racing roundup for June 15-16 on the windy Chesapeake.
HHSA Women's Regatta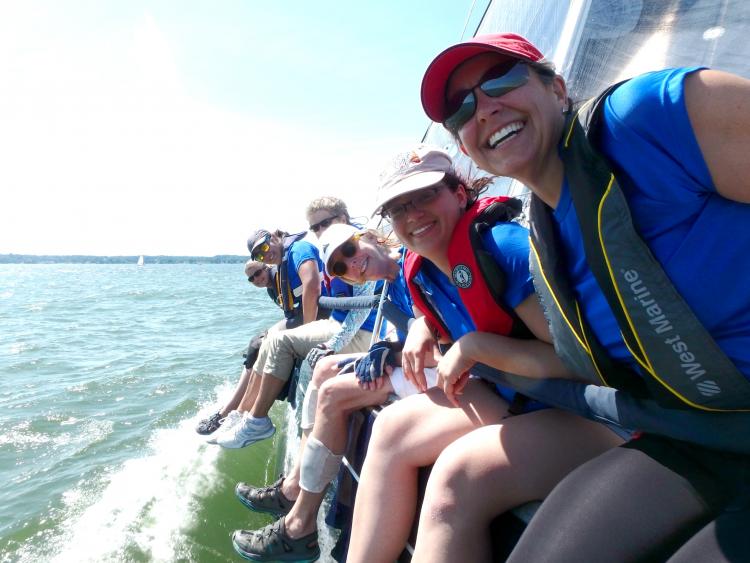 Congratulations to Emily Manders and team—including SpinSheet's Lauren Mahoney!—on the Beneteau 36.7 Jubilee who posted three bullets in three races in the spinnaker division at the 2019 Herrington Harbour Sailing Association Women's Regatta on Herring Bay on Saturday. Andrea Heintzelman on Catalina Diva II placed first in non-spinnaker.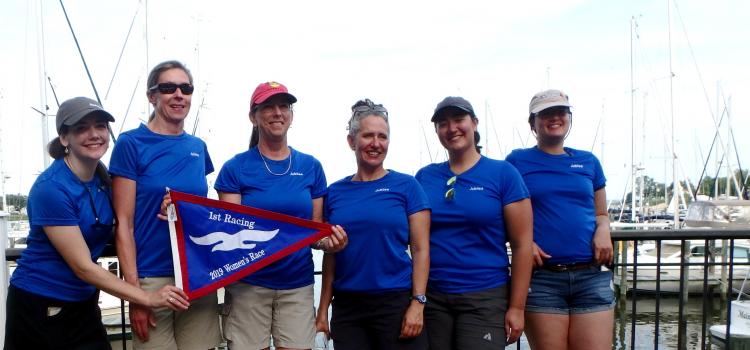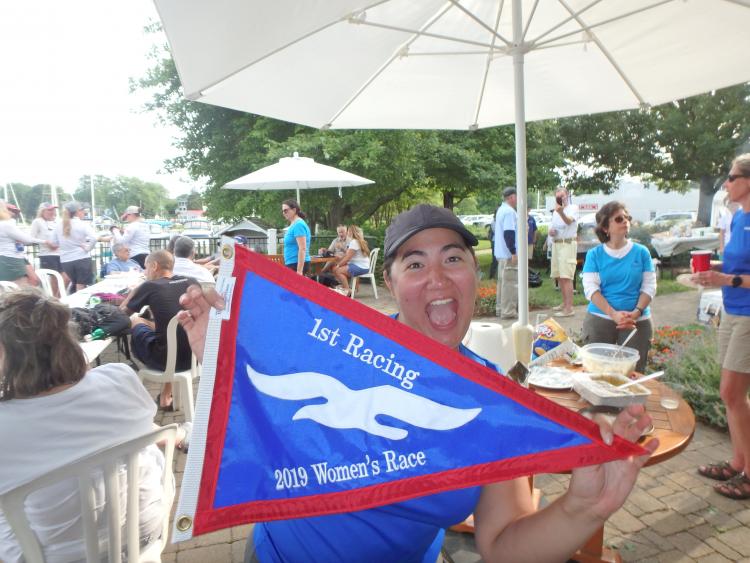 It would be amazing if more boats would come to this excellent regatta in 2020. Reach out to HHSA to learn more.
Find full HHSA Women's Regatta Results here.
Video by T2P TV
Don Backe Memorial CRAB Regatta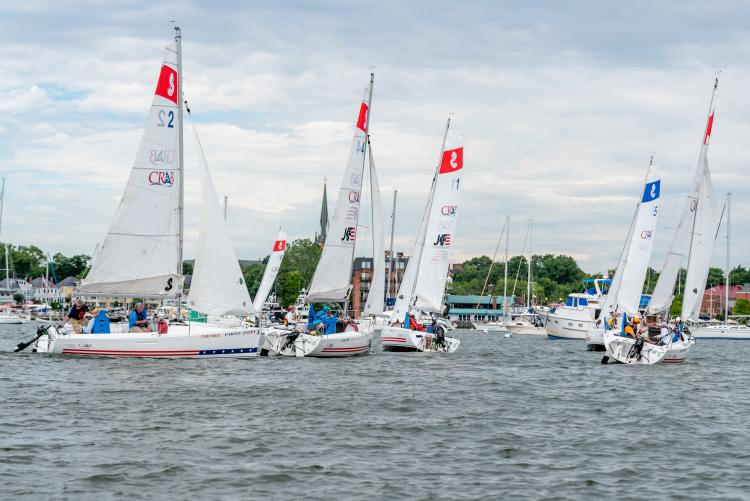 Our friend, the late great Don Backe, founder of Chesapeake Region Accessible Boating (CRAB), loved to race sailboats on windy days, so it's heartening to hear that for the Don Backe Memorial CRAB Regatta, it was a sunny, windy day for adventurous sailors in Annapolis. Congratulations to podium finishers and all competitors. Thanks to the Annapolis Yacht Club for hosting. To learn how you can participate as a sailor or volunteer for CRAB, click to crabsailing.org.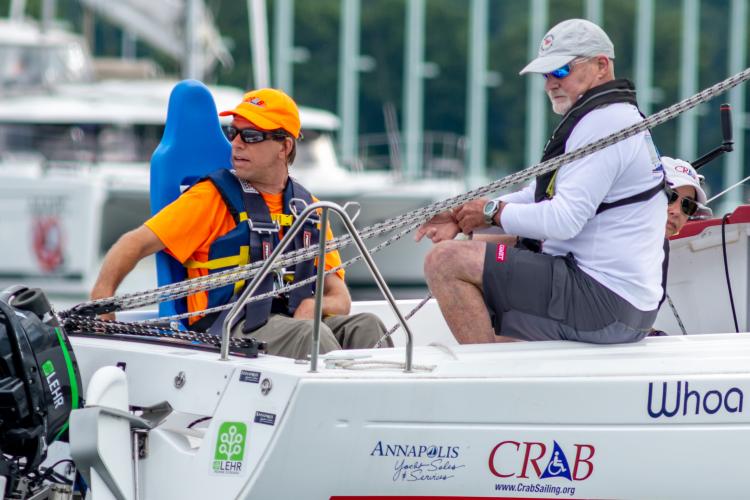 1) Streit, Jay Van Cleve, Paul/Salvesen, Amanda 1 1 1 1 2 6.00 1
2) Detwiler, Kevin Laurence, Maude/Wilkins, Allan 2 3 3 3 1 12.00 2
3) Tarrant, John Pendergast, Dan/Gitchell, Scott 5 2 2 2 3 14.00 3
4) Klein, Rob West, Jeff/Slabaugh, Jon 3 4 5 5 4 21.00 4
5) Dorsett , Julia Brock, Ange/Kirwin, Rosemary 4 5/TLE 4 4 5 22.00 5
6) Ostrye, Tom Savage, Art/Kirwin, Scott 6 5/TLE 6 6 6 29.00 6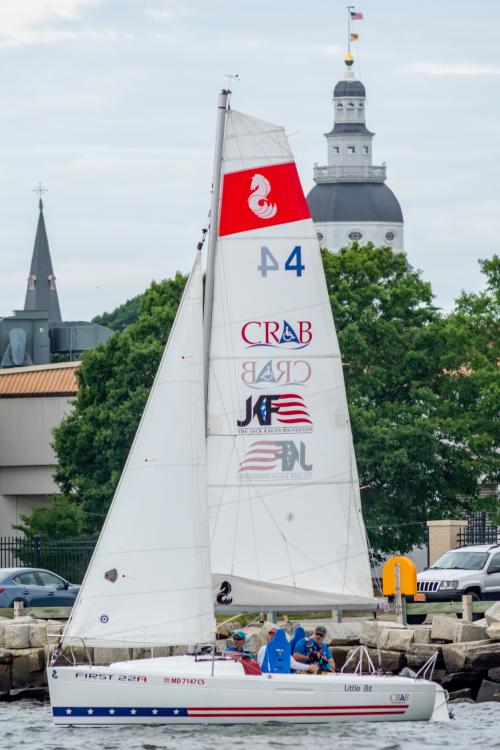 Shearwater Sailing Club Twilight Race
We don't yet see the results for SSC's annual Twilight Race, but will post when SSC does. Keep your eyes on Regattanetwork.
Laser Spring Series
Severn Sailing Association hosted its Laser and Laser Radial spring series. Find SSA results here.
Cock Island Race
This just in from Lin McCarthy's Southern Bay Racing News You Can Use:
31st COCK ISLAND – grandest weather, rejuvenated event.
RIFF RAFF wins Cock Island Hanbury Cup and PHRF spinnaker fleet.
Don DeLoatch and crew of Riff Raff raced home in convincing fashion at the 31st Cock Island Race on Saturday. They sailed the 8.10 nm course out the Elizabeth River and back to the finish line off the Portsmouth seawall. Both PHRF fleets and the fastest Cruising fleet did the 8.10 nm course. All others raced the 3.16 course.
Fleet winners:
PHRF Spinnaker (5 boats): Don DeLoatch, Riff Raff;
PHRF Non-Spin (6 boats): Bill Ripley, Obsession;
Cru 1 (8 boats): Paul Clifford, Wind Dancer;
Cru 2 (7 boats): Mike Winters, Tangibili;
Cru 3 (7 boats): Mike Barclift, Valedor.
Thirty-three (33) of the forty-six (46) entered sailed in the 31st Cock Island race, offered by the Portsmouth Boat Club.
Event Chairman: Matt Arel; Principal Race Officer: John Ritter. Click on www.portsmouthboatclub.org for complete results.
Sunday, the usual day for delivery home for Cock Island racers, offered a beautiful ride out Norfolk Harbor Reach, often in company of fellow competitors. NOTE: Local lore has it that Cock Island came by its name during the early 1900s when cock fights were an attraction to the fair city of Portsmouth. And, yes, the main transportation from Norfolk (and the southside beyond) was not by either tunnel, but by ferry across the Elizabeth River.

Don't see your racing news here?
This is a team effort, so be a team player and send us your Chesapeake racing news and photos by 9 a.m. on any given Monday. We're happy to share it! [email protected]