Posted September 16, 2019
SpinSheet Racing Roundup for September 14-15
September racing rocks! Or at least it did last weekend on the Chesapeake for the 38th annual Hospice Cup, AYC 3-2-1, Shields Trophy, SSA's Laser Crab Claw, and the Tri-Services Regatta. Here's your SpinSheet racing roundup for September 14-15 on the Chesapeake.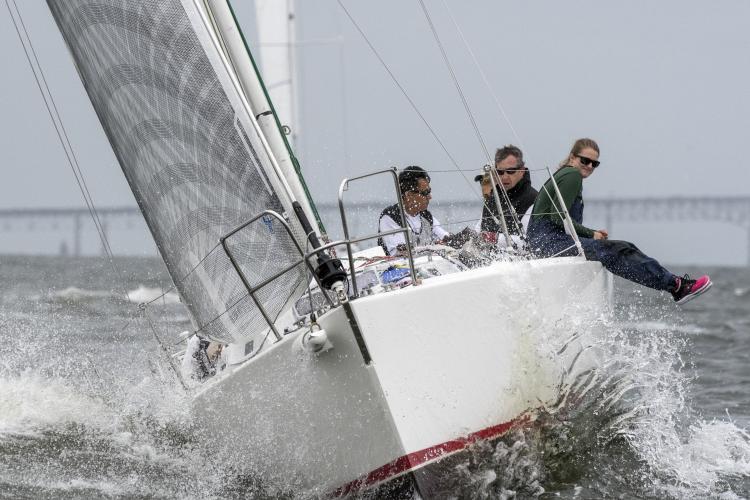 Hospice Cup
The Sailing Club of the Chesapeake and Storm Trysail Club hosted the 38th annual Hospice Cup over the weekend, which included some exciting racing in 12-15 knots of breeze and a wonderful Shore Party, complete with a live and silent auction, great food, and dancing. Find full Hospice Cup results here and top three results below. Find SpinSheet's on-water photos by Al Schreimueller here.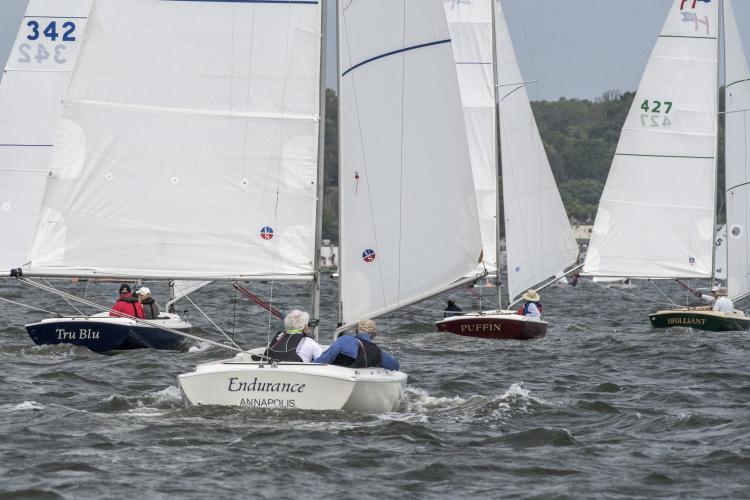 HARBOR 20 (One Design - 12 Boats)
1. Brilliant, 427, Kenneth Appleton - 2 -2 -1 ; 5
2. Yellow Jacket, USA326, Bulman Scholz Syndicate - 1 -8 -2 ; 11
3. Mighty Pearl, 185, Walter Laird - 5 -1 -6 ; 12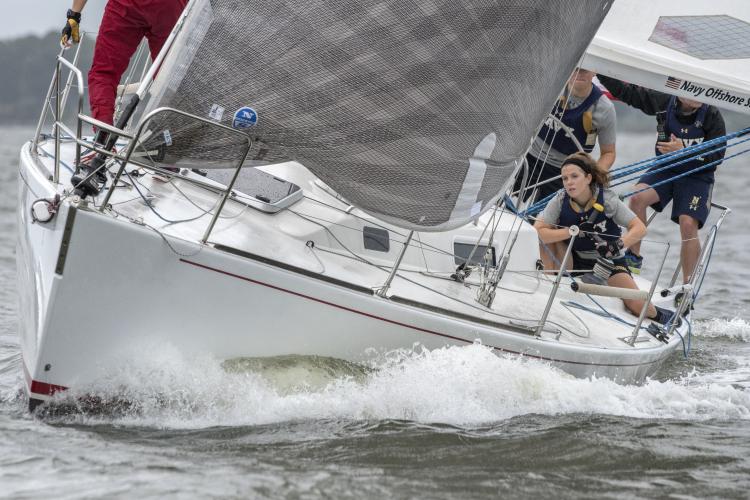 ALERION 28 (One Design - 4 Boats)
1. Skimmer, USA160, Jack & Marti Detweiler - 1 ; 1
2. Linnaea, USA193, Erik & Shannon Dahl - 2 ; 2
3. Halcyon, USA316, Jason Goscha - 3 ; 3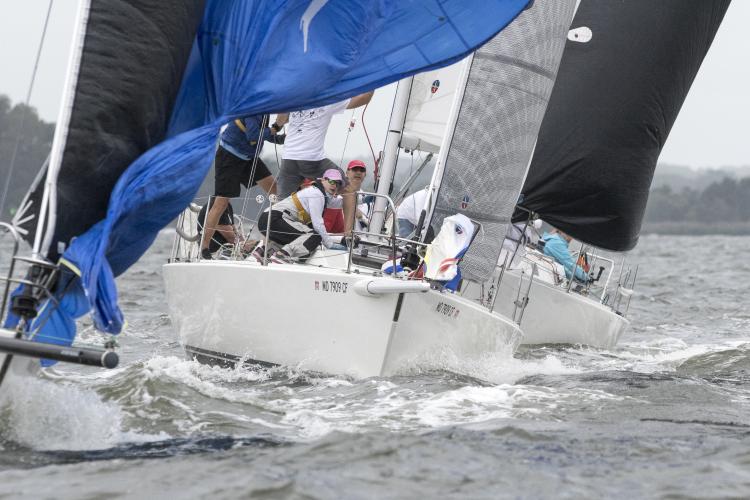 CAL 25 (One Design - 5 Boats)
1. Ronin, USA681, Peter Sheils - 1 ; 1
2. Chicken Little, USA1657, Charlie Husar - 2 ; 2
3. Harlequin, USA1203, Leo Surla - 3 ; 3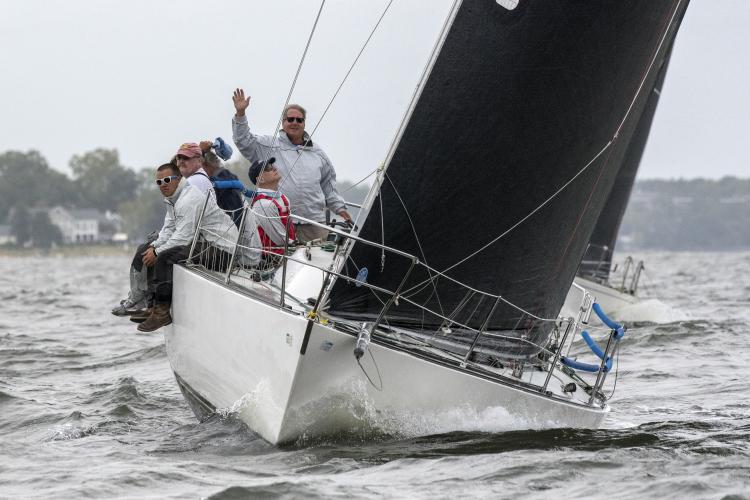 CRCA ORR-Ez SPIN (ORRez - 6 Boats)
1. Rhea, USA4010, Stephen Grimm - 1 ; 1
2. Chill, USA655, William McCollum - 2 ; 2
3. Flagfest, 93187, Daniel Flagler - 3 ; 3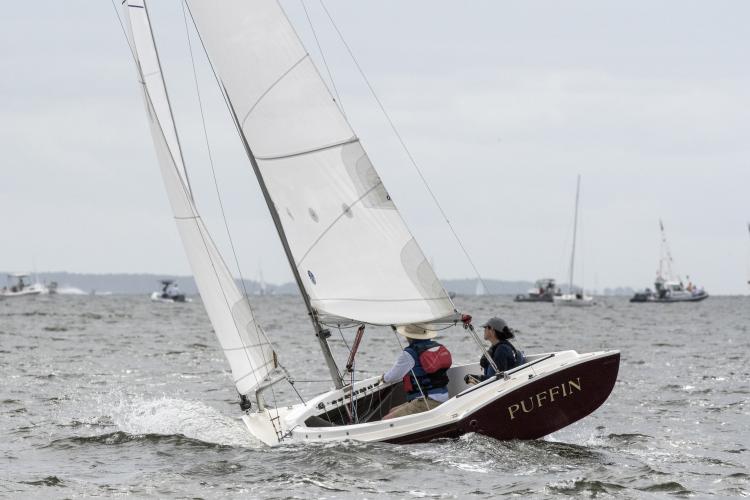 CRCA ORR-Ez NON SPINNAKER (ORRez - 10 Boats)
1. Five O'clock, USA156, Michael Jewell - 1 ; 1
2. Pilot error, 52465, Ken Huston - 2 ; 2
3. Jahazi, 93679, David Dodson - 3 ; 3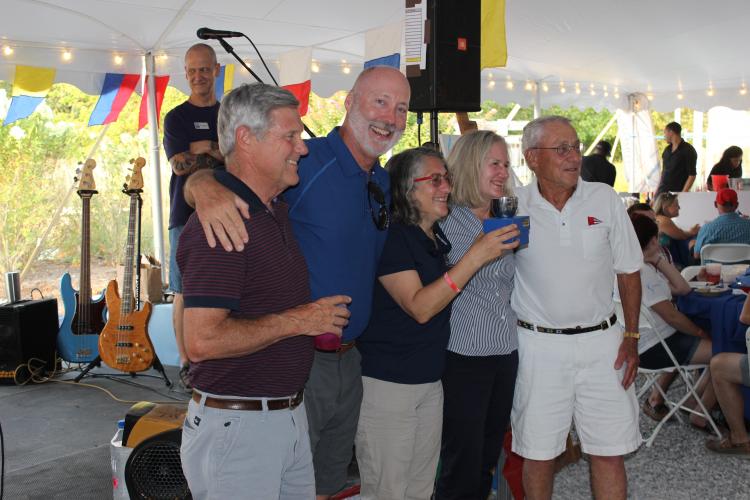 HOSPICE (Pursuit - 7 Boats)
1. Seaya Later, USA8247, Craig Lisk - 1 ; 1
2. Ingenuity, 43438, Joe Lombardo - 2 ; 2
3. Calypso, 50844, Rick Hill - 3 ; 3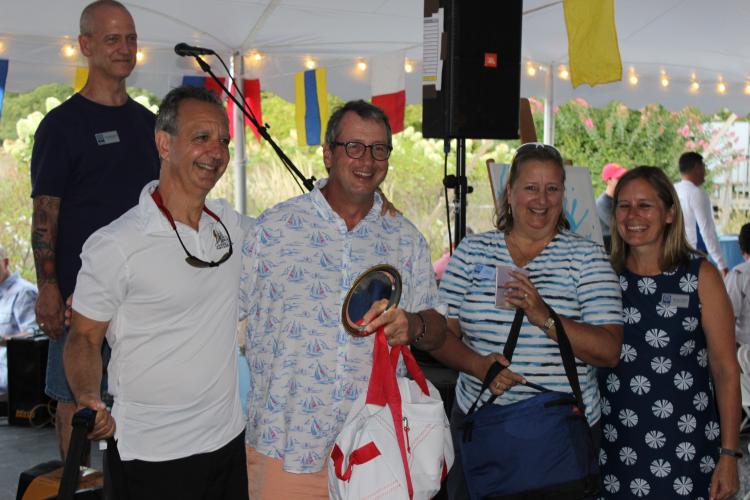 HOSPICE NOVICE (Pursuit - 3 Boats)
1. Blue Heaven, 61259, Charles Kahle - 1 ; 1
2. OllieJack, , Rick Dugan - 2 ; 2
3. Alibi, USA401, Timothy Osburn - 4 ; 4
J 105 (One Design - 13 Boats)
1. Mirage, USA328, Cedric Lewis/ Fredrik Salvesen - 2 -1 -1 ; 4
2. Ctrl Alt Del, USA300, Ben duPont - 1 -2 -2 ; 5
3. Tenacious, USA501, Carl Gitchell - 3 -3 -8 ; 14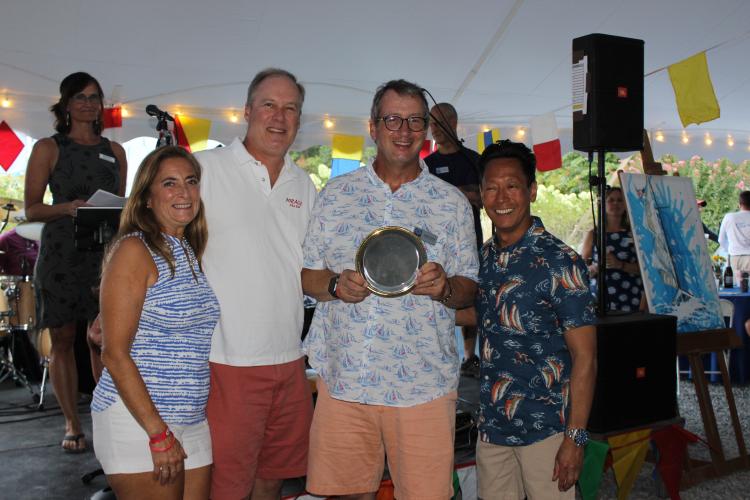 J 35 (One Design - 4 Boats)
1. Aunt Jean, USA53408, James Sagerholm / Jerry Christofel - 1 -1 -2 ; 4
2. T-Bone, USA41870, Bruce Artman - 2 -3 -1 ; 6
3. Abientot, USA42979, Roger Lant - 3 -2 -3 ; 8
AYC 3-2-1:
The inaugural Annapolis Yacht Club (AYC) 3-2-1 Invitational wrapped up today after 21 flights and 63 races over three days of chamber of commerce weather. New York Yacht Club won the historic Sparkman and Stevens trophy followed by AYC in second and Severn Sailing Association in third.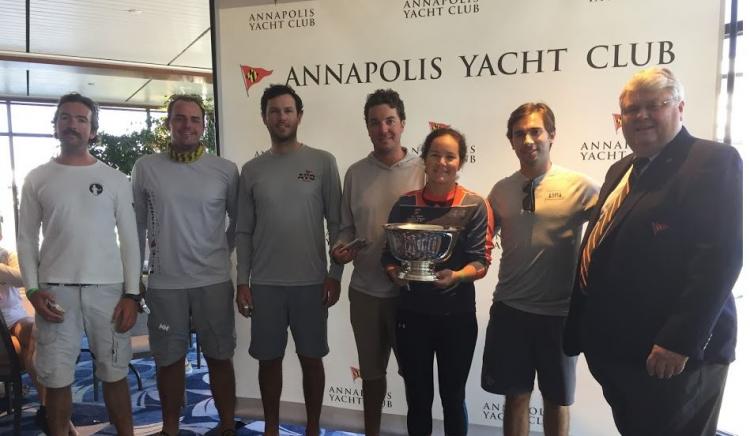 The AYC's 3-2-1 format consisted of yacht club teams from around country with six crew who rotated into J/22s and J/30s in three disciplines throughout the each day: team race 2-up in 3v3, team race 3-up in two boats with spinnakers and then rotate onto a J/30 to match race with all six crew.
"This concept -three years in the making - came to fruition this weekend. The competitors were tapped both physically and mentally as they had to switch gears with roles, rules and even which way to round the mark," said Bill Jorch, regatta co-chair.
Presenting sponsor of the regatta Barbados Tourism Marketing, Inc., donated a trip for two to Barbados including airfare. The lucky winner drawn from a list of all competitors was Rhoan Boucher a member of "The Rhodies" a team made up of members of Ida Lewis Yacht Club and Bristol Yacht Club.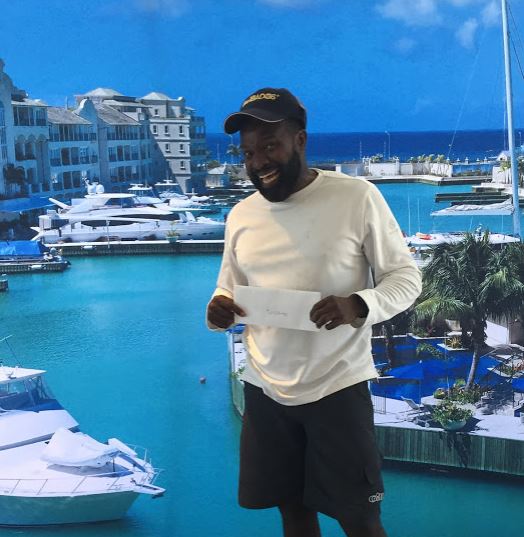 USNA Varsity Offshore Sailing Team Wins Shields Trophy
This just in from the US Naval Academy VOST team: Ben Van Duyne and crew overcame more than a few difficulties in the seven races over two days, but rose to the top in the Shields Trophy racing!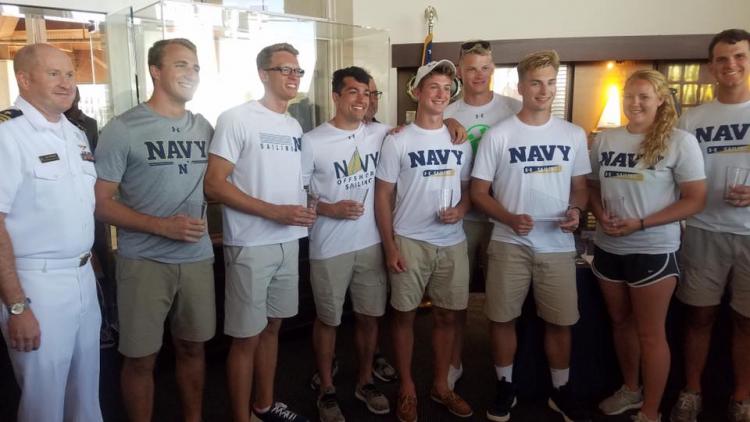 So proud of our crew as they showed great resilience and fighting spirit by refusing to give up when things didn't look good early in a few of the races. They were certainly one of the fastest boats out there and used their speed and solid boat handling to put themselves in position to bring home the bacon.
Way to go VOST! Find a more complete report here.
SSA's Laser Crab Claw Regatta
Severn Sailing Association hosted almost 50 Laser sailors last weekend for its Laser Crab Claw Regatta. Find top three results below and full results on SSA's page here.
Southern Bay Scene
This just in from Lin McCarthy's Southern Bay Racing News You Can Use:
2019 Tri-Services Regatta
Nineteen boats each representing either Norfolk Naval Sailing Association (NNSA) or Old Point Comfort Yacht Club (OPCYC), and, therefore the US Navy or the US Army respectively, raced Saturday off Buckroe for the coveted Tri-Services Cup. The race had been postponed one week because of the aftermath of Hurricane Dorian. NNSA came out on top and retains the hardware and braggin' rights for another year.
RESULTS (Individual fleet award winners):
PHRF Non-Spin (9 boats):1.Chris French, Elixir (NNSA); 2.Andrew Norris, Riptide (OPCYC); 3.Jeff Rogers, Halaha (OPCYC).
CRUISING 1 (5 boats):1.Scott Nielsen, Old Crow (NNSA); 2. Tim Dull, Skymark (NNSA); 3.Chess Harris, Belle of Virginia (NNSA).
Cruising 2 (5 boats):1.Rick Strong, Yankee Mistress (OPCYC); 2.Keith Damon, Finally (OPCYC); 3.Gordon James, Allegory (NNSA).
Langley Yacht Club was the host of the 2019 event and John Ritter was Principal Race Officer. Conditions featured a lasting breeze 8-10, ESE, with a 2 foot chop, and plenty of sunshine.
In case you hadn't heard, last Wednesday, September 11, 2019, was the skipper of Feather (J36) Phil Briggs' 90th Birthday! There was a celebration AFTER the Wednesday night racing – keeping everything in perspective. [Phil would have it no other way.]
Rappahannock River Cup Regatta.
Rappahannock River Yacht Club, retained the Rappahannock Cup Saturday racing against Yankee Point Racing Cruising Club. In individual scoring in the 3 boat Spinnaker Division:
1.Tom Chapman, Hot Air (RRYC), 2.Arabella Denvir, Trouble:(RRYC).
In the 8 boat Non-Spin Division
1.Win Schwab, Silver Fox (YPRCC), 2.Jesse Swartz, Irrational Exuberance (RRYC) and 3.Randy Romaine, Glo (RRYC).
Braggin' rights on the Rapp River are established until this time next year!
Don't see your club's news here? This weekly racing report is a team effort, and we count on sailors to send us their racing news and photos by 9 a.m. on any given Monday. Thanks for being team players and sending us your news! [email protected]
The weekly SpinSheet racing roundup is powered by Team One Newport.