Last Flings and on to Frostbiting
A windy Saturday in Chesapeake country marked the last dance on the Bay for many racing sailors. Thanks to HYC's Fall Fling, USNA's Kennedy Cup, and some frostbiting and out-of-town regattas, we still have something to report. Here's your racing roundup for November 3-4.
Hampton Yacht Club Fall Fling
From Southern Bay Racing News You Can Use… Shake, Rattle and Roll at FALL FLING 2018!
Saturday and Sunday brought plenty of breeze for HYC's Fall Fling November 3-4. There was some shaking and rattling on the way out, but the rolling happened immediately when 32 small boats (one design under 25 feet) zoomed along on the Fall Fling race course in Hampton Roads Harbor.
On Saturday, the fleet postponed ashore to wait for the 20-plus knots left over from the overnight storm to shrink to manageable, i.e. high teens, 20 in the gusts. Racers got in three races before hurrying off to the traditional Fall Fling Oyster Roast.
Sunday morning the racing started in 15 knots, and the racers knocked off four more races before the mid-afternoon pre-set ending time... (and hey, look who topped the Viper fleet--SpinSheet's publisher!)
VIPER 640 (9 boats):
1.Mary Ewenson (Annapolis, MD);
2.Cole Constantineau (Cambridge, MA);
3.Mark Wheeler (Hampton, VA).
LIGHTNING (11 boats):
1.Jim Alman (Huntington, MD);
2.Trevor Prior (Biglerville, PA);
3.Joe Buczkowski (Virginia Beach, VA).
505 (5 boats):
1.Henry Amthor (Hampton, VA);
2.Barney Harris (Arlington, VA);
3.Clark Hayes (Norfolk, VA).
SONARS (5 boats):
1.Christian Schaumloffel (Virginia Beach, VA;
2.Dave Taylor (Hampton VA);
3.John Wandling (Hampton, VA).
MELGES 14 (2 boats):
1.Jon Mann (Norfolk, VA);
2.Hartmut Peters ( Kitty Hawk, NC).
2018 Fall Fling Event Chairman-Joe Buczkowski; Principal Race Officer-John McCarthy; Signal Boat-Dave McConaughy; Mark Boats-Bill and Dave Gibbings; Tom Ryan; and, Marshal Findley.
NOTE: Shake, Rattle and Roll is a prototypical twelve bar blues-form rock and roll song written in 1954 by Jesse Stone under his assumed songwriting name Charles E. Calhoun. It was originally recorded by Big Joe Turner, and most successfully by Bill Haley & His Comets and also Elvis Presley. ~Lin McCarthy
Kennedy Cup
From Annapolis Yacht Club's website: Proud parents Ken Comerford and Jennifer Flake (Annapolis) enjoyed seeing their eldest Kyle on the podium along with this teammates from SUNY Maritime College as they accepted the Kennedy Cup trophy.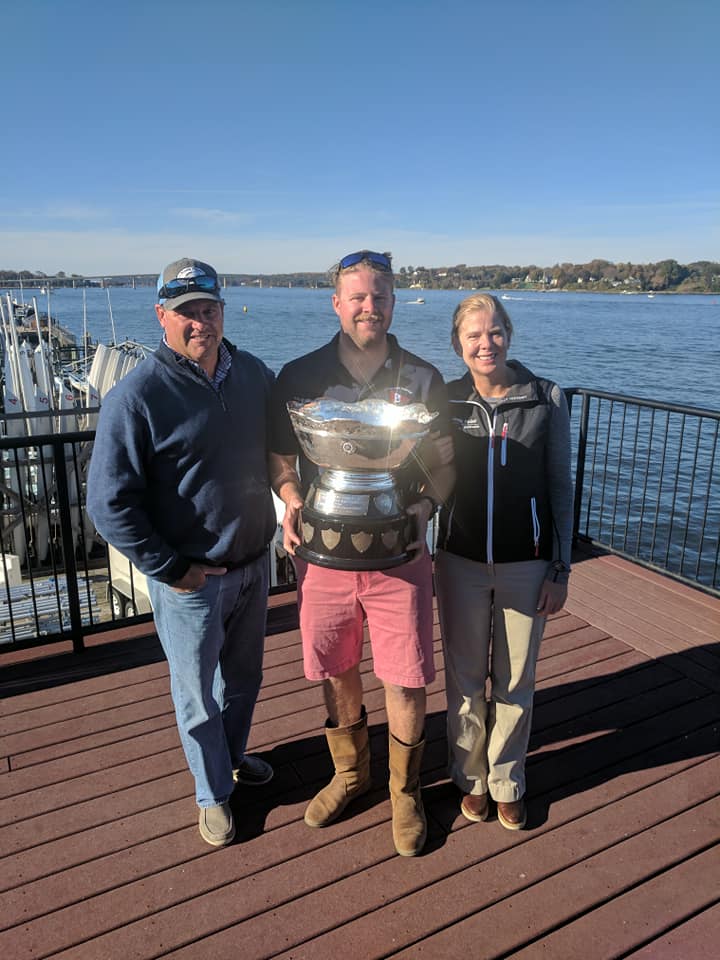 The trophy is actually the John F. Kennedy Memorial Trophy, which was presented to the U.S. Naval Academy in 1965 by Mr. C. Robert Yeager on behalf of the many friends of the late president. President Kennedy's love for sailing is perpetuated in the annual competition for the trophy, which represents the National Collegiate Large Yacht Championship.
The regatta, sailed on Navy 44s, represents some of the most talented big boat sailors at the collegiate level. SUNY Maritime's team finished in first place, ahead of the Naval Academy's Offshore Team, with the Coast Guard Academy's team in third place. Kyle and his younger brother Will found themselves in first and second place, representing SUNY Maritime College and College of Charleston respectively, at the recent McMillan Cup.
Here's USNA's report.
Southern Soiland Cup
2018 Flying Scot North American Champion and 2018 J/22 World Champion Zeke Horowitz of Annapolis was on the winning team at the 2018 Southern Soiland Cup Team Race, November 2-4, sailed in Flying Scots out of Southern Yacht Club on Lake Pontchartrain in New Orleans, Louisiana. On the winning College of Charleston Yacht Club team were Zeke Horowitz, Nick Martin, Dillon Paiva, Cole Allsopp, Brendan Faria, Chris Banholzer, Brendan Healy, Reed Baldridge, and Chase Shaw
Results are not yet posted on SYC's website ....Congratulations, Zeke and team!
Tell SpinSheet About Your Frostbite and Travel Season
Now that the summer racing season is over in Chesapeake Country, we transition over to frostbite racing—or we would have last weekend in Annapolis if the wind had cooperated…
We also enter the season of racing in far-flung, warmer locales. During the winter season, if you are racing here or afar and have news, photos, or fun anecdotes about Chesapeake racers, please share it with SpinSheet by emailing [email protected]. We welcome selfies, bragging about your team and friends, and racerly things that make you go "Hmmm."
Sail on!