SpinSheet Racing Roundup October 4-6, 2019
Happy October, sailors! From the Race to Rock Hall north of the Bay Bridge, to Annapolis where J/24 sailors competed, to the Hospice Turkey Shoot on the Rappahannock, and south to Hampton, there were a lot of racing sailors in action this past weekend. Here's your SpinSheet racing roundup for the weekend of October 4-6.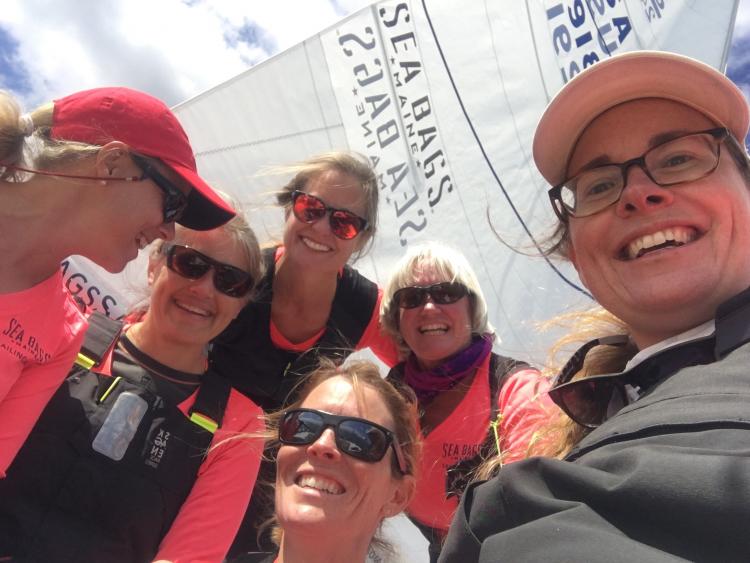 J/24 East Coast Championships
Severn Sailing Association (SSA) hosted the J/24 East Coast Championships over the weekend off Annapolis. Find top three results below and full SSA results here
1. Honey Badger Odenbach, Travis Rochester YC 1 1 2 1 4 4 3 3 2 21.00 1
2. Bangor Packet parker, anthony AYC 5 5 6 3 2 2 4 8 3 38.00 2
3. ORION Hillman, Mark SSA 4 12/20% 11 2 7 7 1 1 1 46.00 3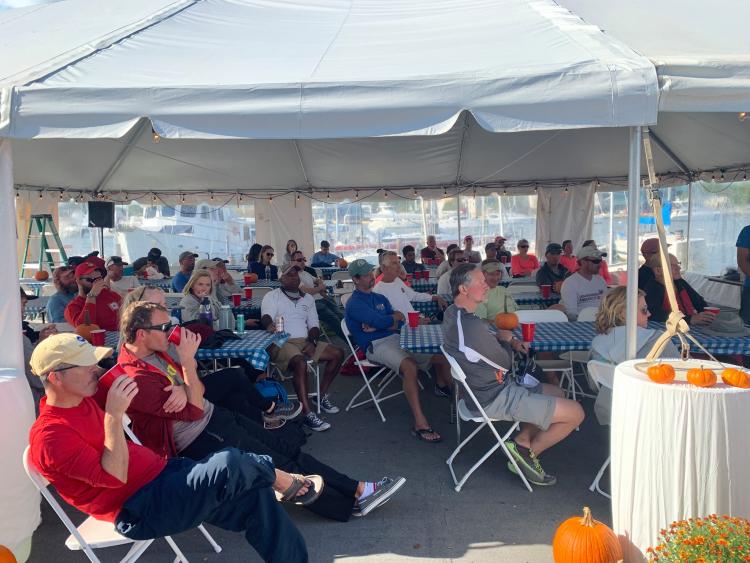 J/70 Fall Series
SSA also hosted its J/70 Fall Series over the weekend. Find top three results below and full SSA J/70 results here
1. Tea Dance Snake Bowe, Peter 6 2 2 3 2 3 1 19.00 1
2. Wild Child Filter, Henry 1 3 3 9/NoFin 1 1 2 20.00 2
3. Brian Wood 4 1 7 1 5 2 3 23.00 3
AYC Fall Series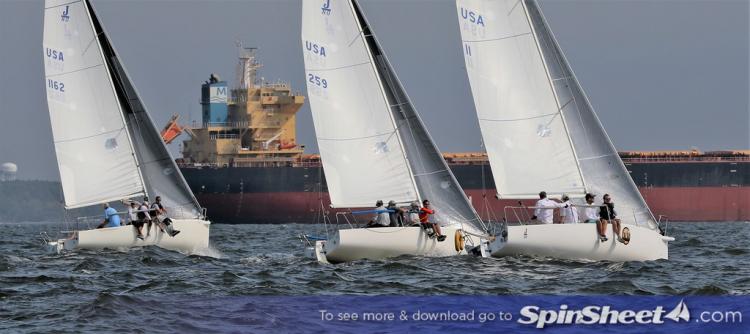 Annapolis Yacht Club ran the second in its fall series over the weekend. Find cumulative AYC fall series results here. Find photos from LAST weekend by Will Keyworth here (and above!).
PSA Race to Rock Hall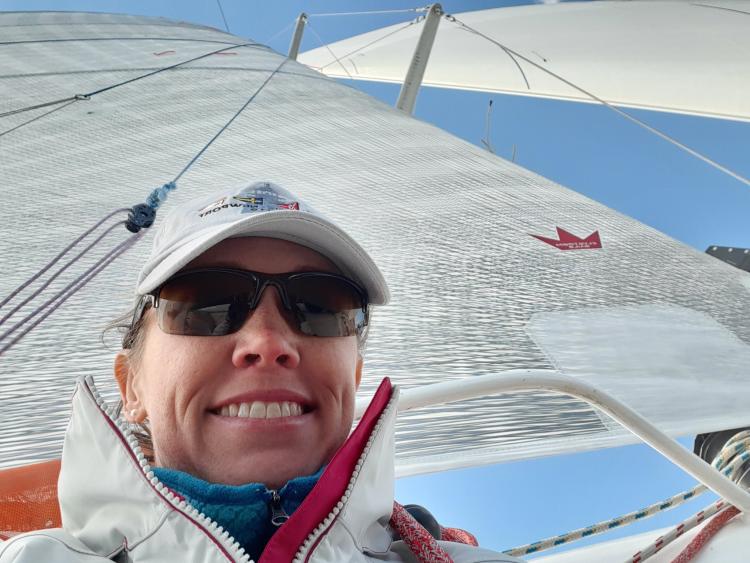 The Potapskut Sailing Association hosted its Race to Rock Hall from the mouth of the Magothy on Saturday, followed by a party at Haven Harbour Marina. Find top three results below and full PSA results here
NOTE: these are provisional results. There may be a few changes. We will post here if so.
Alberg 30
Windswept 0 Lanny Helms
Carnival Lady Barbara Vosbury
Rinn Duin 0 Michael Meinhold
PHRF A
UltraViolet 78 Dave Prucnal
Split Decision 108 Jordan Tacchetti
Eighth Deadly Sin 72 Mike Mullarky \
PHRF B
Orion Jon Opert
In The Red Roger McLimans
PHRF C
ENDLESS SUMMER ALAN WEISS
Witch's Flower Michael Johns
Heyday Shepherd Drain MRSA
PHRF N
Kokomo Express Terri High / Brett Sorensen
Bay Tripper 210 Ryan Sheaffer
Mulithull A
tHriLL Ride Jim Parrott
OrgaZmatron Josh Colwell
Triple Threat Tim Lyons
Multihull B
Flipper John Wayshner
Narrow Escape Ben Corson
Endurance Jeffrey Short
CRCA ORR Racer-Cruiser
A L'Assaut Kurt Cerny
Swellville John Anderson
Flow William Trainor
CRCA Cruiser
Celerity Rick Lober
Minuet Dwight Dick
Transition David Runkle
CRCA-ORR Performance Cruiser
Incommunicado Edward Tracey
Mischief Peter Henry
Lucky Eights Keith Cole
CRCA-ARC Spinnaker
Dragonfly John Aellen
Mistral Don Clemens
Whistler David Forsyth
CRCA-ARC non-spin
Curio Michael Wingate
Celerity II
Atlas Peter Holden
Southern Bay Scene
This just in from Lin McCarthy's Southern Bay Racing News You Can Use:
Hospice Turkey Shoot Regatta
WIND! GLORIOUS WIND!
And, up on the Rappahannock, the Hospice Turkey Shoot Regatta got a full dose of Mariah. Reports have Saturday winds gusting 15 to 20 from the NNE with 2 -2.5 ft seas. Conditions brought about some significant incidents and a number of retirements.
Sunday the wind went to 12 gusting to 18 from the South. Conditions culminated in two dismastings, thankfully no injuries. The 2019 Hospice Turkey Shoot Regatta had 91 entries, 76 of which raced.
FLEET WINNERS:
Div 1: Frank Miller, Windblown;
Div 2: Jesse Swartz, Irrational Exuberance;
Div 3:Glenn Solt, Freedom;
Div 4: Donald Mense, Freedom II;
Div 5: Norman Faulkner, Country Woman;
Div 6: Joe Lipe' Plowshares;
Div 7: Bill McClure, Thistledowne;
Div 8: Robin Meigel, Pacem;
Div 9: Charles Shaffner, Dolcefariente;
Div 10: Mike Mitter, Jaunty.
Charles Shaffner in Dolcefariente from York River Yacht Club was declared Overall Winner in his 1926 Herreshoff S wooden boat. RRYC won the John and Carole Jean McConnico trophy for the Best Yacht Club or Marina based on the finishes of their top three boats. Tom Chapman and Jerry Latell co-chaired this more than worthwhile Hospice regatta. For extensive Turkey Shoot results details and more click here
CCV Racing Fall Series Finale
After a number of light air days, the racers got their wish for wind in Hampton Roads waters too. On Sunday, the final day of CCV Racing Fall Series racing brought a lovely racing breeze reported as 12 to 18 knots. Even though shifty, the zephyrs were the perfect way to end the series.
Twenty-Eight (28) boats raced, the majority of them in the PHRF A fleet.
Among the fleet was Dave Bouchard's recently acquired J/36, BUMPS, formerly Sea Star. Dave and his wife Linda, have named the boat BUMPS in honor and memory of her former owner, Vernon "Bumps" Eberwine.
DAILY RESULTS:
PHRF A (16 boats): 1. Sledd Shelhorse, Meridian XI (Carkeek 40); 2.Ian Hill, Sitella (J111); 3.Leroi Lissenden, Voodoo2 (Tripp 38).
PHRF B (9 boats): 1.Rusty Burshell, Cool Change (J30); 2.Ben Weeks and Michele Cochran, Rumble (J29); 3. Alan Bomar, Roundabout (J24).
PHRF Non-Spin (3 boats): 1.Cliff Porter, Tilt (Morgan 38); 2.Alan Johnson, Seeker (Ericson 34t); 3.Keith Midgette, Luna Blu (Bristol 39 YWL).
Principal Race Officer-Brian Deibler; Mark Boats: Marshall Findley and Charlie Baker and Dave Gibbings; Official Scorer: Kim Deibler
Don't see your club's news here?
We count on clubs and sailors to send us news and photos by 9 a.m. on any given Monday. Send us your Chesapeake racing news and images, and we're happy to share them! [email protected]
Our racing roundup is powered by Team One Newport