J/70s, Oxford, AYC vs. San Francisco YC, and more... Here's your SpinSheet racing roundup for the weekend of August 26-27 on the Chesapeake.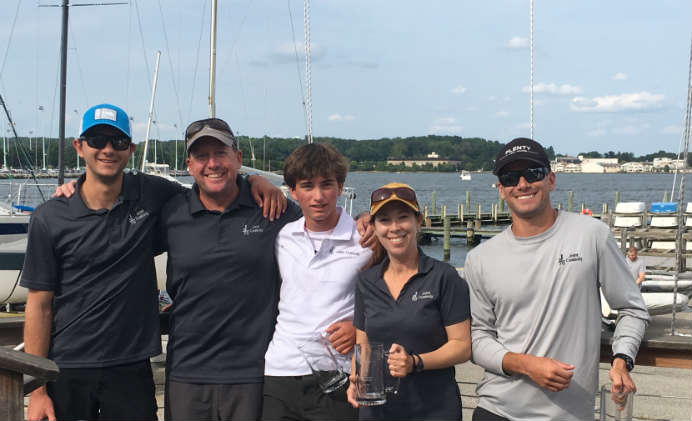 As usual, there was a lot of racing action out of Severn Sailing Association in Annapolis.
The J/70 Mid-Summer Invitational
Fourteen J/70 teams enjoyed the weekend's outstanding sunny and cooler conditions to complete seven races for the Severn Sailing Association (SSA) Mid-Summer regatta. Winds ranged from eight to 12 kts from E/NE over the weekend presenting an ever changing race course that required teams to quickly shift gears and be keenly focused to stay in the pressure and big shifts and avoid the powerboat chop over Saturday and Sunday. The fleet included a few new J/70 Fleet One boats and some very talented high school sailors amongst the teams.
Bill Vickers' team, which included top high school laser sailor Leo Boucher, took 5th; Henry Filter's Team Wild Child who used this as a team training opportunity for the upcoming J/70 Worlds in Porto Cervo, Italy, sailed to a solid 4th; Dave Schone's Uno Mas team posted a series of consistent finishes to take third.
Todd Jenner/ Mike McNamara won 3 races with their Tea Dance Snake team to finish second. Team Joint Custody with Jenn Wulff, Ray Wulff, Fletcher Sims, Brady Stagg, and stand out high school sailor Mariner Fagan won the seven-race series with three 1sts and a total of 16 pts for the weekend.
J/70 teams enjoyed a great fleet BBQ at SSA Saturday night.
Find full J/70 Mid-Summer Invitational results here.
Speaking of J/70s, entries are trickling into the J/70 East Coast Championships at Fishing Bay Yacht Club September 29-31. It's the same weekend as Annapolis YC's Fall Series, so Annapolis sailors have decisions to make. Looks like Henry Filter, Allan Terhune, and Blakely Kimbrough are headed south! Find registration information and entry list at this YachtScoring link.
________________________________________
Daysailer Fall Series
Also at SSA last weekend was the Daysailor Fall Series. Top three finishers:
1. Richards, Robin 1 1 1 3.00 1
2. Fisher, James 3 3 6 12.00 2
3. Seamon, Kenneth 2 6 5 13.00 3
Find full Daysailer Fall Series results here:
______________________________________
Annapolis Yacht Club vs. San Francisco Yacht Club
AYC match raced with SFYC last weekend off Annapolis on J/22s for a Corinthian Cup, with adult and youth teams. AYC proved victorious in the event. Find Corinthian Cup Results here.
___________________________________________
In Oxford: the William H. Myers Heritage Regatta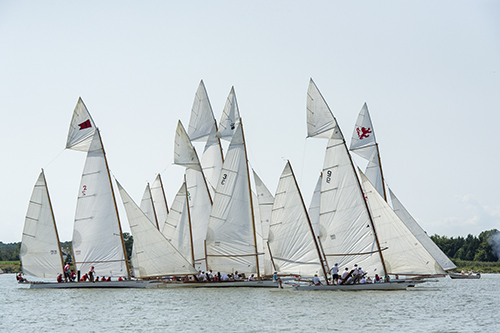 Shields, Penguins, and log canoes raced out of the Tred Avon Yacht Club last weekend. Find the full Heritage regatta results on TAYC's website here.
Log canoes
1. 9, Island Blossom, Corbin Penwell, mryc, 1-1-1- ; 3
2. 12, Persistence, Dan North/Owen Lyons Dan North/Owen Lyon, CBYC, 4-2-2- ; 8
3. 2, Silver Heel, K.C. Maximus Kurland, Bachelors Hope Yachting Squadron, 5-3-5- ; 13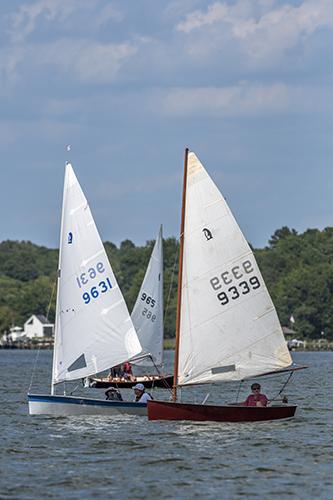 Shields
1. 73, Black Pearl, Jay Dayton, TAYC, [2]-1-1-1-1- ; 4
2. 180, Seagull, Mike Rajacich, TAYC, 3-2-3-[4]-2- ; 10
3. 35, DRAGONFLY, Drew Kellogg, TAYC, 1-4-[5]-2-4- ; 11T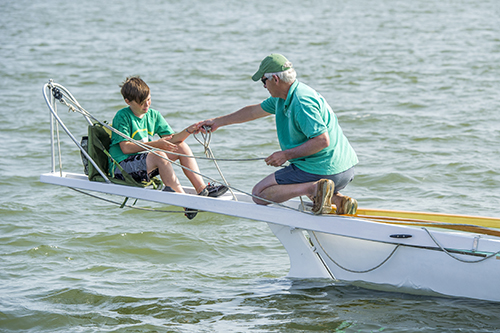 Penguins
1. 9730, Evalyn, jeffrey Cox/Ian Cox, TAYC, [4]-1-4-3-1-1- ; 10T
2. 9677, Family Ties, William Lawson/Colette Preis, SSA, 1-3-1-[6]-3-2- ; 10T
3. 9478, Wooden Bucket, Charles Krafft, SSA, 2-2-2-2-[4]-3- ; 11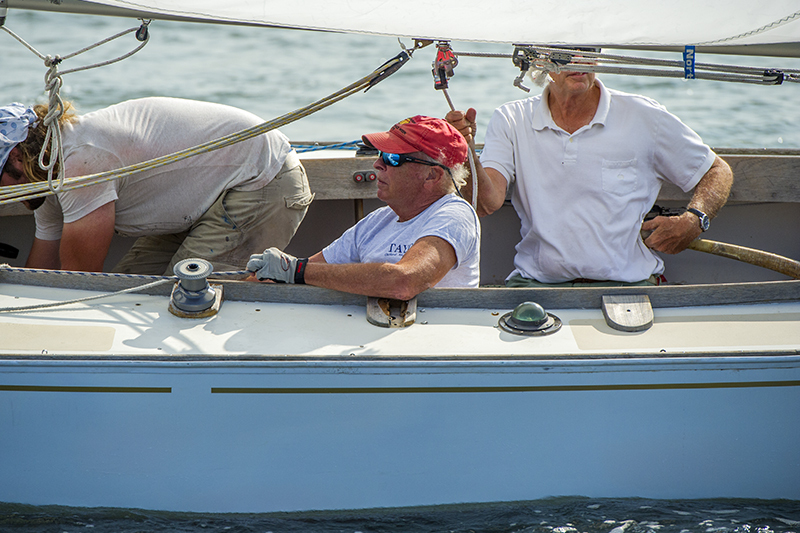 _____________________________
Southern Bay Weekend Scoop:
This just in from Lin McCarthy's Southern Bay Racing News You Can Use:
CCV Founders Race. On Saturday twenty-one boats raced off Ocean View in the CCV Founders Race. The course was a windward-leeward format with total distances for each fleet according to number of legs.
RESULTS:
PHRF A (5 boats): 1.Phil Briggs, Feather; 2.Neil and Lis Biondi Ford, Danger Paws; 3.Leroi Lissenden, Voodoo 2.
PHRF B (5 boats): 1.Ben Weeks and Michele Cochran, Rumble; 2.Rusty Burshell, Cool Change; 3.Bob Archer, Bad Habit.
PHRF C (5 boats): 1.Alan Bomar, Roundabout; 2.Ben Cuker, Callinectes; 3.Jeff Rogers, Halaha.
PHRF Non-Spin (6 boats): 1.Jake Brodersen, Midnight Mistress; 2.Dixon Wilde, Kingfisher; 3.Ken Copeland, Black Widow.
One boat, Luna Blu, Midgette, sailed the course as a Cruiser.
Principal Race Officer-Bob Thomas.
HYC Single Hand Race - Neil Ford in his Melges 24, Danger Paws, bested the group of 4 singlehanders in this annual Hampton YC race held Sunday. Ben Cuker, Callinectes was 2nd and Alan Bomar, Roundabout, was 3rd. Sailing was in Hampton Roads Harbor.
Principal Race Officer was Michelle Garn and Leanne Cranfill was scorer.
RRYC Single Hand Race - Six boats competed in the Rappahannock River YC race Saturday. The race was two laps around a triangle course for a total of 6 miles. First place was Tom Chapman in Hot Air, Ed Johnson, Hippo was 2nd, and Randy Romaine, Gloria was 3rd
_____________________________________________
Laser Masters North American Championships in Ontario, Canada
Severn Sailing Association members Bob Tan and Luke Shingledecker topped their classes at the Laser Masters North American Championships in Ontario, Canada, last weekend.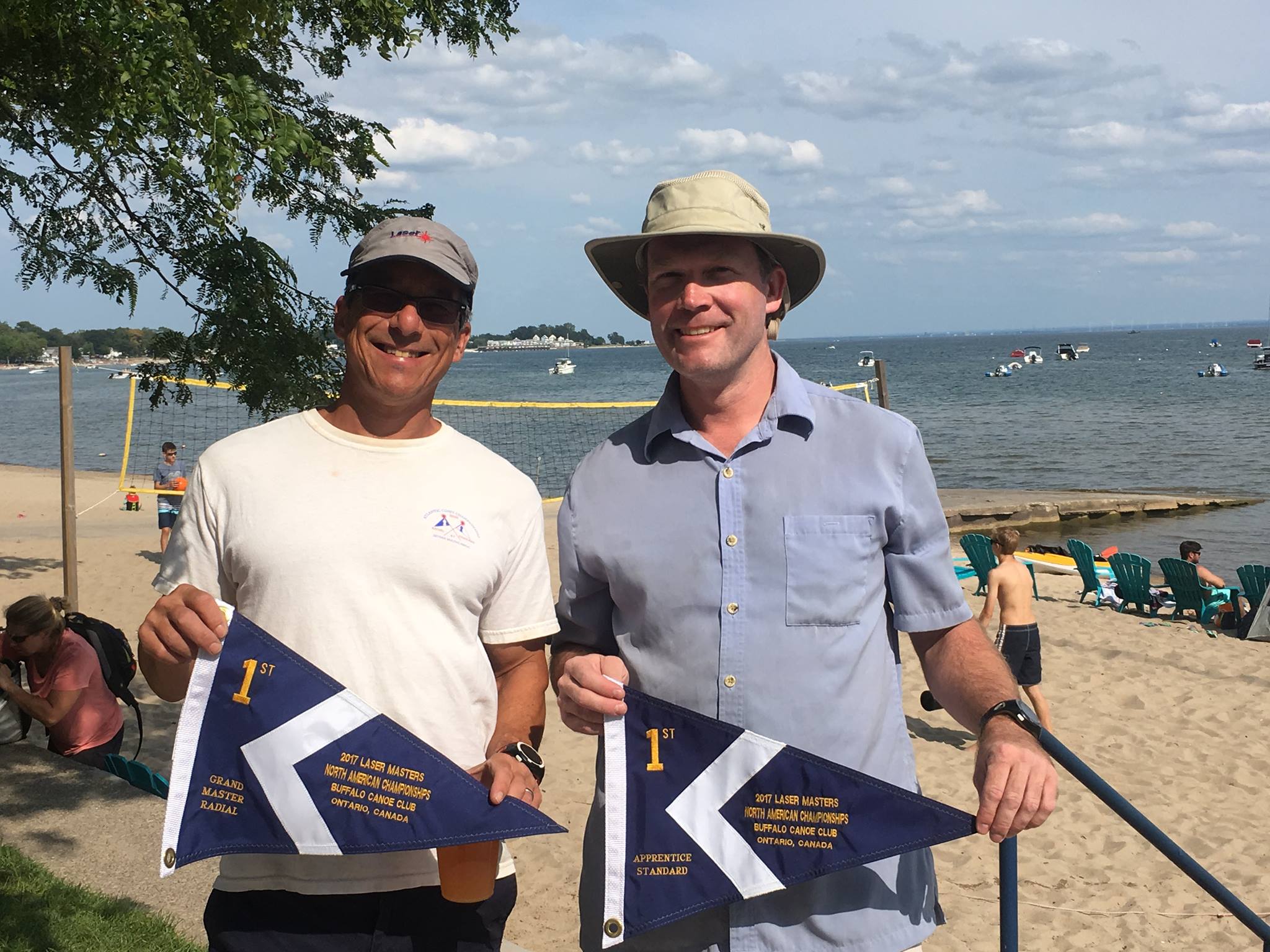 Other podium finishes by Chesapeake sailors included Scott Williamson, Kim Couranz, Dorian Haldeman, and Jacques Kerrest. Find full Laser Masters National results by division here.
________________________________
AYC Sailors at Hospice Cup Championship
Nice article in the Capital about Cedric Lewis, Chip Carr, Greg Larcher, and John Meiser at the Hospice Cup Championship in New York.
___________
How do I get my club's race into the weekly SpinSheet racing roundup? Easy! Send us news anytime.. it always helps if it comes with a photo... it also helps if you send us news by 9 a.m. on Monday! Thanks!