SpinSheet Racing Roundup November 2-3
As the regular racing season winds up on the Chesapeake, we are all thankful for the big winds and excellent conditions that have marked the season's end… for some. Frostbite racing has only just begun…Here's your SpinSheet Racing Roundup for the weekend of November 2-3, including the Kennedy Cup at the U.S. Naval Academy, Hampton Yacht Club Fall Fling, and a few frostbites.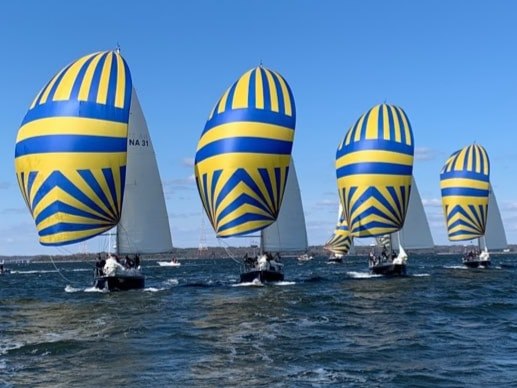 Kennedy Cup at USNA
The USNA's varsity offshore sailing team (VOST) concluded its fall racing schedule this past weekend after placing sixth at the Kennedy Cup in Annapolis. The Midshipmen hosted the nine-team event for the ICSA Big Boat Championship on the Chesapeake Bay on the fleet of Navy 44s.
On Saturday, Navy got off to a slow start where just two races were completed in a light wind.
Following crew changes heading into the final day of racing on Sunday, the Midshipmen came out strong and capped off the weekend with a victory in the final race of the event. However, Navy's rally fell three points short of the podium and just missed the top five by a point.
Navy's crew was co-skippered by Hayden Kuzemchak and Katie Boyle and included Tim Forman, Zachary Krause, Kevin Navarro, Anirudh Murali, Ben Van Duyne, Don Poirier, Gary Munsell and Connor Hallett.
The Midshipmen will return to action in February 2020 when they start their spring season in Charleston, S.C.
Find full Kennedy Cup results and the on-water summary by VOST head coach Jahn Tihansky here.
AYC Frostbite Race Day 1
If anyone ever questions why there's so much reporting about the Annapolis sailing scene, just click to this AYC results page to see the numbers —more than 70 boats showed up to race on the first day of the Annapolis Yacht Club Frosbite Series 1--and that doesn't include the others registered who didn't make it to the race course. Frostbite racing is alive and well in the Sailing Capital.
We know that your hands get cold when you're out frostbite racing, but make sure to snap a pic of your crew every once in awhile to share with SpinSheet to show the world how "cool" winter racing is!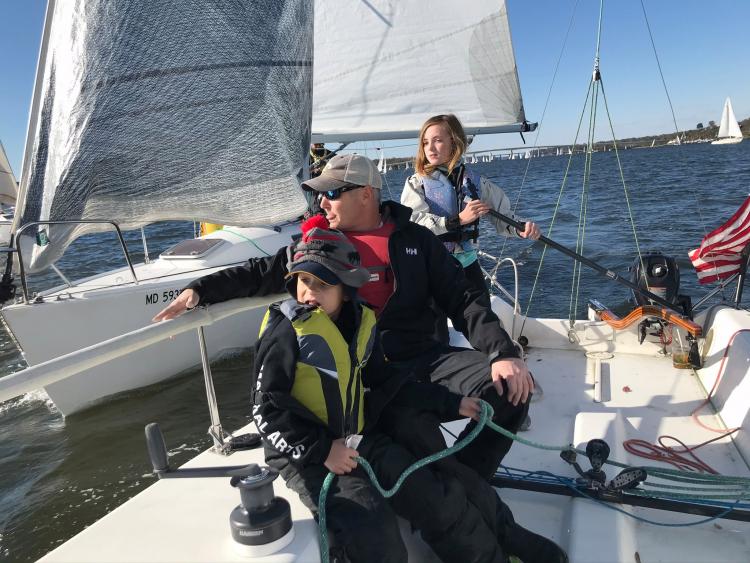 HHSA Frostbite Racing
The folks at Herrington Harbour were out frostbite racing yesterday, too! Here are HHSA results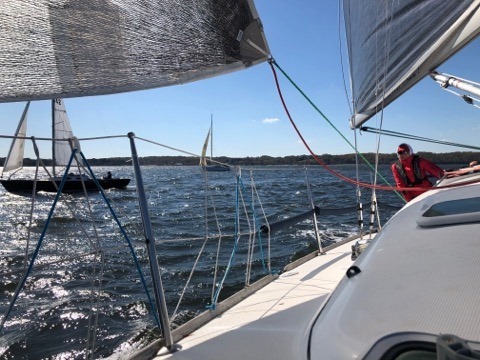 Southern Bay Scene
This just in from Lin McCarthy's Southern Bay Racing News You Can Use…
Hampton YC Fall Fling
Lightnings, Sonars, Vipers, 505s, and J24s raced this past weekend in the 2019 Fall Fling hosted by HYC.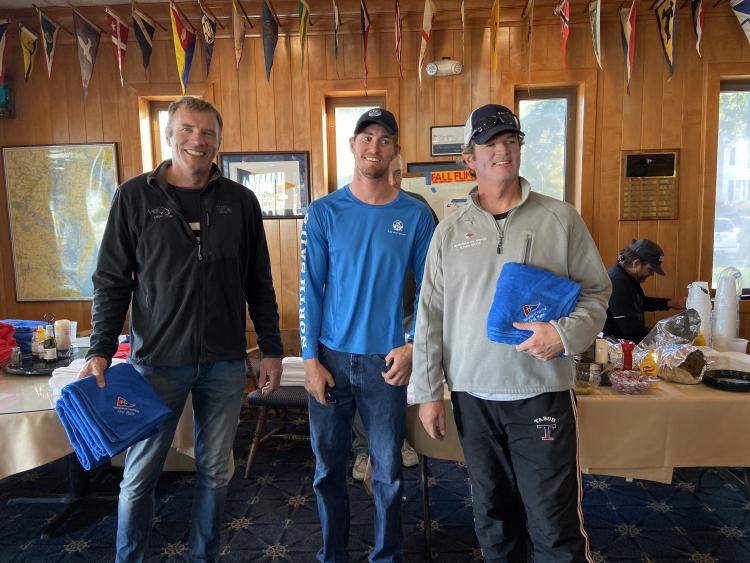 Fall Fling top three RESULTS:
505 Class (6 boats):1.Clark Hayes; 2.Henry Amthor ; 3.Marek Balinski.
Lightning Class (8 boats):1.Kayla Neuman; 2.Joe Buczkowski; 3.Darrah.
Sonars (5 boats):1.Christian Schaumloffel, 2.Dave Taylor; 3.Mason Fairchild.
Only one J24 sailed the course – Alan Bomar.
Viper Class (6 boats):1.Geoff Ewenson; 2.Tyler Moore; 3.Vickers.
Event Chairman: Joe Buczkowski; Principal Race Officer:John McCarthy; Signal Boat:Ed Munson; Mark Boats: Marshall Findley; Bill Pardee; and Tom Ryan. Event Scorer: John Ritter
HYC Frostbite Series 2
Twenty (20) boats raced Sunday in fluky-shifty winds for the second rendition of the 2019 HYC Frostbite Series.
HYC Frostbite RESULTS:
PHRF A (8 boats):1.Neil Ford and Lis Biondi Ford, Danger Paws; 2.Ian Hill, Sitella; 3.Peter Hunter, Wairere.
PHRF B/C ((7 boats):1.Rusty Burshell, Cool Change; 2.Bill and David Gibbings, Jonathan; 3.Bob Archer, Bad Habit.
PHRF Non-Spin (5 boats):1.Louie Lewis, Incentive III; 2.Alan Johnson, Seeker; 3.Cliff Porter, Tilt.
Principal Race Officer: Brian Deibler; Official Scorer: Kim Deibler.
BBSA Hot Buttered Rum Race
Twenty-one (21) boats sailed in the annual Hot Buttered Rum Race in Willoughby Bay sponsored by Broad Bay Sailing Association's (BBSA) Willoughby Racers. Both fleets were non-spinnaker only.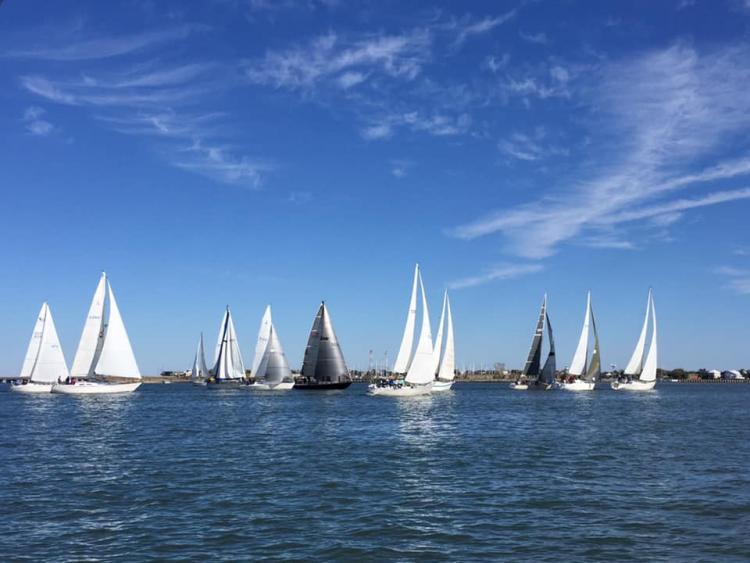 Silver Fleet (11 boats). 1.Will and Mary Roberts, Remedy/J36; 2.Ken Copeland, Carl Glade, & Alvin Girardin, Black Widow/Irwin 38; 3.Jack Clayton, Melantho/Beneteau.
Gold Fleet (10 Boats). 1.John Edwards, Recovery/Hunter 30; 2.John Wandling, Pisces/J28; 3.Tim Dull, Skymark/Tartan 34.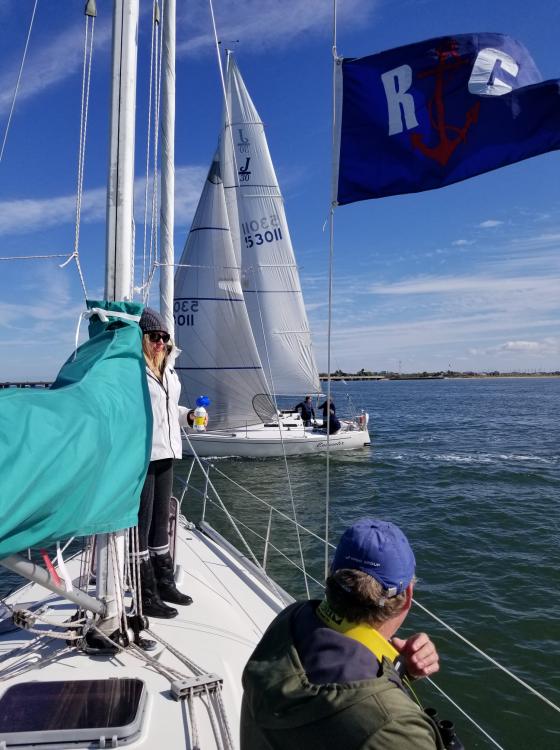 There were reports of post-race hot rum, chili, and concentrated end-of-season socializing!

FBYC Winter Series Race #1
Fishing Bay Yacht Club (FBYC) marked its Closing Day and opening Winter Series with a staggered start race Saturday.
FBYC RESULTS:
Spinnaker:1.Bob Fleck, Mad Hatter; 2.Glenn Doncaster, Nanuq; 3.Russ Collins, Morningtide.
Non-Spin:1.David Soule.
Typhoons: 1.Mike Miller, Jaunty. Principal Race Officer-David Lee
Winter Series Race #2 scheduled for this coming Saturday, November 9.
Don't see your club's racing news here?
This means that no one sent us any. We'd love to share your news in print and online. Send us news and photos anytime to [email protected]. Thanks for being team players!