The final InterClub (IC) Midwinters at Severn Sailing Association (SSA) in Annapolis unfolded January 27-28. "It's a wrap!" Alex Pline says, "We had a beautiful day of sailing Saturday with temps in the 50s, sunshine, and a shifty southeasterly to southwesterly breeze. Unfortunately, Sunday brought rain, thick fog, and zero wind, so we abandoned the regatta at 12:30 p.m."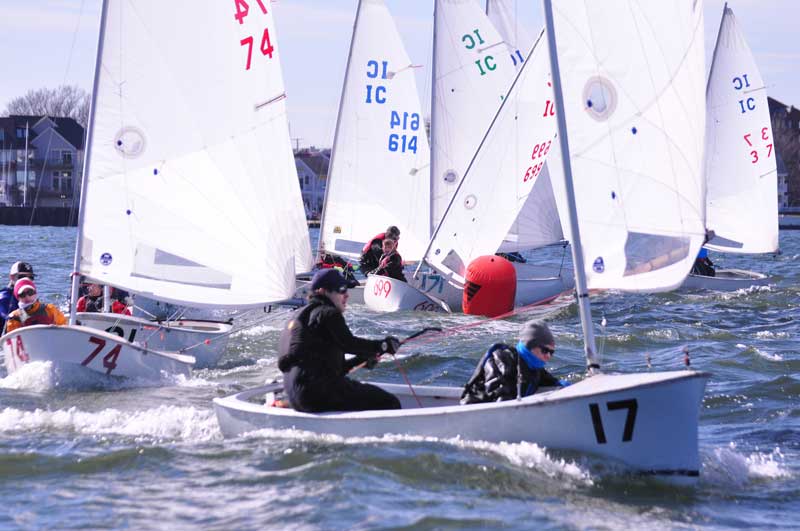 What ended up being a one-day regatta was run in a college-style fleet racing format with A and B Teams. The winning team of Steve Benjamin/Trevor Davis and Jim Bowers/Lydia Brown sailed a consistent regatta to edge out the team of Simon Strauss/Julie Lelek and Jesse Falsone/Erika Seamon by three points.
A past Olympic medalist, 505 World Champion, 2015 Rolex Yachtsman of the Year, and 2017 Etchells World Champion, Benjamin sailed with 15-year-old Davis. Even though Davis has sailed since he was six years old, moved into 420s a few years ago, and is now moving into the I-420 circuit, sailing with "Benj," who's a close family friend, was still special for the St. Mary's High School student.
"I've known him for many years but never sailed with him until now," says Davis. "He has a really professional style. We communicated a lot and were tactical in controlling the sail plan and the heel of the boat."
Davis had only done some training days in an IC in Larchmont, NY, but not yet competed in the boat prior to this event. When asked if he bailed a lot (as IC crew have been known to do), he said it wasn't bad.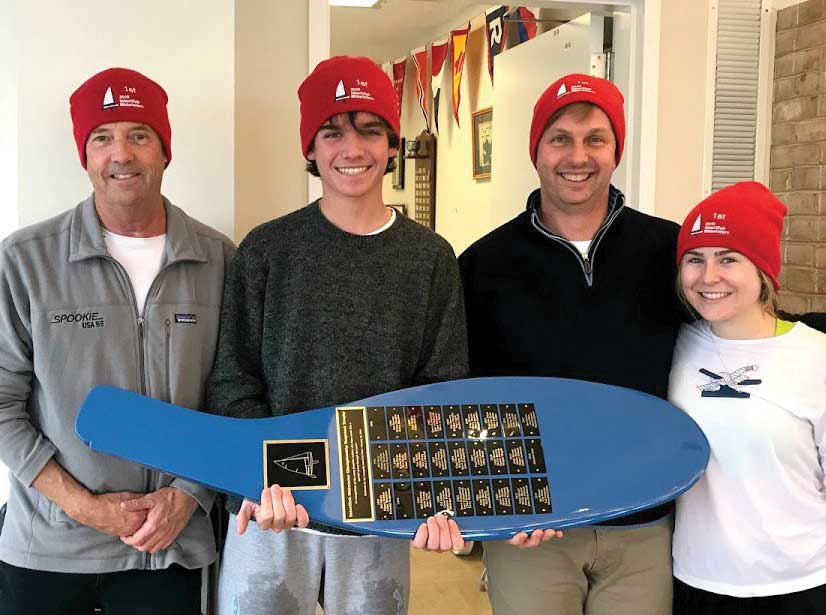 "We were focused and looking to put up good results. We didn't think that first set would be our only one, so we wanted to keep it up."
Davis noted that they succeeded despite a last-minute fix and jury-rigged mainsheet block for one of the races.
"It was great to have our names on the trophy for the last IC Midwinters in Annapolis and to be part of that legacy."
The farewell regatta for the IC Midwinters will be remembered for many reasons; an on-water medical emergency may top the list. SSA race committee and competitors responded quickly to a life-threatening situation and followed emergency procedures impressively. They saved a life. If and when the family would like to talk about it publicly, you will read about it here in SpinSheet. For now, it suffices to say that the family is most grateful for the professionalism and seamanship at SSA.
Following the emergency, what was slated to be a big party was more of a quiet gathering for sharing stories in the warm clubhouse.
Pline says, "Thanks to all who came to help us officially close out the latest incarnation of the SSA IC fleet. It was a great final hurrah. Many thanks to Jesse Falsone for keeping the torch lit all these years and—as Jonathan Lange put it—carrying the rest of us along, sometimes against our will."