A Rough Race Informs Future Offshore Sailing Races
The challenging 2023 Annapolis to Newport Race (A2N) lives on in the history books. Now that the sails and boat cushions have dried, the trophies have gathered some dust, and competitors are setting their sights on 2024 offshore sailing events, such as the Newport to Bermuda and Annapolis Bermuda Ocean Races, sailors may process the lessons learned from this summer's race for future reference.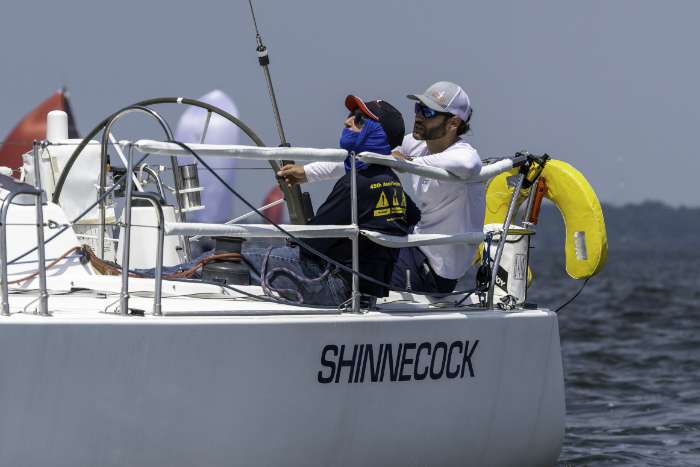 Brad Cole from Annapolis Yacht Club's history committee notes that the roughest A2N on record was the 1967 edition with northeasterly winds reported above 50 knots. In 2023 the highest reports were 33-35 knots. Cole writes: "In 1967 there were 91 entries, and 34 retired (37%). This year there were 63 entries, 2 DNS, 1 NSC, and 31 retired (50%)."
Whether sailors back then were more rugged, or less informed than we are now with our improved weather forecasting ability, is a question to be discussed at the yacht club bar. More importantly for SpinSheet purposes is this question: what wisdom can offshore sailors glean from this year's race? What can make us better, safer sailors and teammates in future offshore competitions?
With that in mind, we reached out to several veteran ocean racers—some who retired from the race and some who stuck it out—to hear about their journeys and lessons learned.
Testing the Forecast
Jim Praley, longtime A2N race chair who's also finished this race successfully many times, said, "I did it back in the days when we didn't have such good forecasting and we went out to get our butts kicked."
This year, he had his team about his J/120 Shinnecock—who hadn't worked much together yet—went out "to test the forecast."
He said, "We went down the Bay. We knew if the forecast was accurate, we wouldn't go through the tunnel. We were reefed with a #3… We started Saturday (June 3), and we were seeing boats returning up the Bay (from Friday's start), so that helped us make up our minds."
He says, "You have to keep in mind it's just the forecast until you're in it."
Once "in it," the Shinnecock team decided to retire from the race. The skipper was comfortable with this decision. He did find his way to Newport for the awards ceremony and noted, "Nothing goes to windward better than a 747."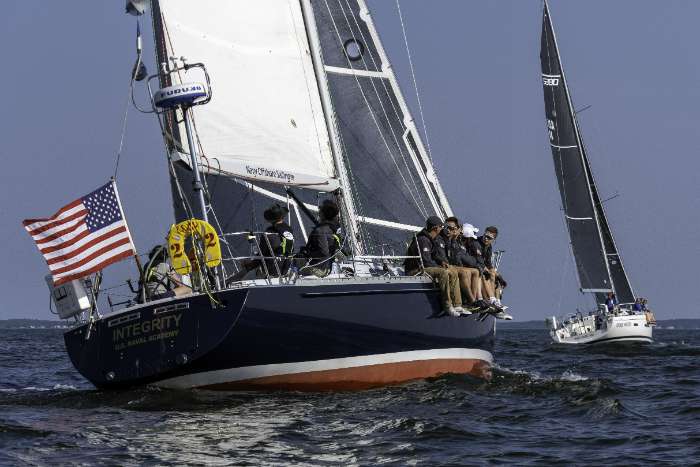 Overkill or Smart Seamanship?
Because it's been a topic of discussion recently at the SpinSheet World Headquarters, I asked Praley if he and his crew wore personal EPIRBs when offshore.
He says, "We all wear personal AIS units (which I supply). Watch captains each also get a PLB (personal EPIRB). Boat also carries two full-size EPIRBs: one in ditch bag, second mounted on bulkhead in cabin. It sounds like overkill, but I'm a big fan of being able to call for a ride home if you need it."
For the record, the safety regulations only require one EPIRB onboard. Who can argue with redundancy when PLBs are so affordable?
When the Crew Becomes Debilitated by Seasickness
Another veteran ocean sailor, Don Snelgrove, and his team aboard the Dehler 39 Himmel, also retired from the 2023 A2N.
He says, "The forecast out of the Bay was going to be 25 knots on the bow for the first 36 hours. We knew that going down the Bay. We had a great run and finished third of 30 going out of the Bay. For the very first time we beat one of the Navy 44s."
"We knew the forecast was grim, so we decided let's just go out there and see what it really looked like," says Snelgrove. "We have the experience for rough weather, so we went out… you have to go about 20 miles east around Chesapeake Light. That was a good long length (3.5-hour length)… I made the decision to retire when we were about 30 mins from the light."
"I could see the crew was quickly getting debilitated by seasickness. The waves were steep and choppy. It was very uncomfortable below. You couldn't stand below—you had to lie down to put on boots or a jacket. The crew was weakening. I could see where it was going to be a problem; we were going to get banged up. The boat was right on the edge of comfortableness. We had three reefs in the main and had already put up a small jib, a blade we use in any kind of weather."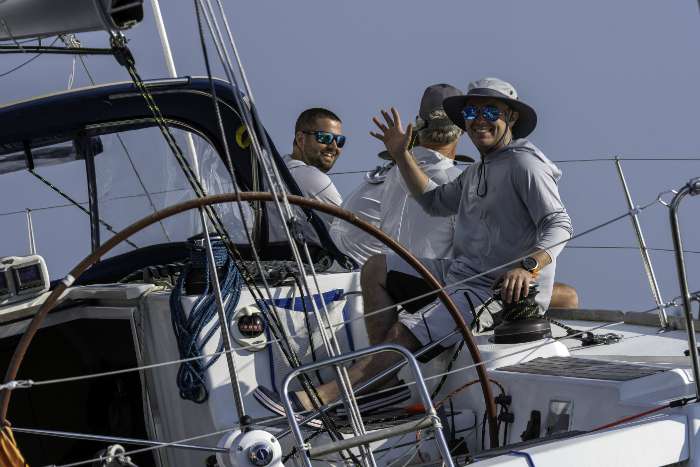 "The boat was doing okay, but I was concerned. We were going to be close hauled after the light. We were seeing gusts of 35 knots. The winds were stronger than we had expected. It was going to be hard to change sails at that point. Putting up a storm jib was our next option. This is the first race we've ever retired from; was the worst conditions we would have faced. If I had known it was going to be a six-hour forecast (ahead of us), I would have sucked it up, but 36 hours? No."
The crew did not sustain any injuries, and the boat is fine. Snelgrove, who plans on competing in future offshore races, added, "I do think this: the AYC RC made a mistake when they did not delay the Friday departure to Saturday. When 24/30 retire, that's a failure. I bet in hindsight they wish they had done it."
Practicing in Heavy Weather
What lessons did the Himmel team learn? Snelgrove says, "Every spring we do sea trials on the boat. We put up every sail, make sure it rigs up right, and try it out. The winds could be five knots or 11 knots; you never really know… Next year, we'll wait until we have 25 knots and go out and try those sails in those conditions. I want to see how the sails do and how well we can trim them in conditions that are rough."
Steven Hale, who won the ORC 4 class in the 2023 A2N aboard the Salona 380 Cookie Monster, made a similar comment for a previous SpinSheet article. His advice for aspiring offshore racers:
"Find a night on the Chesapeake where it's blowing 20-plus-knots and go out with the entire team. Practice putting in the reefs and storm sails under realistic conditions and do some man-overboard drills in the dark. Stay out there until people are wet, cold, and uncomfortable, and don't go back until your confident that everyone can handle 24 to 48 hours of that weather."
It All Gets Back to Preparation
US Naval Academy Offshore Sailing Team Coach Pete Carrico calls 2023 his "swan song summer," as he is retiring at the end of it. In the A2N he sailed aboard the Navy 44 Defiance with skipper Midshipman 1/C Phil Pacheco. The team finished second in ORC 4 and won several special awards.
Carrico emphasizes the intense planning process for USNA sailors. "We do classroom training in the winter and the Safety at Sea Seminar (in spring) with Crew Overboard drills. All through the spring it's intensive sailing five days per week. Then, we do a DelMarVa, 300 miles around, but this year we lost a day in our schedule; so we went out to Chesapeake Light and back. One advantage was that we had two looks at the Chesapeake before we did the A2N. We got a good view of all, including where the fish traps were."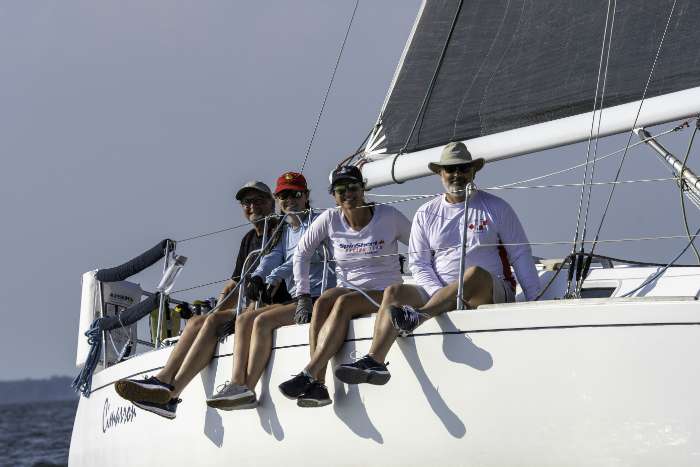 He adds, "We trained well for crew overboard, heavy weather, and storm trysails. We go out there with a fair amount of confidence that whatever is thrown at us we can handle. The Navy 44 is a very tough boat, a solid boat, pretty much the ideal boat for this kid of race at 30,000 lbs."
When asked if there were any surprises in this race, Carrico says, "Tactically we wanted to be east of rhumb line to be on a reach instead of gybing downwind, but early in the race… we stuck with the competition. We used conservative tactics. We went all the way in as far as Chincoteague… There was a little less weather to the west; this didn't hurt us at all. It helped with seasickness."
Of the tough times onboard, Carrico says, "When midshipmen are seasick and you're going upwind in big waves and reefing a lot, there's a form of misery there. You're wondering when the wind will stop… Then the winds go lighter. You put the spin up... We all forgot how bad it was and had a nice finish in the daylight."
Carrico was proud of his team and how they handled the race. "We did as well as we could. The plebes had not seen this before. We had a really good weather briefing. Really good resources. It was the challenge of being in heavy air, experiencing that; it's all new territory for them. I guarantee them at least one epiphany. This race makes quite an impact on the midshipmen. They go through a metamorphosis."
In the end, he says, "We didn't break anything," and laughs.
What will Coach Pete do in retirement? Go sailing, of course. ~MW
For more articles about offshore sailing, type "offshore" into the search bar above. Find the full gallery of photos from this event here.