Luna Rossa Earns Right To Challenge Emirates Team New Zealand for America's Cup
It wasn't even close... Luna Rossa's dual helmsmen Jimmy Spithill and Francesco Bruni were dominant in winning seven out of eight Prada Cup Finals races versus Britain's Sir Ben Ainslie's Ineos Team UK in the races leading up to the America's Cup.
Now, it's on to March 6 and a well-deserved battle against the Defender Team New Zealand on Auckland's Waitimea Harbor in two weeks' time.
Luna Rossa bested Ineos Team UK by an average of 32 seconds in its seven victories. Team UK's sole win was a three-second squeaker in Race 7.
Two-time America's Cup winner Spithill hardly broke a sweat during the Finals showdown. In the heat of the battle, Spithill's heart rate fluctuated between 65 and 80.
"He's got ice in his veins," remarked one local New Zealand radio wag. "In the history of New Zealand's America's Cup campaigns, there's always been a dominant personality that steals the show. This year, that's Jimmy. The villain you love to hate."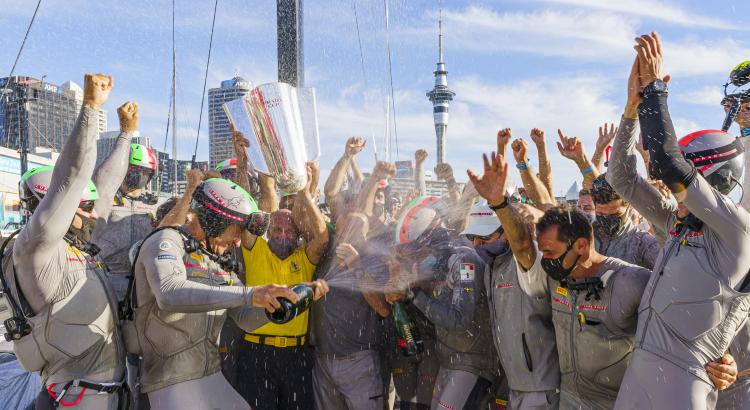 As Luna Rossa crossed the finish line, Francesco Bruni was overheard to say "Bene. Time for some high fives."
Thirty-five seconds later as his boat crossed, a dejected Ben Ainslie told his crew, "Sorry, boys. "Sorry."
The master of understatement, Spithill told reporters, "Pretty good day at the office."
Then, Bruni gave him a big hug and whooped "Fantastico. Jimmy and I are different, but we make a fantastic team."
The Brits will be headed home while the Italians will need face off against the team that defeated them in the 30th America's Cup on these same waters 21 years ago.
Taking it all in from the deck of their AC 75 were team New Zealand as they watched Luna Rossa sweep to victory. American Magic helmsman and New Zealand native Dean Barker remarked "You can bet the boys have been watching all these races closely. New Zealand hasn't raced since before Christmas. Every bit of intelligence they can gain by observing the Italians will prove valuable down the road."
Local punters put the odds at three to two for the Kiwis to retain the Cup.
~By Craig Ligibel