The first thing that I ever knew about Australian sailing was that they invented the wing keel, it was super fast, and my Sunfish needed one. Unaware at the time of pesky considerations like hydrodynamics, physics, engineering, or reality I set out to design a winged daggerboard. The wings would fold up and down so it could be removed and I was going to take Narragansett Bay by storm. To the shock of absolutely nobody but me, I never quite got it built. Years later I'd learn that the wing keel isn't actually a big deal and that it just created a box-rule advantage, but at the time I thought the Aussie's were mad geniuses.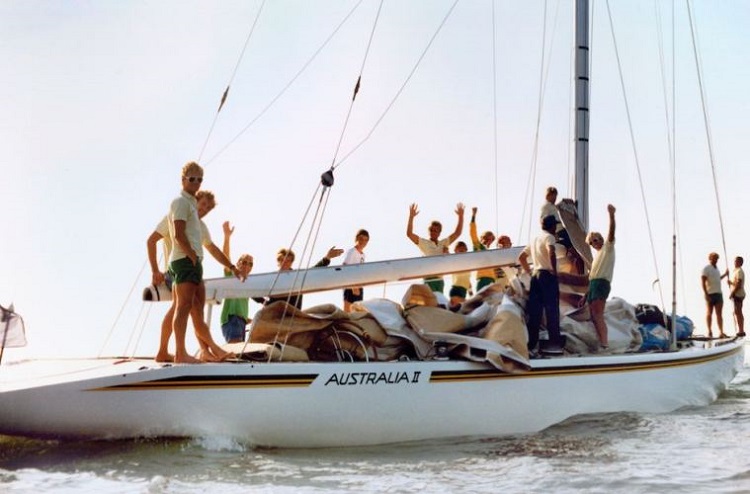 When I came across the Aussie 18 skiff, I realized that I was definitely right about the mad part. These lunatics were hurling themselves around Sydney Harbor on boats that were planing upwind, absolutely flying downwind, and wiping out in a NASCAR-ish manner. They were fantastic and the footage of these things whipping around on the constant brink of disaster was mesmerizing.
So as foiling technology started to make its way into the mainstream, it was no surprise that the Australians stepped up to the plate again, took a page from Wile E. Coyote, and turned everything up to 11. Meet the SuperFoiler.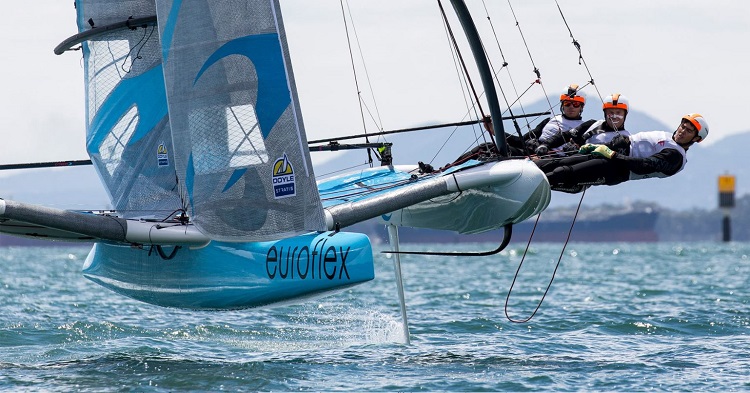 The SuperFoiler is a 26' long, 17' wide carbon fiber trimaran with two L-daggerboards and two T-rudders to provide lift. The boat itself weighs in at just a whisker over 770lbs and has a crew of just three to manage the driving, 350sqft mainsail, and 100sqft jib. That much sail on a boat that weighs that little is... bonkers.
As you can imagine, these things are pretty incredible to watch. They foil in as little as 5kts of breeze and can touch 45kts of overall boatspeed. There are currently six of these trimarans flying around on the SuperFoiler Grand Prix circuit in Australia right now and the field is littered with America's Cup vets, World Champions, and Volvo Ocean Racers from all over the world. The team that currently leads the overall standings features Nathan Outteridge who was the skipper of Artemis Racing in the last America's Cup and Glenn Ashby who was the skipper/main trimmer (such as it was) of the winning team, Emirates Team New Zealand.
With performance figures like this boat has, it's easy to understand why it's attracting some of the best sailors in the world. And why they wear helmets.
The finale of their season is coming up this weekend in iconic Sydney Harbor, which they'll be live-streaming on Friday and Saturday nights here in the Eastern Time Zone around 11:00pm - 1:00am. The replays will also be available in the morning if you'd prefer to do something crazy like sleep.
I highly recommend catching up on footage from their previous races on YouTube. They've also peppered their YouTube page with footage from the old Aussie 18's, which is a fun trip down memory lane. Like the America's Cup, these boats are pushing what's possible and thanks to cameras everywhere, we get to go along for the ride!