Racing Sailors Register for the New Annapolis to Cambridge (A2C) Lighthouse Challenge August 27
When Trevor Carouge from Cambridge Yacht Club (CYC) contacted Eastport Yacht Club's (EYC) race committee last fall to inquire if EYC would be interested in partnering with them for a distance race from Annapolis to Cambridge, the answer was a definite maybe! Representatives from the two clubs met in January at EYC and again at CYC a few weeks later, and the idea came to life.

According to EYC race chair, Bill Levitino, longtime EYC RC members Keith Jacobs, Sharon Hadsell, and Tom Stalder were instrumental in writing the NoR and SI's and designing the course.
The new point-to-point race from Annapolis to Cambridge August 27 is open to: PHRF, PHRF Cruiser, ORC Cruiser, Multihull, J/24, J/30, J/35, J/70, J/105, Alberg 30, and Cal 25.
All competitors and crews are invited to a post-race Awards Party at CYC with burgers, beer, and live music. There will be a pancake/waffle breakfast the next morning.
Out-of-town boats that wish to launch and/or haul and/or berth at EYC on Friday, August 26 are encouraged to contact the EYC Waterfront Director as early as possible to make the necessary arrangements ([email protected]; (410) 990-0765). Available space will be allocated on a first-come, first-served basis. Competitors should not assume space will be available at EYC if they do not first coordinate with the Waterfront Director. EYC extends the courtesy of its galley and bar to competitors.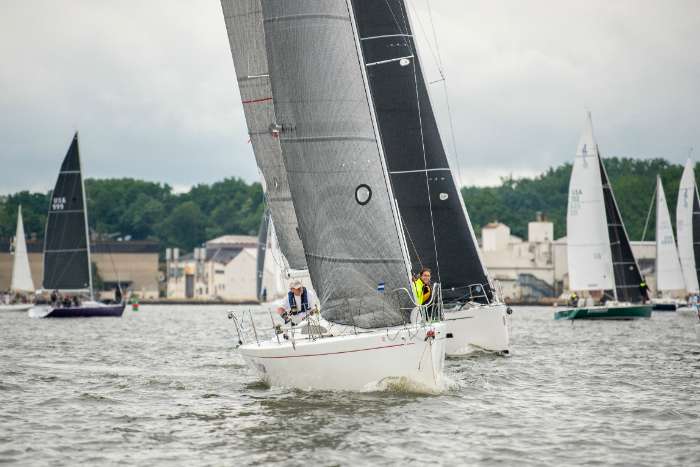 Shuttle busses make logistics easier!
Busses will make a loop between area hotels and bars from 8 p.m. to 11 p.m. the race evening. Stops include CYC, RAR, and the Hyatt (each within walking distance of several popular bars/restaurants). A bus will be available to shuttle competitors back to the Annapolis City Dock on race day, but there is limited seating available, and the cost is $20 per person. The bus will leave CYC 10 p.m. promptly. Make reservations by contacting [email protected] before close of business at 5 p.m. on August 24.
Register and find race documents here.