Nonagenarian Racer Shares His Sailing Passion with Other Bay Sailors: At age 90, Gene McCord still sails, organizes races, and shares his passion for sailing with all who hop onboard.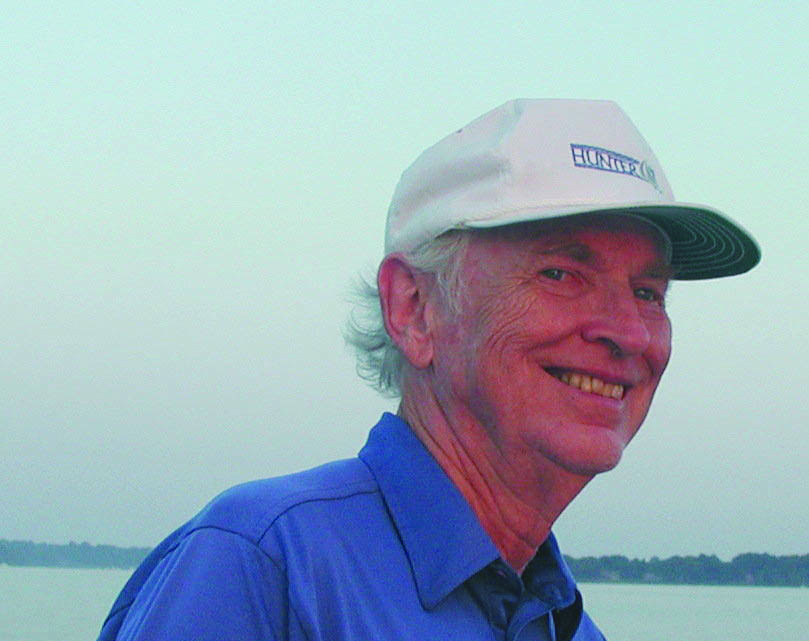 Gene McCord's sailing resume includes just ending his 78th year of sailing, while celebrating his 90th birthday, and completing his 27th year heading up and skippering his Hunter 27 Aurora in the Wednesday night Bohemia River Racing group.
An Army Veteran who served in Italy at the end of World War II, a graduate of Johns Hopkins University and MIT with a MS degree in chemical engineering, a 38-year employee of Dupont Chemical Company, a husband to his wife Dawn of 63 years, a father of three highly accomplished children, and a grandfather to 10 young adults. Any one of the above accomplishments would be more than enough to make most of us proud.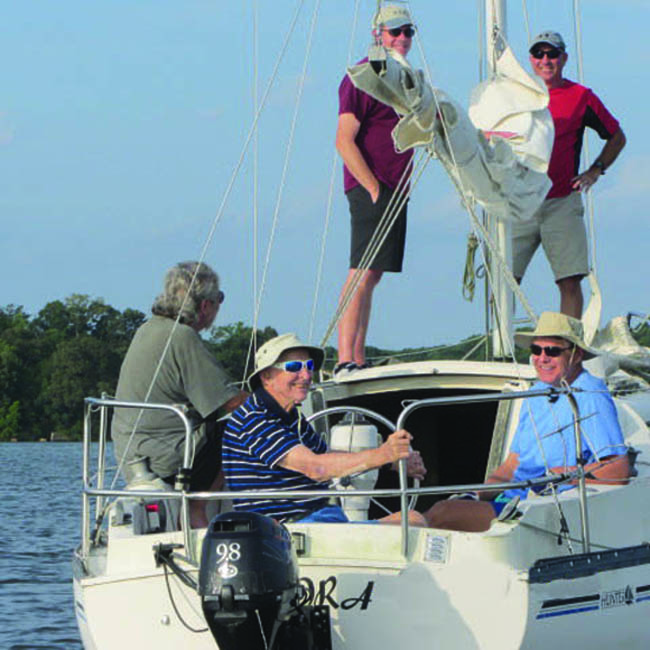 Gene was born on October 31, 1927 and grew up in Baltimore. His sailing career began in 1939, when Gene's father, "Skipper," taught him to sail at 11 years of age. The family spent their summers at a cottage that was located on the Magothy River next to the Grachur Club about a quarter mile up the river from Henderson Point. He learned to sail on an 18-foot, canvas-covered canoe with a lateen rig, leeboards, and a paddle out the stern for a rudder. Gene and his brother often sailed that canoe down the Magothy River to Dobbins Island, where they would enjoy a picnic lunch and chase the wild goats. In 1941, Gene began his racing career competing with the considerable number of sailing canoes on the Magothy at the Gratchur Club regattas.
Small boat adventures
Gene's father also owned Comets and Lightnings, and according to his daughter Betsy, "Gene and his brother explored the northern half of the Chesapeake Bay in the Lightning, sailing back and forth between Baltimore and the Eastern Shore when they were about 14 to 17 years old."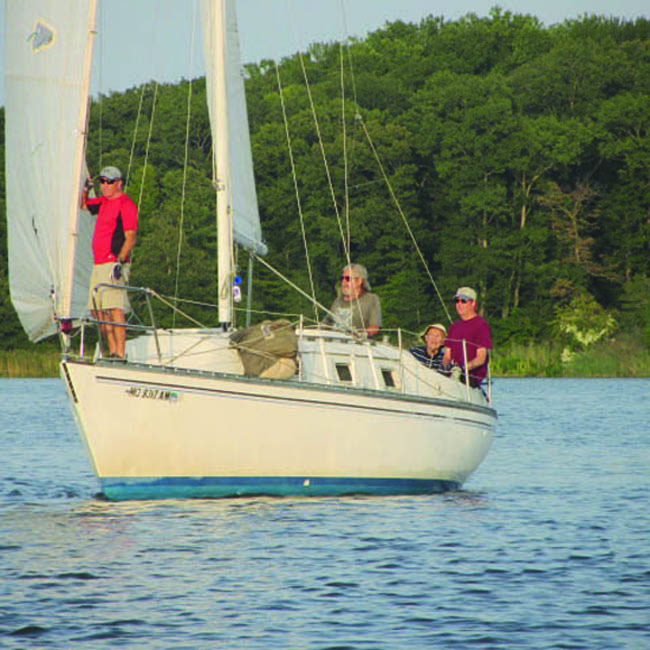 When I visited Gene, he described his most unique sailboat that was a 19-foot "Parachute Drop Boat" designed by the military to drop from an airplane in order to rescue stranded sailors. Its previous owner had converted it to a sloop-rigged sailboat using a centerboard and mast from a 17-foot daysailer. Betsy remembers her father telling about the time he and a friend sailed the drop boat across the Bay at 15 years of age.
"When they were about three quarters of the way across, the rudder fell off the boat and sank. They were able to use the sails to steer downwind to land at an Eastern Shore farm. The farmer allowed the boys to make a new rudder in his barn shop in the mornings if they would come and have tea and listen to the ball games on the radio with him each afternoon. Five days later, they were back on their way!"
He kept that boat until 1956 when Betsy was born. While on a day sail with her sleeping in the cabin, the boat broached. Gene told me with a wry smile that "I had to decide between saving the boat and my daughter and decided saving the boat would achieve both goals." It wasn't long after that Gene sold that boat and remained without one for several years.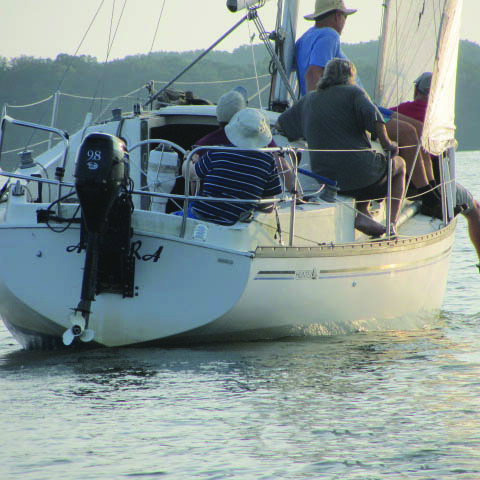 During his 38-year career at DuPont, he was transferred to Tennessee, North Carolina, and Virginia. With his passion for sailing, Gene always found places to race sailboats. Gene raced a Mobjack with his daughter and a Snipe with his two sons on the lakes outside Chatanooga, TN, and those near Martinsville, VA. In 1985 Gene built a home on Veazey Cove on the Bohemia River. It was there that he became a member of the Elk River Yacht Club dinghy racing group, sailing a Laser against other popular small sailboats such as the Mobjack, Interlake, Sunfish, FJ, Lightning, and Flying Dutchmen that all sailed in a single handicap fleet.
According to longtime friend and dinghy sailor Gary Simon, "Gene was an especially keen light-air specialist in his Laser. He hunkered down in the cockpit and beat the pants off of the rest of the fleet."
An inadvertent beginning…
In 1990 Gene began a Wednesday night race group inadvertently. While sailing solo on his 1985 Hunter 27, he engaged another 27-foot sailboat loaded with a full crew of beer-drinking sailors on the Bohemia. At the end of the evening, Gene had won the informal race and was awarded a beer tossed from the deck of the other vessel by its admiring crew. Shortly after that encounter, he left small recruiting cards on the sailboats at the Bohemia Bay Yacht Harbor encouraging the owners to join the informal and friendly racing on Wednesday evenings.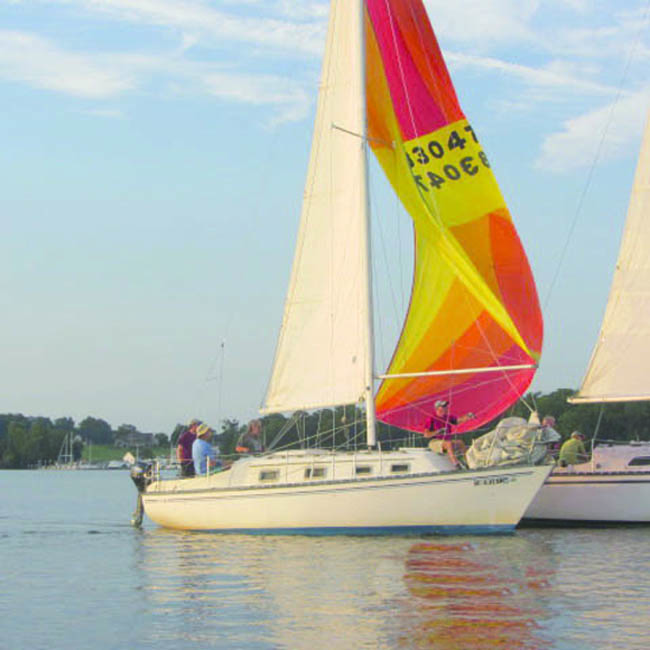 Under Gene's tireless direction, the Wednesday night group grew from that time and usually has 10 to 12 boats participating ranging from 20 feet to 40 feet that race from mid-May until mid-September. Each week Gene and his crew place and retrieve the turning marks for the evening's race. Gene compiles and e-mails the results to all competitors. He also manages to handicap the boats using the PHRF rating system.
According to Gary, the success of the Wednesday night racing group is his philosophy. "I think it's instructive that in this age of highly organized yacht clubs, Gene lives by the credo 'less is more.' Less organization, simple start/finish sequences; year-end prizes are 16-ounce cans of beer…"
Gene and his crew have been formidable opponents on the race course as well. Since 1990, they have finished in the top four boats in 12 different seasons with a first-place finish in 2015. A veteran crew member of 20 years, Carl Dolde describes how Gene as a skipper, teacher, organizer, and competitor has inspired him to become a better sailor. Gene has imparted "the finer aspects of sailing the fastest slow boat in the fleet! Over the years, with Gene at the helm of Aurora, we've had our share of exciting starts and finishes, on the edge, downwind spinnaker runs, and physically demanding upwind tacking duels, always holding our own against faster, sportier boats with the culmination of being the Fleet Champion in 2015."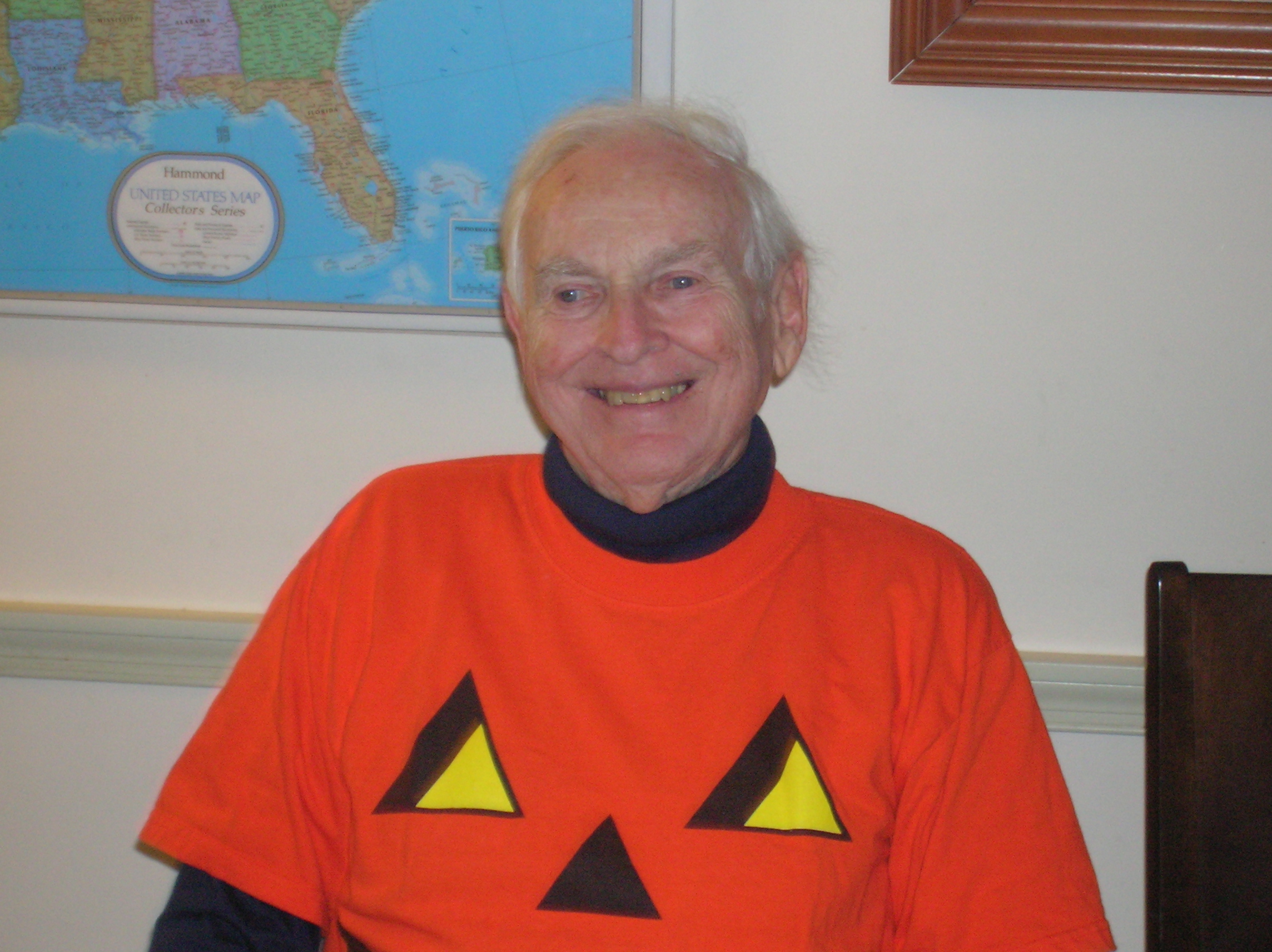 Sharing the love of sailing
Gary added, "I think the highest testament to Gene's sailing legacy has been his ability to pass it on to his family and others around him (i.e. all of those who have competed in the Saturday morning and Wednesday evening racing). All three of his grown children, spouses, and 10 grandchildren are good sailors and comfortable on the water."
Daughter Betsy just completed the RYA Day Skipper course, taught windsurfing at Grove Point Girls Scout camp, and loves sailing Hobie Cats. Son Mark was captain of the Princeton sailing team and currently sails on San Francisco Bay. Mark's wife was a FJ sailor at UCSC. Son Bruce recently put hydrofoils on his windsurfer and is racing his Force 5 at the Upper Keys Sailing Club.
Gene's longterm sailing experiences and commitment to sailboat racing have not only inspired his entire family to pursue his passion for sailing, but countless others to follow his example of doing the work necessary to keep our sport growing. The Bohemia River Racing Group will be back in action in less than six months, and no doubt Gene and his crew will be on Aurora ready to do battle at the starting line!
~By Dave Nestel