Sailing Day with Round the World Crew
Lucky me in NYC! I got to spend a day sailing in New York with the Dare To Lead racing team during the Clipper Round the World Race stopover June 22. As SpinSheet editor, I've had some cool adventures, but this was one of my favorites.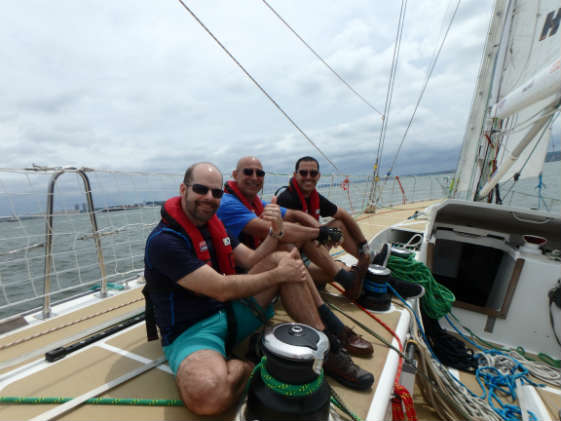 One of the sponsors of the race and also a SpinSheet advertiser, Jim Edwards of Coppercoat USA, LLC invited me (Coppercoat is manufactured by Aquarius Marine Coatings, LTD in the UK). I happily accepted the sailing offer, yet had to admit that I've never followed the race much. I got on the Clipper Round the World website to familiarize myself with it.
For those who don't know the race, it's a UK-based race of amateurs with a pro captain onboard (and another with yacht master credentials). Anyone can apply. It costs about $50,000 for the entire race, or you can pay by leg. You can find exact fees per leg on the website, but just as an example, the New York to UK leg costs 7000 pounds. By today's exchange rate, that's $9300.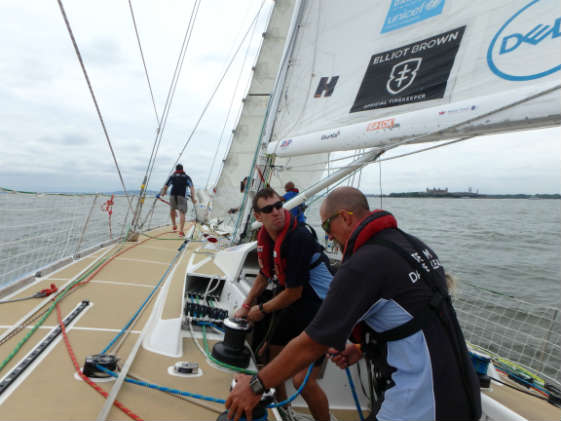 Following an application process, racers must go through a rigorous month-long training program; then, they depart on the adventure of a lifetime. A dozen 70-foot race boats traveling 40,000 nautical miles, in races divided into eight legs, within 11 months.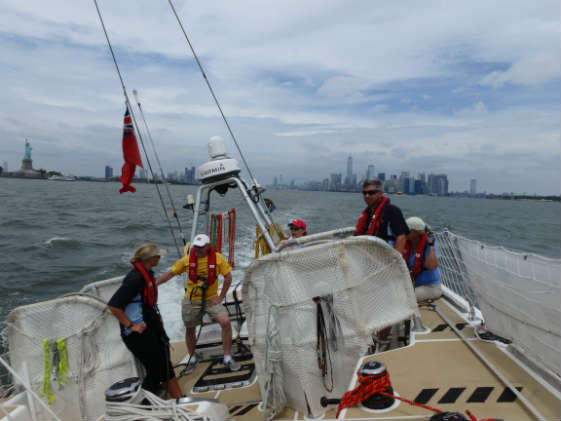 On Friday, I was able to discover the boat, Dare To Lead, and talk to some of the 'round-the-worlders, as they call themselves, as well as leg-hoppers, an international bunch from England, Switzerland, South Africa and that other "country" you may have heard of: Texas! What a fascinating, welcoming crew. Captain Dale Smith, the South African skipper and resident pro, has been captaining offshore vessels for 20 years. He calls the shots.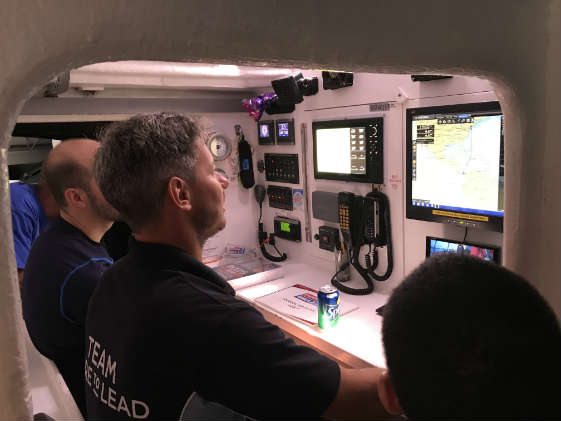 The Clipper 70s are pretty Spartan. As a crew member you get a bunk and a cubby for your stuff. The head is basic; the galley is basic. The navigation station in the bowels of the boat is small enough to make a claustrophobe hyperventilate. Up on deck, there's netting as well as plenty of places to clip in. We had 15-17 knots of breeze, so after a lunch onboard and a safety briefing, we all donned offshore lifejackets (with AIS beacons and crotch straps) and clipped in.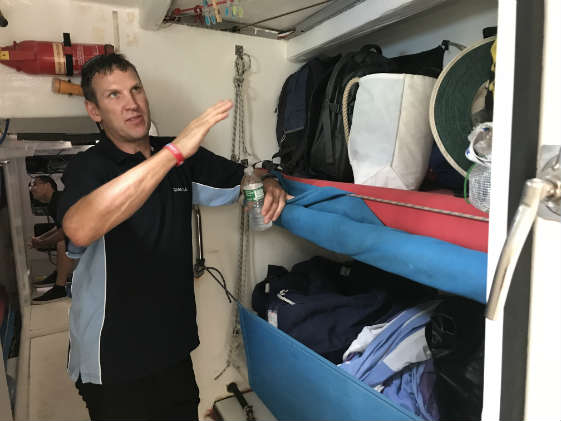 What a ride! I have zero desire to race around the world but sailing for a couple of hours in 15 knots of breeze by the Statue of Liberty was delightful. I enjoyed meeting the crew, many of whom shared their stories of craving adventure, finding time (and in some cases money) to fit in the race, and embarking on it.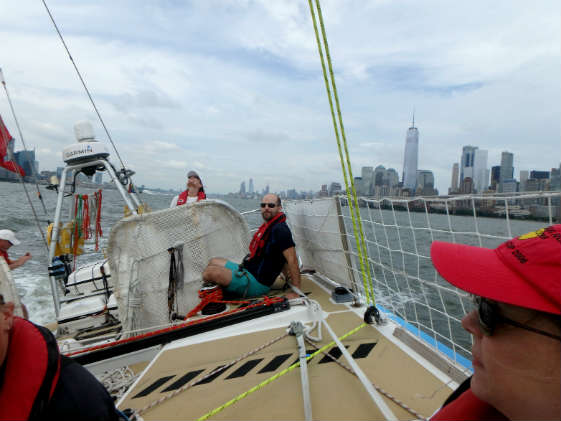 Matthias Eigenmann, a Swiss racer, is acting as an unofficial ambassador for The Ocean Cleanup, and blogging about pollution. Check out his Race of My Life website here (you will have to choose "English" as a language at top right) or follow him on Facebook.
The team departed on the last leg of the race today. Best of luck Team Dare To Lead! I'll be following you on the Clipper race tracker and hope we meet again someday.
Thank you, Jim and Lynde Edwards of Coppercoat for lunch aboard, great conversation, and a spectacular afternoon of sailing! Learn more about the Clipper Race here. ~by Molly Winans