One Design Classes Get Why Women's Sailing Events Benefit All
Using a variety of different formats, several local one-design racing fleets are recognizing the inclusion of women as the formula for fueling growth. From women's regattas to mentoring women's teams to encouraging mixed teams, more women are being recruited to race. Here on the Chesapeake Bay, J/105, Snipe, Melges 15, J/70, and ILCA classes are among the leaders in welcoming women.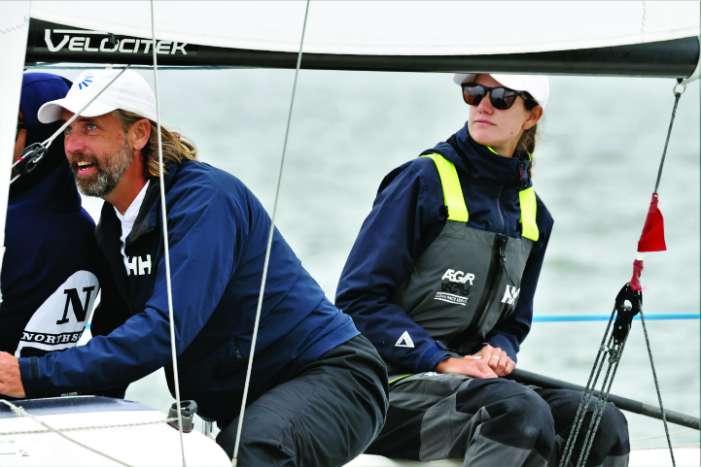 On the class level, J/105s are encouraging local fleets to develop female talent. Toronto had the first women's regatta in 2021, joined by San Francisco and Annapolis in 2022.
"We encouraged each fleet to come up with their own way to celebrate women that race on J/105s, and if they have other agenda items, like encouraging more female owner/drivers, and fleet/class leadership, that was up to them," said Nicole Breault, vice president of the J/105 Class.
In Annapolis, the inaugural J/105 Women's Regatta was held in May 2022, with 13 boats. With most of the boats sailing with all-women crews, the decision was made for the 2023 edition to limit the number of men onboard to one optional owner's representative. As of press time, 12 boats are already pulling together crews for the September 3 event.
Longtime skipper and organizer in the Snipe Fleet, Lisa Foulke Pline reflects, "Do we *need* separate women's events? No. The Snipe Class has a long history of being accessible to women skippers and crews." Pline continues, "Do we benefit from hosting them? Absolutely. They are a different species of events: very fun, very inclusive, and a great way to promote the sport!"
Another benefit of the women's events that Sarah Alexander, a newer member of the Snipe fleet, has noticed is that the fleet can offer more support. "For us there were fewer people sailing, there was a lot of focus on coaching and boat preparation, and people were really excited about women's sailing."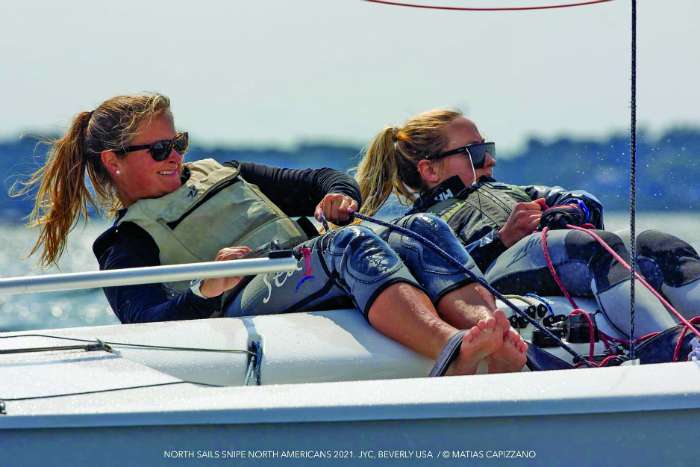 With the support of the local Snipe fleet, Alexander did the 2021 Women's World Championship Regatta in Brazil. She says, "The experience in Brazil helped build confidence. I then got to sail in more regattas and get more experience in competitive fleets."
Lorie Stout won the Melges 15 class at the St. Petersburg Helly Hansen Sailing World Series. "My experience in the Melges class is that with the optimum crew weight being 275-300 pounds, it leaves lots of room for one or two crew members being female. The Melges class has also embraced the Mixed+ division, which turns out to be more than half of the fleet racing."
Alli Gutenkunst sailed to victory with two bullets in the recent Annapolis Yacht Club Spring One Design in the J/70 class, which has also added a Mixed+ division. "I have noticed more women at events, which is awesome! I think it's great that the crews have to be 50/50; women are also getting opportunities to trim sails and call tactics."
The ILCA class welcomes women, leveraging not just size but also culture. In the ILCA Sunshine Open held the last weekend in April at Severn Sailing Association (SSA), 14 of the 19 competitors were women, with SpinSheet Century Club and SSA member Dorian Haldeman and two other women topping the leaderboard.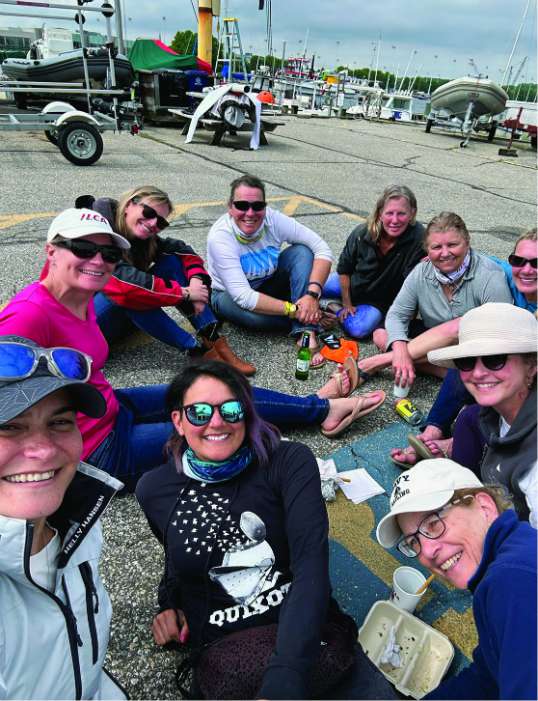 Fellow Century Club sailor Koralina McKenna has been racing the ILCA 6 for nearly five years. She says that at her first regatta, "On one of the first downwind legs, another woman sailed by me and said 'Hey! So glad you're out here—by the way, you don't have to pull your daggerboard up so high downwind. That's a pretty old move, and it will just make you feel more unstable...' I said 'thanks,' and she sailed away. Later that day another woman sailed by and said I should try to adjust my sail placement on the downwind legs to help with my boat speed. This seemed friendly. There was no malice or condescending tones. I felt respected, yet also seen as a first time ILCA sailor who could definitely use a few pointers."
McKenna adds, "How often do you get 14-plus women skippers out for a casual sailing event that doesn't even have 'women' in the regatta title? That's what so special about our corner of the Chesapeake Bay. Every ILCA 6 event is a women's event, but to us and all the guys who race against us, it's just another day of racing on the Bay."
The benefits of these women's events go beyond simply promoting the sport, offering a supportive environment for female sailors to build confidence, gain experience, and learn from others. With more women joining the ranks, the sailing community is becoming more inclusive, diverse, and exciting than ever before.
*** Editor's note: Altough it's not a one design event, it's a great one! Check out the Herrington Harbour Sailing Association's Women's Regatta June 17.
About the Author: Molly Hughes Wilmer is an executive coach, J/105 racer, powerboat cruiser, J/105 Women's Regatta chair, and Hospice Cup board president. Find her at oysterinsight.com.