Successful Racing Sailors Share Their Strategies for Overnight Races
"Everything becomes more complicated at night," says Tim Lyons, sailboat racing skipper of the Corsair 43 trimaran Triple Threat. "Even simple, routine tasks have a tendency to go afoul. This is where practice and repetition are crucial. If you cannot perform a task like douse a chute quickly and flawlessly in daylight, it will be even more of a mess at night. Things will still go wrong, as they always do, but mishaps can be minimized by crew and skipper spending time on the boat in various conditions and performing with repetition all tasks that may be encountered."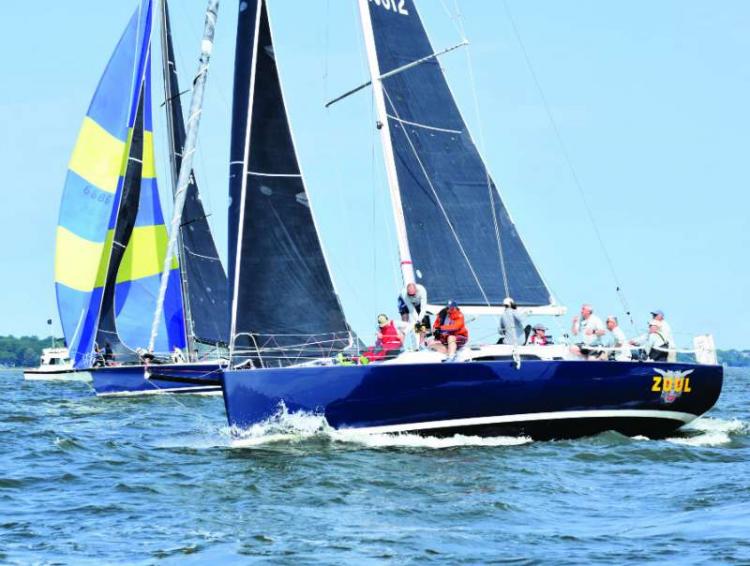 Lyons has done about 35 overnight races on the Bay and also in New England, Florida, the Caribbean, and Hawaii. He also cruises thousands of miles a year both offshore and along the coast, including night passages.
Navigation, a top cause of anxiety
He believes that navigation is the top source of anxiety for most sailors at night. He says, "Competent and accurate navigation are paramount to a safe passage. The key to navigating successfully at night once again comes down to practice and experience. Navigation is no different than any other skill set on the boat; you have to do it… not just read about it, go to seminars, and watch videos. If you only navigate at night once a year for the Governor's Cup, chances are you will not be proficient and will increase the probability of errors and introduce unsafe conditions for the boat and crew."
Although Lyons takes advantage of systems that help with navigation, such as chartplotters, GPS, and AIS, he stresses how learning how to navigate as a teenager relying upon a compass and a chart gave him a solid base of knowledge, which he has refined with 50 years of extensive sailing experience.
Lyons emphasizes how important it is to identify and analyze boat traffic, which becomes "more complicated" at night. "Correctly navigating around this traffic is essential for not only safety but race strategy as well," he says. "If you miscalculate, you may have to tack prematurely or end up in an unfavorable position on the racecourse. Without fail every race I have done on the Bay at night will have at least one incident of racers failing to give way to commercial traffic or getting dangerously close requiring verbal warnings over the radio and horn blasts. This would not happen if skippers had the experience and used proper seamanship."
Aboard Triple Threat, pre-race preparation includes a rigging inspection, including shackles and sheets "to be prepared for anticipated sail swaps and wind and weather changes." They check navigation lights, headlamps, strobes, spotlights, and radios, as well as reiterate watch schedules and crew assignments and emphasize man overboard procedures.
Different tactics at night
Lyons does alter his tactics at night. "Typically, we try to reduce error by simplifying or reducing frequency of complicated maneuvers. For example, when deploying or dousing a chute we may slow down the process to be more cautious. We are much less aggressive and err on the side of caution with crossings with other race boats."
Ben Capuco, the winning skipper of the Aerodyne 38 ZUUL, does two or three overnight races a year and guesstimates he's done 50 of them.
More about the experience than the race
What's his strategy for overnight races? Capuco says, "Always starting with understanding the capabilities of the crew and how hard we can push. Sometimes it's much more about the experience than winning the race and balancing those expectations with safety as the highest priority is important."
He also watches the weather early, "knowing that there is a 100-percent chance that the weather prediction will be wrong; it's just a question of how wrong," and sets a game plan to stick to.
One of his goals is to always "head toward the next mark. Sounds funny, but I can't tell you how many times I have passed boats that got caught with the wrong sails up in the middle of the night as a squall hit and found themselves sailing in the wrong direction as the crew scrambled to recover."
Watch systems, crew positions, and fun factor
When it comes to a watch system, Lyons prefers a four-hour rotation, but leaves it to his crew to decide based on the race. Capuco says, "For most of the overnight Bay races we encourage getting a few cat naps, but don't use a rigid watch system. The races are only one night, and things like sleeping on the grassy lawn at St. Mary's are rites of passage for new crew. For longer races, we have moved away from a watch schedule that incorporates a team rotation to a system where one crew comes on and off every hour. That makes transitions easier and there is always someone fresh."
Although both skippers take safety and preparation seriously, there's a definite fun factor onboard that makes overnighters special.
Capuco says, "Everyone gets a chance to do any and all positions on the boat… and my go-to for dinner on one night of an overnight is often spare ribs, a perfect easy dinner to eat on the rail in any conditions."
Lyons says, "I try to encourage more conversation to keep people interacting and awake. I'm a big storyteller, so have no problem entertaining drowsy crew."
What is an ideal crew member for these winning skippers? Lyons says, "I prefer to have crew that are helpful, team players, work hard, and with a positive attitude over highly skilled sailors that are self-centered. Great night vision is helpful. Agility and coordination are musts for traversing wet, pitching decks at night."
An ideal crew member for Capuco is "someone that helps to deliver the boat home!"
But before then, while racing at night, he says, "Nothing beats a star filled sky, watching for meteors, and seeing the bioluminescence streaming in your wake."
Lyons adds, "Sailing at night either cruising or racing is the experience of a lifetime. It does not matter if it is an exotic place far from home or the waterway near your port. I have logged thousands of miles at night all over the world, and it is always an epic experience."
Upcoming overnighters: EYC Boomerang Race July 9 and Governor's Cup July 29.
Find more sailboat racing articles here.