Posted September 12, 2023
Preliminary Regatta Takes Place Thursday, September 14 in Vilanova i La Geltru, Spain.
The 37th America's Cup may be more than a year away, but that won't stop the Defender Emirates Team New Zealand and five challengers from teeing it up in a winner-take all preliminary regatta staged in Vilanova, Spain on September 14-17.
The two days of fleet racing (Friday and Saturday) will culminate in a match race on Sunday between the two best finishing teams. When Vilanova i La Geltrú starts, the six AC teams will race eight fleet races which promises to be a crowded start-line with a premium on finding and holding a lane off the start line before locking into the first shift and clear air. Tactical boat positioning will be everything while maintaining 100% flight time is crucial, and for the world's best foiling sailors, none of whom want a bad opening regatta, the racing is going to be super tight.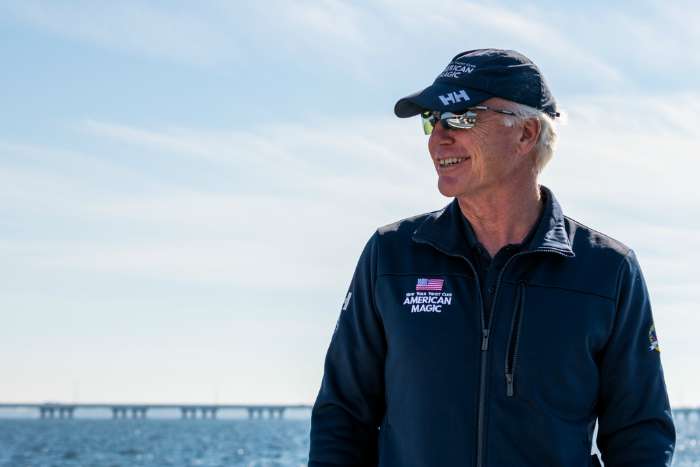 The regatta will feature a first-of-its kind competition between a new class of AC foiling monohull, the AC40. These high-flying monohulls are the 50 knot speedsters all teams are using as practice/learning platforms prior to the deployment of their AC75's later in the season.
This will be the first time all six AC40 teams will compete in a preliminary regatta. Prior to this, the teams have staged informal racing on the Barcelona racecourse. The AC 40 sails with a crew of 4; two helmsmen and two trimmers. Most international teams will have their designated AC75 crews manning their boats.
The leadup to next year's America's Cup features a number of preliminary races in both the AC40's and the AC 75. After the Vilanova regatta, the teams will move to Jeddah, Saudi Arabid for a second regatta racing the AC40 platform between Nov 29 and December 2. The third and last preliminary regatta, this time featuring the AC75s, will be held in Barcelona in August 2024.
The four-person AC40 foiling yacht, designed by the Kiwi America's Cup defender with the understanding that each challenging team was required to buy a boat for training and racing in advance of the 37th Match, is now available for public purchase to compete in a new AC40 Grand Prix circuit. You can own your very own AC40 for round $2 million.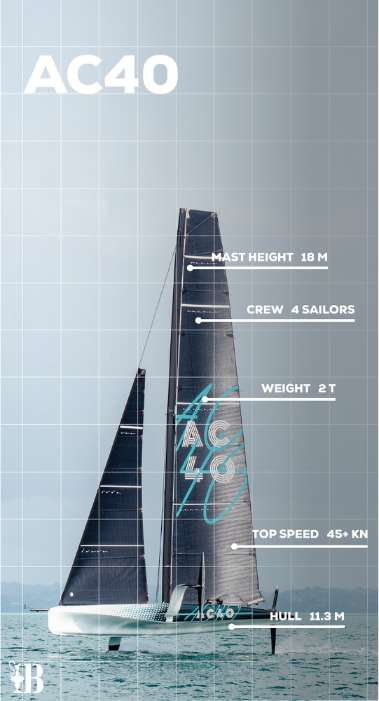 Crafted from carbon composite, the 40-foot newcomer is capable of reaching speeds in excess of 50 knots and can be operated by four crew (two drivers and two trimmers). You don't need to be an Olympic sailor to helm the AC40, either. The yacht is equipped with an automated control system to simplify flying.
The defender, Emirates Team New Zealand, are looking to capitalize on their foiling prowess in the preliminary regattas. The team took delivery of the first AC40 and enjoyed a maiden sail in November 2022. Helmsman Peter Burling will be partnering with fellow Kiwi Nathan Outteridge at the wheel while long-time Burling running mate Blair Tuke and Andy Mahoney will be manning the flight controls.
After a successful winter of training in Pensacola plus the addition of Australian Tom Slingsby as helmsman, the NYYC American Magic team enters the preliminary regatta high in the pre-regatta rankings. Slingsby will share helming duties with three-time International Moth World Champion Paul Goodison. Other American Magic team members will be a veteran crew of Lucas Calabrese, Andrew Campbell, Riley Gibbs and Michael Menninger. They will be complemented by two next generation sailing superstars Harry Melges and Steverin Gramm. In early racing the team has been impressive with first class boat positioning and inherent upwind speed.
American Magic skipper and President of Sailing Operations Terry Hutchinson approaches the Vilanova Regatta with his usual sense of caution and understatement.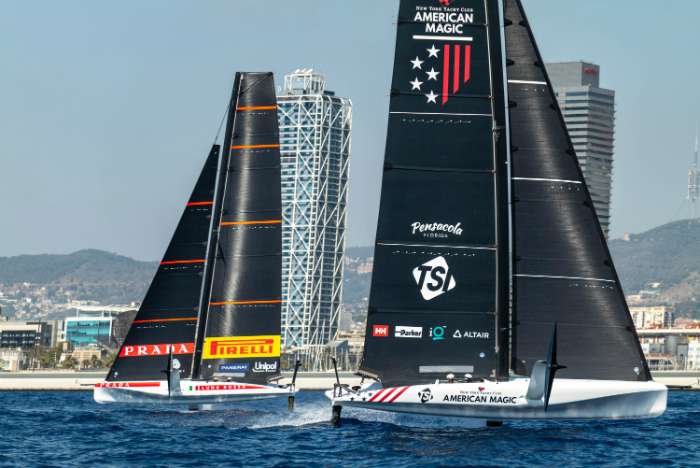 "It's been great having other competitors on the water and the chance to race against them will enhance our learning. Our boats have experienced challenges since arriving in Barcelona. I can't say enough about how our team hunkered down and solved the problems. We came out stronger than before. Our two-boat testing protocol is key for foil development for the AC75."
Hutchinson isn't making any predictions about the outcome of the preliminary regatta. "We are just starting to scratch the surface on all the things we have to get better at. You can feel the pressure of time. Next year's Challenger races are not that far away. We have a lot of work ahead of us. There's a lot of optimism among the team.…day in and day out, we are getting better."
The American boat opted not to participate in last week's informal racing, preferring to concentrate on technical issues and boat handling. The official America's Cup Press office ranks the American Magic contingent "as the team to beat." Herewith their commentary:
"The Americans chose to sit out the first few days of the recent practice regatta, preferring to complete their aero and foil testing schedule, but when they came to the racecourse, they were sensational. This is, no doubt, the team to beat with Tom Slingsby, Olympic Gold medalist and Paul Goodison, a three-time International Moth World Champion, looking for all the world like the best pairing in this America's Cup cycle. Able to sail high upwind with a super low ride, their brilliance is mirrored downwind with relentless pace and superb trim. American Magic very much look the real deal with so many hours of practice under their belt two-boat tuning in the AC40, and their technique in all conditions is impressive. Many people's pick to win in Vilanova, the Americans are looking tasty."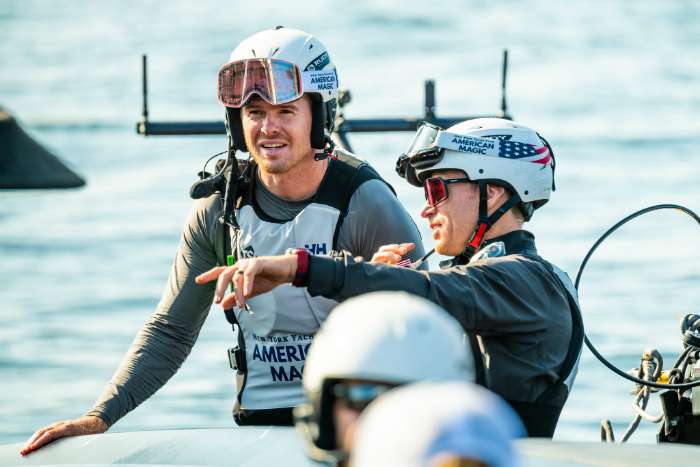 The America's Cup Vilanova Preliminary Regatta races will be live-streamed across the official America's Cup website as well as being available to watch on YouTube in most countries. The America's Cup Social Media channels on Instagram, Facebook, LinkedIn and Twitter will also be fully activated and updated throughout the racing with a mix of multi-media. Daily race reports will be available on the America's Cup website after racing. Racing is slated to begin at 9:30 am on Friday local (Vilanova) time.Thursday is a practice day.)
By Craig Ligibel
AC40: Youth, Women, and Training
New for the 37th America's Cup, the AC40 is a multi-use foiling monohull that all the confirmed teams will use for sailing and testing purposes. The AC40 is also the nominated boat for both the Youth & Puig Women's America's Cup events where they will be sailed in strict one-design. The confirmed teams will also use the AC40 in competitive events leading up to the America's Cup and several of the teams have two boats on order.
The AC40 is being built by McConaghy's in China. The foils and systems are being delivered by the Emirates Team New Zealand North Shore Facility and delivered in strict order of entry to the America's Cup. Teams may modify and test out componentry on the AC40, and for this purpose, they will be deemed as a LEQ12 (see below), but for competition purposes in the Youth & Puig Women's America's Cup, they will be returned to one-design according to strict rules around those specific events.
Early trials of the AC40 by Emirates Team New Zealand have been sensational with speeds recorded in the 'high-40-knot' bracket and it is anticipated that this new class will form a global circuit both before and after the America's Cup. For the Youth & Puig Women's America's Cup, aside from the confirmed entries from the America's Cup syndicates, yacht clubs from around the world are being invited to form teams on a strict one-nation, one-entry basis and the finals of the Youth & Women's events are scheduled on key dates of both the America's Cup Challenger Series and Match dates.