Here's your Racing Roundup for the weekend of June 16-18, on the Bay and beyond!
Big news this weekend from the America's Cup - Emirates Team New Zealand is up 3-0 to Oracle Team USA. Craig Ligibel is on-hand in Bermuda and sends us this update:
After four races this past weekend, Oracle is a bit shell shocked. Four losses to a faster boat. Spithill vows to make changes. Kiwi fans are over the moon. Lots more New Zealand flags than US flags. Bermuda's focus is on their Youth America's Cup Red Bull team. A bunch of great kids are in the finals that start Tuesday. I interviewed them and their coach; Half sailors, half athletes. Significant funding. The US Youth team did not make the finals. A study in the "haves"' and" have nots." Surprisingly, the Bermudans are the "have's" and the US team the "have nots." If we are going to compete in this series in the future, we need to do a better job of giving the kids(18-14) the resources they need.
Back to Team Oracle. Spithill vows to "put everything on the table" in next four days to find answers. But the fact is the New Zealand boat is just faster. They finished almost a mile ahead of Oracle over four races. Did I say the NZ boat was fast? We tried to beat them to the finish line from the last mark in our photo boat… and even though we were going as fast as two 250 HP outboards can push an 18 foot RIB, we still couldn't catch up. Bermuda is hoping for an Oracle win... which might mean the Cup might stay here next time around. My view... wishful thinking. Jimmy and Larry need another miracle to be competitive next weekend... or a lot of wind. I bumped into Gary Jobson at the airport. His comment says it all; "The Kiwis are FAAASST. I doubt five days will be enough to fix what ails Team USA." Stay tuned. Some great racing awaits.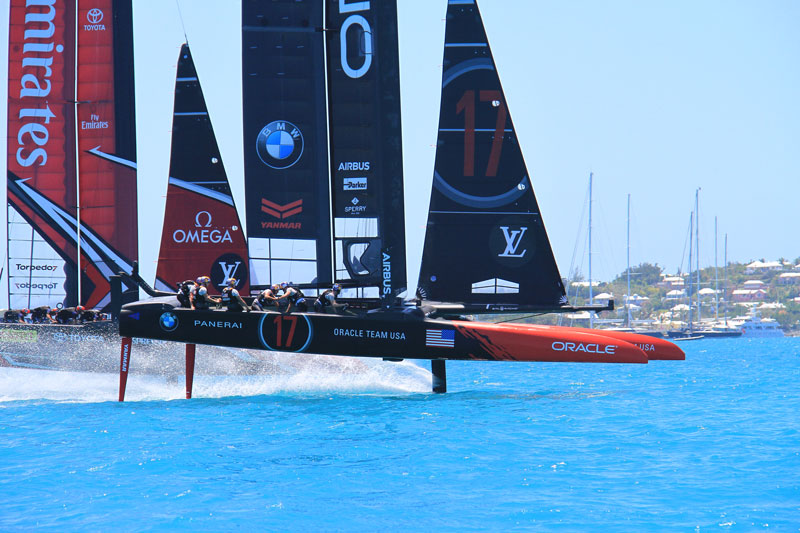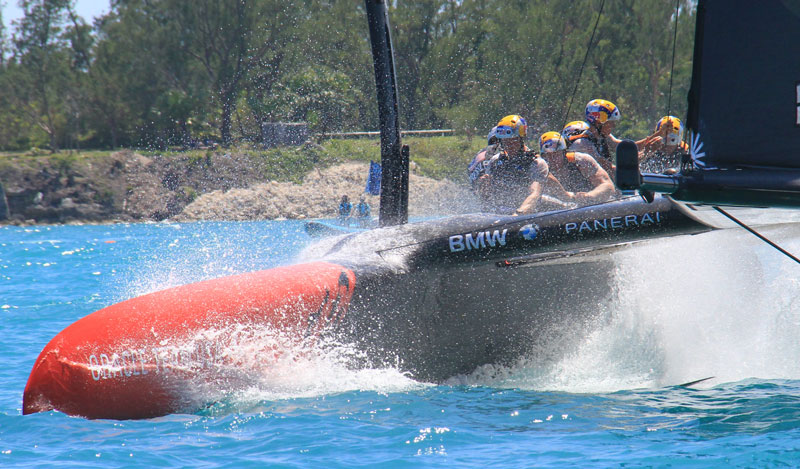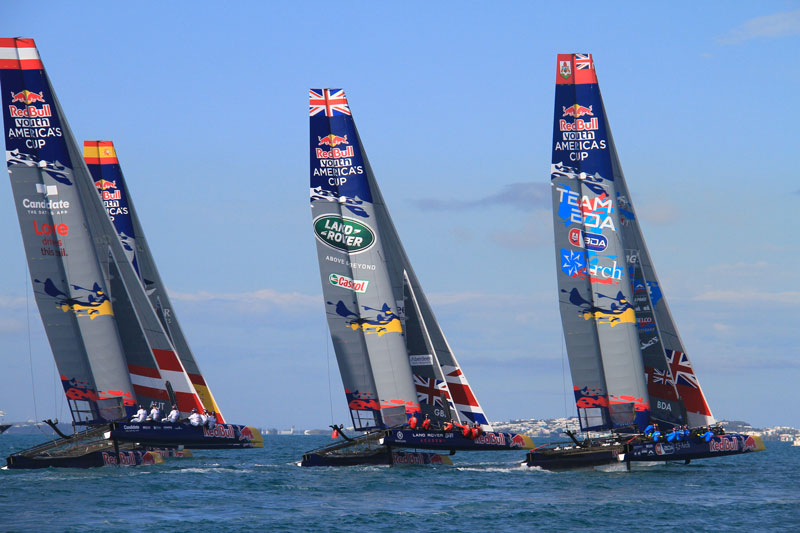 ---
The 2017 international 505 North American Championship was held June 14-18 in New Bedford. Local sailors in attendance included Jesse Falsone, Tyler Moore, Curtis Hartmann, Henry Amthor, Macy Nelson, and Barney Harris.
Frozen Banana, Hoard Hamlin
Toxic Asset, Jesse Falsone
Its Big Its White, Edward Conrads
USA 8854, Craig Thompson
Tom Rooster, Tyler Moore
Boaty McBoatface, Curtis Hartmann
NESS, Andrew Buttner
Sail # USA 8083, Eric Anderson
Reeve & Uncle Henry, Henry Amthor
License to Kill, Matthew Barry
Highway 95 Revisted, Macy Nelson
Katiebear, Thomas Kivney
8939, Michael Komar
Sojourner, Lin Robson
Team Spot, Barney Harris
8930, Duane Delfosse
Lucky Dog, Dan Herlihy
Lookadatia, Peter Scannell
Hatoup, Catherine Guiader
CAN 9138, Marek Balinski
Dr. Crash, Doug Watson
Mystery, Marie Gendron
No Surrender, Micahel Breton
Boat, Bill Platt
Mike's Boat, Mike Martin
---
The Shearwater Sailing Club in Annapolis held their Twilight Race on June 17.
CHESS Non Spinnaker:
(DNS) Curlew, David Densmore
CHESS Spinnaker:
(DNC) Honalee, Paul Miller
CRCA Non Spinnaker:
1. Anneliese, Joe Zebleckes
(DNC) Graceful Wind, Tom Guild
CRCA Racer Cruiser:
1. Rendezvous, Rodger Carter
Cal 25:
1. Love Shack, Barton Goldenberg
2. Zephyr, David Hoyt
3T. Fahrvergnugen, Steven Milby
3T. Chicken Little, Charles Husar
J/105:
1. Chessie, John Kirchner
2. Smoke n'Oakum, David Scheidt
3. Helios, Steve and Gregg Sunshine
4. Breakaway, John Villani
J/24:
1. Spaceman Spiff, Pete Kassal
2. Rush Hour, Patrick FitzGerald
3T. ROO, Mike Murray
(DNF) RADICALJ, Jack Machlin
J/30:
1. Cannonball 2.0, Doug Wallop
2. Insatiable, Ronald Anderson
3. AVITA, Thomas Watson
4. Bepop, Bob Rutsch
5. Rag Doll, Rob Lundahl
6. Infectious Smile, Tristan Keen
7. Suzie Q, Heidi Frist
PHRF A2:
1. Mokey Dust, Craig and Dotty Saunders
2. STYLO, Wiley Stagg
3. Delerium, David McCullough
4T. Gratitude, Benedict Capuco
4T. Boat 60118, Elliott Crooke
PHRF C:
(OCS) Lacerta, Mark Walter
PHRF NS:
1T: Second Mouse, Nicholas Iliff
1T: Vite, Paul Taylor
1T: Muskrat, Mick Iliff, Jr.
---
The CRAB Cup out of Annapolis Yacht Club was also held June 17. Boats were supplies by Chesapeake Region Accessible Boating.
Results
Dvision: First 22A: (2 boats)
1. Skipper: Lance Hinrichs, Crew: John Tarrant and John Slabaugh
2. Skipper: Tom Ostrye, Crew: Barb Cantor and Alan Wilkins
Division: Freedom (4 boats)
1. Skipper: Jim Hayes, Crew: Jim and Bonnie Urban and Susan Taylor
2. Skipper: Rob Klein, Crew: Julie Dorsette and Frederick Salvesen
3. Skipper: Kevin Detwiler, Crew: Caroline Oaks and Scott Gitchell
4. Skipper: Jay Streit. Crew: Maude Laurence, Cedric Lewis
---
The Portsmouth Boat Club hosted its annual Cock Island Race June 16-17 in Portsmouth, VA. According to Lin McCarthy:
Restless, Jay Thompson's red hull Irwin 38-1, captured the coveted Hanbury Cup at the 2017 Cock Island Race on Saturday. The Hanbury Cup is awarded to the boat in a PHRF Class (A/B/C/NS1/NS2) that wins her class by the greatest corrected margin. Jay and crew led their nearest competition in the PHRF Non-Spin 2 class by 9 minutes and 18 seconds (corrected). Thirty-eight (38) boats went to the Cock Island Race starting line Saturday morning and crossed the finish line just before the first crack of lightning and the more nasty weather arrived on the Elizabeth River. The PHRF classes sailed either 8.10nm or 6.26nm and all the cruising classes had a course of 3.16nm. The race always starts in the vicinity of ICW mile marker Zero, goes out the Elizabeth, and returns.
Class Winners
PHRF A: Tim Savage, Triage
PHRF C: Steve Ritz, Excelsior
PHRF Non-Spin 1: Bob Howell, Pegasus
PHRF Non-Spin 2: Jay Thompson, Restless
CRU 1: Deep Datta, Quicksilver
CRU 2: Kent Utley, Mortar Offer
CRU 3: Robert Burrus, Southern Spirit
CRU 4: David Washbourne, Valcour
CRU 5: Ronnie Triplett, Sundrop
---
The Cruising Club of Virginia held its inaugural Summer Solstice Ocean Race June 17. The event was a distance race from Old Point Comfort, out around Chesapeake Light, and back to Old Point Comfort. According to Lin McCarthy:
Fifteen boats raced in the event, 10 going all the way (58nm) from the starting line off Buckroe, around Chesapeake Light (one mile beyond the 12 mile international limit) and back to the finish off the Fort Monroe Seawall. Smaller boats did a shorter course (29.6nm) going just beyond the CBBT and returning home. Weather conditions reflected Mother Nature's nasty side, including 2 big squalls, sideways rain, and reported gusts of 40 knots. Everyone was safely in before 6pm, the first warning signal having been at 8am. It was a difficult day condition-wise and 15 skippers and crews will attest to that – just ask 'em.
Results
PHRF A: (10 boats)
1. Jim Bordeaux, Solstice
2. Christian Schaumloffel, Myrage
3. Greg and Carie Cutter, Diablo
PHRF B: (5 boats)
1. Ben Cuker, Calinectes
2. George Jones, Delphinus
3. Ben Ritger, Blew-J
---
Rock Hall Yacht Club held its Down River Race June 16 and a One-Design Invitational June 17-18. Stay tuned for race results.
---
Coming Up!
Block Island Race Week: June 18-23
Veterans Cup Regatta, Langley Yacht Club: June 24
55th Annual BBSA Regatta: June 24
---
Don't forget to sign up for the SpinSheet Racing Team! You must particpate in: one series, one charity regatta, one volunteer day, two distance or multi-day regattas, and three other regattas.