Viper Mid-Atlantics, Gibson Island Race, Cape Henry Cup, and more: here's your racing roundup for the weekend of May 18-19.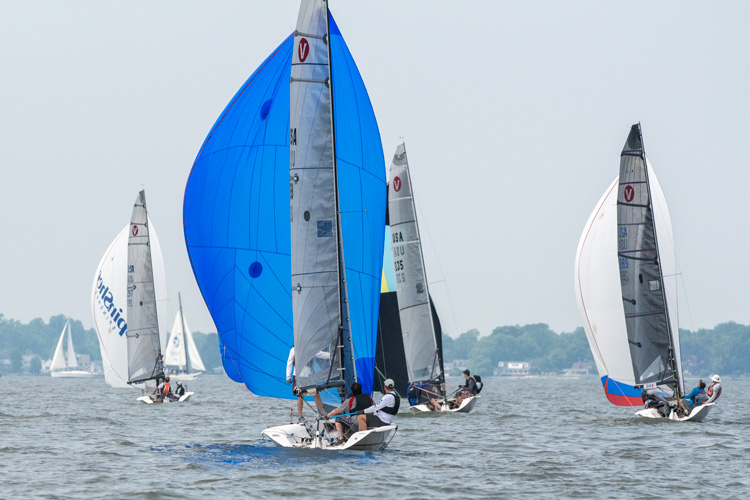 We run this weekly roundup on Mondays in season. If you don't see your club's regatta news here, know that we try our best to find relevant news but can always use a little help from our friends. Send us racing news and photos of Chesapeake race, or of Chesapeake-based racers at far-flung regattas, by 9 a.m. on any given Monday, and we're happy to include it: [email protected].
Viper Mid-Atlantics: May 18-19
L-L-Light wind weekend for the Viper Mid-Atlantic Championships.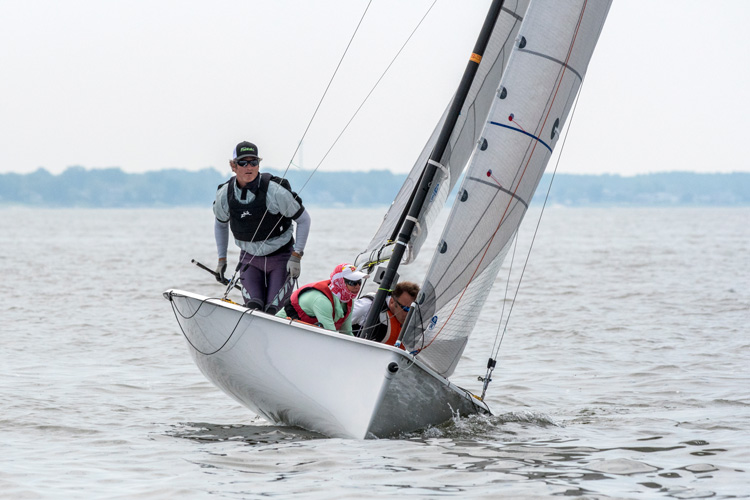 1. Evil Hiss, Viper 640, Mary Ewenson , Annapolis, MD, USA, 1 -1 -1 -1 -1 ; 5
2. Vapor Trails, Viper 640, Mark Wheeler , Hampton, VA, USA, 3 -3 -6 -2 -2 ; 16
3. Meow!, Viper 640, Cole Constantineau , Cambridge, MA, USA, 4 -2 -5 -3 -7 ; 21
Check out the Viper Mid-Atlantic photos by Al Schreitmueller by clicking here.
Gibson Island Race May: May 18
Hosted by Gibson Island Yacht Squadron and Sailing Club of the Chesapeake.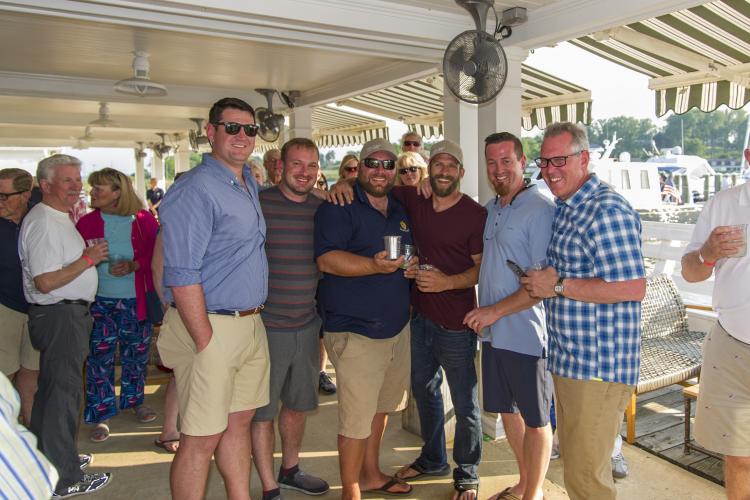 1. Smoke and Oakum, J105, David Scheidt, 1-1
2. Firebrand, J105, Jon Slabaugh, 2-2
3. Helios, J105, Steve and Gregg Sunshine, 3-3
View full results by clicking here.
Bloody Point Race: May 18
Just enough wind to sail out of Herring Bay and 2.5 hours to the first mark. Luckily the wind filled in for a great second half and a quick run to the finish.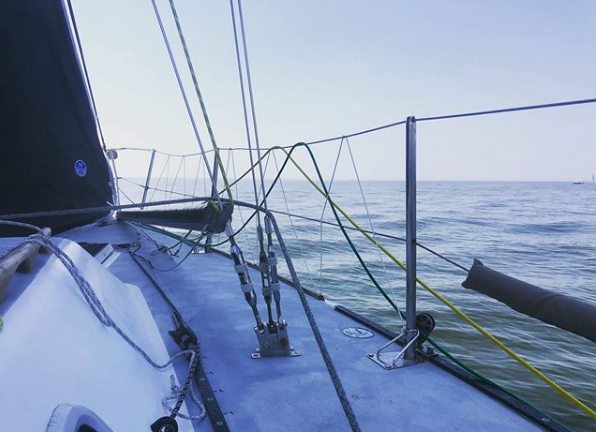 PHRF A
1. Cantata, Hank Chalkley, Beneteau First 35s
2. Spook, Rich Ordeman, Beneteau First 29
3. David McCullough, J/33
PHRF Non-Spin Racing:
1. Amara, Michel Jichinski, J/100
2. Adagio, Peter Gill, Hanse 415
PHRF Non-Spin Cruising:
1. Gaia, Les Folio, Catalina 380
2. Spirit, Tom Wiltshire, Ticon 30
To check out racing results click here.
Cape Henry Cup
Skipper Donna DeSteph brought her Irwin 38, RESTLESS in first in the PHRF Non-Spin fleet, almost 16 minutes ahead of the second place finisher.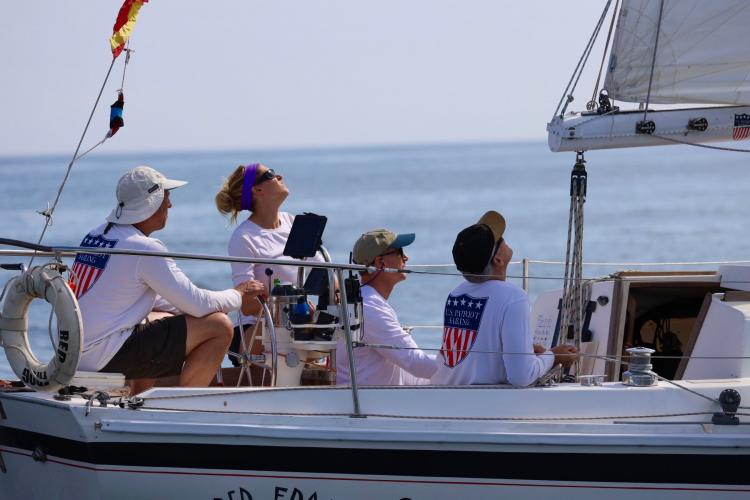 The universal prediction of light air convinced race officials to send the fleet on the 18+ nautical mile course. The weather was fine and, to top off a great day, racers were favored with a building breeze that brought whitecaps in the afternoon. All twenty-one (21) of the 22 boats that started finished between 2pm and 4pm. For full results click here.
PHRF A
1.Christian Schaumloffel, Myrage
2.Don DeLoatch, Riff Raff
3.WillRoberts, Remedy.
PHRF B/C:
1.Rusty Burshell, Cool Change
2.Andy Armstrong, Blue Jacket
3.Ben Cuker, Callinectes.
PHRF Non-Spin:
1.Donna DeSteph, Restless
2.Ben & Christina Ritger, Argo
3.John Wandling, Pisces
Cruising:
1.Booty Baker, Klimax
2.Rudy Eash, Brittany
3.Keith Midgette, Luna Blu
Broad Bay Sailing Association will present the CAPE HENRY CUP AWARDS at their monthly meeting and pot luck supper tomorrow, TUESDAY, MAY 21, at the Old Dominion Sailing Center. Social and dinner begins at 6:30pm, awards presentation at 7:30pm. For more information click here.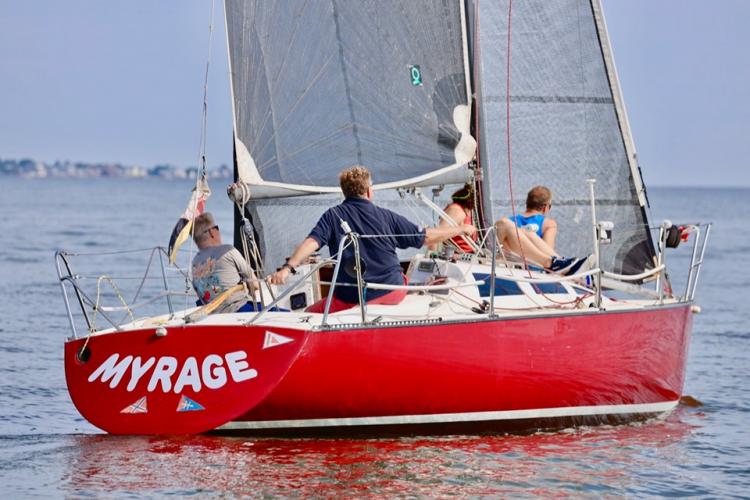 Don't see your club's racing news here?
Please send us Chesapeake racing news and photos on any Monday by 9 a.m., and we're happy to include it. Race on!