Team USA finishes a disappointing last place…
After following the supercharged SailGP fleet of foiling 50-foot catamarans around Sydney Harbor for three days, I learned two important things about the Aussies: They know how to party. And they know how to sail.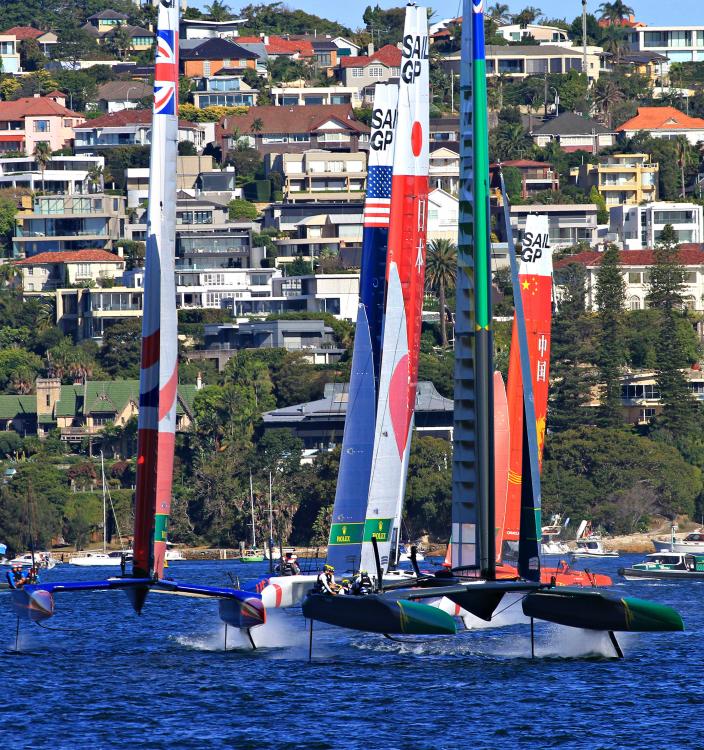 Local hero and former Olympian and America's Cup winner Tom Slingsby put on a clinic for the rest of the fleet…and a sold-out crowd of over 20,000 Sydneysiders…as he won five of the six races in the inaugural event of the Sir Russell Coutts and Larry Ellison Grand Prix Series.
Asked how anybody could beat "Slings" on his home turf, fellow Aussie Nathan Outteridge, who skippered the Japanese boat, told SpinSheet "You've got to beat him at the start…and hope he makes a mistake. We managed to do that in the first race, but after that, he was pretty close to perfect."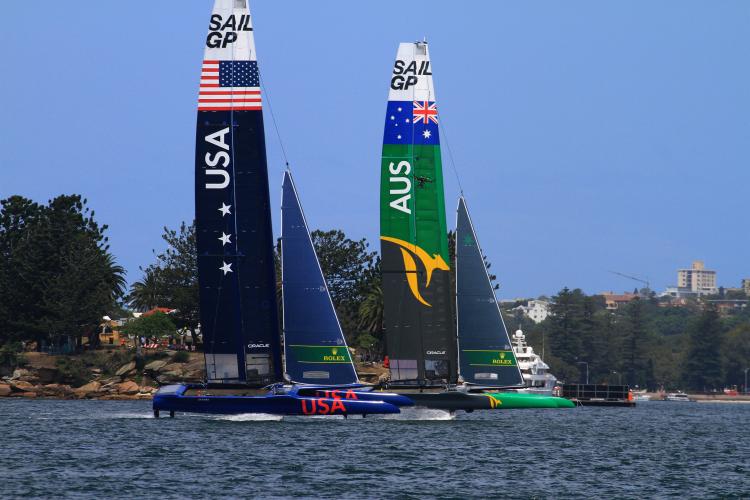 The foiling 50's are modified AC-50's from Bermuda's America's Cup. Their top speed thus far in practice sessions in New Zealand has been 49.6 knots. Slingsby's boat reached 38 knots in light winds in the Sydney event.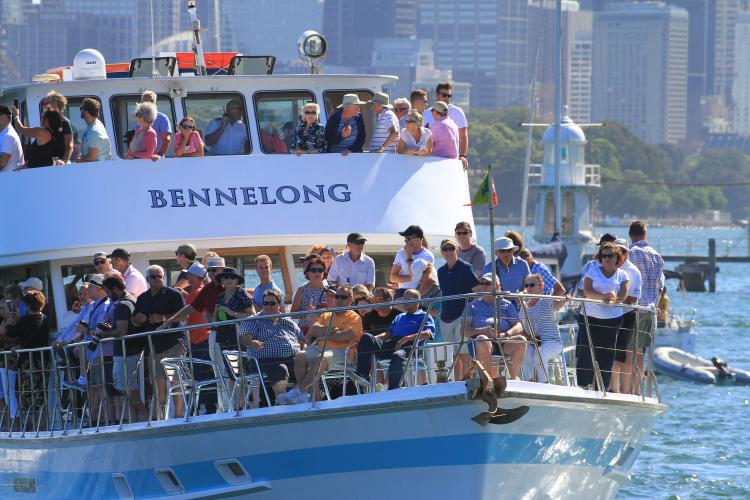 The US team, headed by America's Cup veteran Rome Kirby, skipper, and Taylor Canfield, flight controller, whose will race on the America's Cup challenger Stars and Stripes, never got it going on race days. "We learned a lot these past few days," says Kirby. "We only had five practice days with these boats. We're a young team and we get better each day."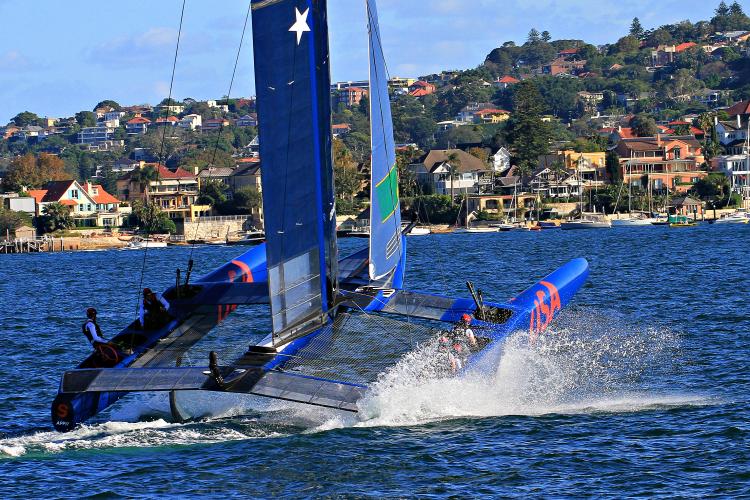 I could tell from the set of Kirby's jaw that he was determined to put in the training time to have some podium finishes in the races to come. "We're the youngest team in the fleet. Last place is not acceptable."
Next up for the series is San Francisco Bay on May 4-5. Kirby promises a better showing for the Americans on home waters.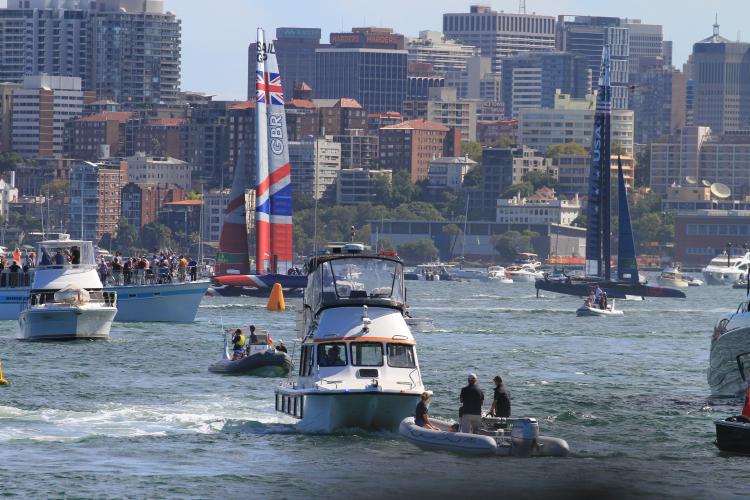 Coutts declared the Sydney event a success. "We had sell out venues all over the harbor. People took off work early on Friday and came out to support the local boys. Everybody had a great time. There was good sailing and good weather for fun on the water."
Indeed cries "Aussie…Aussie…Aussie" "Way to go Tommy, that's the lad" competed with the whir of helicopters and drones and the blast of boat horns as Slingsby and his all Aussie crew took a victory lap around some of the 2000 boats moored at the edges of the racecourse.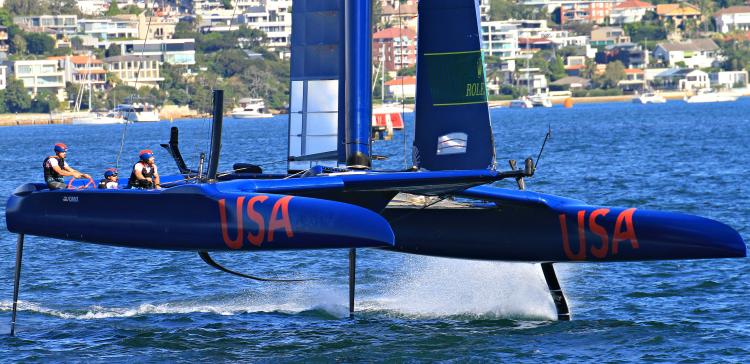 One local sailor remarked he "was glad nobody got hurt during the event…sailors or spectators. These boats close at 80-90 knots. You make a mistake and there's trouble."
A friend of mine who watched the action from the viewing stands on Shark Island, in the middle of the harbor, told me "me and my mates had a great time. We've done a bit of sailing, but these boats are incredible. Watching them with a beer in your hand and listening to the running commentary on the TV made for as great afternoon."
SailGP is modelled after motor racing's Grand Prix circuit. Coutts and Ellison are banking on fan acceptance and corporate sponsorship to make the idea a financial success.
After the San Francisco event, Sail GP moves to New York City, Cowes, UK, and Marseille, France. In Marseille, the top two boats will race for a purse of $1,000,000. Here's hoping the Yanks get it together by then.
SpinSheet's roving journo and photographer Craig Ligibel was the only US journalist present at the Sydney event. He promises a full report in the April issue of SpinSheet.