Going Stir Crazy, Racers? Try the GFS Challenge Course in Annapolis
Shortly after Kristen Berry of Gale Force Sailing launched the GFS Challenge mid-May, the buzz about it began, and racing sailors eager to get out sailing on a wide variety of boats tried it right away. When you visit the GFS Challenge web page, the Notice of Race, Sailing Instructions, and Course are easy to find and follow. We reached out to KB to get the scoop on this safe and legal way to scratch that racing itch during the pandemic and how it's going. Here are his answers to our questions: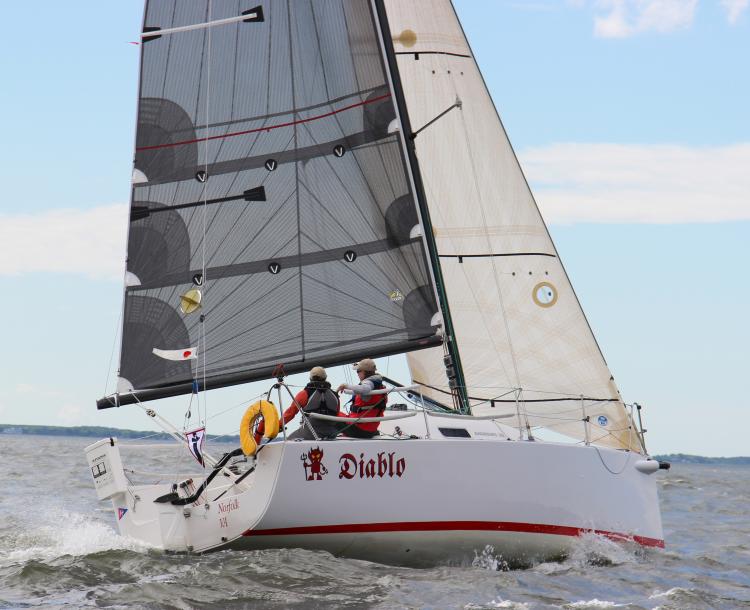 What inspired this idea for the GFS Challenge Course?
KB: The idea stemmed from my time at J/World Annapolis. Sometimes they'd cancel racing, yet it ended up being a perfect night for it. I'd get these nasty grams from racers who were upset by it. I thought it would be great to have a course people could sail if there was no organized racing. Some sailors need a purpose to get out and sail, so this is a great way to get people sailing safely.
How did you set the course?
I based it on a few things—prevailing breeze, having a reach, run, and beating leg—and also where you'd go for a sail anyway in Annapolis: from the harbor, to the bridge, and to Thomas Point Light. It's about a three-hour sail. If you have friends who don't like racing, you could do the course without your crew members even knowing you're "racing," which I think is great!
How is it scored?
We've created a spreadsheet that sorts according to wind speed, wind direction, boat type. Everyone can use the information as they want. Who's the fastest boat in nine knots of wind? Who's the fastest boat type? Overall fastest? As we get more sophisticated, we'll get better at this. (They've already responded to feedback and have cleaned up some confusing things—so when you do the course, send feedback to [email protected]!)
Who's doing the GFS Challenge?
The coolest thing is happening... All kinds of boats are doing it, exactly what I'd hoped for. Last weekend, a top-scoring J/105, a cruising boat, and a Rainbow 24 all did it. If I could dream a little dream, I'd have every J/105 in Annapolis sail this course, and we could see who's the fastest one in town, who's the best in heavy or light air, etc.
How will you use the course with your clients as a coach?
I'll use it for sail trim, navigation and pilotage, improving performance. Everyone wants to answer the question: How can I make my boat sail better? Everyone can improve using this course as a tool.
What else should we know?
It's in the sailing instructions—we want sailors to use this course safely. Don't go out in a hurricane; don't do it at night. Check out the GFS Challenge here.