CCV Racing Launches an Exciting New Race: the Triple Tunnel Terror
Sailors in the southern Chesapeake Bay have not had a new sailboat race to test their sailing skills in at least 12 years. CCV Racing that stages many windward-leeward and medium distance for the committed racing sailor has none that might be called a fun challenge for the general or cruising sailor. With this in mind, we shamelessly borrowed the idea of San Francisco Bay's Three Bridge Fiasco, but with a few changes, and called it the Triple Tunnel Terror.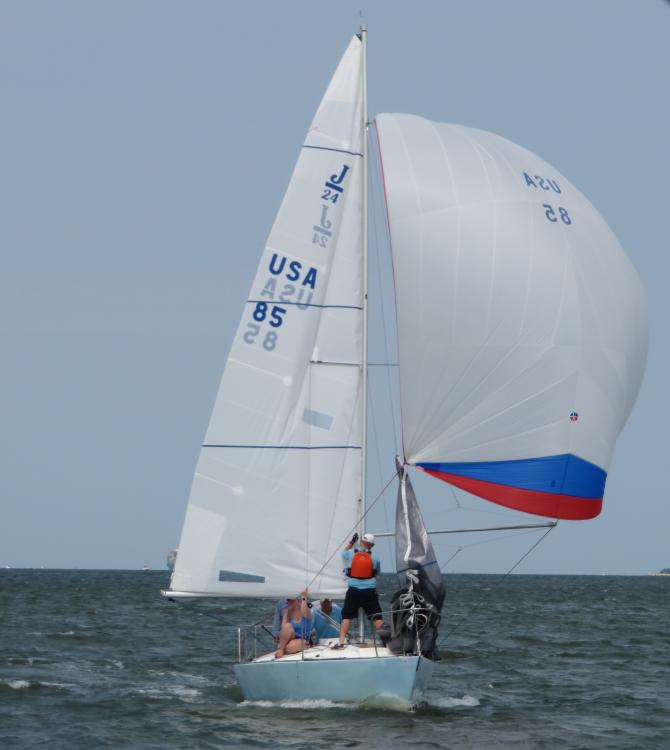 First, we have no bridges under which a cruising or racing boat could sail, but we do have lots of tunnels over which you could sail, so these would be the essential goals or marks of the course. Secondly, SF Bay's event is doublehanded, but shorthanded sailing is still a rarity in the Southern Bay, so fully crewed boats would be welcomed.
Finally, we don't have a convenient jetty or pier for setting the starting or finishing line, so we'd have to have the committee boat anchored in the racing area with the starting and finishing lines. Other that this, the Triple Tunnel Terror has the same attributes of the Three Bridge Fiasco: pursuit start so you place as you finish, three rounding marks that can be rounded port or starboard, and in any order, and a 22-mile distance.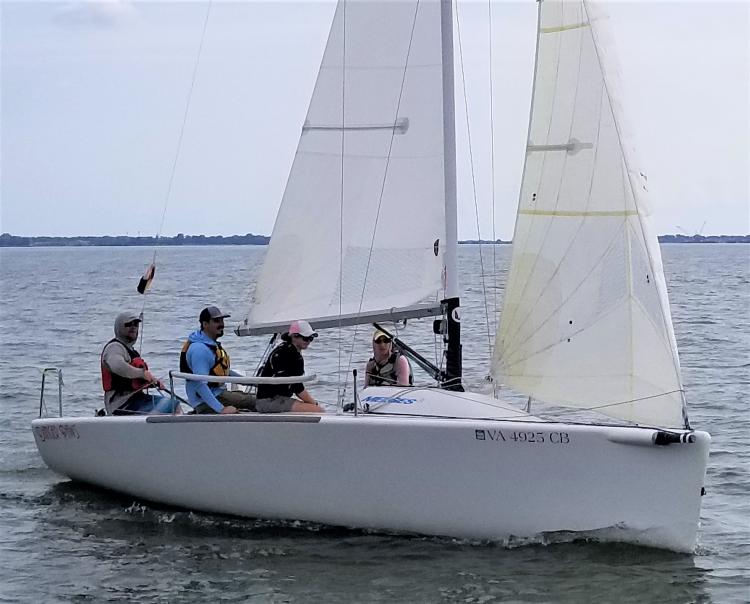 Of the 19 entrants, 16 started in PHRF A, B, C and non-spinnaker classes on July 24. Unfortunately, the winds were very light and in fact died for an hour, and there was a robust one-plus-knot ebb and then flood tide, causing three boats to withdraw, before a healthy 15-knots- sea breeze got the remaining 13 boats across the finish line.
If you think of the three marks as an isosceles triangle with the start/finish in the middle of the triangle's base, one boat went left to the Hampton Roads Bridge-Tunnel as its first mark, four went straight up the Elizabeth River to fetch the Midtown Tunnel mark, and the rest turned right and did the Monitor-Merrimac Bridge Tunnel as their first mark. This time the latter was the wise choice.
The first boat to finish and win PHRF A and overall was Neil Ford and Lis Biondi's Melges 24 Danger Paws, while the third boat to finish and take first in PHRF C was Alan Bomar's J/24 Roundabout. Perhaps this race was for 24-foot boats? Coming in ninth and first for PHRF B was Kingfisher skippered by Dixon Wilde.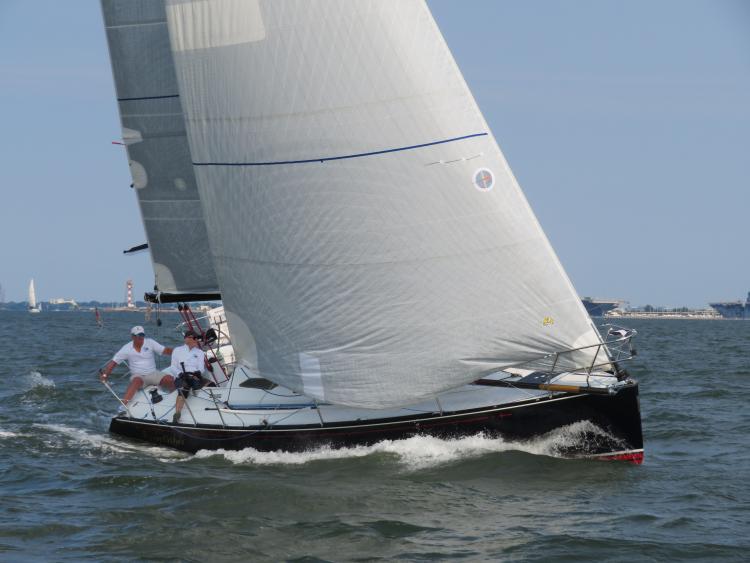 Immediately after finishing, every boat was handed via a 20-foot fiberglass pole a cold bottle of bubbly Prosecco to drown their sorrows or celebrate victory in a long and hot race. Besides comments about the lack of wind, it seemed that everyone had a good time doing something completely different. Perhaps the most insightful comment was about the rounding marks:
"Bridges look different, but tunnels all look the same!"
We won't be able to change this, but CCV Racing will be running the Triple T next year with some minor adjustments to the start times and trying to encourage many more entries.
Find the full results at CCVR's website.
By Greg Cutter, Race Director, CCV Racing