Speed records got crushed on this latest leg of the Volvo Ocean Race and, naturally, it was by the two boats from that speed obsessed nation of… the Netherlands?
Yes. That peaceful country known primarily for colorful tulips, windmills, wooden clogs, flooding, and the casual attitudes of Amsterdam. The nation that has embraced the relaxed pace of the bicycle to the extent that there's a bike for every man, woman, and child in the country. The country that has some of the most punitive fines for speeding in your car in all of Europe. Yep, them. They're speed freaks… apparently.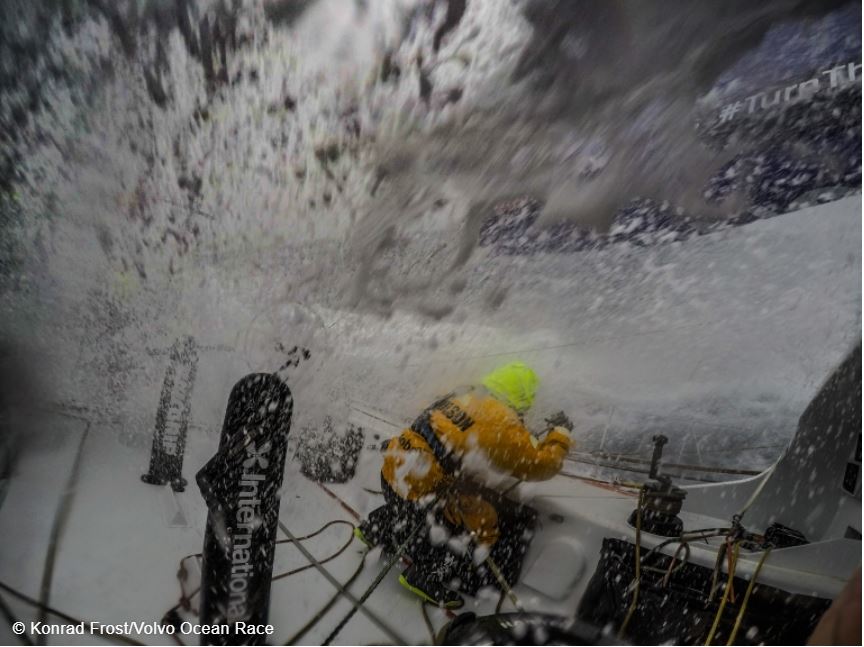 As the fleet in the Volvo Ocean Race charged across the Atlantic Ocean on their way to Cardiff, the 24-hour distance record fell numerous times and it was the two Dutch teams that kept breaking them.
Brunel got things started by besting the old record for the Volvo 65 of 550.8nm in 24 hours by 13nm. But by the time they'd reached for the champagne to celebrate, news came that the other Dutch flagged boat, AkzoNobel, had bested them by 3nm and set the new bar at 566.02nm.
Brunel punched back and pushed the record to 576.34nm over 24 hours. Yay! We've surely won it now! Nope.
AkzoNobel once again got them by 3nm and set the new benchmark at 579.12nm. And this back and forth one-upsmanship didn't stop until AkzoNobel went on to break the outright record for the Volvo Ocean Race by putting up an incredible 598nm run, besting the record of the bigger and faster (and frankly kinda dangerous) Volvo 70 by a couple of nautical miles.
AkzoNobel kept the gas pedal buried into the floor and pushed past the 600nm barrier, setting the new 24-hour record (provisionally) at 602.51nm. That's a pace of 25.1kts for 24 straight hours!
While the Dutch teams were stealing the show, it wasn't like the other teams were just slowly slogging along. Six of the seven boats broke the old Volvo 65 record during AkzoNobel's record run and every boat was averaging over 20kts for a couple of days.
Numbers like 602.51nm in a day can be hard to put into perspective for most of us. That's a road trip, not a day of sailing. So, let's try to put that number into context here on the Chesapeake. Keeping in mind that we're using a $2 chartplotting app for some of these calculations (so be nice if we're slightly off), here are some local comparisons:
- if you started at the center span of the Chesapeake Bay Bridge and charged south to the center of the Chesapeake Bay Brigde/Tunnel, you'd cover roughly 120nm. This means that in one single day AkzoNobel would have done two and a half laps!
- you'd quite easily get from Annapolis to Newport, RI -- in fact, you'd make it with nearly five and a half hours to spare.
- you be just 100 nm short of the Annapolis to Bermuda run after one day. It would take you just 28 hours to get there!
- in honor of Memorial Day, you'd complete the Indy 500 in a little over 17 hours.
- you could do the Race to Solomons and come back to the start line seven times in one day.
- Governor's Cup? Yup, you could easily do 4 back and forths of that course in a single day.
- Fancy a sail from Baltimore's Inner Harbor to National Harbor in DC? No problem. You can knock that out in a little under 7 hours. That sounds terrible, even with the worst of DC/Baltimore traffic, but look at the route on a map -- it's a 170nm!
- Annapolis to Philadelphia? Just under 4 hours… if you use the C&D Canal… at full speed.
You get the point. They were MOVING!!!
And it was a good thing that Brunel was nearly as fast as their Dutch counterparts -- they were able to catch up with AkzoNobel and win this leg by just four minutes. Four. 3,300nm and they finished within four minutes of each other. Forget all those silly stats above… THAT'S crazy.