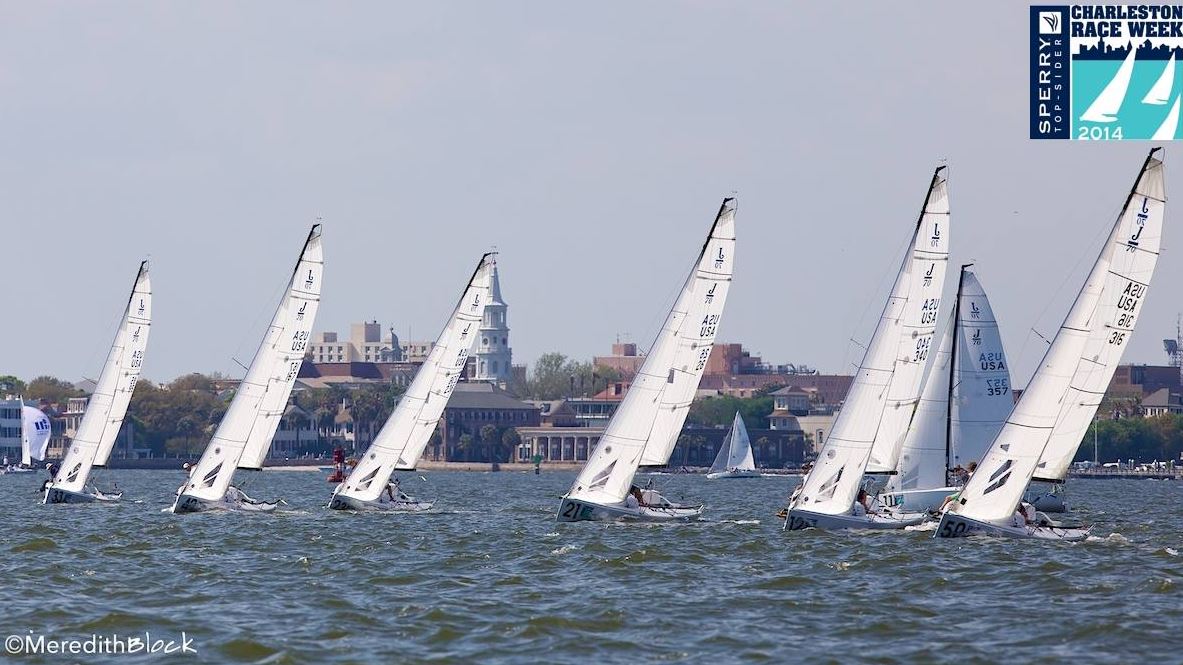 You know what's happening in Charleston today? Some boat prep, some practice, a 5:30 p.m. skippers meeting, and … a party! Today marks the start of Sperry Charleston Race Week—with racing starting tomorrow at 8:30 a.m. and runs through Sunday, April 23.
More than 240 boats in 18 (mostly one-design) classes have gathered in Charleston Harbor, about 20 boats from Chesapeake country, and many other regional sailors crewing on boats from other East Coast destinations.
Travis Weisleder and crew on the Melges 24 Lucky Dog/ Gill Race Team has competed in about 18 CRWs. He's sailing with Dave Hughes (current M24 World Champ tactician), John Bowden (Charleston local), Collin Kirby, and Jane Rew.
Over the winter, he sailed in the Melges 24 Worlds in Miami, took a break, and then showed up early to practice in Charleston (then they head to Lake Garda, Italy, in May and to Helsinki, Finland, for the Melges 24 Worlds).
What does he enjoy about the on-the-water action at CRW? "The great breeze and fun currents," he says. "It is the best event by far in the United States for small boats. I think it thrives due to its location (somewhat easy to get to), plus typically awesome sea breeze. It's just a great town. Not to mention if you are sailing inside the harbor, it is a short 15 minute motor or sail to the race course."
Weisleder says, "The parties are always a fun time, and Randy Draftz and his team keep making them better and better with the big video screens and music… But I don't really attend them much any more as we typically go out to eat at one of Charleston's fantastic restaurants."
Ryan McCrillis from Broad Bay Sailing Association will be a first-timer at CRW with a crew of teenagers from the Maury Sailing Team on the J/80 Haka.
He says, "We haven't had much practice this winter because my son, Connor, had major back surgery last fall. This will be his first big boat race since then. While my other son, Caleb runs the front of the boat, Connor will do some of the driving and help out on tactics. Jalen sailed with us a lot last year and is a great trimmer. Charlie will be helping sets and takedowns and upwind trimming."
"We're stoked about getting these public school kids some great exposure to the sailing scene, and everything I hear about CRW says this will be a great regatta. We won our Thursday night series pretty handily, but some one-design action will really be a test."
Annapolis Yacht Club member Tony Parker and his crew on the J/24 Bangor Packet are also in Charleston, (he thinks) for the third time. His crew is Ross Dierdorff, Martha Parker (not [his] wife!), Rossi Milev, and James Niblock.
Parker hasn't sailed much over the winter. He says, "The only thing I have done is to sail a team race regatta in New Orleans in March in Flying Scots. I am looking forward to getting back on the water."
What does he like about CRW? "I like Charleston because they always have a good turnout. Getting used to the current is critical! We lost the regatta two years ago because I misjudged the strength of the current at the start of the last race… The regatta is fun. They run good races. The J/24 class people are friends, so it is fun to see them again. And I love tight sailboat racing."
We wish these three Bay crews and all regional sailors on the scene the best of luck. If you have updates you'd like to share with SpinSheet readers—that could be a team selfie, party photos, or funny stories—send them anytime to [email protected] or [email protected]. Stay tuned to spinsheet.com as racing gets underway.
Find the full schedule of events here. Find the scratch sheet and other regatta docs here. Extended weather outlook video below: