Do You Qualify for the 2020 SpinSheet Racing Team?
We created the SpinSheet Racing Team for Chesapeake sailors who give the season their all by attending as many regattas as possible, bringing others into the sport, and making their boats go fast, no matter the weather. Does that sound like you?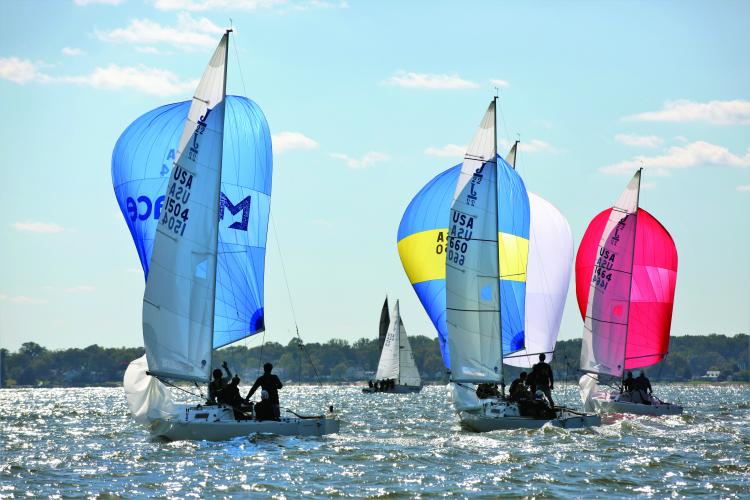 To qualify for the 2020 team, you must acquire 25 points by Tuesday, December 15 by meeting criteria from the list below. All regattas must take place on the waters of the Chesapeake Bay or its immediate tributaries. You do not have to be racing the same boat for every race or regatta. All participants will receive a tech shirt from Team One Newport, will be included in the list of team members in SpinSheet, and will be invited to our first ever virtual SpinSheet Rock Star Celebration!
Below find our 2020 points system. You must log your points at spinsheet.com/racing-team. You may earn points two or more times for one type of event. For example, if you do two charity regattas, you may earn 10 points:
Points Earned in 2020
Series (fall, weeknight, frostbite)—5 points
Charity regatta/race—5 points
Volunteer day—4 points
Race committee day—4 points
Multi-day regattas—3 points
Distance or point-to-point race—3 points
Attend a racing or rules seminar or class—3 points
Single-day regatta—2 points
Take a new sailor racing—2 points
Donate $50 or more to a sailing charity—1 point
Extra Credit Points
Like and follow SpinSheet's Facebook page and share the read SpinSheet online link—2 points
Send the read SpinSheet online link to 10 friends by email and ask them to share with their friends—2 points
Sail in a virtual regatta—2 points
Have a virtual happy hour for your crew—1 point
Attend a virtual rules or sail trim seminar—1 point
Attended the April 19 SpinSheet Virtual Crew Party—1 point (It's in our Facebook page video archive; you may still watch it!)
Attend a SpinSheet Facebook live event and pose a question—1 point
Log your points here by TUESDAY, December 15.. Send questions to [email protected].
The SpinSheet Racing Team is powered by Team One Newport.