More and more sailors are giving team racing a try
In July, many racing sailors enjoyed participating in Severn Sailing Association's Olivia's Team Race Regatta to support the Olivia Constants Foundation. Participants varied greatly in age, sailing experience, and knowledge of team racing, but they all had a bunch of fun and left having learned a lot. More and more sailors are giving team racing a try—for a lot of great reasons. It's a heck of a lot of fun, and a great way to learn a lot about different skills our sport demands.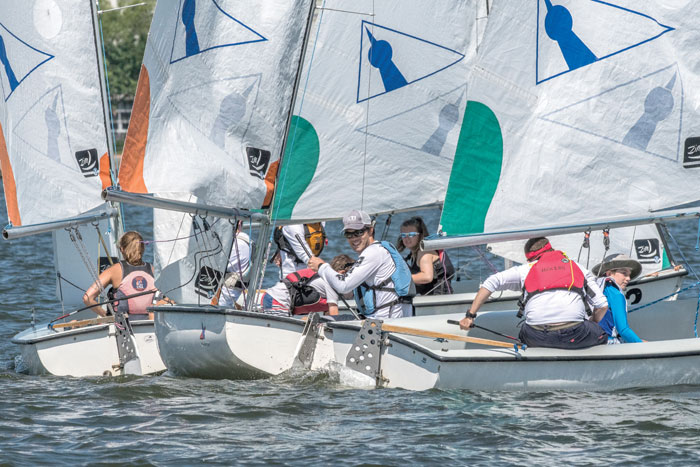 Whether you're participating in 2 on 2, 3 on 3, or 4 on 4 team racing, whether in dinghies or in keelboats, team racing can help you refine communication skills between you and your crew. It's a great opportunity to work through, for example, skipper talking down "ready to tack in 3, 2, 1…" or crew describing where the best wind on the race course is as well. Elements like those are important for team racing, and need to be delivered efficiently and effectively. Those are skills that transfer well to fleet racing.
Talk between boats is critical in team racing
Talk between boats during and after races is critical; teams generally set down to talk things through both before and after racing. This is a great opportunity for feedback on team racing "moves" and boat speed and boat handling issues too. Not many people really take the time to evaluate how they day on the water went, and what they can do to make the next day better, but in team racing, that's a frequent practice. Much of that knowledge can of course be applied to fleet racing.
Team racing involves a lot of close boat-to-boat maneuvering, so knowing the rules is important. If you go in knowing that the most important thing is to not bump the boats together, you can learn a lot "on the job" about the rules in action. In addition to the standard Racing Rules of Sailing, there are additional team racing rules, as described in Appendix D to the RRS. While Appendix D may look intimidating, it's not that bad—about half of it is on how to score team racing!
Strategy and tactics
The strategy and tactics of team racing can get pretty intense; there's not a lot of time to focus on your boat handling. It just has to happen automatically. There are a lot of tacks and gybes involved, so by necessity, they'll improve. Often times, I know my boat handling suffers from thinking about it too much…so having the focus taken away from making the perfect tack gives me the freedom to just make it happen. Just let it flow. And of course lots of practice tacks and gybes on the way out to the race course.
Many teams will take a look at their members' strengths and weaknesses to carry out an honest assessment of abilities, so they can best plan how to attack a race and counter an opponent. You can use this assessment to think about where you want to grow your overall sailing skills. One boat may be not so great at starts, but super fast. Another may be good at getting off the line, but not so strong at rules knowledge. That's all good and fine—being a successful team means working with those strengths and weaknesses to make the team greater than just the sum of its parts.
And, yes, you'll exercise your smile muscles. It's a heck of a lot of fun. And sharing your successes, challenges, and learning with a group larger than just the boat you're on makes it really rewarding.
Team racing is growing in popularity, and folks who are already involved in that aspect of our sport of sailing are eager to get more people involved. To make that happen, they are very helpful and supportive, and willing to take the time to help new team racers learn all the ins and outs of the new game!
by Kim Couranz