American Magic's Terry Hutchinson and the Future
American Magic skipper and executive director juggles schedules, international protocols to get ready for next year's America's Cup.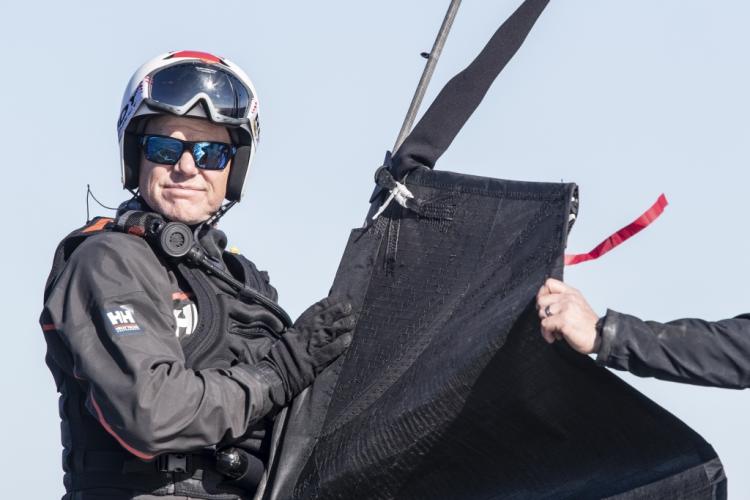 Annapolis native and America's Cup American Magic skipper and executive director Terry Hutchinson is playing a three-dimensional game of chess against some of the world's fiercest competitors. The rules keep changing with every move on the board. And he's doing it all (right now) in his Harwood home located less than a football field away from where he grew up. Go figure.
"I love Annapolis," the two-time Rolex Yachtsman of the Year tells SpinSheet. "Crabcakes at the Boatyard Bar & Grill. Helping out with youth sailing and Chesapeake Region Accessible Boating (CRAB). Spinning old yarns with good buddies like Dave Gendell (SpinSheet co-founder.)"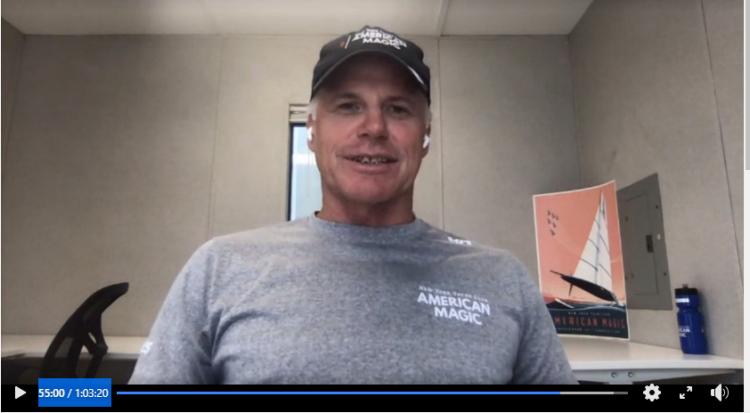 Hutchinson credits his time on the water sailing lasers and Dyer dinghys around Hartge Yacht Yard and with the West River Sailing Club with helping him form the decision-making skills that are so important in his new job.
"Just think about it," he says. "I'm back home directing one of the biggest challenges I'll ever face. The eyes of the world will be on American Magic as she works her way through the Challenger Series and hopefully, the finals. I have the best job in the world. I'm doing what I love to do… it's an honor to represent the New York Yacht Club and the USA."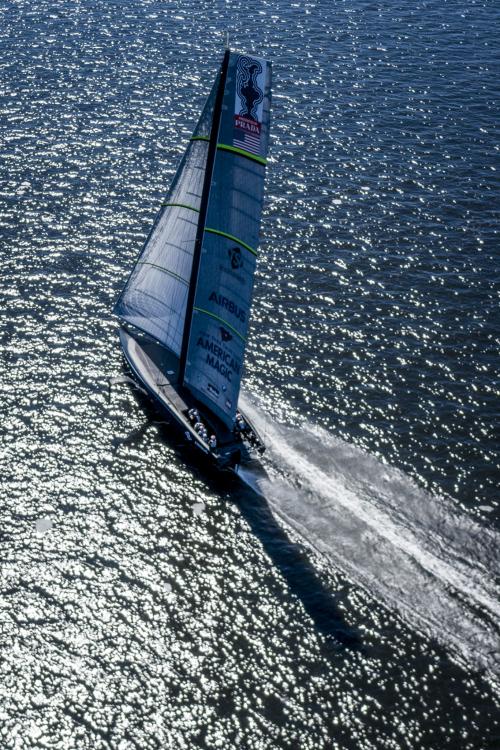 At the time of this writing, Hutchinson is directing the NYYC's multi-million dollar effort to return the America's Cup to the USA just down the road from Annapolis. Part of his team is in Pensacola, Florida; another contingent is in Rhode Island. Still others are in Spain. And an advance contingent is just coming out of quarantine in New Zealand.
The Challenger's first AC75, Defiant, is somewhere in the Pacific on a transport en route to Auckland. Another race boat is taking shape in Rhode Island.
And, oh yes, there's a pandemic that may limit his team's ability to land their AC75 in Kiwi land as well as will dictate when and if his team of Americans, Aussies, and Brits will be able to settle into their new digs at the America's Cup base in Auckland.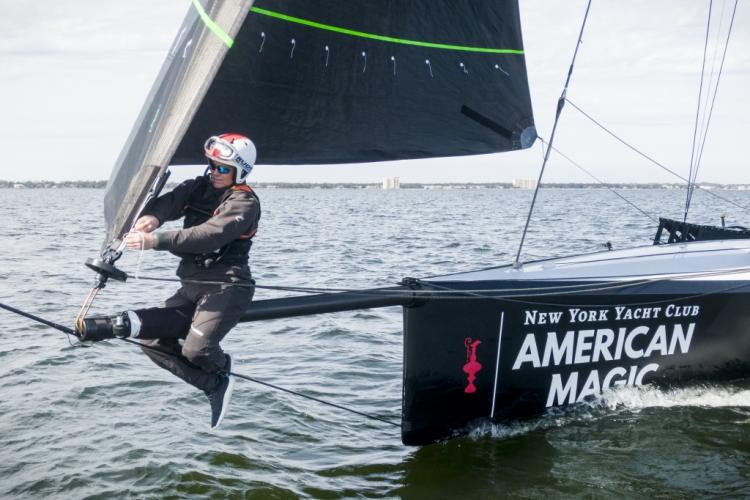 "The pandemic threw us a curve about halfway into our development and testing," Hutchinson says. "But heck, if it was easy, anybody could do it. We're definitely living in a bit of a surreal world right now. All we're trying to do right now is to make reasonably consistent decisions with the information we have. We're in a bit of a quandary because much of what will happen next is in the hands of New Zealand."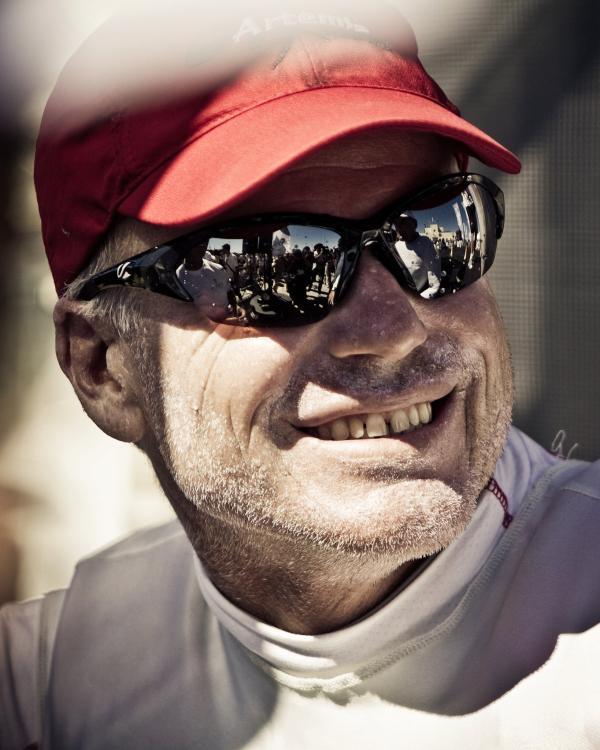 As of this writing, New Zealand has closed its borders to international travelers. No one knows when, or if, the restrictions will be lifted. "If we're having this discussion in July or August, for sure it will have a negative impact on our effort."
In addition to being a skilled sailor, Terry is also a master at playing it close to his vest. Many of his answers to this reporter's questions were couched vagaries and were non-committal. The stakes in the contest are high. None of the competitors wants to disclose any detail that might give a competitor an advantage.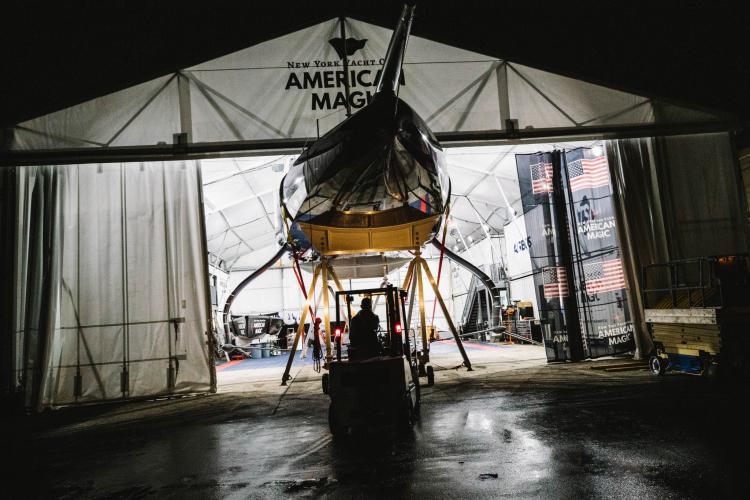 Here's a Q and A exchange that shows you what I mean:
What key learning did you take away from sailing your first boat, Defiant, earlier this year? Will you be making some changes in the new boat based on what you learned?
Yes.
What kind of changes?
(Laughing) You know I can't tell you that.
Does the new boat have a name?
No.
When will you announce it?
(More laughing) Soon.
Do you have a good idea who will be on the boat come race day?
Yes.
Will you be on the boat?
(Deadly serious) That's the plan. All the spots are open…but Dean (Barker) will be driving; Paul (Goodison) is our mainsail trimmer and Andrew (Campbell) is our flight controller.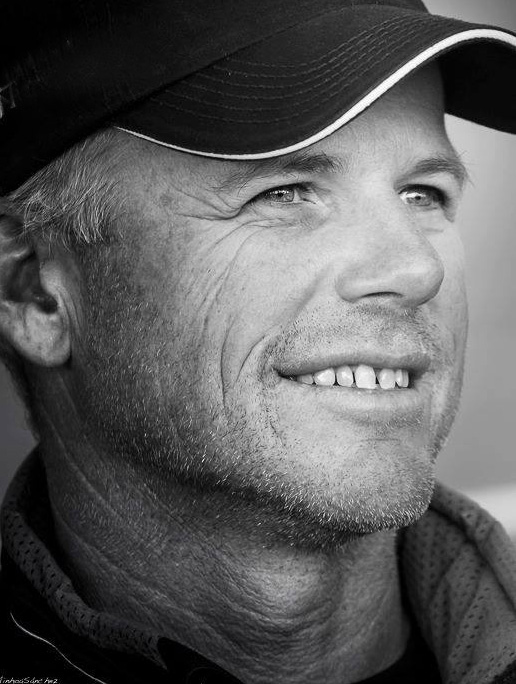 Hutchinson says managing far-flung team under Covid-19 restrictions isn't that much different than what it was before the pandemic struck. "The senior management part of the team is professional… very good at their jobs… I do all I can not to get in their way. we use Blue Jeans video conferencing to keep in touch. Of all the teams, we are pretty well set up for this… we've been using Blue Jeans for two years. The team has been deployed in all parts of the world since we started… communications today are not that much different."
"Keeping the team motivated isn't a problem," Hutchinson says. "They just want to get out on the water. Bringing that Cup home is a big motivator."
Hutchinson's reserved demeanor shifts into high gear when he talks about Defiant and the new AC75 under construction. His eyes light up when he talks about sailing this new breed of boat.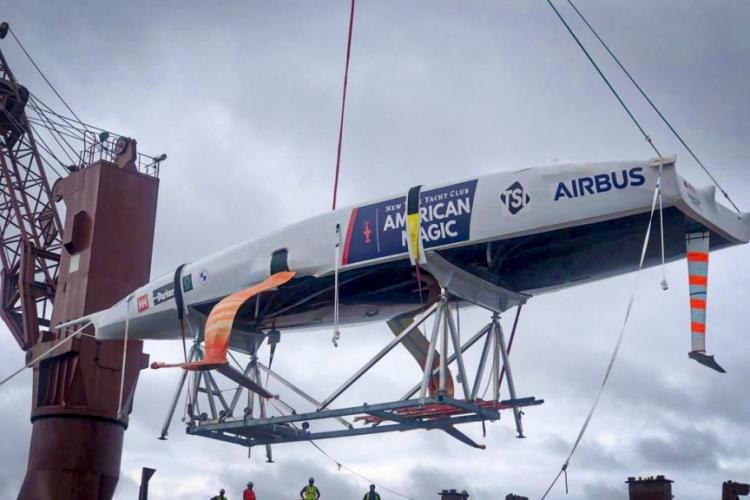 "We are still finding out about the boats. There's a lot of learning that takes place every single day you go out on the water. What you really are working on is validating the changes, validating the differences between how the simulator sails and what happens on the water. It's all one big jigsaw puzzle that we are still trying to piece together. "
Your reporter and Terry did digress from the business of the Cup to talk about Annapolis and his roots here. And I got a chuckle out of him when I told him I sailed a 40-year-old catboat that is about as quick as a cement mixer. But when I asked my final question, the tight-lipped skipper reverted to his intractable form:
Ligibel: So, what's it going to take to win the Cup?
Hutchnson: A fast boat.
And that's when I knew the interview was over.
With the America's Cup more than nine months and 10,000 miles away, Annapolis's Terry Hutchinson wasn't about to give anything away.
Did I mention that Terry Hutchinson plays his cards close to his vest? He definitely is one guy you wouldn't want to play high stakes poker against.
~By Craig Ligibel