Terry Hutchinson stopped by the SpinSheet booth at the 2017 U.S. Sailboat Show and took some time to talk to us about his latest venture, the Bella Mente Quantum Racing Association, set to represent the New York Yacht Club at the 2021 America's Cup in New Zealand. Check out the three-minute video below:
After a decade and a half away from sailing's flagship competition, the New York Yacht Club, represented by Bella Mente Quantum Racing Association, will challenge for the 36th America's Cup. The New York Yacht Club held the ornate silver trophy from 1851, when it was won by the yacht America, through 1983—a run often known as the longest winning streak in sports. The Club regularly challenged for the trophy in the years that followed the historic loss to Australia II off the coast of Newport 34 years ago, but had remained on the sidelines since its last challenge with Team Dennis Conner for the 2002-'03 America's Cup.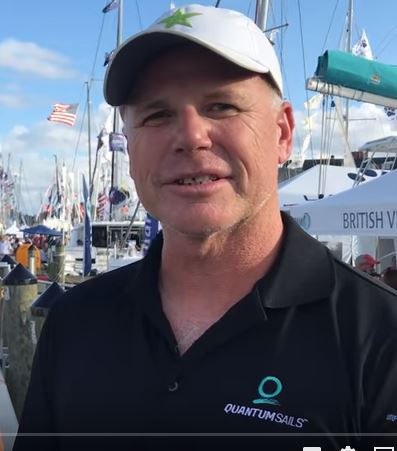 The challenging syndicate will be led by two of the most successful American yachtsmen of the last decade: John J. "Hap" Fauth (Naples, Fla.) and Doug DeVos (Grand Rapids, Mich.). Since 2005, at the helm of three successive yachts named Bella Mente, Fauth and his team have reached the top of the podium in numerous distance and buoy races at venues in North America, Europe and the Caribbean. Fauth is a three-time world champion in the Maxi72 class.
DeVos and the Quantum Racing program have set the standard for excellence on the 52 Super Series circuit, and its predecessor, the MedCup, with overall series wins in 2008, 2011, 2013, 2014 and 2016. One common link between the two teams is Bella Mente Quantum Racing Association Skipper and CEO Terry Hutchinson, a two-time Rolex Yachtsman of the Year and veteran America's Cup competitor (as well as Annapolis resident). Hutchinson, like Fauth, is a long-time New York Yacht Club member.
Find more about the Bella Mente Quantum Racing Association here.