Two Bermuda Races and the First Summery Weekend on the Bay
You know it's summer when it's time for the Twilight Race--combine that with the ending of and beginning of another Bermuda race, and you have a full racing weekend on and beyond the Bay. Here's your SpinSheet Racing Roundup for June 15-17.
A2B Wrap Up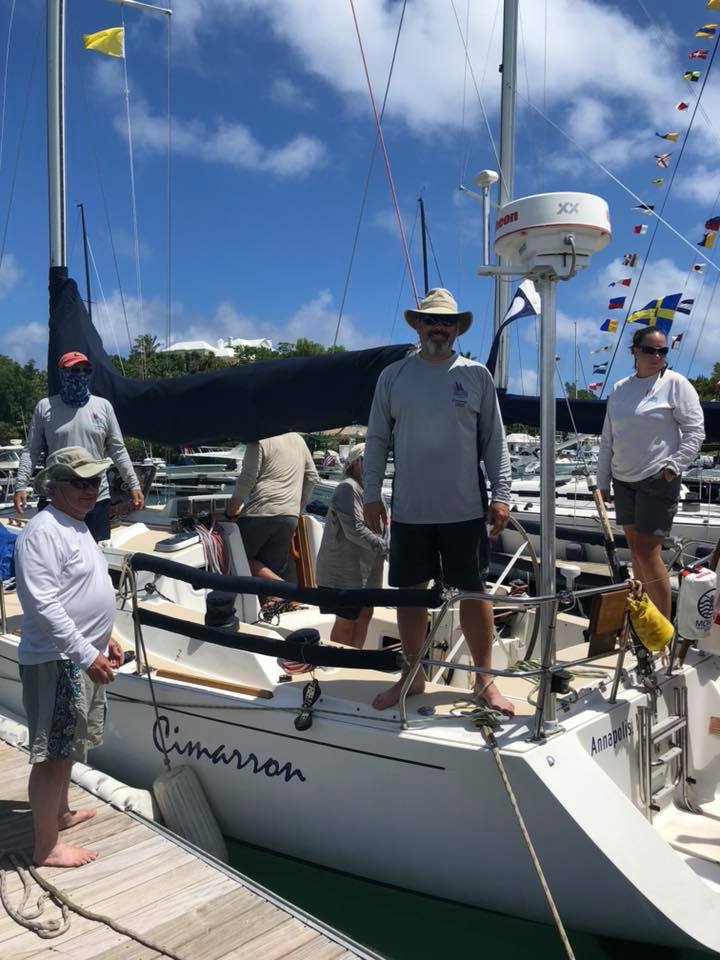 When we last reported on the Annapolis Bermuda Ocean Race, Bob Fox on Sly was the first to finish the race, and there were very few boats that had completed the race. Well, all are in safely now. Here are some news from the A2B website, top finishers, and special awards. Expect more as sailors and boats return to Chesapeake country in the next two weeks, and they share their stories. Find more in our July and August issues.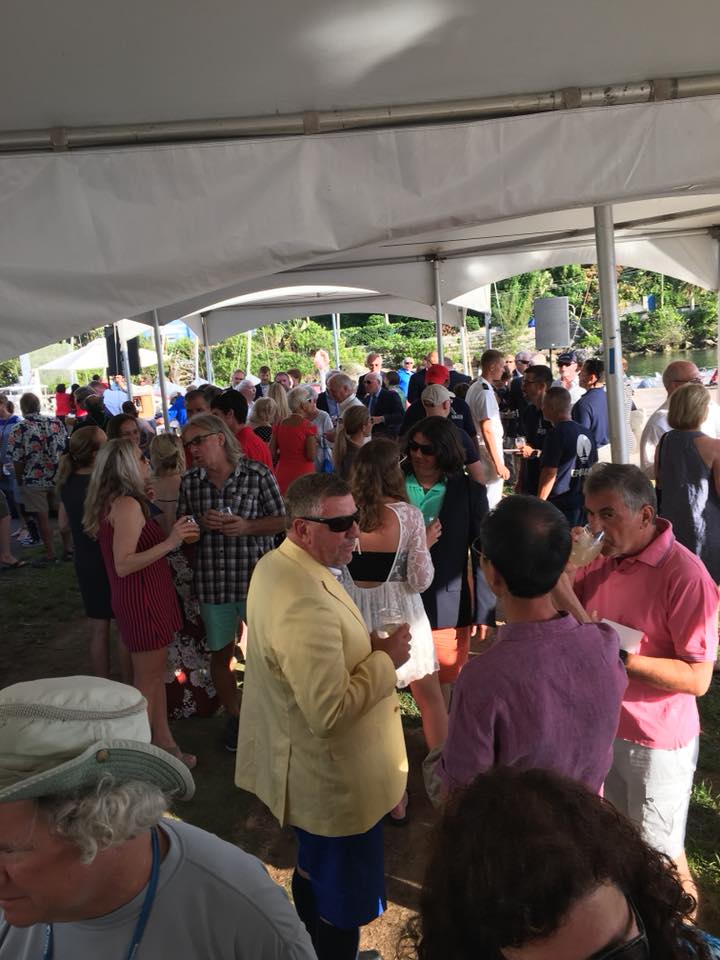 From A2B web: The weather cleared perfectly for a lovely dockside Prizegiving ceremony. The sailors and their family and friends celebrated their success in an event hosted by local dignitaries including the governor of Bermuda, mayor of Hamilton, ministry of tourism and US consul general. The final boat arrived three hours before the festivities began. A gala dinner under the stars followed. Memories were made, friendships were forged and old ones grew deeper as our second race partnering with the Royal Hamilton Amateur Dinghy Club.
Find SpinSheet's A2B start photos here. Results and special awards below.
First to Finish -- Line Honors SLY –Bob Fox
First to Finish PHRF I Sly—Bob Fox
First to Finish PHRF II Cimmaron – Lynn McClaskey
First to Finish CRCA Jane Says – Robert Dunnigan, Jr.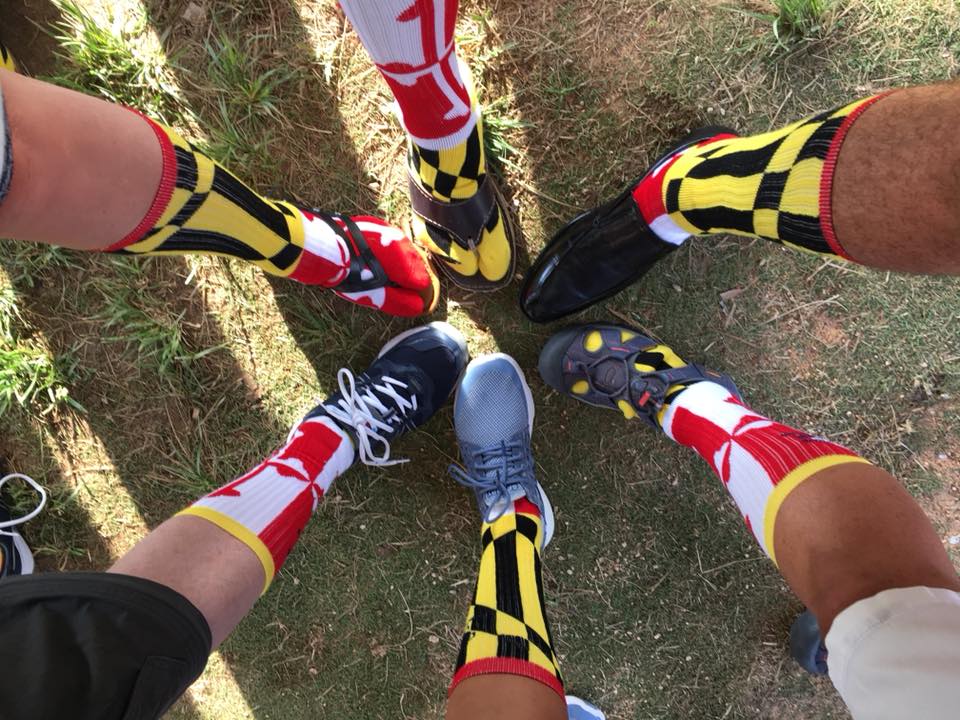 Class Awards
First out of the Bay Corrected
PHRF 1 Tenacious – Christopher Cantillo
PHRF 2 Cimmaron -- Lynn McClaskey
CRCA Jane Says – Robert Dunigan, Jr.
Offshore Leg Corrected
PHRF I Tenacious – Christopher Cantillo
PHRF II Orion – John Opert
CRCA Shwang Si – Joe Cummings
Overall
PHRF I
3rd Integrity – Joshua Corbett
2nd Gallant – Cassidy O'Brien
1st Tenacious – Christopher Cantillo
PHRF II
3rd Epiphany – Justin Smith
2nd Cimmaron – Lynn McClaskey
1st Orion – Jon Opert
CRCA
3rd Jane Says – Robert Dunigan, Jr.
2nd Resolute -- David Adams
1st Shwang Si – Joe Cummings
Special Awards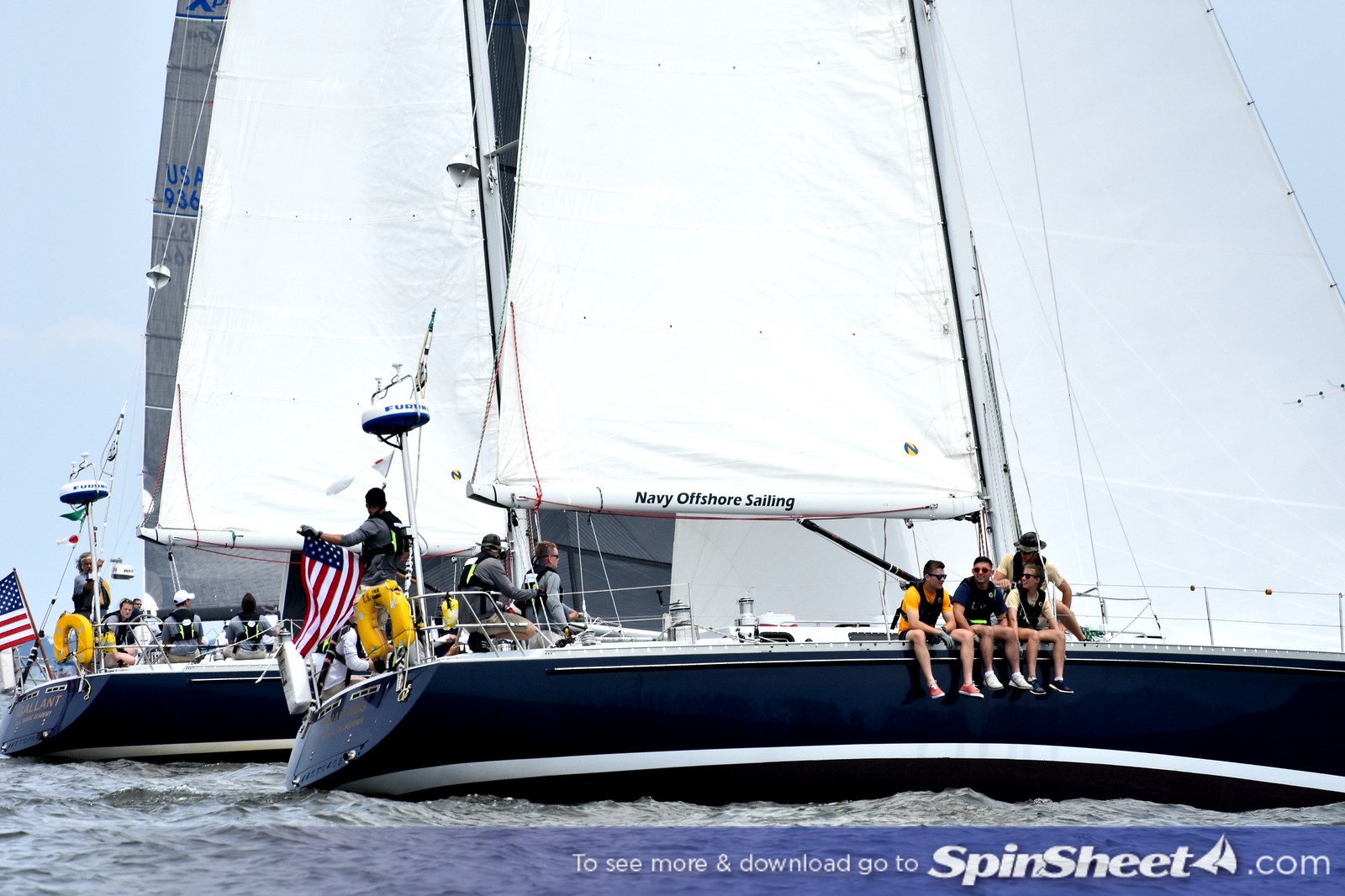 Charles N. Bozenhart Navigator's Trophy For the Navigator of the Boat First to Finish with Line Honors: SLY -- Greg Dupier
Weems and Plath Navigator's Trophy -- awarded to the Navigator whose logs and plotting sheets are found to be complete, neat and legible, who best exhibits navigation skills incorporating dead reckoning, charting and log-keeping: Shiloh -- Joaquin Marquez
Storm Trysail Yacht Club Trophy – The club whose top two racers achieve the highest combined score win a beautiful perpetual trophy to display in its clubhouse until the next race. The two High point Skippers please come forward to accept your individual award.
Naval Academy Sailing Squadron – Tenacious – Christopher Cantillo; Gallant – Cassidy O'Brien
Most Competitive J/ Boat – trophy donated by J/Boats -- Cimmaron -- Lynn McClaskey
Brian Oatley Award -- Given to honor the spirit of long time A2B Ocean Race Supporter Brian Oatley, this trophy is awarded to the yacht that is the most competitive in her class but does not make the podium. Brian was the past Commodore of the St George's Dinghy Club. Brian was involved in every aspect of the race, spending countless hours doing anything that needed to be done. Brian passed away in 2014: Nomad – Seth Winnick
Cooks Trophy Last to Finish -- Impromptu—John Benson
Find more on the A2B website.
Shearwater Sailing Club's (SSC) Twilight Race
The annual Twilight Race unfolded off Annapolis June 16 in gorgeous conditions with 13 knots of breeze, which lay down as the race progressed and then picked back up. Competitors completed a 15-mile course and finished at the yellow weather mark "W" off Annapolis, which had moved during the winter, making it so that many crews were unable to find the finish line in the dark. It was an unfortunate ending to a beautiful summer evening for many racers. Find Al Schreitmueller's SpinSheet Twilight photos here. Following are provisional results: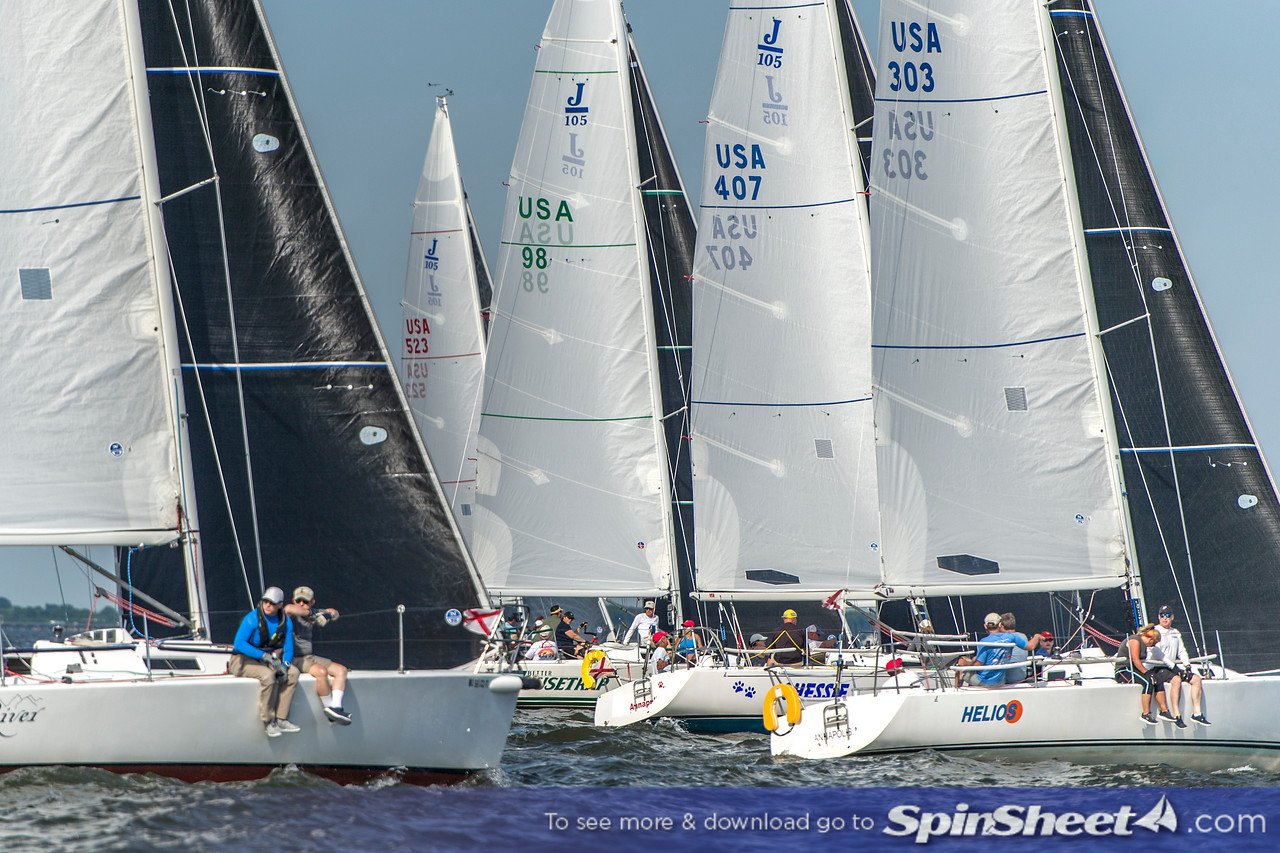 CRCA NS (1 boats)
1 60498 Curlew Densmore, David 165 1 21:39:59.0 00:33:49.5 03:36:09.5 00:00:00.0 1.0
CRCA R/C (1 boats)
DNF 10 Alptr H, Steve 165 DNF No Time 00:41:48.0 No Time No Time DNF 2.0
Cal 25 (7 boats)
1 1226 White Cap Bloomfield, Timothy Cal25 1 20:54:20.0 1.0
2 681 Ronin Rogers, Christopher Cal25 2 21:05:35.0 2.0
3 896 Zephyr Hoyt, David Cal25 3 21:07:20.0 3.0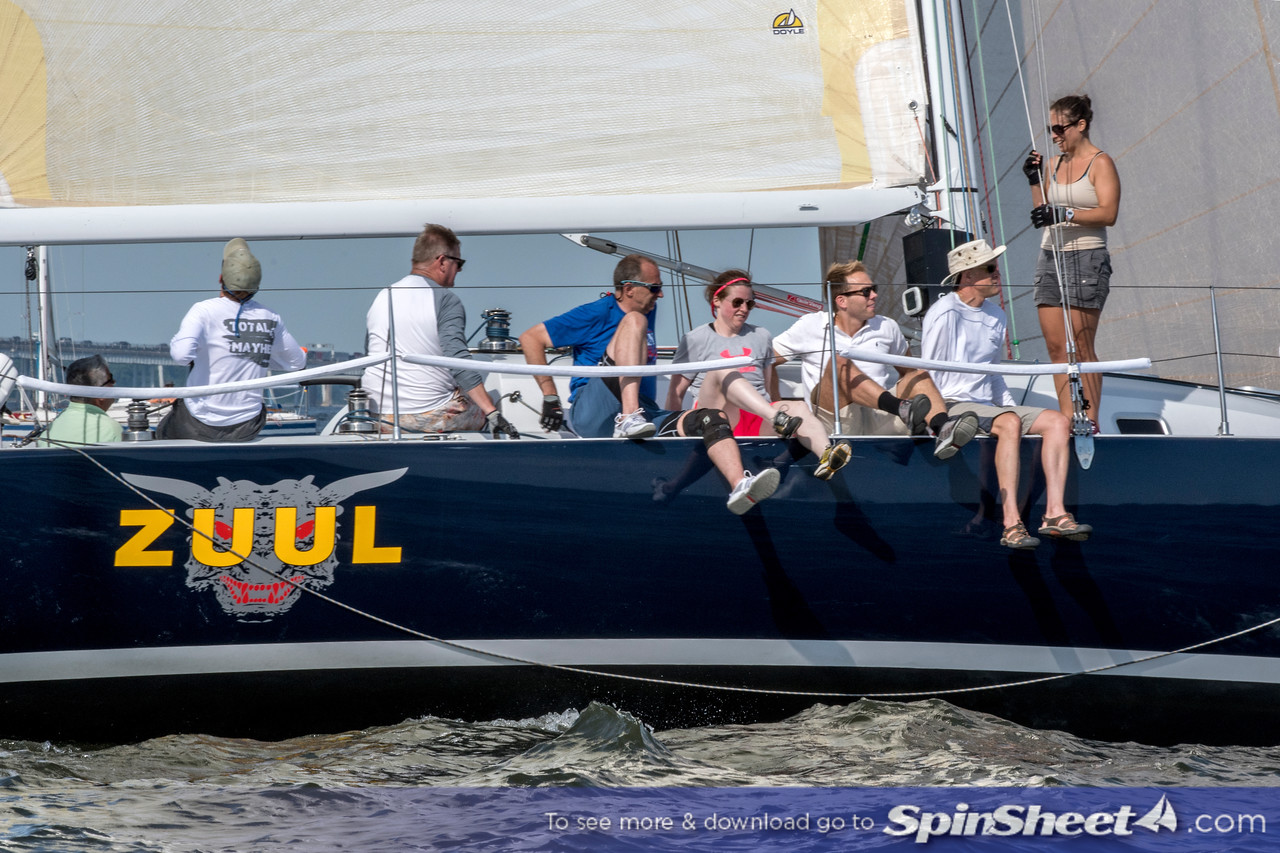 J-105 (11 boats)
1 USA 113 White, John J105 1 20:27:05.0 1.0
2 527 Firebrand Slabaugh, Jon J105 2 20:30:07.0 2.0
3 USA- 523 Santas Reign, Dear Santa, Donald J105 3 20:33:17.0 3.0
J-30 (6 boats)
1 53260 Rag Doll lundahl, Rob J30 1 20:52:24.0 1.0
2 63242 Insatiable anderson, Ronald J30 2 20:52:39.0 2.0
3 USA 90 Cannonball 2.0 Stewart, George J30 3 20:52:57.0 3.0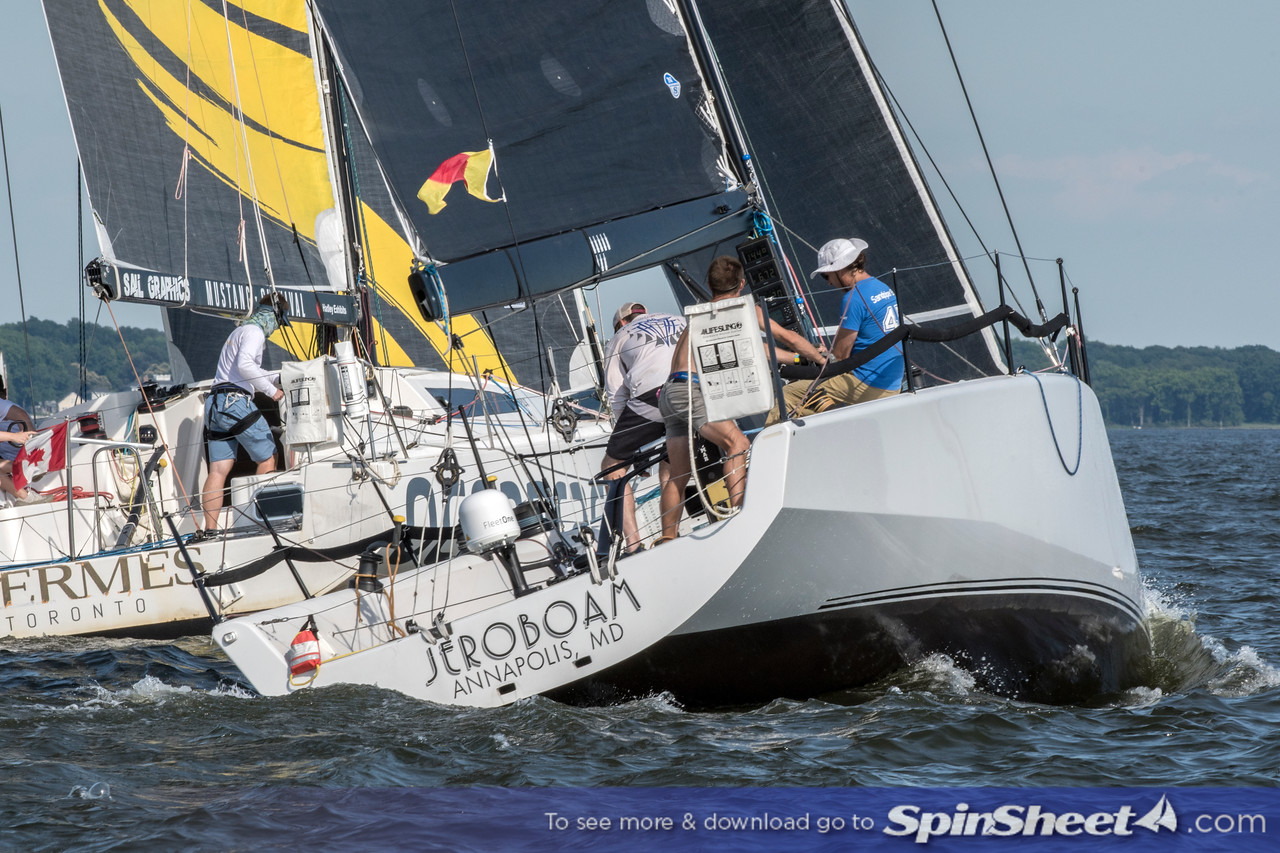 PHRF A0 (4 boats)
1 61017 Jeroboam Givry, Laurent -30 1 19:47:29.0 -00:07:36.0 02:50:05.0 00:00:00.0 1.0
DNF can 1213 Hermes mills, robert 12 DNF No Time 00:03:02.4 No Time No Time DNF 5.0T
PHRF A1 (3 boats)
1 38012 ZUUL Capuco, Benedict 30 1 19:55:53.0 00:07:36.0 02:43:17.0 00:00:00.0 1.0
PHRF A2 (5 boats)
1 1889 MONKEY DUST Saunders, Craig 75 1 20:19:01.0 00:19:00.0 02:50:01.0 00:00:00.0 1.0
2 USA 82 AfterSchock SUSIE, PAUL 72 2 20:21:07.0 00:18:14.4 02:52:52.6 00:02:51.6 2.0
3 32245 STYLO Stagg, Wiley 90 4 20:27:48.0 00:22:48.0 02:55:00.0 00:04:59.0 3.0
PHRF B (3 boats)
1 93176 Ippon Gallagher, Sean 114 1 20:42:37.0 00:28:52.8 02:53:44.2 00:00:00.0 1.0
2 40535 Second Mouse iliff, Nick 141 2 21:06:02.0 00:35:43.2 03:10:18.8 00:16:34.6 2.0
DNF 83348 Blaze Star Teeling, Pat and Amy 144 DNF No Time 00:36:28.8 No Time No Time DNF 4.0
PHRF NonSpin (5 boats)
1 93273 Cheap Sunglasses Buck, Irv 84 2 20:20:34.0 00:17:13.2 02:33:20.8 00:00:00.0 1.0
2 USA 93300 Muskrat Iliff, Jr., Nicholas 78 1 20:20:17.0 00:15:59.4 02:34:17.6 00:00:56.8 2.0
3 60850 Gotcha Bellezza, Paul 120 3 20:35:33.0 00:24:36.0 02:40:57.0 00:07:36.2 3.0
Click to SSC website here.
Rambler 88 Takes Line Honors in Newport Bermuda Race
Leaving most of the fleet far behind in light winds, George David's Rambler 88 crossed the finish line off St. David's Lighthouse at 5:51:51 Eastern daylight time on Sunday evening. Earning line honors among the 169 boats racing in the 51st Newport Bermuda Race, the big gray boat's elapsed time over the 635-mile course was 50 hours, 31 minutes, 51 seconds.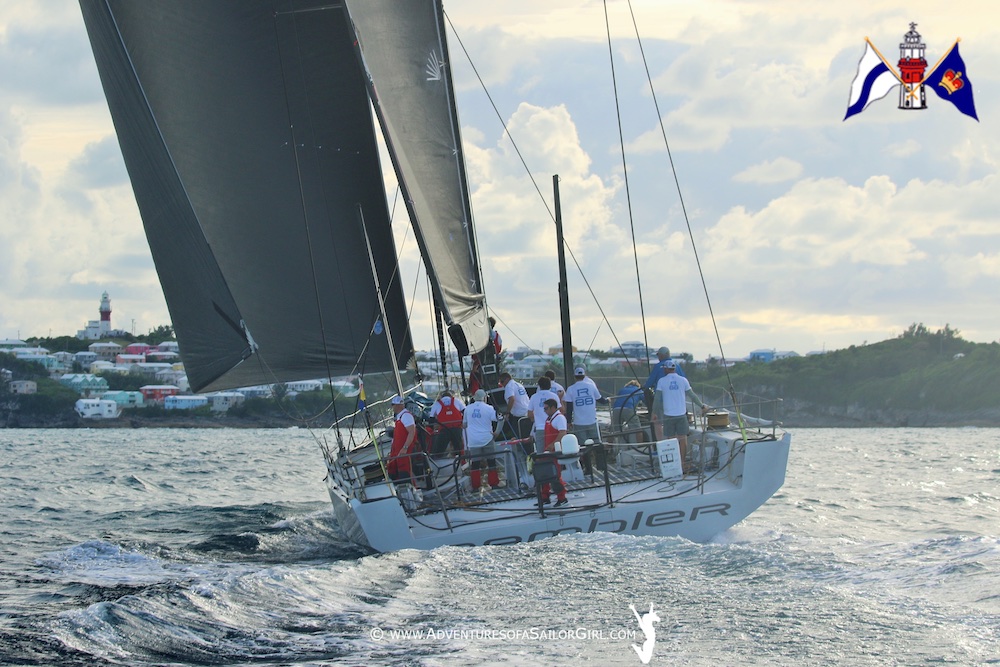 The custom 88-foot Juan K design ran into some slow patches with light winds early in the race, but after sailing through the Gulf Stream on Saturday, maintained double-digit speeds the rest of the way and left the next-placed boats several hours behind. The winds weren't strong during the race, but the seas were relatively smooth.
If you look at the 2018 Newport Bermuda Race tracker , you'll see that Wizard, Warrior, and Proteus finished between 11 p.m. last night at 1:30 a.m. this morning. Find the latest news on the N2B website here. http://bermudarace.com/rambler-88-takes-line-honors-in-newport-bermuda-race/
SSA Hosts Snipe Invitational/ US Junior Snipe Nationals
Find the 2018 Snipe Invitational scores here.
Find updates on the SSA Facebook page here
IF YOU'D LIKE TO SEE YOUR REGATTA NEWS IN OUR WEEKLY RACING ROUNDUP, SEND SCORES, PHOTOS, AND STORIES TO [email protected] BY 9 A.M. ON ANY GIVEN MONDAY. WE'RE HAPPY TO INCLUDE IT.