Sometimes, we go to regattas. You go there; you sail, striving for the best possible finish; you return home.
Other times, we go on vacations. You enjoy relaxing and laughing with friends and family, and oftentimes you explore new locations.
On very special occasions, we sail in regattas that are also vacations. As it turns out, that's often the case with the Laser Masters' World Championships for sailors 35 and older, like this year's edition, held in late September in Split, Croatia. It clearly fit both definitions: a regatta where sailors wanted to sail their best and also a vacation in a beautiful city where competitors shared memories and laughed at old stories with sailing friends from around the world.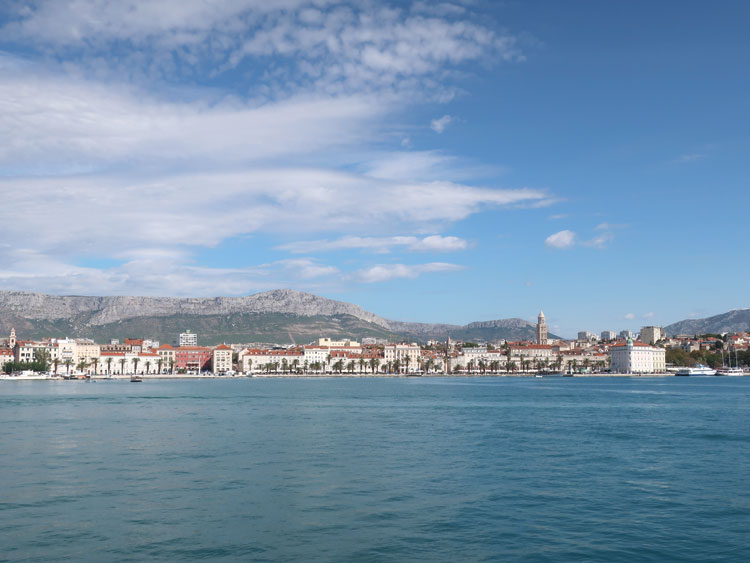 Split is a gorgeous, history-laden city on the Dalmatian coast, across the Adriatic from Italy, a few hours north of the tourist magnet Dubrovnik. It has an easy-in, easy-out airport just a bit outside of the city and is just a few hours' drive from other, larger airports in Croatia and neighboring countries, if you'd like to pack in a little more touring while you're in the area.
Split boasts an impressive tourist economy. Rumor has it there are more than 200 restaurants in Split, and I'd believe it, ranging from tiny places with just four or five tables to larger restaurants right on the waterfront. Food was fantastic, largely drawing on seafood from the Adriatic and Italian influences from throughout history. (Get seafood and pasta on the same plate for me, and I am a very happy person!) And housing was easy, from deluxe hotels to inexpensive apartment rentals, virtually all walking distance from the sailing venue.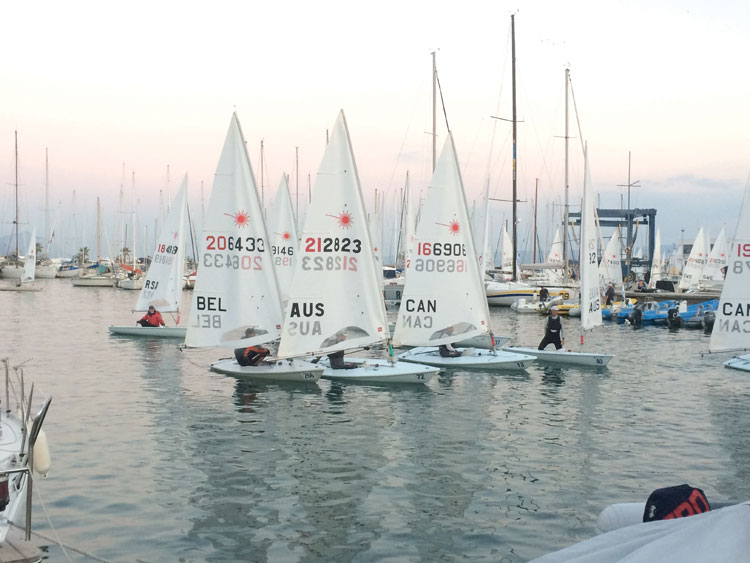 Overall, there were 349 sailors from 35 countries, roughly evenly divided between those sailing the full-rig Laser, and those sailing the Laser Radial (same hull, but shorter mast and therefore smaller sail). With that number of boats, sailing everyone on the same race circle just wasn't an option. So the Radials sailed a shorter sail outside Split harbor, while the Lasers had a lengthy sail to and from their race course.
The fleet was also about half and half between sailors who brought their own boat to the event, mostly Europeans within driving distance, and those who chartered boats from the German Laser dealer, Ziegelmayer. They did an outstanding job of handling charter needs for 175 nearly new Lasers. All the charter boats stayed in one part of the lot and used two of the five launch ramps. While the limited ramp space made launching and retrieving a challenge, at least for the charter boats, arriving back to shore at the end of the day didn't involve a search for one's own dolly—you just used the nearest one, as they were all exactly the same.
I was lucky enough to qualify to be part of the U.S. contingent at the event. Team USA, early 40 strong at this regatta, was an international crowd. The team included sailors who originally came from at least 10 countries on four continents. Interestingly, to be a "World Championship" per World Sailing, a regatta must have more than 30 boats from at least five countries from at least two continents. So Team USA in a way could be a "Worlds" all on its own. That's a pretty neat statement on Laser sailing in the United States, I'd say!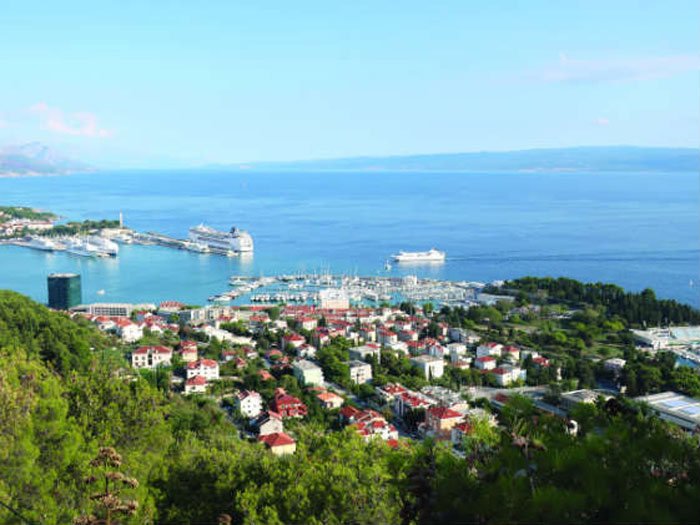 With so many of the right ingredients—terrific sailors, wonderful city, easy accommodations and charter boats, outstanding race committee—you'd think the regatta would have hit it out of the park. Close! Split often sees offshore ("Bura") winds overnight and in the morning, which then die and fill in as a delightful sea breeze. Unfortunately for us, the Bura and the sea breeze did battle several days during the regatta. Two days, AP over A flew even before we left the dock. All that meant for me was more sightseeing! Although you can't control the weather, you can control what you do with your time, so climbing Marjan Hill to get a great view of the city one afternoon and driving to Mostar, Bosnia, and Herzegovina (only two and a half hours) another day were great adventures.
The sea breeze did fill in most days, and most fleets (divided into 10-year age groups) got in seven races. Great competition; sailing in air and water temperatures in the low 70s, with a lovely city blending into impressive mountains as a backdrop; and sharing drinks, great food, and camaraderie with friends old and new from around the world? Can't ask for much more. Sign me up for the next regatta in Split!
by Kim Couranz