Man Overboard! (What To Wear?!)
It's cold. It's dark. And you've fallen overboard. What should you be wearing? What can keep your head above water, help you keep your wits, and aid rescuers? From lifejackets to personal safety gear accessories, there are several recommended items you should be wearing, including personal flotation devices (PFDs) and personal locator beacons (PLBs), to strobe lights and reflective tape.
We outline the myriad of options available, with a focus on coastal and offshore boating. And we've enlisted the help of retired United States Coast Guard captain and U.S. Sailing Safety at Sea instructor, Kip Louttit, to help us select the best overboard dress code.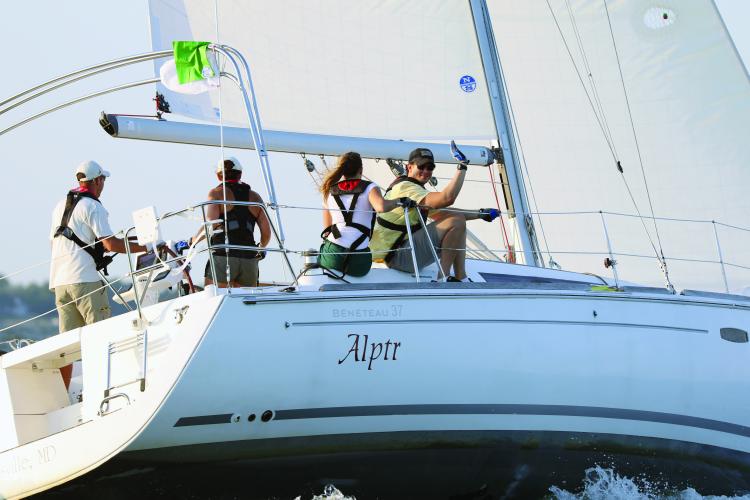 Naturally, at the top of the list is choosing and wearing a PFD. There are several types of PFDs on the market ranging from offshore lifejackets for extended survival in rough, open water, to flotation aid vests that work well for flat water boating, day sailing, and kayaking (see sidebar for Coast Guard rated PFDs).
"A PFD helps you surface quickly so that you don't inhale water due to a gasp reflex in cold water," Louttit said. Many of the offshore and coastal varieties are designed to turn your face up in the water.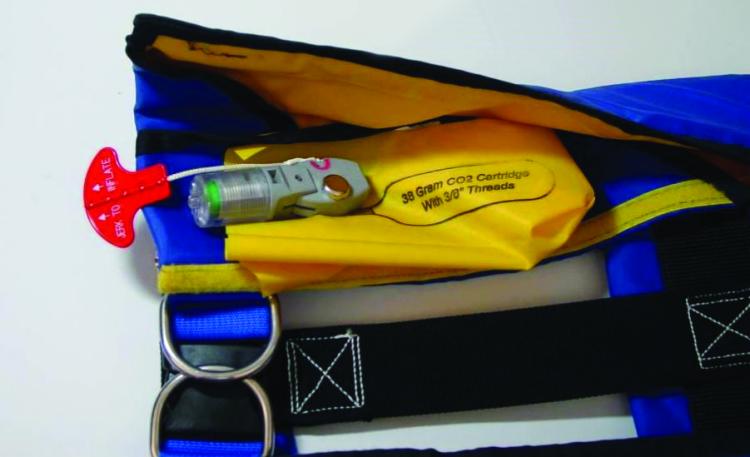 It's a matter of buoyancy
Louttit focused his discussion on inflatable PFDs, as they tend to be the lifejacket of choice for the cruising and racing set. They are much less restrictive, offer excellent in-water performance, and are compatible with harnesses, he said. The difference between the offshore and coastal varieties is the amount of buoyancy, or the ability to keep your head out of the water. He suggests buying an offshore jacket with as much buoyancy as possible. For inflatables, that is 34 pounds.
"More buoyancy is better," Louttit said, noting that severe line squalls that blow through the Chesapeake can bring high winds and rough water.
The leg straps are integral to the PFD's performance in that they keep it down near the torso once it inflates.
"Otherwise it's like having a doughnut around your head," he said. "Ten years ago, leg straps were all retrofitted to PFDs, but now they are integrated. They have come a long way," he added.
Most boaters prefer a PFD with an integral harness as that makes it easier to wear than having a separate PFD and harness that don›t always work well together. And the higher-end offshore PFDs will include a small zippered pocket, safety whistle, strobe light attachment point, and reflective tape. Mustang and other brands tout the comfort factor of these modern PFDs—designed to be lightweight and comfortable for maximum mobility and soft neoprene that won't chafe your neck.
When you wear your PFD is a matter of choice, but the experts suggest wearing one if the weather is rough, the temperature is cold, you are not a confident swimmer, or you are sailing alone on deckor at night.
Automatic v. manual
There's also the matter of how these inflatables inflate, either manually (not a good option for someone who has been knocked unconscious), or automatic with a water-soluble bobbin or hydrostatic pressure. The latter will automatically inflate when submerged in a certain water depth, while the PFD with the bobbin inflates when it comes in contact with water. These have been known to inflate with a good wave or splash.
Louttit suggests using the hydrostatic technology because PFDs are very unlikely to accidentally inflate; it will also save you from needlessly re-arming the cylinders located in the PDF bladder. While a manual-inflate version requires less maintenance and will never accidentally inflate, Louttit suggests auto-inflate ones because once overboard, a person could be disoriented and forget to pull the trigger to inflate it.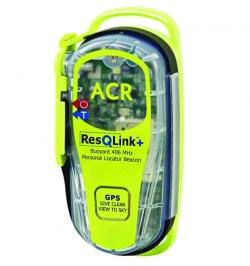 Other personal safety gear
Other necessary accessories to include on your body, either in a fanny pack, pouch, or attached to the PFD, are a strobe, knife, flashlight, light sticks, and a whistle, which is much easier for rescuers to hear than a human voice. He also stresses the use of reflective tape that can be placed on your jacket or horseshoe buoy.
"That stuff is magic and works amazingly well. There's no maintenance, and it lasts a long time. From my experience in the Coast Guard, I have seen it help out in man overboard situations."
Louttit said he's carried a personal locator beacon or PLB since they came on the market, but wanted to stress the difference between them and an AIS locator beacon. The latter allows both the mothership and nearby vessels to identify your exact location using an AIS set or chartplotter, while the PLB sends your location to the Coast Guard. Your crew can then retrieve your lat and long from the Coast Guard. Louttit said the AIS beacon is much simpler given that it can be rigged to the PFD inflation tube and hence automatically activated when the lifejacket inflates.
Give it a try
A test run will give you an understanding of what it's like to be in the gear and be able to function. Louttit strongly suggests jumping into the water dressed with all your personal safety gear.
"This is critical," Louttit said. "You need to know how you float in your PFD, what it's like to screw the flashlight on, how to get into a life raft or back into the boat. Can you get your whistle out? Can you hit the button on your strobe with your cold hands?"
Louttit's parting advice is to keep warm with layers of polypropylene, fleece, and wool, warm wool hats, and more to stave off hypothermia.
"Being warm could help keep your wits and prevent an overboard situation."
~by Carrie Gentile