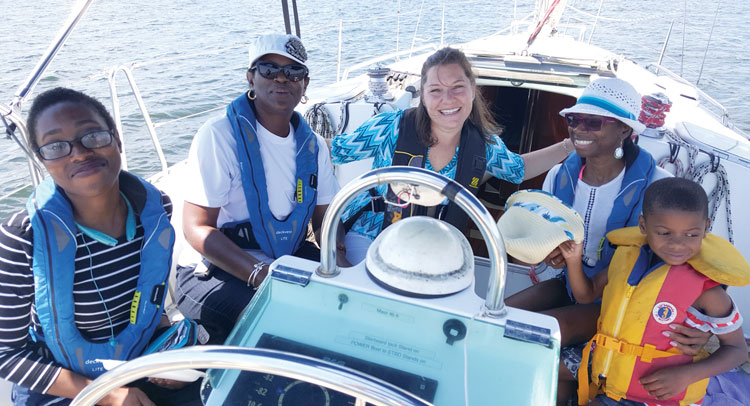 Although most sailing schools cater to those who want to start at Learn To Sail 101, most also offer a wide range of courses for more experienced sailors. Some students are returning to sailing after a long absence or learning a different aspect of sailing, such as cruising instead of racing (or vice versa). Some have bought a new boat and need some professional guidance learning how to dock her. Name your sailing challenge, and there's a sailing course or custom program on the Chesapeake Bay for it.
LET'S START AT THE BEGINNING
If you're brand new to sailing, you want to start at the beginning—and even those with some experience may want to do so. Learn-to-sail programs are usually group programs with some classroom instruction mixed in with on-the-water instruction. The boats can range from 12 feet long up to 40 feet long, depending on the school.
It's a great time to learn to sail, because so many sailing-related businesses offer it from April through Halloween (or beyond down south). Of course, sailing schools teach sailing, but so do charter companies and sometimes even yacht brokerages and dealerships (those who sell the boats instructing you how to sail them, too).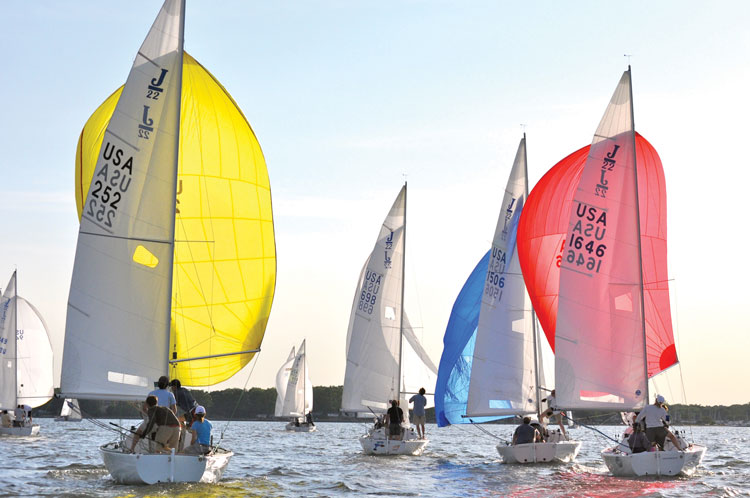 When looking for the right school for your situation, ask yourself a few important questions: are the school's teaching boats the kind of boat you'd like to sail on or a good learning platform for it? For example, if you'd like to sail a 50-foot boat, should you start on a 16-footer or something more substantial? (Many professionals believe that it's easier to start small and work your way up than the other way around.)
You also want to know who the instructors are. Do you want to learn from an old salt with ocean sailing experience, or would a college-aged sailor who's grown up sailing be okay? Are the instructors experienced and certified and/or licensed?
Any sailing school you consider should welcome you to come visit, see the facilities and boats, and meet a few instructors. If the place feels right to you, sign up. If the docks are rickety, the instructors seem rude, and the boats look shabby, continue to research options, as there are many.
A WORD ABOUT CERTIFICATIONS
Twenty years ago, no one talked as much about certifications in the sailing world, but they sure do now. The majority of quality sailing schools offer U.S. Sailing or American Sailing Association (ASA) certifications. Both organizations offer very good, structured learning systems to ensure that all who earn their certifications learn the same material and safety measures for effective, safe sailing.
Certifications are not mandatory. You need a license to drive, but you do not need a U.S. Sailing or ASA certification to sail. It's great to have some sort of certification anytime you want to rent or charter a boat, however, as it lets the boat rental place know that you have a known level of education and on-the-water skill under your belt.
Some boat or yacht club programs do not offer certifications, as they run small programs, usually to teach people to sail their own boats and become members. If such a program feels right to you, don't shy away from it. The friendships that can be forged in clubs can be every bit as valuable as a certificate on the wall.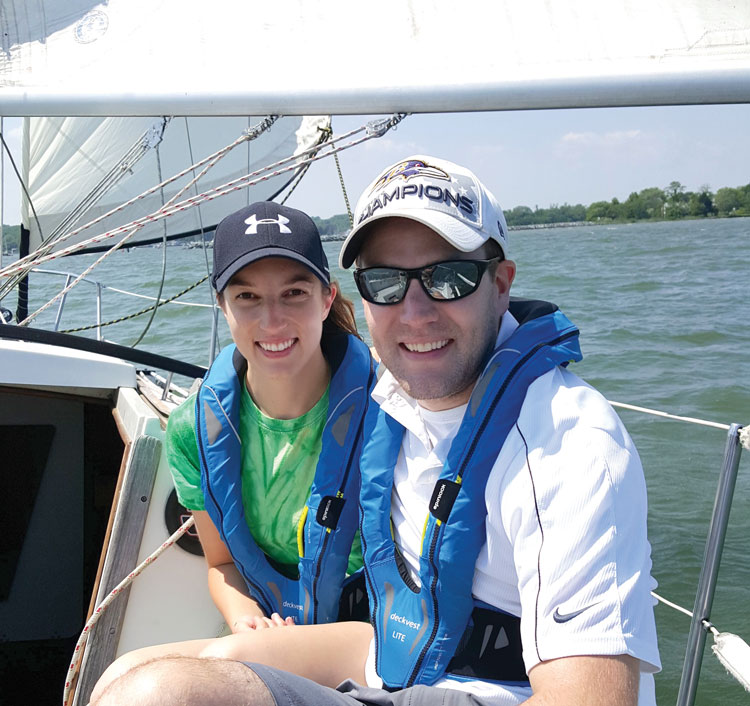 AFTER YOUR SAILING COURSE, WHAT'S NEXT?
If there's one thing sailing schools have gotten better at in the past two decades, it's offering students some options to actually practice sailing during the season after their class is over. Many schools have some sort of a "club" option or rental program. It's important to find out if a prospective school offers something like that, because sailing is an experiential sport—you must practice what you've learned, or the lessons won't "stick."
You might also consider a sailing club where you might find boats to borrow or rent. Turn to page 72 for SpinSheet's Club Notes, which we run monthly. We often feature opportunities to meet club sailors with boat-sharing opportunities.
Fractional sailing, which is a term for a sort of time-share arrangement, is popular as well. SailTime Annapolis is a good place to start for shared boat ownership.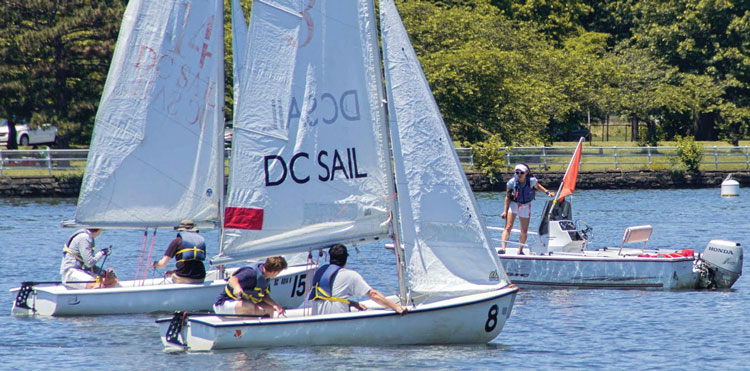 CAN I BRING MY KIDS?
Although sailing is a family sport, learning to sail tends to be separated into adult and youth programs. Few group programs welcome children under 15 or so into the mix. (For ages five to 15, there are great kids' programs on the Chesapeake, as we highlighted in our February issue).
Annapolis Sailing School is one place where you can take sailing lessons for adults, while your children attend KidShip on the same premises. Any school offering private instruction can customize a program for your family if you wish.
IF YOU'RE ALREADY EXPERIENCED
If you're well past the "beginner" phase but still seek to learn more, there is a wide array of courses for you: navigation and piloting, advanced racing, boat handling, docking, advanced certifications (bareboat chartering or offshore passagemaking), advanced sail trim, learning diesel engines or electrical systems, and much more.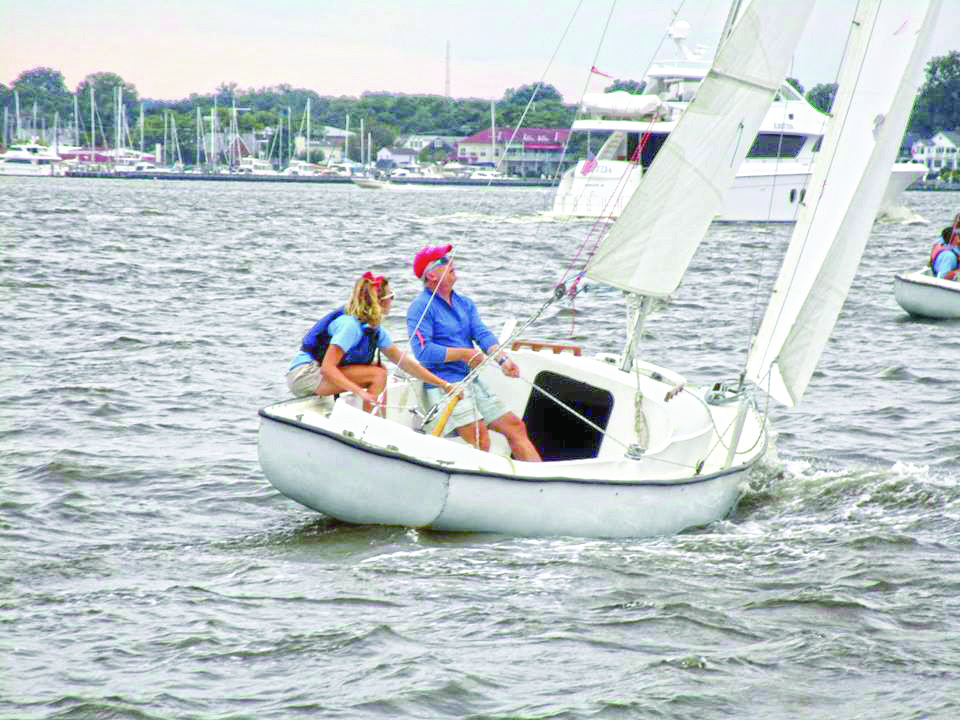 Some daysailors decide they want to do overnights on their boat or take a long journey, so they embark on a series of cruising courses. Maybe you'd like to try racing, so you take a course on the basics.
Many sailors who buy their first boats or upgrade to larger boats hire a captain to instruct them on docking or boat handling to help them feel more comfortable onboard. Some sailors find that they don't like their spouse being more skilled than they are, so they take some private instruction to get up to speed. All of these options are available through Chesapeake area sailing schools (many on the pages of our magazine).
PLAN A LEARNING VACATION
We specialize in Chesapeake sailing at SpinSheet, but maybe you'd like to take a learning vacation somewhere else? We recommend that, too. Through a program such as Offshore Sailing School or Blue Water Sailing School, you may take lessons in tropical locales from Florida to the British Virgin Islands. Both offer certification programs that will be valid anywhere in the country, including right here on the Bay where you can practice upon your return home.
As mentioned before, many charter companies offer sailing lessons as part of the package. You'll find that information on their websites.
Call the schools to find the right learning option for you.