Sailing Smarts in Cold Water, a Quiz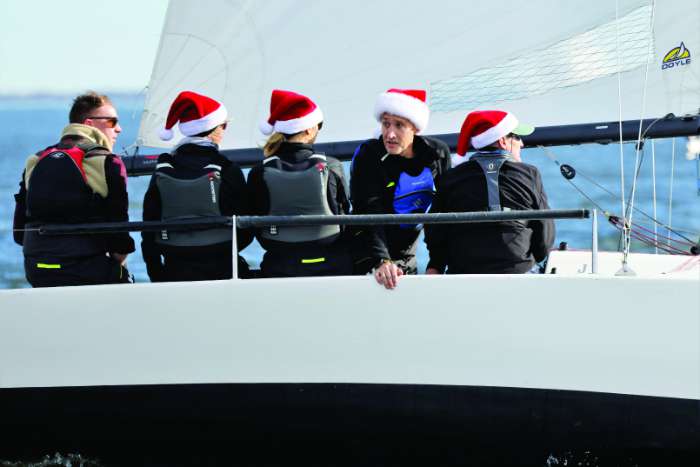 Okay, smart mariners, let's test your cold-water boating safety knowledge. Answers to follow with some explanations for new sailors (or paddlers or powerboaters) or those requiring a brush-up:
1. In November on the Chesapeake Bay, the average water temperature is:
A) 48 degrees
B) 60 degrees
C) 58 degrees
2. If the water temperature measures 59 degrees, but it's a mild, sunny 60-degree day, is it smart to go boating without wearing a lifejacket?
A) Yep
B) Nope
C) Only if you're a really good swimmer
3. What's the most appropriate personal floatation device (PFD) to wear in the fall and winter?
A) Vest style
B) Inflatable style
C) It depends on the boat
4. Which of the following is not a sign of hypothermia?
A) Shivering
B) Talking non-stop
C) Confusion
5. If you go overboard in cold water, how will a lifejacket help you anyway?
A) It will extend your survival time in the water.
B) It will buoy you if you've been hit in the head by the boom and knocked unconscious.
C) All of the above.
Answers: B, B, C, B, C. The average temperature on the Chesapeake Bay in November is 60.3 degrees. That's not freezing, but it is in the danger zone when it comes to hypothermia. If you're a kayaker or paddleboarder, consider wearing a wetsuit as well as a vest-style lifejacket. Once it gets chillier, do as the competitive dinghy sailors do: wear a drysuit and a vest-style PFD. Big boat sailors should all be wearing inflatable or vest-style lifejackets when on the water in this season.
When it comes to the air temperature, the guideline is 120 degrees combined water and air temperature. Even if it's sunny and feels warm outside, you must consider that combo temperature. The average mid-November air temperature hovers near 50 degrees; when added with 60-degree water temperatures, that only equals 110 degrees, which is in the danger zone. Hypothermia does not care if you are a good swimmer. If you need some proof of how cold water affects your motor skills, click to this video by the National Water Safety Congress and read more.
The most appropriate cold-water lifejacket to wear does indeed depend upon the vessel. Paddleboarders, kayakers, and dinghy sailors should wear vest-style PFDs, while big boat sailors and powerboaters may wear vest- or inflatable-style PFDs. All should be Coast Guard approved. Save your belt-style, manually inflatable PFD for warm-water summer paddling only.
The top signs of hypothermia are shivering, confusion, sleepiness, muscle stiffness, and having difficulty speaking. (Your chatty crew member is probably okay.) If someone experiences hypothermia symptoms, get them sheltered, out of wet clothes, and wrapped in blankets, and seek medical attention.
None of us expects to go overboard, but accidents happen. Think of a time a fellow sailor fell overboard and how surprised they were to be there. If you've never slipped overboard, you're lucky; but it could still happen. Why not be prepared? Before you go out on the water this season, make your way to a chandlery and find a PFD that fits well and looks "cool." Cool, yet warm and safe, is the way to be on the water. Safe sailing!
~M.W.