Do you know how to dispose of expired flares properly? Many sailors don't…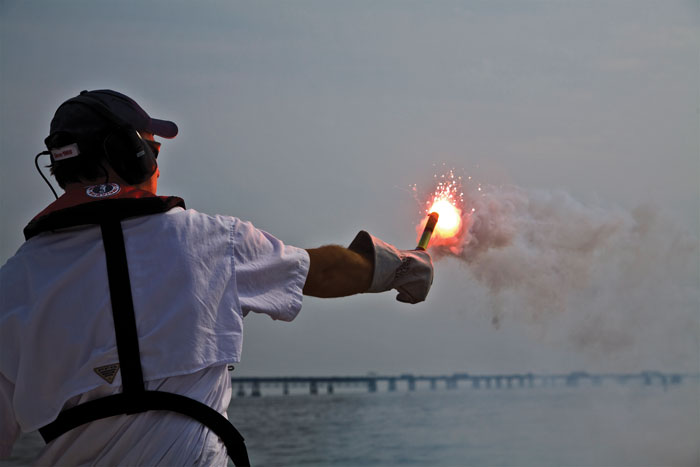 Pyrotechnic Visual Distress signals (aka flares) are a physical way to alert search and rescue teams to vessels in distress. Carrying a physical way to signal distress is required by the Coast Guard for vessels operating in U.S. Coastal Waters, the Great Lakes, Territorial Waters, and any body of water where the waterway is greater than two nautical miles wide. USCG-approved flares include both aerial and handheld pyrotechnic red flares, and handheld and floating pyrotechnic orange smoke and flare launchers.
Flares are classified by the Department of Transportation as Class 1.4 explosives, resulting in strict regulations regarding their transportation. The Bureau of Alcohol and Firearms requires that flares that are awaiting transport for proper disposal be stored in a Type 4 magazine, as they are classified as a pyrotechnic substance and present a "minor explosion hazard." Flares have a three-year shelf life, and seven million flares expire each year!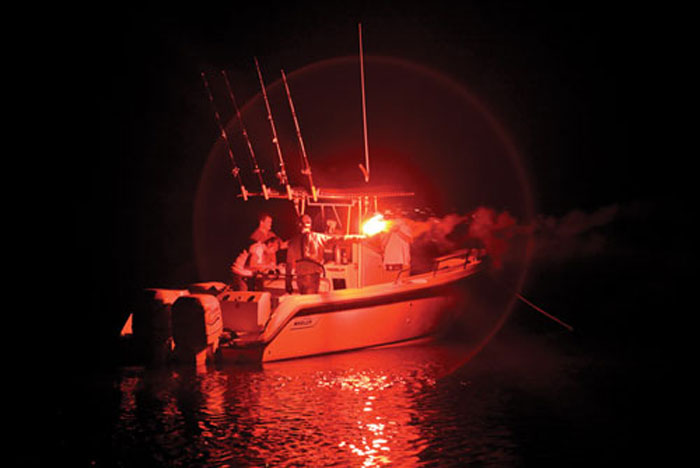 Proper and improper flare disposal
Improper disposal of flares could pollute landfills, drinking water, and the oceans due to the presence of potassium perchlorate which is used as a propellant. Perchlorates are "likely human carcinogens" that effect thyroid function. Flares can contaminate water by leaching through the soil or by direct exposure to decomposing devices.
Options for disposal have included: 1) donate to a local law enforcement agency for training; 2) legally ignite them; and 3) dispose at a commercial hazardous waste disposal facility (of which there are two in the country, conveniently located in Utah and Louisiana).
Recognizing that these options are not necessarily safe or available, the Coast Guard sponsored a study in 2014 for recommendations for a viable disposal program. A four-phase process was proposed based on a model Canadian program to offer a safe, environmentally sound disposal method for expired flares: 1) Motivate boaters (via persuasion) to bring expired flares to local collection sites; 2) store flares safely at these sites; 3) transport them legally and economically to EPA-approved incinerators; 4) and finally, disposal via a more centralized incineration. The cost of incineration is $3 per flare.
The Coast Guard and flare manufacturers are promoting a "Retire them don't fire them" approach. Unfortunately, igniting expired flares has led to false distress calls: a class D felony and the equivalent of a hoax call. Time and resources are wasted responding to shooting off aerial flares.
My first thought after reading the document was "What do we do with our expired flares?" and "How did I not fully comprehend the hazardous material nature of this product—which expires every three years?" Did our family join the 92 percent of the population who dispose of flares improperly? I also wondered why we were required to buy a product that only lasted three years and is so difficult to dispose of properly? Are there any alternatives?
Upon inquiry I found out that we joined a good portion of the boating population by leaving our old flare pack on the boat and putting a new flare pack on top of it. (Old flares should be separately kept and clearly marked expired.) We are frequently boarded by the Coast Guard for safety checks and are vigilant about keeping our flares up to date. In other words, we were not dealing with the issue because proper disposal options are limited or hard to access. Marina managers frequently report finding flare packs in their dumpsters.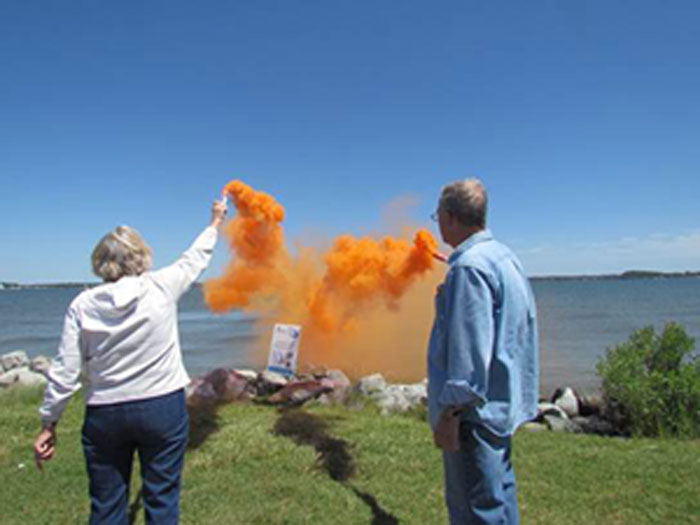 Alternatives and the future
There is good news on the flare alternative front. In 2015 Weems and Plath and Sirius Signal launched a new product; the SOS Distress Light, which coupled with a day flag meets the USCG requirements for day and night use on a recreational vessel. The SOS light uses nontoxic LED technology that continually flashes for up to 60 hours (hopefully a rescue doesn't take that long). It complies with 46CFR161.03, and it never expires. It is waterproof, submersible, and has no disposal issues. It is easy to test and visible up to 10 nautical miles. In the 1970s the Coast Guard stated that a light that flashed SOS would comply with regulations, but it has taken 30 years for the technology to develop.
While not as bright as pyrotechnic flares and initially a more expensive investment, the SOS Distress Light has been immensely popular with boaters who are grateful for a more environmentally friendly and safe alternative to flares (weems-plath.com). Competitor products are in the design phase, so more LED light technologies may soon enter the market.
As most emergencies are now reported electronically via GPS, VHF, and cell phones, flare use has significantly declined. Given the immensity of the flare disposal problem from cost, transport, and incineration to pollution, it is exciting that new compliant products are entering the market. Boaters should look for local fire stations, green marinas, and hazardous waste management offices for safe flare disposal!
By Pamela Tenner Kellett
Research for this article included the 85-page "Disposal of Pyrotechnic Visual Distress Signals" by students of the Worcester Polytechnic Institute and the U.S. Coast Guard.
Expired Flare Disposal Locations
Here's a short list. If you know of more, please send them to us at SpinSheet. We will post a list here.
Anne Arundel County Hazardous Waste Drop-Off Days.
Annapolis Fire Departments.
Cambridge Sail and Power Squadron: Check the CSPS Facebook page to learn when they collect flares for their annual demonstration after Memorial Day.
Check with your local Sail and Power Squadron.