How Firefighters Respond to On-Water Emergencies and Other Information for Sailors
On an unusually warm February day, I met Battalion Chief John Muhitch of the Annapolis Fire Department at a local coffee shop to learn about the department's fireboats and ask what firefighters with the department's marine operations unit would like sailors and boaters to know. Muhitch has been with the Annapolis Fire Department 24 years and a firefighter and paramedic for 30 years. For this safety series, we appreciate him sharing his perspective based on his years of experience.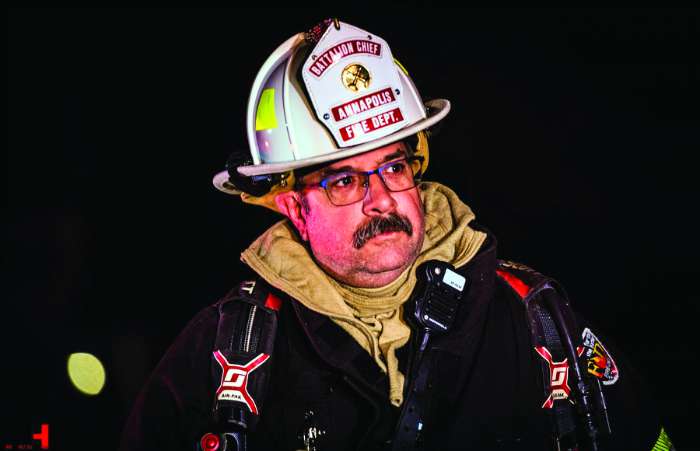 What kind of boats does the Annapolis Fire Department have?
We have two boats. The larger one, fire boat 36, pumps water and sprays foam for fire suppression. The smaller vessel, rescue boat 37, is primarily for search and rescue.
Fire boat 36 is a 2006, 36-foot jet drive vessel that is docked in downtown Annapolis and cross-staffed by the Eastport station. It has twin Cummins diesel engines with 490 HP, pumps 1750 gallons per minute, and has 35 gallons of foam onboard. It has side sonar, GPS, and a davit, and it's equipped with wireless communications to help us communicate with one another, since it can be noisy onboard. It also has a dive/swim platform, an AED, first aid kit, and FLIR maritime thermal imaging systems to see at night.
Rescue boat 37, which is primarily used for search and rescue, is a 2018, 17-foot RIB. It is more flexible than the 36-footer and is used for navigating tributaries and going under lower bridges. It has 70 HP, a four-stroke motor, a depth finder, and FLIR maritime thermal imaging. It is cross-staffed by the Taylor Avenue station, where it is kept on its trailer.
What should a sailor communicate when making a distress call?
How many souls are onboard?
How many lifejackets do you have and has everyone put them on?
Your location with as much specificity and accuracy as possible.
What happens when a call comes in for a boater in distress?
Whether you call with your cell phone or VHF radio, or both, rescue personnel from various agencies will coordinate seamlessly to find you. Responders might include career or volunteer fire departments, the Coast Guard, and/or the state natural resources police. A cell phone's ping can identify your position for fire rescue boats; the Coast Guard could use triangulation from your VHF call. The various agencies that send responders will communicate with each other and will take into account wind and current to determine whether and where you may be drifting. Whoever reaches you first will let the others know what kind of help is needed. Often when distress calls come in, a boater is experiencing bad weather and/or is in the dark with limited visibility. We are trained for that.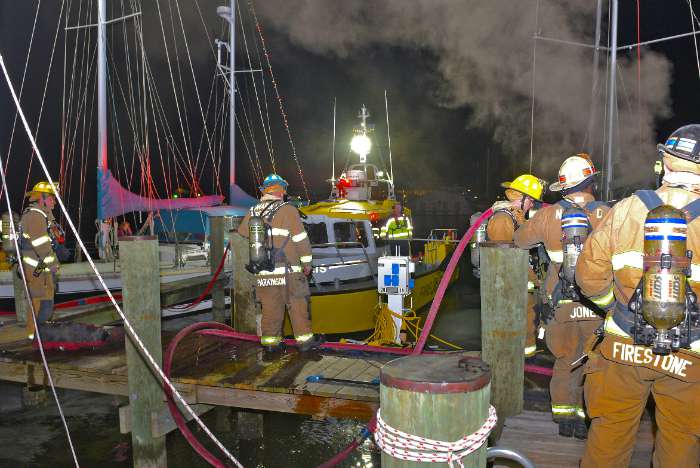 Do you have special training for distress calls from the water?
Training is a big part of what we do. Graduating from the Fire Academy is just the beginning. We continuously train and upgrade our skills; it's a really important part of the job and takes significant time. There are special schools for all kinds of rescue situations, such as training for ice or swift water rescues. Just as extra training is needed to drive a fire engine, we go through special training to be boat crew and further training to be a boat operator.
Thoughts on safety equipment and education?
Although the fire department doesn't do code or regulation enforcement on the water, we are responsible for fire code enforcement in the City of Annapolis. I can say from experience that safety isn't a place to cut corners. Purchase the best quality equipment that you can. Then, proper maintenance and upkeep are the keys to preventing a lot of problems.
Beyond carrying the minimum required equipment, consider additional items. As sailors and boaters know, help is not as readily available on the water as it is on land. Have a good tool kit onboard with spare parts for your model vessel, and in addition to a first aid kit, consider keeping an AED (automated external defibrillator) onboard too.
When it comes to fire extinguishers, again, consider going beyond the minimum. Step up to the next larger size and/or carry more extinguishers than required. Keep them in easy-to-reach places. Make sure everyone onboard knows where they are located. Be sure they are in good working order. Even if the gauge reads in the "green" zone, if it's past its expiration date, it needs to be replaced. They do go bad.
In the same vein of doing more than the minimum because help might not be immediately available, I suggest safety education beyond the required boater safety course. It would be ideal for sailors and boaters to take First Aid and CPR classes and to continually upgrade their skills and knowledge.
Be especially careful with heaters, and if you're sleeping on a boat, think about carbon monoxide. You can buy detectors for smoke, fumes, and carbon monoxide. If you raft with other boats, fire or fumes can spread to your vessel. If a fire does start, isolate it, and shut off fuel and power leading to it. Use a fire extinguisher and call for help right away.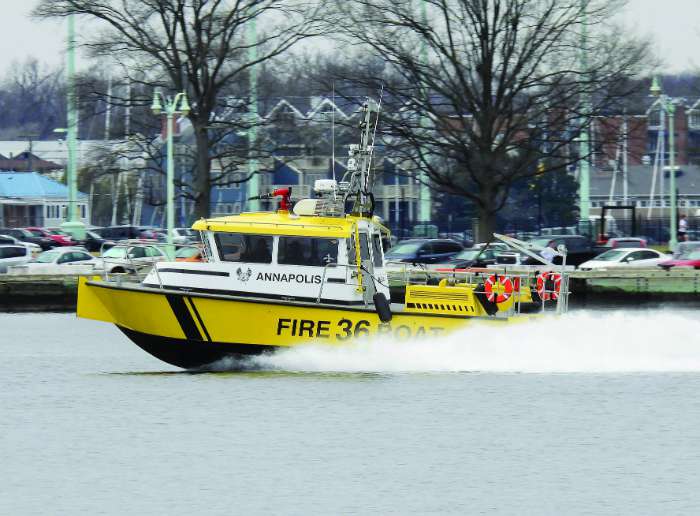 The best part of the job
Firefighters help people on some of their worst days, and we aim for unfortunate events to have a positive outcome. Beyond that, "details" are some of the best parts of the job: on-water experiences that aren't rescue calls. The Annapolis fire department's marine operations unit gets out on the water for some of the most quintessential Annapolis events: July 4 fireworks over the harbor, the Eastport Yacht Club Lights Parade in December, and the Blue Angels demonstration for the US Naval Academy Commissioning Week.
These events take a lot of preparation, behind the scenes work, and paperwork, but you get to see things and have access to events that other people don't necessarily experience. It's really something to look around and realize you're out there for work."
~By Beth Crabtree
Boating Fire Safety Resources:
For articles on boating fire safety: BoatUS and BoatUS Foundation: boatus.org and boatus.com
For federal guidance: US Fire Administration: usfa.fema.gov
For Coast Guard regulations for recreational vessels: US Coast Guard: uscgboating.org
Required safety equipment, Virginia: dwr.virginia.gov/boating
Required safety equipment, Maryland: dnr.maryland.gov/nrp/pages/boatingsafety/home.aspx