What do YOU need in your medical kit?
Marine medical kits probably fall into the category of "hope we never have to use it," but perhaps safety-minded sailors dig out the first-aid kit from time to time, check its contents, and wonder why it's full of never-used items, or missing medications we could use.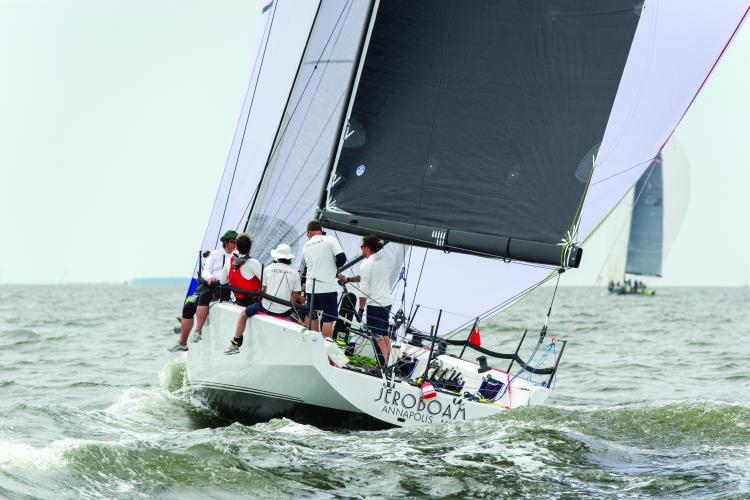 "That's the problem with pre-packaged kits," said Shelly Galligan. "The quality is off; the quantity is off. You are much better off building your own kits, and it's much more affordable." (Find information on detailed lists at bottom of this page).
Galligan is a U.S. Coast Guard 100 ton captain and a registered nurse with 25 years of emergency room experience. Now she gives offshore first aid instruction and seminars, provides medical safety audits, teaches CPR, and more.
She said the contents needed for a complete medical kit can be purchased at most pharmacies or Wal-Marts, or in some cases, need to be ordered online. What to include in the kits depends on what type of sailor you are, where you are sailing, and who you are sailing with, she says. The farther from shore or medical help, the more you should include, as you need to handle the situation and keep the injured person stable for longer periods of time. And if kids or someone with a chronic illness is onboard, you will need to add extra items.
These kits should provide sufficient equipment and medicine so that those who use them can stabilize the situation until professional help arrives. For longer trips, coastal and offshore, someone onboard must be able to use all the medical equipment and be able to attend to a seriously injured person until help arrives, have sufficient medical knowledge, and be competent in CPR and first aid.
Galligan provides itemized lists to sailors attending her seminars (see below), and strongly suggests the following:
Organize the items by body system, so you are not scrambling in an emergency, such as wound care, stop the bleeding, muscle and bone care, eyes, ears, and nose.
Place items in each category in separate heavy-duty ziplock that are labelled.
The medical kit should be waterproof, using a Pelican case or even a soft-sided waterproof duffle bag.
Below is a list provided by Galligan for a marine medical kit for daysailing or local racing: the basic kit for everyone. The quantity of each item is a function of the number of people on the boat and length of time away from a resupply source.
The coastal and offshore sailing kits require more items to account for length of time away from shore/help and the unique needs of the people aboard. For Galligan's complete itemized lists, including usage, explanations, amounts and dosages, go to spinsheet.com/onboard-medical-kit.
Daysailing and Local Racing Medical Kit
Skin: Fabric adhesive bandages, 3M Nexcare waterproof adhesive bandages, fabric knuckle adhesive bandages, larger fabric/waterproof adhesive bandages, Steri strips, Benzoin adhesive, Tegaderm dressings, Kerlix bandage roll, Kling wrap bandage roll, Telfa dressings, gauze, Vet wrap/Coban self adherent wrap, Elastoplast tape, and catheter tip syringe.
Stop the Bleeding: Trauma pads, trauma pressure dressing, commercial tourniquet, and a package of QuikClot clotting gauze.
Muscle and bone: Triangle bandage for sling, ace wraps, finger splints, vet wrap, Kerlix roll, Kling wrap bandage roll.
Eyes, ears, nose, and teeth: Q-tips, clothes pins, natural tears lubricating eye drops, hard cavit, dental fill.
Tools: Dishwashing or non-latex gloves, trauma shears, tweezers, toothbrush, hemostat, nail clippers, thermometer, magnifying glass, headlamp, first aid manual, paper, and pen.
Misc: CRP pocket mask and zippered closure freezer bags.
Topical: Povidone iodine (Betadine), Bacitracin, Benadryl cream, aloe vera gel, and Lidocaine.
Pain Relievers/ Medicines: Acetaminophen, aspirin, ibuprofen, Benadryl, Pepcid, Pepto Bismal, Loperamide, psyllium, Miralax, Meclizine, relief bands, Motion Ease, and pyridium.
Common Offshore Injuries:
Galligan notes the following most common offshore sailing injuries: traumatic brain injuries (whacked by the boom), hypothermia, sea sickness, wound care (lacerations, avulsions, abrasions, burns), orthopedic injuries (slips, trips, falls and whacks), finger amputations, scalp lacerations, eye injuries, nose bleeds, dental issues (avulsed teeth, broken teeth, lost fillings and crowns, infections), abdominal issues (diarrhea, constipation, belly pain), lightning injuries, heat related issues, and electric shock drowning.
For an offshore kit, many more items will be needed including fancier dressings, epipens, prescription medications, items to treat dehydration and to keep airways open, and to treat infections for longer periods of time.
Pre-packaged kits
Some sailors may prefer to start with a store-bought kit and update or augment it as necessary. At chandleries such as Fawcett Boat Supplies and West Marine, onboard medical kits, like the West Marine Marine Series 1000 Medical Kit below, range in price from $45 to $750. To see if anything is missing, it may be wise to cross-check the list of medical supplies in the kit with the lists provided at Galligan's website (below).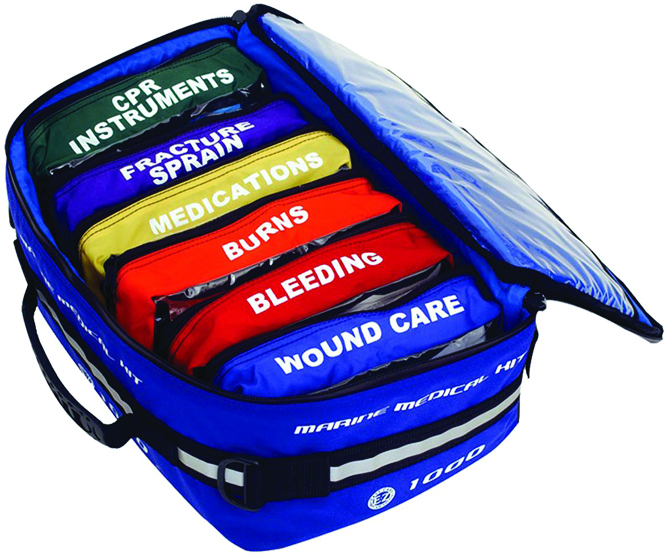 For detailed three- to five-page lists of all that is necessary in day sailing, day racing, coastal cruising, and offshore kits, click to Galligan's website and sign up for her email list at the bottom.
By Carrie Gentile
This is the final installment of our three part 2019 safety series. Find part two of this series here.