A Vibrant City at the Mouth of the Bay
The motto of the city of Hampton is "From the sea to the stars," and aptly so as this coastal Virginia location was the birthplace of America's space program. Today Hampton is a vibrant city with "an old soul and youthful enthusiasm." Whether visiting by boat or by car, we've highlighted some special points of interest that are sure to impress, whether you're a Chesapeake history buff, a sailor, or maybe even a beachcomber. For more ideas, check out the Hampton Visitor Center in person (120 Old Hampton Lane) or online at visithampton.com.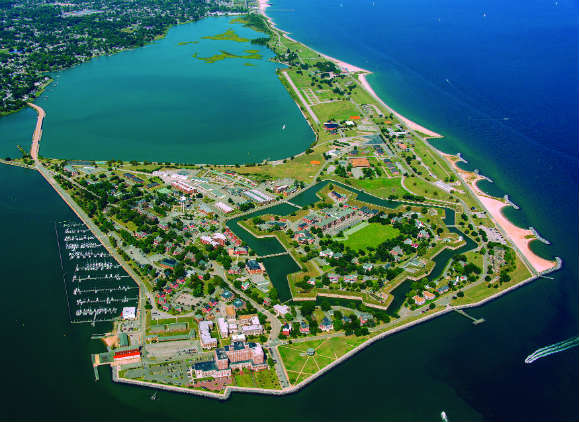 1. Beaches
There are several beaches to choose from in Hampton, and depending on which you choose, you can be as active or as laid back as you care to be. Buckroe Beach is the most well-known of the options. There is free admission and free parking, but best of all, visitors can enjoy a picturesque beach without the traffic and hassle of driving through the tunnel to the ever popular Virginia Beach. Hampton Watersports rents jet skis, kayaks, and paddleboards on the beach, and this year they are introducing scheduled jet ski tours of historic sites and local sea life. They also have a retail center which provides a wide variety of hot food to go, cold beverages, ice cream, snacks, and bags of ice.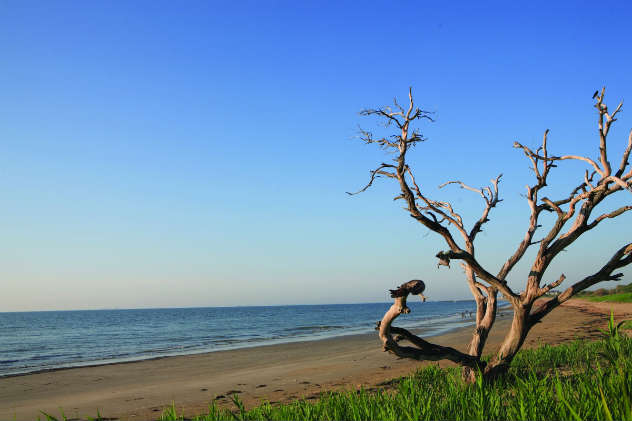 If you want to truly escape, head to the Grandview Nature Preserve which covers over 570 acres of salt marsh, tidal creeks, and Chesapeake Bay beachfront. The Preserve is a great location to beachcomb, observe the migratory birds, and discover the wonders of wetlands. Entry is free; limited parking is available along State Park Drive.
For the tiki bar vibe, plan to stop by the Paradise Ocean Club. Featuring an Olympic-sized pool with waterslides, a beach, cabana rentals, live music on the weekends, and waterfront bar/restaurant, this is the place to be in the summer months.
2. Events
This year marks the 300th anniversary of the demise of Captain Edward Teach, aka Blackbeard the pirate. So if you've never attended the Hampton Blackbeard Festival in the past, this would be the year to do so. Roughly 50,000 seafaring attendees, 300 costumed-pirate reenactors, and even Blackbeard himself will descend on Hampton June 1-3 for the 19th annual event. The festival kicks off Friday night with the Grand Pirate's Bash, and while this is a ticketed event, the rest of the weekends' festivities are free. Highlights include sea battles among visiting tall ships, a pirate encampment, street skirmishes between pirates and militia, roving music, and a dramatic fireworks display over the Hampton River Saturday night. Learn more at blackbeardfestival.com.
The same weekend of the Hampton Blackbeard Festival, June 1-3, is also Southern Bay Race Week (SBRW) presented by Hampton Yacht Club, Cruising Club of Virginia, and Old Point Comfort Yacht Club. This year's edition was great as always. Next up are a number of great races, including the SpinSheet sponsored Leo Wardrup Memorial Cape Charles Cup August 11. Find HYC racing schedules here.
3. History
The city of Hampton was founded in 1610, making it the oldest continuously occupied English settlement in the United States. The Civil War is a significant chapter in Hampton's 400-year-old history with historic military forts, the famous "Battle of the Ironclads," and significant African American heritage sites, most notably Fort Monroe, nicknamed "Freedom's Fortress." Hampton is also the original home of NASA. A good way to try and take in as much history as possible is the Sea to Stars Ticket, which is good for one-time admission to the Virginia Air & Space Center, Riverside Digital 3D IMAX Theater, Miss Hampton II Harbor Cruise, Hampton History Museum, and the Hampton Carousel. Adult tickets are $39 and tickets for youth ages 4-11 are $25; sold at the Hampton Visitor Center.
4. Fort Monroe
Completed in 1834 and named in honor of President James Monroe, Fort Monroe is recognized as the largest stone fort ever built in the United States. Nicknamed "Freedom's Fortress," this Union-held fortification provided a safe haven for hundreds of runaway slaves during the Civil War, and became a National Monument on November 1, 2011, after more than 150 years as an active army post. Today Fort Monroe is open to the public, allowing visitors to explore the property and Casemate Museum free of charge. Guided tours are available for groups of 10 or more by reservation at $3 per person. fortmonroe.org
After taking in some history, stop off at the Oozlefinch Craft Brewery located on historic Fort Monroe. Enjoy a pint in the taproom, on the patio, or bring a blanket and stretch out on the lawn for a game of corn hole with waterfront views. And just what is an Oozlefinch you ask? According to the brewery, the story goes like this: "One night in 1905, Captain H.M. Merriam (while quite possibly under the influence of our favorite beverage) swore he saw a strange, large-eyed bird outside the Fort Monroe Officers' Club. His outlandish tale quickly spread throughout the community, and the bizarre creature later became the mascot of the club. Merriam's fellow officers dubbed the bird the "Oozlefinch" and placed a figurine of its likeness on a shelf behind the bar. The Oozlefinch rose to mythic status on Fort Monroe, and regular sightings reportedly occurred." Today the brewery bears its name. oozlefinchbeers.com
5. Phoebus
The waterfront community of Phoebus, just a stone's throw from downtown Hampton, offers a step back into time with brick sidewalks, lantern street lights, and friendly merchants. Take a stroll around Mallory and Mellen Streets, and you'll encounter antique dealers, artisans and crafts workers, music and bookstores, jewelers, florists, and even a nautical canvasmaker. In 2006, the National Park Service added the Phoebus Historic District to its National Register of Historic Places. phoebus.info