Posted September 23, 2021
Sailors Tend To Come Back to Solomons
Solomons Island is not a hidden gem, or a secret destination; it's more like an old friend that you know is there and can always go visit. Reliable, comfortable, and totally worth sticking with season after season. Sailing to Solomons Island is part of the rhythm of cruising the Chesapeake.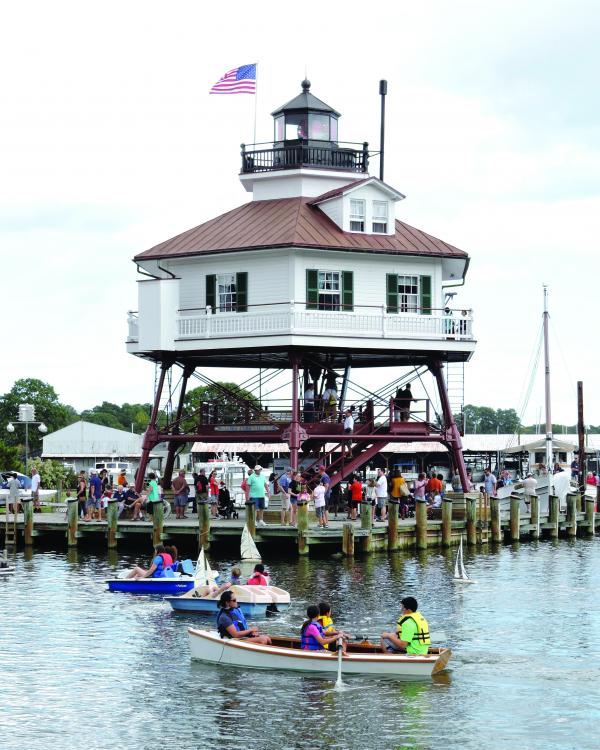 Solomons may be confusing for sailors who have never been there because it's just barely an island. The hook shaped peninsula is nestled where the Patuxent River meets the Chesapeake Bay, and it's only separated from the mainland by a 23-foot causeway. The town of Solomons together with the island has a population of just over 2000 people.
Unlike some of the other inviting coastal towns that line the Chesapeake Bay, you won't be fighting for an anchoring spot or waiting in long restaurant lines when you pull into Solomons. As well as top notch marinas, sailors will find snug anchorages up Mill Creek and Back Creek that offer protection, decent holding, and plenty of space.
And there's epic key lime pie. Trust me, that alone is worth the trip. Pie? Yeah, the key lime pie at Lotus Kitchen is life changing. Order by the slice or call ahead to reserve a whole one (lotuskitchensolomons.com). Thank us later.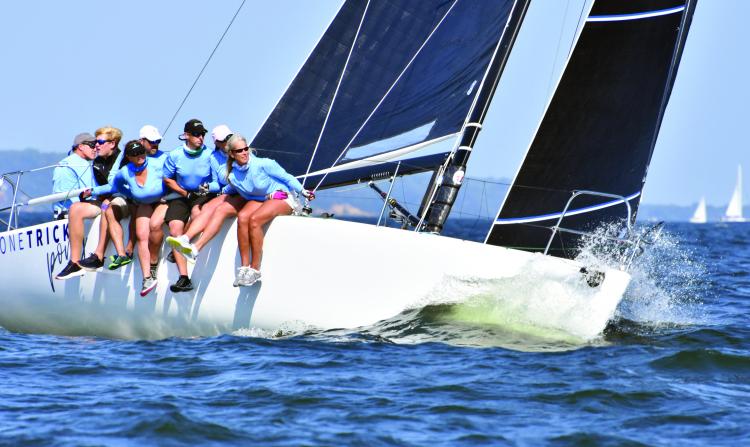 Fresh seafood is a good way to get ready for that pie, and there's plenty here. Seafood isn't just a gimmick here: it's part of the island's heritage. Solomons Island changed names several times since the late 1600s. In the 1860s a Baltimore businessman named Isaac Solomon bought the land and turned it into an a commercial oyster and fishing town. Fishing and marine trades grew, the population grew, and the town became a destination. In 1942 the Navy built its first amphibious training base in Solomons to train tens of thousands of marines, soldiers, sailors, and Coast Guardsmen who saw action in World War II. Another thing they don't tell you in the history write ups of the area, this place is just plain cute.
The area is walkable, dinghy-friendly, easy to navigate by car, and has fabulous sunset views. You can climb a lighthouse, touch a 20-million-year-old fossil, and see world class sculptures all within a few miles.
Boats traveling up and down the Chesapeake Bay stop in Solomons because it's smack in the middle, no matter which way you're going. From Solomons, it's 100 miles to Norfolk to the south and 100 miles to the C&D Canal to the north. Boats coming from the north notice the "Chesapeake Change in Solomons." It's where the crabs and osprey start mingling with pelicans and dolphins. It's boat geek heaven because you'll see working fishing boats, schooners, go-fast motorboats, modern sailing catamarans, antique cruisers, and classic sloops all sharing the waters here.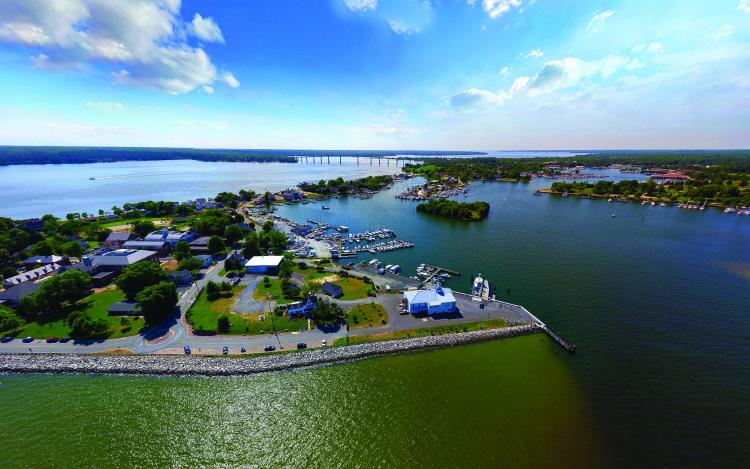 Don't lose your focus gawking at the scenery when you first arrive by water. Boaters need to mind the charts and markers on the way in. Outside the channel, shallow water is waiting for you to daydream and go aground.
When you enter Solomons Harbor, you'll notice a small island that the locals call Molly's Leg. Legend has it that the small green island was a burial ground for destitute sailors in the 1800s. Now it's more of a watery traffic circle, with plenty of depth all around and spokes leading off to Back Creek and Mill Creek.
Solomons Island's true charm is the people. Visiting sailors feel welcome without feeling like a walking wallet. Locals will point you to their favorite place to grab a bite to eat, chat with pride about their hometown, and sometimes even offer you a lift.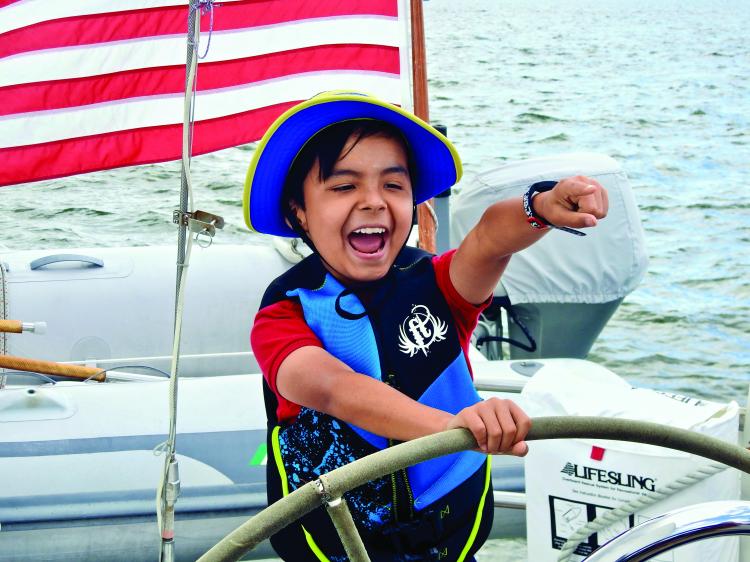 "It's not about the tourism dollars; it's part of our culture to welcome visitors," says Aram Nersesian, captain of Schooner Heron Charters out of Mill Creek. "Marinas and restaurants here cater to transient boaters and really try to make this a place to come back to again and again."
Captain Aram says that the only times cruising sailors need to steer away from the area are during big race weekends or fishing tournaments. "It's a good idea to check the schedule for races and tournaments ahead of time, because the place is packed when a race rolls in."
Nersesian has been living on and sailing the waters around Solomons for 25 years. His passion is taking guests out on his beautiful 60-foot aluminum schooner to show off his home waters. He says that guests often return year after year to sail with him. "It's just the sort of place you keep coming back to. There's something to be said for that."
~By Cindy Wallach
Solomons Regattas
Racing sailors look forward to AYC's Fall Race to Solomons, September 25, and the Screwpile Lighthouse Challenge, September 26-27.
Patuxent River Appreciation Day (PRAD)
Held at the Calvert Marine Museum (CMM) on Saturday, October 9 from 10 a.m. to 7:30 p.m,, this festival creates awareness, recognition, and promotion of the economic, social, recreational, cultural, and historical impact of the tributaries and environs of the Patuxent River and the basin through which it flows. Learn more at calvertmarinemuseum.org.
Free museum admission and parking. Live music all day. From 5 to 7:30 p.m. a River Party featuring Wylder and local musician Robbie Boothe. Free boat rides on the historic Wm. B. Tennison and the Skipjack Dee of St. Mary's. Toy Boat Building, petting zoo, environmental exhibitors including parks, museums, universities, and oyster aquaculture. New shark exhibit "Sink Your Teeth In." For additional fees, food and drink, pony rides, and home spun goods and art will be for sale. CMM will follow state and county Covid protocol.