Solomons, MD, Stay Awhile
The first time I drove one mile down Main Street Solomons, from the Calvert Marine Museum to the Tiki Bar, I said, "That's it?" and laughed. After exploring the place over the years, I learned that I was wrong. There's much more to the town at the mouth of the Patuxent River than meets the eye in a drive-by visit.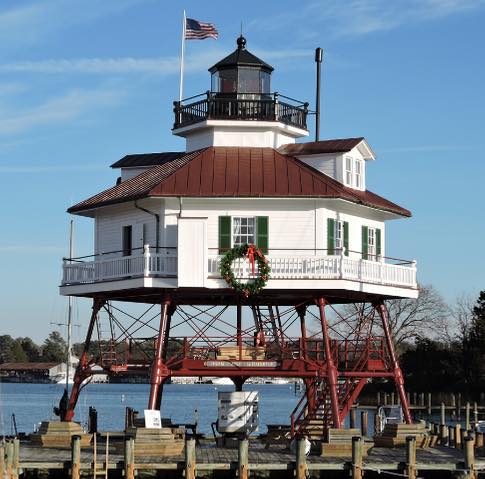 Anyone who enters Solomons by boat would be wise to check his or her nautical chart first and keep it handy, as—shocker—there are a couple of shoals to avoid. Local sailor and owner of Sail Solomons, Captain Jeff Carlsen, notes that the shoals are well-marked and accurately represented by the charts.
Many sailors choose one of the many marinas in town: Zahniser's Yacht Center, Solomons Yachting Center, Calvert Marina, or Spring Cove Marina among others. Some cruisers moor or anchor; the Mill Creek in town (there is another by the same name up the river) has ample anchoring space for those eager to dinghy into town and explore. Here are seven reasons to stay in Solomons for more than one day.
1 Strolling and riding around. The top marinas are walkable to town, and some offer bikes for slipholders. If you like to stroll or cycle around an attractive town—with a long, flat promenade along the river—and meet the locals, have an ice cream cone or a beer, maybe catch a fish under the big bridge, this is your place.
2 The vibe. When Coastal Living Magazine voted Solomons one of its 15 happiest seaside towns, no locals were surprised. Solomons prides itself on its blend of interesting, worldly residents (the Patuxent Naval Air Base is nearby), southern Maryland hospitality, and a relaxed state that appeals to vacationers. Did we mention how welcoming the Solomons sailing community is? In the spring, check out the Southern Maryland Sailing Association's SpinSheet Solomons Crew Party (on Main Street), and you won't walk away without fun sailing invitations from friendly sailors. SMSA also hosts the Screwpile Lighthouse Challenge (see page 78).
3 Key lime pie. A dessert native to Key West may seem a weird thing to travel to Solomons for, but if you visit the Lotus Kitchen on Main Street, you'll see why it's a SpinSheet favorite for healthy food, good coffee, and Kim's Key lime pie, all with a water view. The café features live music and interesting local artwork. We've also tasted excellent Key lime pie at the CD Café, also on Main Street, a must-visit for foodies.
4 The Museum. If you love boats and waterfront life, don't skip it. The Calvert Marine Museum's calendar is jam-packed with community events, boatbuilding, children's activities, standing and visiting exhibits, boat rides, and big-name outdoor concerts (July 3, the Barenaked Ladies with the Violent Femmes and Colin Hay). Click to calvertmarinemuseum.com for more.
5 Quiet anchorages. For those ready to peace out, "There are wonderful quiet anchorages nearby," notes Carlsen, whose favorite is Cuckold Creek, two creeks north of the other Mill Creek, north of the bridge on your left. He suggests staying to the middle of the creek because of the sand bar and says that even deep-draft sailboats can make the trip. To the south you'll find Myrtle Point Park and to the north, Greenwell State Park; both make this creek a destination for family cruisers seeking hiking trails. St. Leonard Creek and farther up the river, Battle Creek, score high points among cruising sailors.
6 Sharks' Teeth. If you're leaving Solomons by car (as there is no boating access for these parks), find Calvert Cliffs State Park and Flag Ponds Nature Park, where you can search for fossilized sharks' teeth, pieces of ancient scallop and whelk shells, and corals.
7 Eats.
Romantic Sunset: Back Street Bistro, 14415 Dowell Rd, (410) 326-9900 Avoid the noise at the Back Creek Bistro. Enjoy white-linen dining and make your friends jealous by posting a selfie with the sunset in the background. Marvel the taste of lobster bisque and blue crab gnocchi. Boaters dining at Back Creek Bistro can tie up for free at Calvert Marina or call for overnight rates (410) 326-4251.
Eat Aboard: Capt. Smith's Seafood Market, Patuxent Plaza Shopping Center, (410) 326-1134 Looking to cook fresh seafood or just eat aboard? Smitty's is the answer. This unassuming little market will shock you with big flavor! Order the crab balls, oyster stew, fried shrimp, and hush puppies. Tell them you're SpinSheet fans, and they'll even deliver to your boat!
Piano Bar: Charles Street Brasserie, 120 Charles Street, (443) 404-5332 This 1930s style restaurant/bar has a very cool vibe and excellent nosh. Enjoy the breeze as you munch on Mediterranean and Southern Maryland Tapas. Toast with some of their craft beers while you enjoy music from the piano bar. Man, what is he doing here?
Party: Tiki Bar, 85 Charles Street or just follow the noise. (410) 326-4075 Words can't describe the Tiki Bar experience, so trust us when we recommend you order a Mai Tai and use the buddy system. Great drinks, rockin' music, and colorful characters. Go with the flow, make lots of friends, and send us pictures.
Outdoor dining: Lighthouse Restaurant & Dock Bar, 14275 Solomons Island Rd S, (410) 326-2042 After a fire in 2006, the Lighthouse rose from the ashes last year with new owners and a major renovation. Ample outdoor seating, a fantastic boat bar, and plenty of space for large parties. Order the Crab Imperial, and you'll enjoy being there, no matter your mood. Pop by for breakfast, too. ~C.C.