Do YOU have situational awareness while paddling?
Here's the one complaint I have heard increasingly and repeatedly for the past seven years: standup paddleboarders and kayakers are not paying attention to boat traffic. What's SUP with this lack of situational awareness on the water? As an active paddler, it upsets me—and sometimes I may be part of the problem! I've been on both sides of the equation, the paddler paddling out of the way, and the 40-foot boat driver thinking, "What the heck is she doing?!?"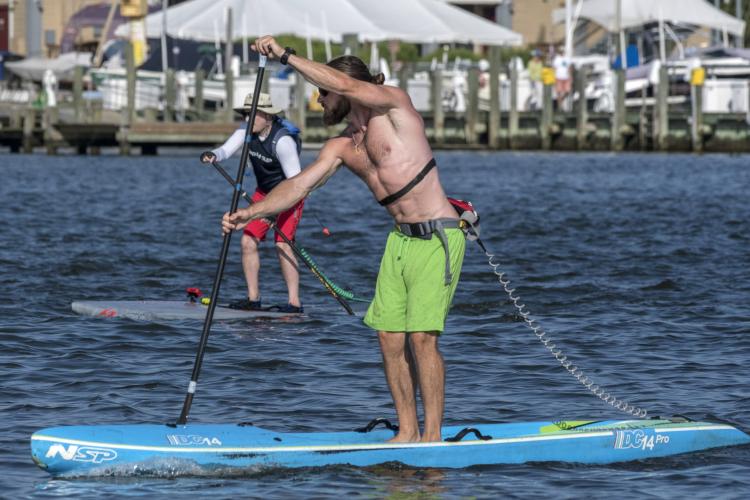 Let's talk about Spa Creek in Annapolis. It's busy. The whole place is a major intersection for boat traffic in season. We have transient cruising boats on moorings and along Ego Alley, tourist boats (sail and power), locals headed in and out of the creek toward home and/or fuel docks, Navy boats, jet skis, kayaks and SUPs (paddled by tourists and locals, veterans and newbies), fishing boats, and racing boats. Oh, and water taxis. And kids in little sailboats. I'm sure I'm missing something, but you get the point.
When you are at a busy intersection on the road in your car, if you're smart, you look before darting out in front of a Mack truck. Yet so many kayakers and paddleboarders are doing just that on a daily basis often enough to give big boat captains serious stress-related health issues. That we have not heard of a serious collision yet is remarkable. So please, no matter your paddling skill level, please follow some guidelines when paddling in heavy traffic areas. Please share this with every boater you know.
Wear a lifejacket. It may save your life. Find one that fits well and looks cool, and wear it.
Wear an ankle or knee tether on a SUP. If you do get knocked off balance, your board won't fly away putting you in harm's way as you swim back to it.
Know the rules of the road. Boats pass port to port. Sailboats under sail must tack (zig zag) sometimes, so watch them carefully, and make sure they see you.
Communicate with other boats. Make your intentions very clear. Gesture (politely) with your arms and paddle, and shout if you need to.
Know that big boats may not see you. They may not see you and/or they may not have the maneuverability to avoid you (because of turning ratio, water depth, or proximity to other vessels or obstructions).
Know before you go. Assume that a sunny Saturday is RUSH HOUR. You are in a toy car in a sea of big trucks. You must look out for them and not assume they can see you or move quickly out of your way.
Know local events. Before you head out to watch Annapolis YC's Wednesday Night Races, for example, you should ask a local where to paddle and what places to avoid. To have dozens of boats, some weighing 20,000 pounds each, with big sails blocking their views, barreling down on your tippy SUP is not only scary, but it's also quite dangerous.
Remember it's not a pool. A big boat captain commented to me that paddlers seem to think they're just out playing on a pool when they're really in a heavy traffic zone. Look before you cross over open bodies of water, and work your way into quieter areas rather than into high-traffic areas.
Consult locals before you leave the dock. When you rent or borrow a board or kayak, ask the local paddler where the high-traffic zones are. Find a chart. Familiarize yourself with the area. Familiarize yourself with the tourist boats in the area (in Annapolis, the Woodwinds I & II, the Harbor Queen, and the water taxis run constantly in peak hours). Know where the fuel docks are, because those tend to be hubs for traffic, as are dock bars.
Choose the short span. If you cross under a bridge, such as the Eastport Bridge, go under a short span, not the center drawbridge span. Think of that as an HOV lane, and you're not welcome there.
Go early. You're not going to find much boat traffic or wake at all if you paddle in the early morning hours. The experts at East of Maui Boardshop like to do lessons at 8:30 a.m. so that they're done and off the water by 10. (Before their students show up, those guys paddle at sunrise.)
Go somewhere quieter. The east side of Spa Creek on the other side of the bridge tends to be much quieter and flatter than the busy side. There's a boat ramp at Truxton Park to launch boards, as there is on Weems Creek. Capital SUP offers paddling in a lower traffic zone on Back Creek. There's also great paddling on Harness Creek out of Quiet Waters Park.
Know the weather & wind. Situational awareness includes knowing the weather forecast and keeping your eyes on the sky for storm clouds. It also includes knowing which way the wind blows. If you've ever tried to paddle against it as it builds, you get that.
When paddling at night. Even when you have a 360-degree white light, it's still VERY hard for other boats to see you and/or figure out what you are (fishing boat? runabout?). Stay hyper-aware and assume no one can see you. Be extra careful around marinas where a boat might be departing at dusk. Listen for engines and stay alert. Really, it's safer to paddle in daylight.
Regulations. As of now, there are no regulations on SUPs and kayaks, except the Coast Guard rules to keep a lifejacket onboard and having children wear them. Let's take it upon ourselves to act responsibly on the water.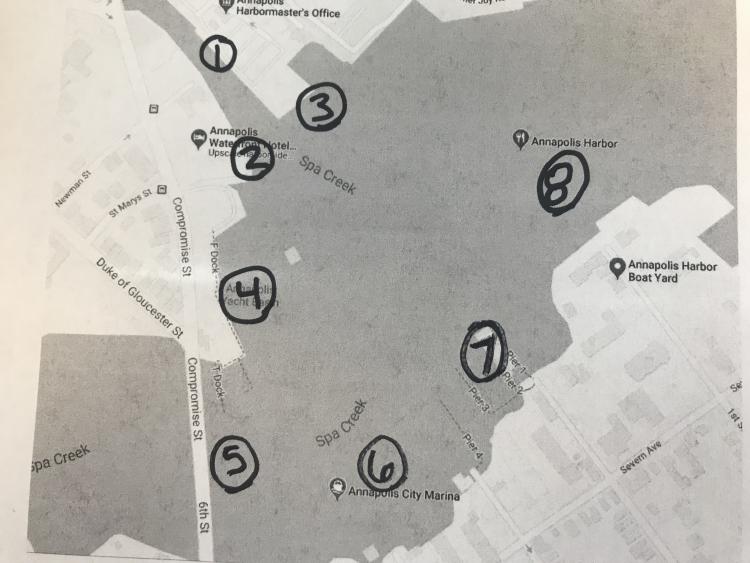 Eight danger zones in Annapolis Harbor:
) water taxi dock
2) Woodwinds I & II depart
3) Harbor Queen departs
4) Annapolis Yacht Basin fuel dock
5) Eastport Bridge drawbridge opens on the half hour on weekends and holidays
6) Annapolis City Marina Fuel Dock
7) water taxi stop at Chart House
8) green can marks harbor entrance
Comments? Send them to [email protected].